The automotive industry came a long way thanks to technological advancements. There is indeed a car for every driver. The most popular car segment at the current times is the pickup trucks. And no one does it better than Ford.
The Ford F-series lineup is the best-selling by far, with the F-150 sitting at the thrown. But what if a full-size truck is not what you are looking for? Well, Ford got you covered.
Not everyone needs a full-size pickup truck capability. In this case, the Ranger is the bang for your buck when it comes to the mid-size pickups.
The Main Differences Between The 2021 Ford Ranger vs F150
There Are Subtle Differences Between The Ford Ranger and The F-150 Are:
The Ranger is a mid-size pickup truck, whereas the F-150 is a full-size pickup truck.
The Ranger is available in three trim levels, whereas the F-150 is available in six different trim levels.
The Ranger comes with one powertrain, whereas the F-150 comes with six powertrain options.
2021 Ford Ranger
Mid-size pickup trucks are getting more and more popular, and for a very simple reason, you don't always need a massive full-size pickup to do the work. These trucks are a mid-ground solution and a great, affordable alternative.
Most of the mid-size pickup trucks today offer jaw-dropping performance with smaller engines. One of the most famous brands in the pickup trucks segment is Ford.
After many years of hiatus, Ranger is back in the U.S market with a new 2021 model.
And it is no joke!
Body configurations and dimensions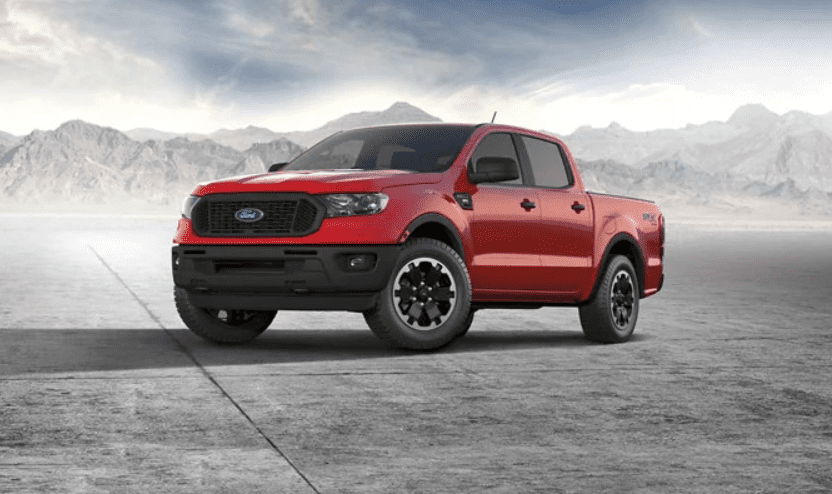 The 2021 year model is a bit of a chubby boy. It is 210 inches long, 71 inches high, and 85 inches wide with a curb weight of 4,500 lbs.
It is a pickup truck, after all.
The Ranger is offered with a couple of body configurations:
Two-door SuperCab with 6 ft bed
Four-door SuperCrew with 5 ft bed
Powertrain
Unfortunately, Ford offers the Ranger with a solo drivetrain, but it's not off the mark. The power plant is a turbocharged 2.3-liter inline four-cylinder engine that produces 270 horsepower and 310 lb-ft of torque.
The gutsy four-banger is mated to a ten-speed automatic transmission. The result is 6.8 seconds from zero to 60 MPH. that is quick for a mid-size pickup. The Ranger is available with rear-wheel drive or four-wheel drive.
Towing and payload capacity
The Ford Ranger is a workhorse and puts down impressive numbers when it comes to towing and hauling. The bad is big enough to fit 1,560 lbs. of whatever you liked to haul. The engine might be a small four-cylinder, but it delivers enough torque to move 7,500 lbs.
It is practical as well. The bed contains six tie-down points, and the tailgate is included in the central locking system. Sadly, the tailgate is not damped, the bed is plain steel, and the tall bedsides can make loading a nightmare.
The Range falls behind when it comes to interior storage. It is impossible to put anything under the back seat with passengers because it is a single-piece bench.
Fuel economy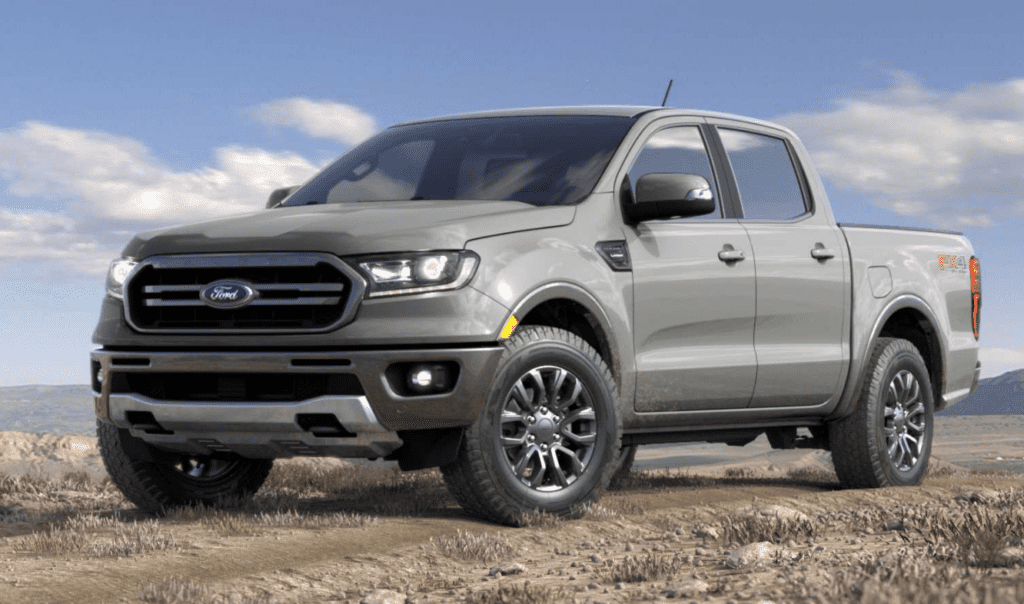 Fuel consumption is one of the Ranger's strong suits. It has the best fuel economy in its class as it averages 21 mpg in the city, 26 on the highway, and 23 combined with rear-wheel drive. The numbers fall slightly with the four-wheel-drive variant to 20 mpg in the city, 24 on the highway, and 22 combined.
Trim levels
It is easy to find the Ranger that suits you best because Ford offers only three trims. The bottom level starts with the XL, and it starts at $32,000. It is a bare bone and gets basic features like 16 inches steel wheels, and the tailgate is locked manually.
The interior has standard air conditioning, an auto-dimming rearview mirror, a Wi-Fi hotspot, and a four-speaker sound system. A noteworthy feature is forward collision mitigation. It is a safety feature that warns you of a possible collision and brakes automatically in some scenarios.
The XL receives further improvement with additional packages. The available 101A package adds cruise control and power mirrors. Plus, automatic dual-zone climate control, six-speaker audio system, Sync 3 infotainment system, and a larger screen display.
Lane-keeping assist helps you stay in your lane on the highway. Blind-spot monitoring with cross-traffic alert gives you a heads up if there is a car in your blind spot during lane changes or while reversing.
They are part of the co-pilot360 safety package.
The XLT is the mid-range trim. It gets all the features above as standard and adds more to the list. For example, the wheels are alloys instead of steelies.
It comes with an eight-inch touchscreen display with integrated Android Auto and Apple CarPlay alongside the keyless entry.
Just like the base model, the XLT also gets special treatment in the form of packages. The 301A package adds amenities like parking sensors. Those come in handy because it's a big truck.
Leather steering wheel, 110v power outlet like the one in your house, and the option to pick an appearance package. The latter includes sport, chrome, or black exterior accents.
You can use the 302A package on top of the 301A to get additional convenience items like power-adjusted and heated front seats, power-folding mirrors, sliding rear window, and remote ignition.
If that's not enough, you can add the technology package and get front parking sensors alongside the navigation system and adaptive cruise control.
The top trim is the Lariat. This bad boy comes equipped with all the bells and whistles. It distinguishes itself from the rest by adding LED headlights and leather upholstery.
Niceties like remote ignition, automatic wipers, and a ten-speaker Bang & Olufsen audio system are part of a package dubbed the 501A. keep in mind that this trim starts with a price of $40,000 and rises with every package you add.
The FX2, FX4 Off-road, and Trailer Tow are some of the other packages worth mentioning. However, the most exciting package the 2021 Ford Ranger get is the Tremor Off-road package.
The SuperCrew body configuration and four-wheel drive are essential requirements to get this package.
It includes:
Side steps
32-inch all-terrain tires
Underbody protection
Revised suspension and 0.8 inches more ground clearance
Additional recovery hooks
Off-road Fox shock absorbers
The Ranger's exterior design is sleek and simple. It comes with six color choices: oxford white, iconic silver metallic, race red, velocity blue metallic, carbonized grey metallic, and shadow black metallic.
Interior
The Ranger's interior has roomy front seats nicely padded and easy to get in and out of. The back seat is a bit too upright, but it is acceptable and spacious enough to fit three people.
The dashboard layout is reasonable from an overall point of view, but the AC is difficult to operate. In addition, the infotainment system has many small buttons, which takes a lot of time to get used to and recognize.
The biggest drawback to the new Ford Ranger is the ride quality. The steering feels dead, especially around the corners. The nose takes a dive into the ground with sudden braking, and the ride is bouncy even with the smallest bumps.
To me, that's a major deal-breaker.
Warranty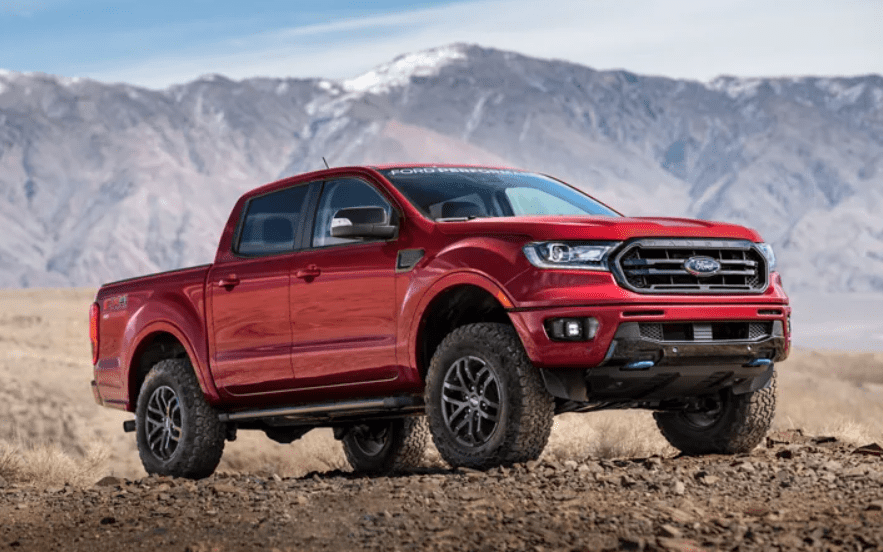 Ford offers the Ranger, a bundle of warranties that includes a basic 3 years/ 36,000 miles warranty and 5 years/ 60,000 miles for rust, roadside, and drivetrain.
In a nutshell, here are the Pros and Cons of the 2021 Ford Ranger:
Pros:
A good set of safety features
Great towing and hauling capabilities
A stout turbocharged four-cylinder engine
Cons:
Limited cabin storage
Bouncy ride
Outdated design
The infotainment is hard to use
Closest competitors
GMC is one of the Ranger's closest competitors. With their model Canyon, GMC aims to make its name in the mid-size pickup truck segment.  In addition, Chevrolet Colorado is a serious competitor, followed by the Toyota Tacoma and the Honda Ridgeline.
2021 Ford F-150
The F-150 is the most popular full-size pickup truck in the world. You can use it as a workhorse or just your everyday grocery getter. The 2021 model marked the debut of the fully redesigned 14th generation of the F-150 from grille to tailgate.
Body configurations
The F-150 is available with three different cabs, Regular Cab (single cab), SuperCab (extended cab), and SuperCrew (crew cab).
You can get the Regular Cab and the SuperCab with the standard 6.1ft or 8 ft long bed. The SuperCrew is available with a 5.5 ft short bed only.
Powertrain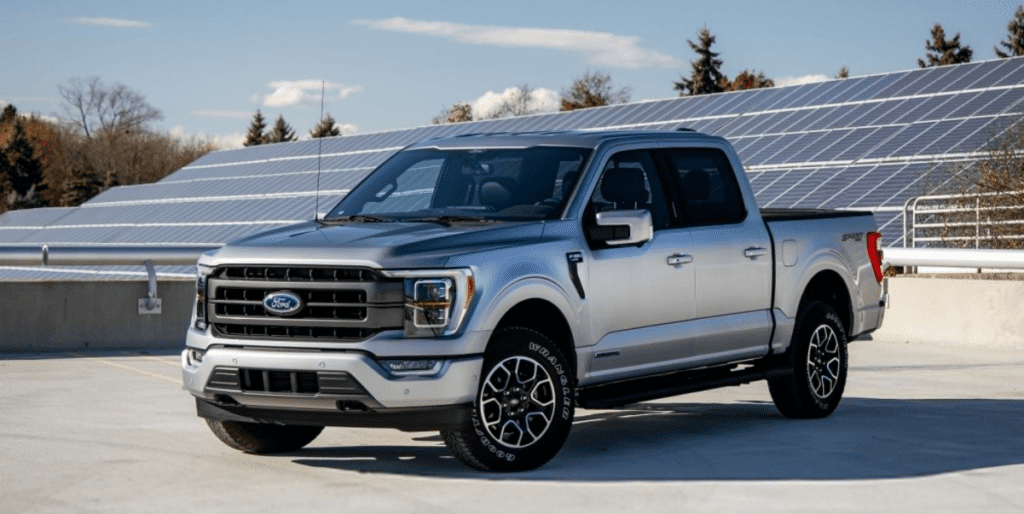 Just like the body configurations, the F-150 comes with a variety of engines to pick from. Six to be exact, and the lineup includes:
2.7-liter turbocharged V-6 with 325 horsepower and 400 lb-ft of torque
3.0-liter turbocharged V-6 diesel with 250 horsepower and 440 lb-ft of torque
3.3-litre V-6 with 290 horsepower and 265 lb-ft of torque
3.5-liter turbocharged V-6 with 400 horsepower and 500 lb-ft of torque
5.0-litre naturally aspirated V-8 with 400 horsepower and 410 lb-ft of torque
The F-150 also comes with an additional hybrid powertrain option called PowerBoost. It is a turbocharged 3.0-liter V-6 mated to a 35 KW electric motor and battery pack.  Combined, they put out 430 horsepower and 570 lb-ft of torque.
The powerhouse is mated to a ten-speed automatic transmission. Rear-wheel drive is standard, and four-wheel drive is optional on the f-150.
Payload and towing capacity
When it comes to towing and hauling, the F-150 got you covered. It delivers class-leading figures. In its standard settings, the F-150s loading capacity starts at 1,985 lbs. with the smallest engine and tows up to 8,400 lbs.
A properly equipped F-150 can haul a max weight of 3,325 lbs. and tow 14,000 lbs. with no problem.
You must spec your truck with the right cab, bed, engine, and package to get the most out of it.
Fuel economy
For a truck this big with such massive power plants, the F-150 delivers pretty decent gas mileage. It averages 20 miles per gallon in city limits, 24 miles per gallon on the highway, and 22 miles per gallon combined whether you opt for the V-6 or the V-8.
As for the hybrid, it is expected to average 26 miles per gallon. The F-150 comes with two gas tanks, a small 23 gallons tank, and a bigger 36 gallons tank.
Trim Levels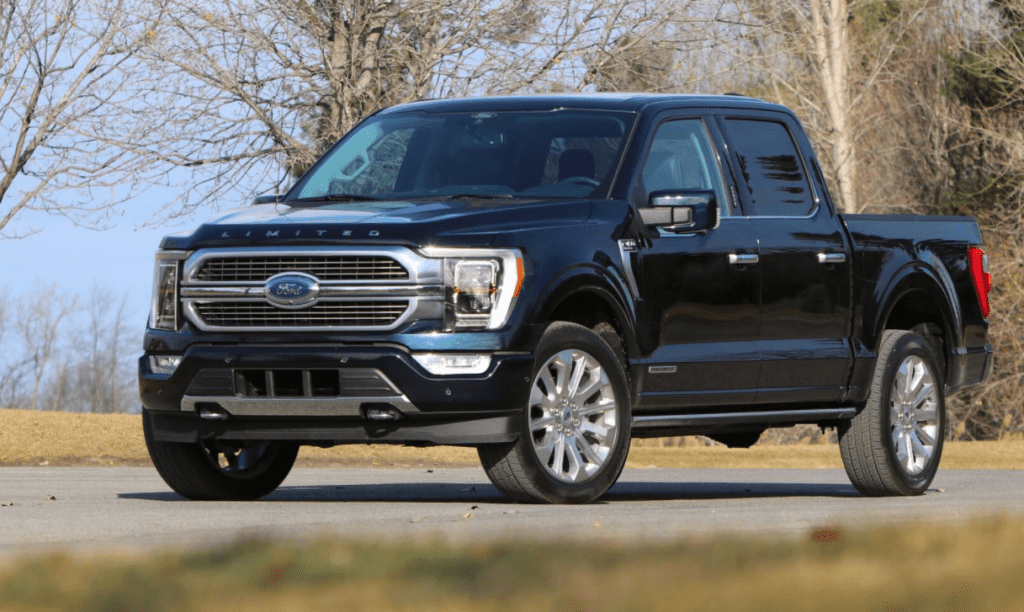 There are six trim levels to choose from. With a price of $29,000 comes the base XL trim. It gets a couple of safety features like lane departure warning and forwards collision mitigation as standard.
The Regular Cab gets manual windows, but the SuperCrew variant gets power windows instead. The infotainment system includes an eight-inch touchscreen display with integrated Android Auto and Apple CarPlay.
In addition to the vinyl floor, trailer sway control, pre-wired trailer connections, and air conditioning.
A step above is the XLT trim. It includes the base model features and adds to the list:
Fog lights
Carpeted floors
Cruise control
Power door locks
Power windows
Power-locking tailgate
Front-seat lumbar adjustments.
It gets extra safety features like blind-spot monitoring, automatic rear braking, and lane-keeping assist.
If you are looking for a more premium option, you can go for the lariat trim. At this level, you get leather upholstery,      power-adjustable pedals, a class IV trailer hitch, twelve-inch touchscreen display, dual-zone automatic climate control, remote start and tailgate release, heated and ventilated power-adjustable front seats, and LED bed lighting.
Beyond that is the King Ranch. The trim comes with a western style and shines with adventure and outdoorsy vibes. To set it apart from the lineup, this trim comes with cosmetic "King Ranch" badges.
It features convenience items like a power tilt-and-telescoping steering column, integrated trailer brake controller, B&O sound system with eight speakers, LED headlights and taillights, heated steering wheel and rear seats, and a wireless charging pad.
Adaptive cruise control and evasive steering assist are included to avoid collisions and improve safety.
The Platinum trim shares the same components as the King Ranch without the badges. Instead, it gets a chrome grille, chrome accents, and leans toward uptown city style.
The Limited sits on top of the lineup and amps up the luxury to new levels. On top of all the previous features, it adds a moonroof, 18-speakers B&O stereo, power tailgate, running board, massage function for the front seats, leather interior, and surround-view cameras.
The F-150 gets the Tremor treatment, but it stands as a model of its own. With a 55,000 dollar price, you get a standard four-wheel drive, 33-inch all-terrain tires, and locking differentials.
You may opt for the F-150 Raptor if you want more extreme off-road capabilities.
Ford offers multiple packages for the F-150, including XLT Chrome Appearance Package, Max Trailer Tow Package, and FX4 Off-Road Package.
On top of that, the F-150 gets loads of accessories like chrome accents, chromes exhaust tips, skid plates, box cover, spotlights, and 20 exterior colors options.
Warranty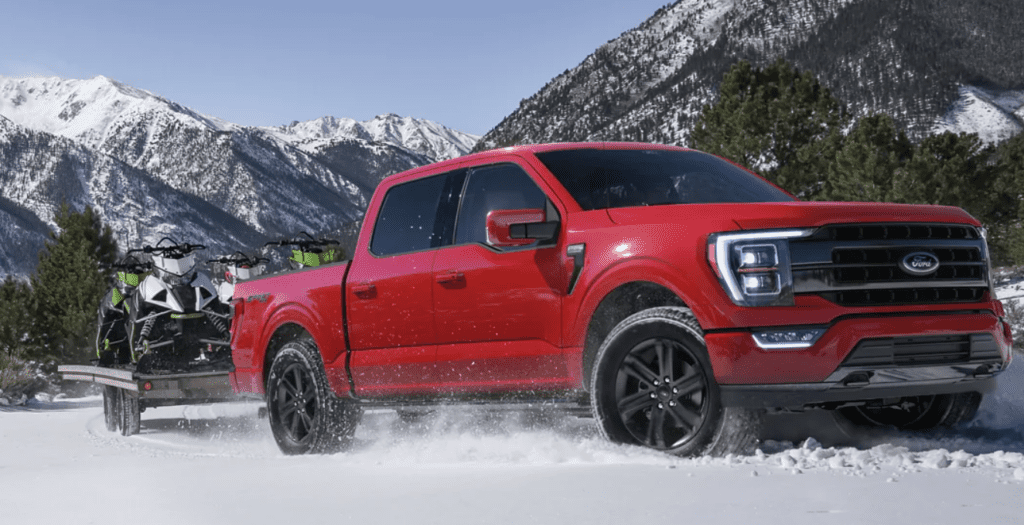 The F-150 rolls out the assembly line with a set of warranties: Basic 3 years/ 36,000 miles, 5 years/ 60,000 miles roadside, powertrain, and rust warranties.
The F-150 Pros and Cons:
In brief, here is a list of the F-150 pros and cons.
Pros:
Reasonable interior
Many powertrain options
Towing and hauling beast
Good off-road capabilities
Cons:
Not as luxurious as the RAM 1500
The brakes are a bit dull
Closest competitors
The F-150 receives serious competition in the pickup truck market. The RAM 1500, Chevrolet Silverado, and GMC Sierra can really give the F-150 a run for its money.
FAQs
Question: How long will a Ford Ranger last?
Answer: If maintained well, a Ford Ranger can last beyond 200,000 miles.
Question: Do Ford Rangers hold their value?
Answer: It is estimated that Ford Rangers depreciates by 39% after five years of the original purchase.
Question: What is the most popular color for a Ford F-150?
Answer: Blue and Velocity Blue Metallic are the most popular colors for a Ford F-150.
Question: Which 2021 Ford F-150 trim is the most popular?
Answer: The XL regular cab is the most popular trim to use as a workhorse. But, the XLT is the most recommended trim because it offers the same performance and more niceties.
Conclusion
You can't go wrong with a Ford pickup truck. They are indeed the best in the business. Whether as family haulers or workhorses, they deliver optimal performance.
The F-150 is class-leading in the light-duty segment, but it falls a tad bit short behind the RAM when it comes to handling and luxury.
On the other side, the Ranger is good performing mid-size pickup with up to par features. Yet, it falls behind in many aspects compared to its competition.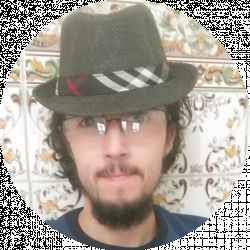 Latest posts by Tommy Verrcity
(see all)