The Jeep Grand Cherokee set the stage for the present-day SUV market. Jeep released the second generation of this model back in 1999, giving it a fairly successful five-year run before paving the way for the third generation.
This was arguably the undisputed SUV champion back then, but only until the Ford Explorer entered the stage and gave the Grand Cherokee a run for its money. Fast forward more than 20 years, and the 1999 Jeep Grand Cherokee remains a popular choice among car buyers, especially those who hold some nostalgia for their childhood dream car. 
If you're thinking about getting one for yourself, then keep reading this 1999 Jeep Grand Cherokee guide to learn all you need to know about this SUV.
Vehicle Overview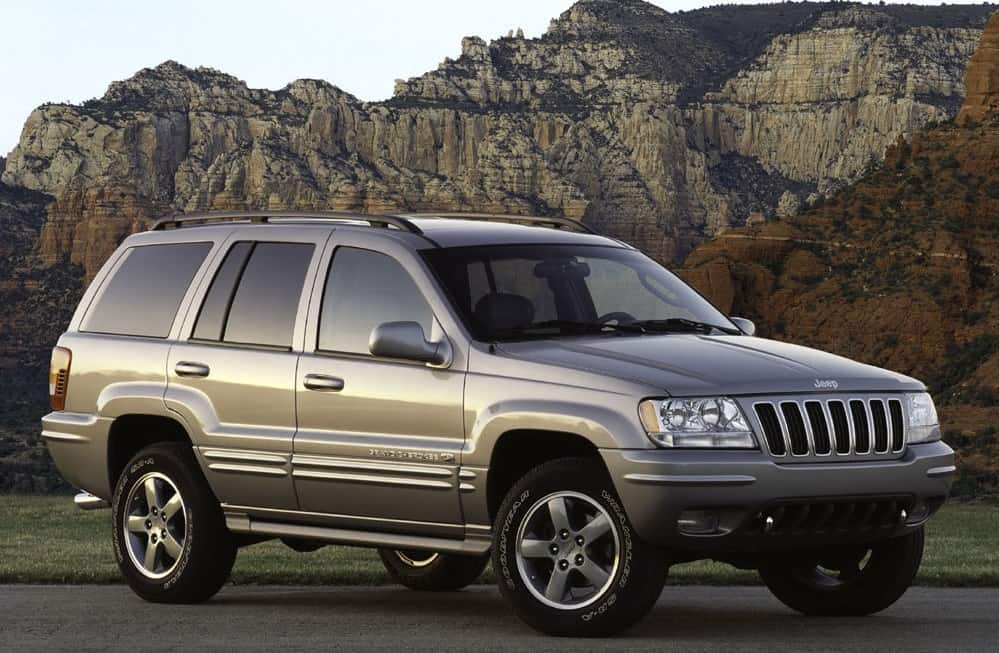 Replacing a boxier first-generation version, the 1999 Jeep Grand Cherokee was a complete overhaul of its predecessor. Its exterior was given more curves for a more modern and softer look. In fact, this look is still appealing today if you like its turn-of-the-century rugged appeal. 
Compared to the previous generation, this model is slightly bigger, with an added 1.5 inches in width, 4 inches in length, and 2 inches in height. This size difference translates to more headroom and extra rear seating space. 
The interior changes extended to the front, with this generation getting an upgraded dashboard. Of course, by today's standards, it's antiquated, especially if you like modern infotainment systems and satellite navigation. But you can always add these in if you prefer. 
You also get a spacious cargo area with extra cubby bins for some added storage options. The spare tire is neatly tucked underneath the cargo floor, a departure from its former position on the left side of the cargo space, as was in the previous generation.
Jeep also gave the 1999 model-new engines, ditching the thirsty 5.9 and 5.2-liter options for the more economical 4.7-liter V8 engine. You can also get a 4.0-liter six-cylinder option with 188 bhp. More on the Grand Cherokee's engines later. 
1999 Jeep Grand Cherokee MSRP and Current Value
The Jeep Grand Cherokee started at about $26,000, with the highest trim level costing about $34,000. Presently, you can get one for as low as $3000 with a mileage of between 100,000 to 200,000 miles. 
According to Kelley Blue Book, $4000 is a good price for the lowest-specced version of the 1999 Jeep Grand Cherokee.
1999 Jeep Grand Cherokee Specs and Features
Trim Levels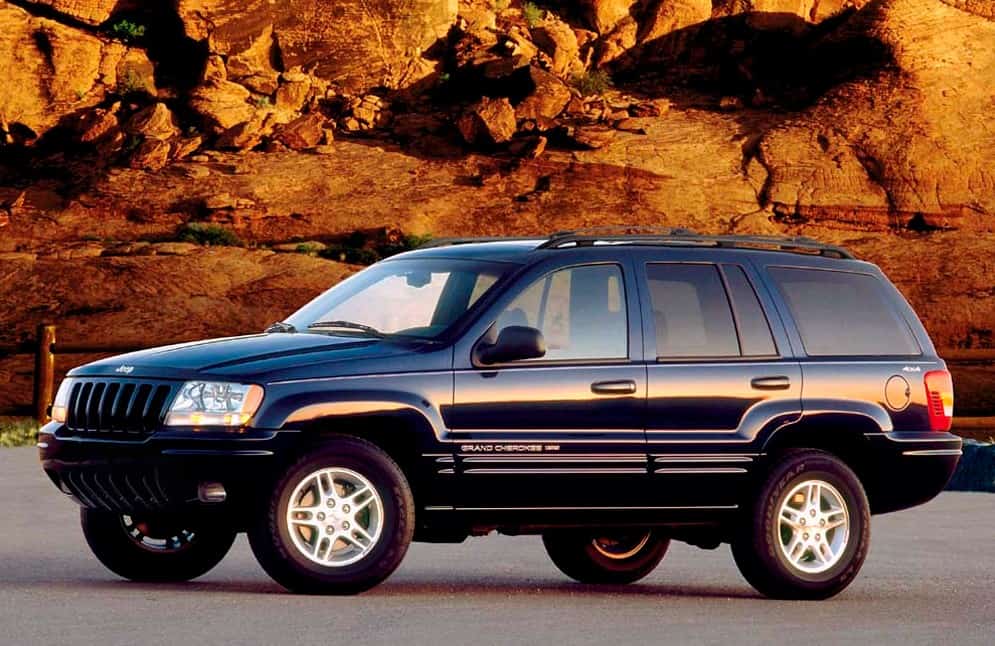 The 1999 Jeep Grand Cherokee had two trim levels: Laredo and Limited. Its base model was the 4dr Laredo, and a step above this was the Laredo 4WD. For those who preferred higher specs, there was the 4dr Limited or the more powerful 4dr Limited 4WD. 
As standard, all models got silver aluminum wheels, front air conditioning, AM/FM stereo, and remote keyless entry. Those who paid more for the Limited trim level, got dual-zone automatic air conditioning, front fog lights, heated mirrors, and leather seats. 
Engines
Jeep offered two engine options for the 1999 Grand Cherokee. There was a 4.0-liter gasoline engine with 195 bhp and a punchier 4.7-liter V8 with 235 bhp. The base Laredo and Limited models came with the smaller engines (4.0-liter V6), and the V8s were part of the more expensive models in both trim levels. 
The European and South American markets also got a 3.1 L Diesel with a modest 138 hp.
Drivetrain
If you want four-wheel drive, the Laredo 4WD and the Limited 4WD are the ones to go for. Otherwise, the 4dr Laredo and the 4dr Limited only got rear-wheel-drive, which proved to be a bane for off-road enthusiasts. 
Safety Features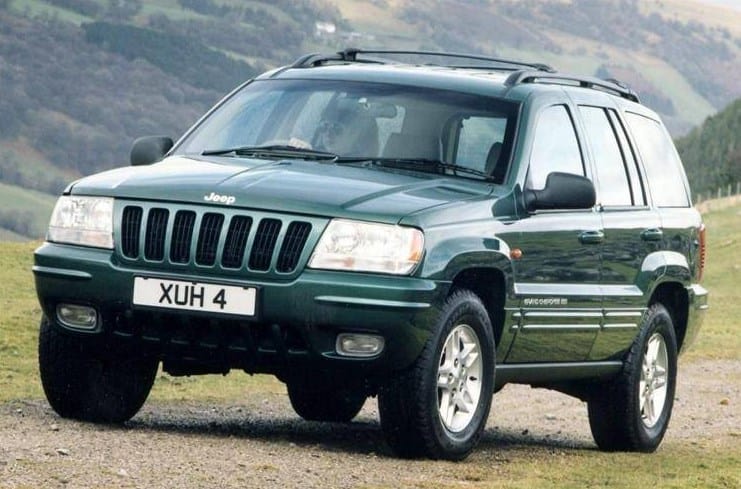 The 1999 Jeep Grand Cherokee came with anti-lock brakes, front-impact airbags, and height-adjustable safety belts, as you'd expect in a modern vehicle. Other standard safety features are an ignition-disable security system, rear-door child safety locks, and height-adjustable safety belts. 
A step up to the Limited trim level, and you'll get a theft-deterrent alarm system that came as standard. However, you're likely to find some Laredo models with this feature as it was optional to buyers. 
Passenger and Cargo Capacity
The 1999 Jeep Grand Cherokee came as a five-seater, and it was praised for its leg and headroom, which was an improvement over the previous generation. It has a total cargo capacity of 72 cubic feet at the back with an actual luggage capacity of 39.0 cubic feet. This, too, was a welcome upgrade after Jeep decided to shift the spare tire to underneath the cargo load floor.
In total, the '99 Grand Cherokee can handle a payload of 1,150 lbs (521 kgs). 
Towing Capacity
The Grand Cherokee models from 1999 are able to tow 5,000 pounds (2.3 tonnes) on the lower end, with the more powerful 4.7-liter V8 models rated to tow up to 6,500 pounds (2.9 tonnes). Note that for you to take advantage of the vehicle's full towing potential, you'll have to use a weight distributing hitch as well as a high-quality hitch receiver. 
Fuel Economy
The 4.0-liter six-cylinder models offer a fuel economy of 14 mpg in the city and 19 mpg in highway driving. The 4.7-liter V8s, on the other hand, are more thirsty, offering about 13 mpg in the city and 17 mpg on the highway. This data is according to fueleconomy.gov. Of course, the actual consumption depends on your driving habits as well as other factors like the condition of the engine. 
1999 Jeep Grand Cherokee Replacement Parts
You can buy replacement parts for the 1999 Jeep Grand Cherokee on sites like eBay, carid.com, or Quadratec, among other online and offline stores. 
Here's a breakdown of the main replacement parts and how much they cost on average.
| | |
| --- | --- |
| Replacement parts | Average cost |
| Headlights | $100 for each side |
| Tail lights | $80 for each side |
| Tires | $165 (factory size) |
| Wheels | $235 (OEM) |
| Brake pad kit | $90 |
| Air filter (high performance) | $50 |
| Engine oil filter | $15 |
| Fuel pump | $175 |
1999 Jeep Grand Cherokee Accessories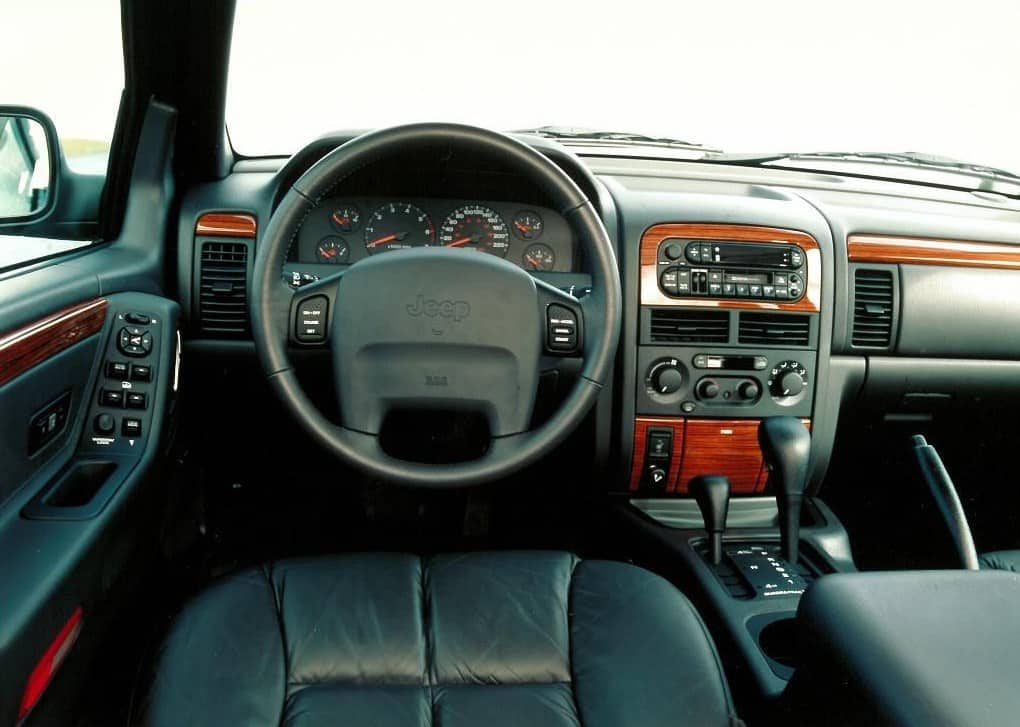 You can buy accessories for your 1999 Jeep Grand Cherokee on Amazon, Carid, or Just For Jeeps. Here are just a few accessories that you should consider.
Floor Liners and Mats
Since you'll be taking your vehicle off-road – as you should – you'll need floor liners to protect your vehicle's floor from moisture and dirt that you're likely to pick up on the track. You're also likely to encounter lots of mud and snow in your escapades, making these accessories more of a necessity in your Jeep Grand Cherokee.
Unlike floor mats, liners are custom-made for specific vehicle models so that they cover the entirety of your vehicle's floor. This makes them more expensive than the mats, which are premade. You could opt for floor mats instead, but these won't snugly fit your Jeep's floor and are likely to move about, thus allowing some dirt and debris to sneak onto the floor.
Floor liners cost from about $80 to $150, while mats cost an average of $50.
Seat Covers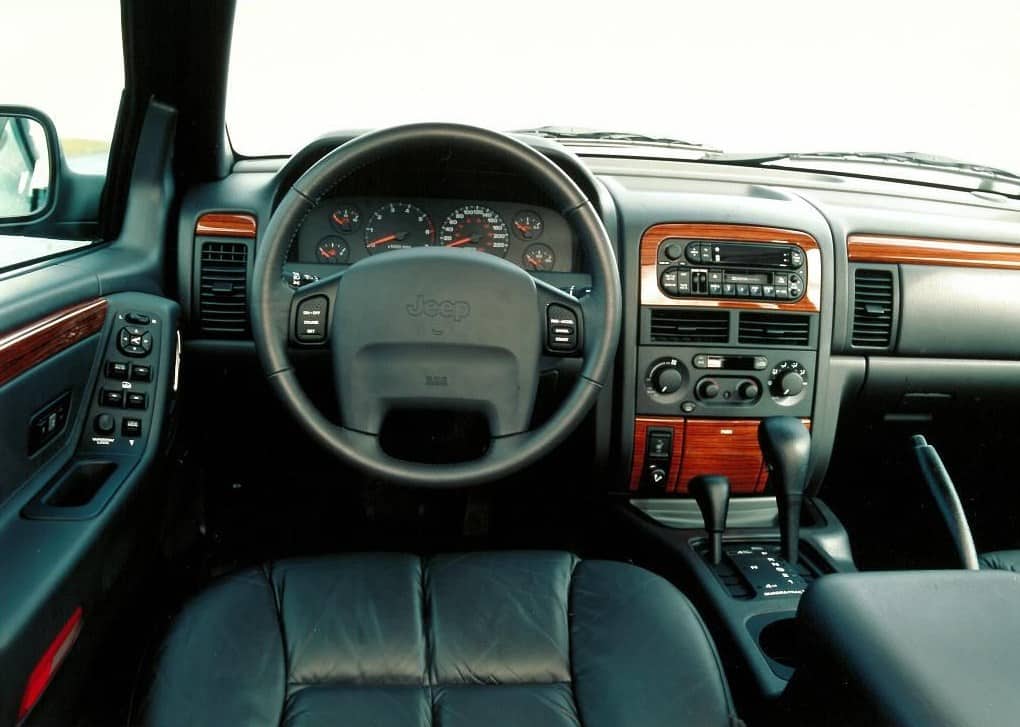 Seat covers protect the car seats from stains as well as wear. It's hard to clean the car seats if they get stained, but if you spill something on the covers, all you need to do is remove them and throw them in your washer or hand wash them. Therefore, by using seat covers, you retain your Jeeps seats' factory condition, which slows down depreciation. 
You can either choose a custom cover or one with a universal fit. You'll also need to decide on the color and material. Universal seat covers cost between $30 and $170, while custom covers for the 1999 Jeep Grand Cherokee cost from about $200 to over $500.
Off-Road Bumpers
If you plan to do a lot of offroading in your Grand Cherokee, consider installing an off-road bumper. These are built to withstand the rough and tumble of offroading that your factory bumpers can't handle. Off-road bumpers also give you more recovery points, and some come with winch mounts. Jeep Grand Cherokee off-road bumpers cost from $500 to over $1500 for one with a grille guard.
Roof Racks
Roof racks give you extra cargo space above the car so that you save space inside the vehicle for hauling more delicate items. You'll need to decide between a fixed-mount roof rack and a removable one; the former will permanently remain on your car's roof, while the latter can be easily removed when it's not needed.
There are roof racks made of aluminum, steel, or even reinforced plastic, with steel being the hardiest. If you're an avid offroader, then the steel ones would work best for you. Aluminum is a lighter alternative, and reinforced plastic is best for the removable roof racks.
You can get a roof rack for your Grand Cherokee from about $200 to over $500.
1999 Jeep Grand Cherokee Common Problems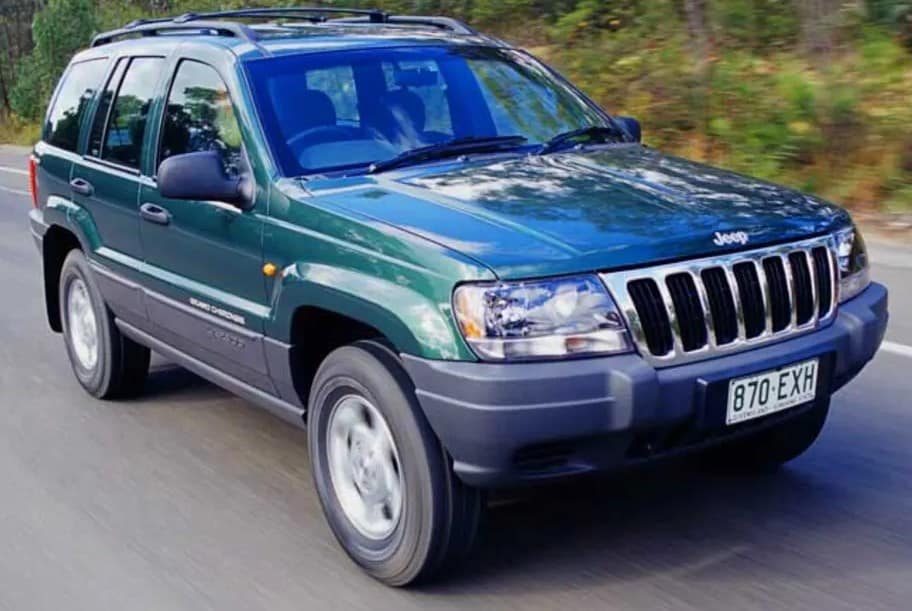 Blend Doors Ceasing
Blend doors are found inside the climate control system, and they turn to channel wither warm or cool air through a passage to enter the car's cabin. So, whenever you want warm air, the blend door shifts to divert heated air, and if you want a lower cabin temperature, the blend door turns to block the heat from passing. 
Some 1999 Jeep Grand Cherokees had a problem with the blend door getting stuck and failing to divert the appropriate air to the cabin. Therefore, users couldn't choose whether to get hot or cool air into the cabin. In some cases, this was a problem with the actuator – a motor that moves the blend door. In other cases, the problem was with the blend doors themselves. If you hear knocking or clicking sounds when you start the Jeep's AC system, then it might have this issue.
Window Regulator Failing
Some 1999 Jeep Grand Cherokees tend to have a problem with the window regulator. This is the part that moves the window up or down when you press the switch. In some cases, the window won't open or shut, or it will get stuck midway. If you notice this, then the regulator has bound up inside, and it will need to be replaced. In other cases, the problem might be an electrical one that prevents power from reaching the motor that moves the regulator. Make sure all windows in the Jeep you're interested in smoothly open and close during the pre-purchase inspection.
Stuck Thermostat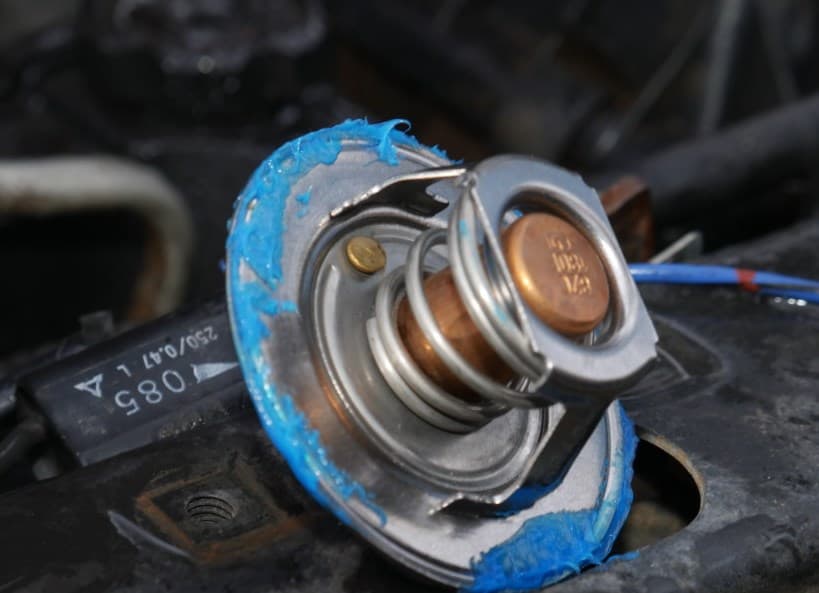 This part ensures that your car runs at the optimum temperature. However, some 199 Jeep Grand Cherokee models might develop issues with the thermostat that lead to the car either running too cool or overheating. When the thermostat is stuck shut, the coolant will be blocked from flowing through the radiator from the engine, and the car will overheat. On the flip side, if it's stuck open, the coolant will constantly pass through the radiator, and the car won't achieve optimum temperature. 
You can tell that there's a thermostat issue if the temperature gauge indicates a higher or lower than normal reading after the car has been running for some time.
Instrument Cluster Malfunction
This problem is common in high-mileage Jeep Grand Cherokees. Some models that have done over 150,000 miles tend to have speedometer malfunctions; they start to show the wrong speed. 
1999 Jeep Grand Cherokee Model Main Recalls 
Rear Seat Belt Defect
There was a rear seatbelt issue in about 13,000 1999 Grand Cherokee models that were manufactured between July 1998 and September 1998. It was reported that the rear seatbelt failed to retract, making it fit loosely around the passenger. Therefore, in an accident, the passenger wouldn't be secured in the seat. This issue was reported again in models manufactured between December 1998 and January 1999 with over 160,000 units recalled. In all cases, the dealers replaced the seatbelt retractors. 
Manifold Debris Accumulation
Over a million 4.0L Jeep Grand Cherokees were manufactured between June 1998 and March 2002. There was an issue with debris collecting in the cylinder. This was caused by a design flaw that was rectified by installing a manifold shield. 
1999 Jeep Grand Cherokee Competitors
2000 Mitsubishi Montero Sport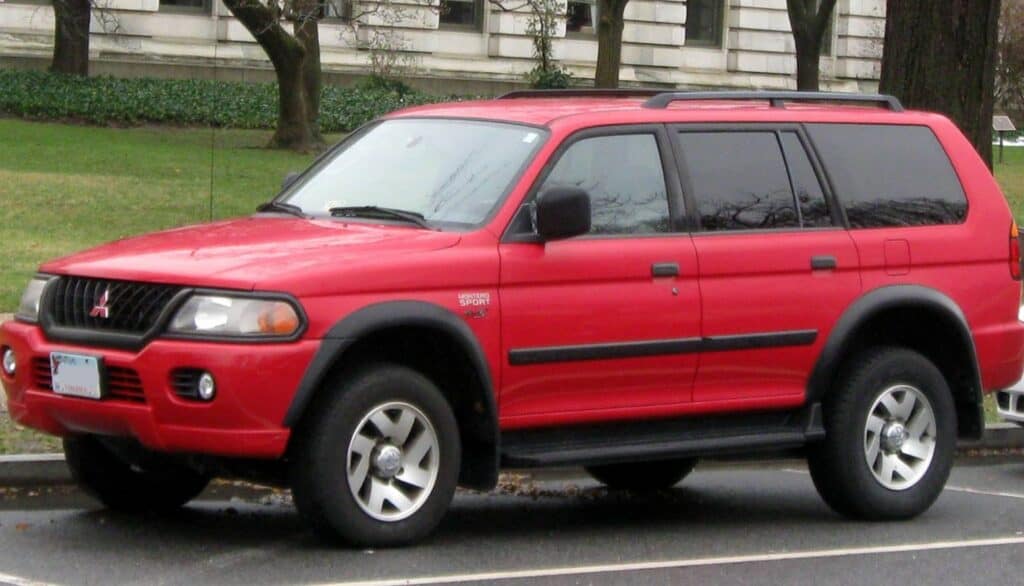 The Montero is, undoubtedly, the grandfather of offroad vehicles, having been in production since the late 80s. However, as the 90s wore on, the Montero was faced with stiff competition from vehicles like the Jeep Grand Cherokee. As a response, Mitsubishi took their classic, made it slightly smaller, fitted it with a powerful V-6 engine from its predecessor, and named it the Mitsubishi Montero Sport. 
The 2000 Montero Sport came in four trim levels: ES, LS, XLS, and Limited. All trim levels except the Limited got a 3.0L V6 engine that can churn out 173 hp. The Limited was given the punchier 3.5L V-6 that produces 200 hp. 
Both the Jeep Grand Cherokee and the Mitsubishi Montero Sport are five-passenger vehicles. However, the Grand Cherokee is slightly bigger, edging out the Montero in length by just 3.2 inches. The Montero also sits lower, with a ground clearance of 8.5 inches as opposed to the Grand Cherokee's 9.1 inches.
You can buy a 2000 Mitsubishi Montero Sport for about $4000, which is about the same price as a 1999 Jeep Grand Cherokee.
1999 Ford Explorer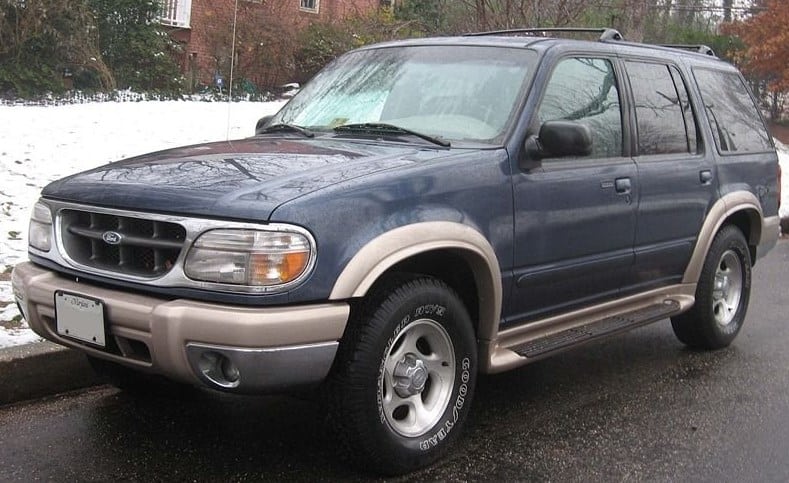 Some say that the Explorer inspired Jeep to soften the looks of its Grand Cherokee, and we saw this happen in the 1999 Grand Cherokee, which has a slight resemblance to the 1999 Ford Explorer. The Explorer has always been a formidable offroader, and Ford's 1999 model was no different. It came with a 4.0L V-6 engine with about 160 hp. Reviewers had a lot to say about this engine; many complained that it had a slow acceleration, especially if you wanted to overtake from about 50mph. Those hungry for power opted for the 5.0L V-8 model, which was rated at 215 hp. For the extra grunt, you'll have to give up fuel economy as the V-8 is a very thirsty engine. 
The 1999 Ford Explorer had several trim levels: XL, XLS, XLT, Eddie Bauer, and Limited. The lowest trim level, XL, had a two-door, two-wheel-drive version, but the one you'd love is the XLT. This trim level isn't as thirsty as the Limited or as underwhelming as the XL. It came with a 4.0L SOHC V6 engine with 210 hp. 
You can get the 99′ Ford Explorer for about $3500 depending on the mileage, trim level, and car's condition.
1999 Toyota 4Runner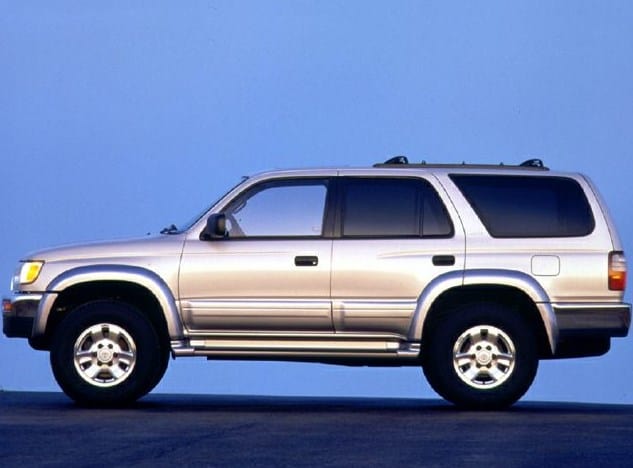 The main thing that the 4Runner has going for it is its reliability and that's common in any Toyota. The 1999 4Runner was Toyota's way of melding the practicality of a pickup truck with the grit of a 4-by-4 vehicle, and they succeeded. This vehicle was praised for its roomy interior plus a low floor that made getting into it quite easy. Its suspension was also improved over its predecessor, boasting better suspension travel for improved offroad capability.
Toyota gave the 4Runner two engine options; it came with either a modest 2.7L four-cylinder with 150 hp or a 3.4L V6 with 183 hp. The base trim level had the smaller engine, leaving the V6 for the SR5 and Limited trim levels. You can also get two-wheel-drive versions but I would recommend the 4×4, which takes full advantage of this vehicle's power. 
The 4Runner was more expensive than the Jeep Grand Cherokee back in 1999, and this stands true today. You can get one for about $5000 with some selling for as high as $8000. 
Find out more about the Toyota 4Runner models in this article.
Frequently Asked Questions
Question: Is a 1999 Jeep Grand Cherokee reliable?
Answer: Yes, the 1999 Jeep Grand Cherokee is a reliable car. Users who posted their reviews on cars.com praise this vehicle for working well even after over 10 years of use. 
Question: What year Jeep Grand Cherokee should I avoid?
Answer: Avoid the 2011, 2014, and 2015 Jeep Grand Cherokees as these models had a lot of issues that prompted a number of recalls.
Question: What is the best year Jeep Grand Cherokee?
Answer: The best year Jeep Grand Cherokee is the 2010 model. This was the last year of the third-generation Grand Cherokee, meaning that Jeep had fixed a lot of the issues that arose in the 2005 to 2009 models. This model also had only 5 recalls. 
Bottom Line
The 1999 Jeep Grand Cherokee is a popular SUV to date, a testament to its offroading strength and reliability. Granted, you'll need to spend time inspecting a prospective vehicle as most will have wear and tear from years of use. However, it isn't hard to find one in good condition, selling at a reliable price. In fact, among its competitors, this is perhaps the most affordable at the moment. The 1999 4Runner is, arguably, a better 4×4, but it's significantly more expensive. If you're thinking about getting a used four-by-four vehicle, the 1999 Jeep Grand Cherokee is a good option.
If you'd like to find out about the other Jeep Grand Cherokee models and years, check out this article.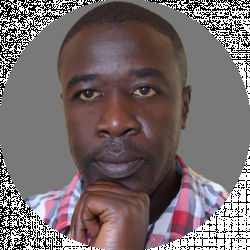 Latest posts by Barry Juma
(see all)