The Grand Cherokee, as the name implies, is at the top of the Jeep lineup. The year that we're going to cover in this 1998 Jeep Grand Cherokee guide marks the last year of the first generation of Jeep's marquee Luxury SUV (the ZJ model, officially) and serves to highlight all of the good things about it.
Three solid engine options, a nimble and capable unibody chassis, and a group of excellent creature comforts made this Jeep the second best-selling SUV in its class behind Ford's powerhouse Explorer.
For fans of the brand, the Jeep Grand Cherokee refines the vehicle into one that's equally comfortable and capable of serving a family on a long highway trip as it is out on the trail.  
When Chrysler acquired American Motors in 1987, the Jeep vehicles were essentially the most valuable part of a troubled company and widely considered the real reason that Chrysler CEO Lee Iacocca spearheaded the takeover. After the merger, Jeep vehicles were the only part of the American Motors lineup to remain in production.
The Luxury SUV
Luxury SUVs couple serious offroad performance and heavy-duty components that can take a beating with options most often found in high-end passenger cars.
The American Motors designers who began laying the groundwork for the Grand Cherokee before the Chrysler acquisition were careful to balance capability with comfort. The result changed the North American SUV market permanently.
Performance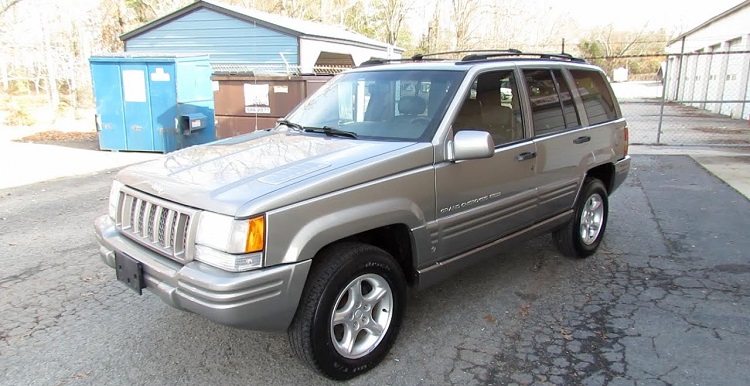 No mistake, the Grand Cherokee is a Jeep, first and foremost. Its platform shares components and engineering with the rest of the line, including those models, like the Wrangler, more associated with off-road performance.
Power
The 1998 Grand Cherokee had three available engines, the venerable 4.0 liter inline six (185 hp, 220 ft/lbs torque) carried over from the American Motors years, the 5.2 liter (318 C.I, 220 hp. and 300 ft/lbs), and the new-for-1998 5.9 liter (360 CI, 245 hp and a monstrous 300 ft/lbs of torque) V8 engine.
All provide ample motivation for the nimble Grand Cherokee, but the 5.9 is far and away the best performer, although it's particularly thirsty. All engines were mated to a tough 4-Speed automatic transmission, which is a bit of a bummer for those who like to shift their own gears.
Comfort
Three trim lines were available in 98, the base Laredo, the midrange SE, and the upscale Limited version, and the 1998-only 5.9 Limited trim, which featured a whole host of upgrades, including a premium calf-nap leather interior, high amperage alternator, and a first-class sound system.  
What You Want
Suppose you're looking at a 1998 Grand Cherokee. In that case, the 5.9 Limited is clearly the most desirable model, with the best performance across all metrics (except fuel economy) and the most options, and an exclusive and nice (for the vintage) interior.
Chrysler advertised the 5.9 Limited as "the world's fastest SUV" and backed up this claim with independent test results.
Both of the other powertrains, however, are quite robust, and neither will consume as much fuel as the big 5.9. The venerable 4.0 liter, which was originally developed by American Motors in the 1970s, has a particularly strong following. If you like to tinker, there are all manner of aftermarket performance improvement parts available for it.
Ideally, your candidate will be one that hasn't been used off-road much or at all. The vast majority of these SUVs never really went anywhere more challenging than the local shopping mall.
The size of the investment in the initial purchase price usually means that the vehicle was maintained, at least by its original owner, so have a look in the glove box for service records.
Any one of the available engines has the potential to run for many, many miles, but as always, oil changes and other maintenance are the keys to longevity.
Safety Recalls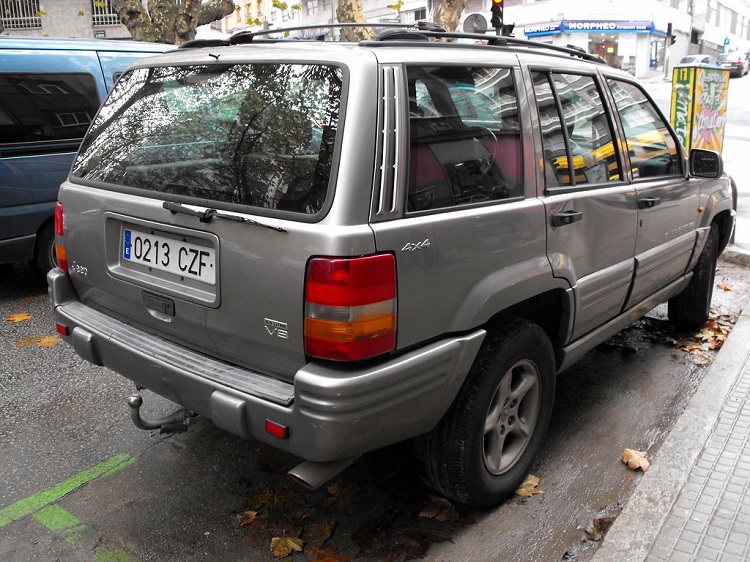 There are 14 NHTSA recalls for safety reasons on the 1998 Grand Cherokee, involving brake components, steering components, vehicle glass, lights, and the fuel system. Before using the vehicle, you should contact a Chrysler dealer with the VIN to ensure that any required remediation has taken place.
Trouble Spots and Common Complaints
Sheet metal on any vehicle this old is a concern, especially when it's under plastic body moulding, as it is on these Grand Cherokees. Get underneath and have a good look at the floor, especially in the usual trouble spots like the driver's footwell and behind the wheels.
Pay special attention to where the subframe meets the floors at the front and back, because they're prone to rust, and they peel away from each other, drastically compromising the structure of the vehicle.
Test the driveline functions before you buy the car – you want to be sure that the 4-wheel drive functions in all modes and that there aren't any undue clunks, squeaks, or scraping noises.
The Dana axles themselves are pretty bulletproof, but the U-joints behind each of the front wheels can wear and cause all manner of problems. Replacement is relatively straightforward and is commonly carried out on the trail by off-road enthusiasts when they break while in action.
1998 was a long time ago, in vehicle years. Many of the convenience features on this SUV might be showing their age. Power windows, doors, seats, etc., may have fallen victim to electrical gremlins, or deteriorating plastic might have broken.
Check them all out, but remember that these vehicles were very popular, so there is enough demand for replacement parts (and enough supply of wrecked ZJs) to make repair possible.
1998 Jeep Grand Cherokee Competitors
Ford Explorer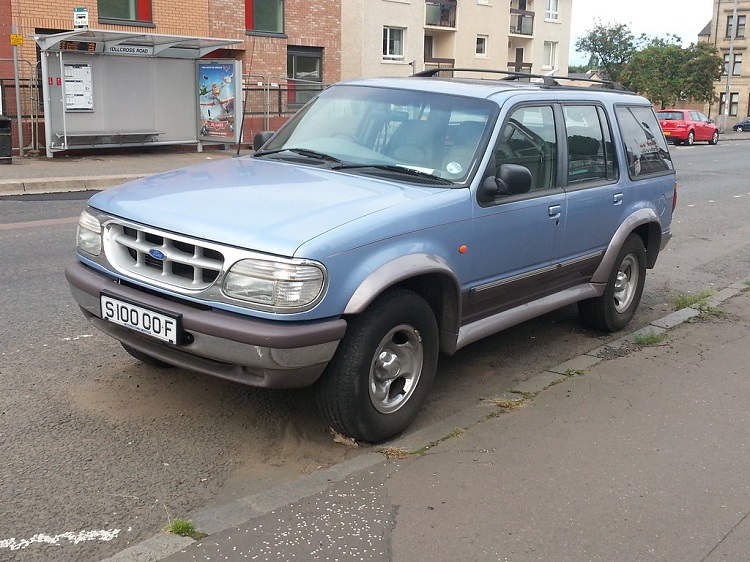 Ford's Explorer had been dominating the domestic SUV market since 1991. By 1998, Ford and Jeep were locked in competition for leadership in sales, each introducing new features in order to compete with the other.
The Explorer was available in 3- and 5-door versions, while its sister, the Mercury Mariner, was only offered in the 5-door. Ford had a wider range of powertrains available and featured the persistence of the body-on-frame chassis that was first derived from the Ranger line, made it a more truck-like driving experience, for better or for worse.
The Explorer outsold the Grand Cherokee every year for a wide range of reasons. If you're looking for a capable SUV with two-wheel, four-wheel, and all-wheel drive versions, dependable mechanicals, and more cargo room than the Grand Cherokee, this might be it for you.
Chevrolet Blazer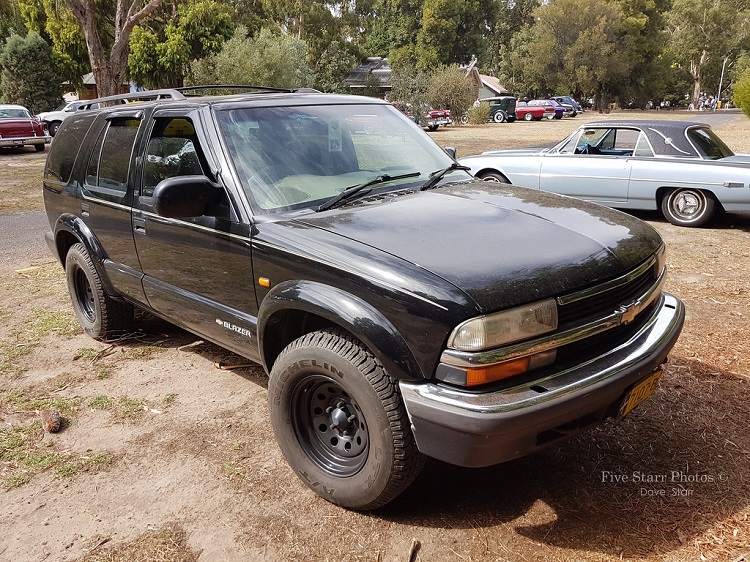 General Motors' entry into the domestic, mid-sized SUV market in 1998 was the Blazer, along with the badge-engineered stable mates the GMC Jimmy and Oldsmobile Bravada.
Available in 3- and 5- door configurations, most with 4-wheel drive and an electronic transfer case, it featured a body-on-frame chassis with a single power train available – the nearly bulletproof 4.3L V6, which is more or less a small block V8 with two cylinders cut off.
Upon its introduction in 1996, Motor Trend named the Blazer "Truck of the Year." 1998 models feature relatively well-appointed interiors with plenty of options, 4-wheel antilock brakes, and driver and passenger airbags.
Like its competitors, the Grand Cherokee and Explorer, the Blazer sold well, and many remain on the road today. Aftermarket parts are widely available, especially within the off-road enthusiast community.
Accessories for the 1998 Jeep Grand Cherokee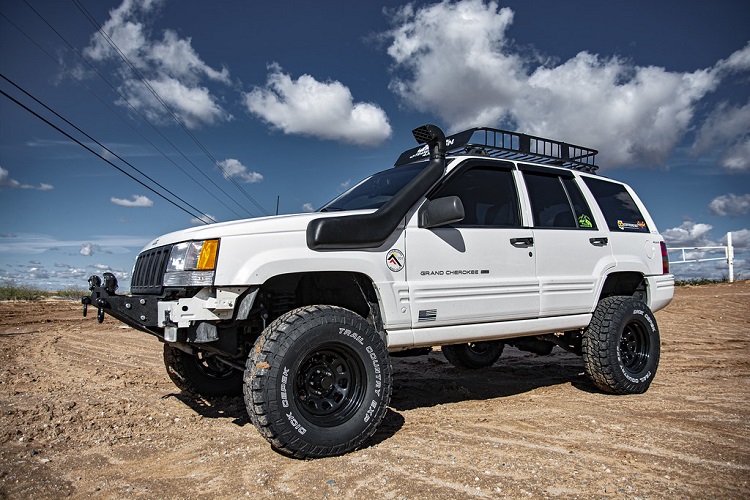 A 1998 Jeep Grand Cherokee (ZJ) model might not be the first thing you think of in off-road capability, but it is indeed a Jeep and, as such, is supported passionately by the off road community.
A quick google search will show you tons of custom kits for these SUVs, including body and suspension lift kits, sway bars, internal and external roll cages, tires, wheels, and roof racks. You can purchase fitted bush bars, lighting bars, and floor mats for this Jeep (we've gotta give it to Weathertech here).  
Performance-wise, all engines have many available aftermarket bolt-ons, like cold-air intakes from K&N to specialty cams, upgrades for internals, and upgraded charging systems.  
The Grand Cherokee is a Jeep through and through and can be equipped and used as a full-blown off-road performer.
1998 Jeep Cherokee Pros and Cons
Pros
It's a Jeep.

 It shares its pedigree (and its engineering) with the rest of the fleet. It can climb trees, especially if you add a lift kit and some aftermarket toys.

Comfort

– this is Jeep's upscale offering. Seat cushions are a little thicker, sound absorption is a little better, and it's the best-appointed model in the line.

Engines.

  The 4.0 inline six is a favorite, and both the V8s are carryovers from Chrysler's glory days, having proven their mettle over several decades of use
Cons
Unibody.

  Unlike its direct competitors from, GM and Ford, the Jeep Grand Cherokee uses a monocoque chassis design, which, while lighter, is a little more subject to damage under extreme use cases than the body-on-frame design. Because the floor of the car is integral to its structure, a little rust or damage can have big consequences.

Fuel economy.

  No SUV sips gas, but the consumption numbers on the  Grand Cherokee are particularly rough. The 2WD 4.0 liter gets about 16 mpg, the 4WD 15, and that's as good as it gets. The 5.2 gets 14 in both configurations, and the 5.9 scores a miserable 13 mpg (all figures are combined city/highway).

Fit and Finish

.  These were lean years for Chrysler, and sometimes it shows. The interiors, while attempting to be luxurious, can sometimes be a bit more "plasticky" than the competitors.
Frequently Asked Questions
Question: How Long will a 1998 Jeep Grand Cherokee Last?
Answer: Like any vehicle, this is a difficult question to answer. It really all has to do with mileage, maintenance, usage, and environment. Typically, well-maintained examples can be found with more than 200,000 miles on them, provided they've been taken care of. Rough use can shorten their lives, but the real killer is rust.
All three of the available power plants in these Jeeps are strong runners, but they can and do rust badly where corrosive snow melters like salt and other chemicals are used or in seaside environments.
Question: How Much is a 1998 Jeep Grand Cherokee Worth?
Answer: Not much if you look at Edmunds' vehicle values. A poor example should sell for about $500, and a good one just a little less than $4000. Their desirability among off-roaders, however, can drive the price up, especially in locations where the hobby is prevalent. You may need to look around for a good deal.
Question: What's the Best Engine in a 1998 Jeep Grand Cherokee?
Answer: The 5.9-liter engine, which was introduced for this model year, yields the best performance and comes only in the model with the highest option package, which makes it most desirable.
There is a case to be made for the 4.0 liter I6 as well, based on its popularity. However, in the end, all three available power plants tend to be good runners, with plenty of parts available.
Question: Is a 1998 Grand Cherokee Good for Off-road Use?
Answer: The ZJ, or first-generation Grand Cherokee, is not the go-to choice for off roaders, especially in stock condition. Its unibody chassis and relatively low ground clearance (compared to other Jeeps and competing SUVs) can be limiting factors.
With some work and aftermarket improvement, however, a 1998 Jeep Grand Cherokee can be turned into a pretty formidable trail machine or rock crawler.
1998 Jeep Grand Cherokee Guide: Final Thoughts
Jeep's 1998 Grand Cherokee is a pretty good vehicle, but it's getting a little long in the tooth. If you're looking for everyday family transportation, you might find its age and really poor fuel economy to be limiting factors.
On the other hand, if you want an off-road machine, it's a reasonably good platform to start with and can be improved dramatically for not too much money. Chrysler made 277,000 of them that year, so there are still plenty of reasonably good ones left on the market. If you want one, you should be able to find it.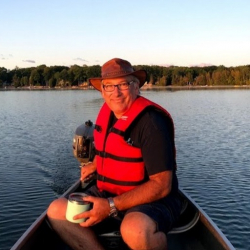 Latest posts by Taylor Wilson
(see all)