The original Grand Cherokee SUV was launched in 1993 as a direct competitor to the Ford Explorer and Chevrolet S-10 Blazer by integrating new and distinct features that were not offered by any other SUV. Unlike conventional SUV design, which incorporates the use of a body-on-frame chassis, the Grand Cherokee had a unique lightweight, monocoque chassis construction which not only led to the Grand Cherokee having excellent off and on-road manners but also provided a sedan-like level of comfort. This combined with the added creature comforts allowed the Grand Cherokee to impress customers and steal the market.
In this 1997 Jeep Grand Cherokee Guide, we will see how well the 1997 Jeep Grand Cherokee performed, what features it offered, what it lacked, and what other alternatives were available back then.
Bottom Line Up Front
The 1997 Jeep Grand Cherokee maybe not be as durable as a Toyota, but considering its unibody design, full-time off-road setup, and class-leading technology, it proved to be a great mid-size SUV.
Overview
The Jeep Grand Cherokee was initially offered in three trim levels; Base, Limited, and Laredo. By 1997, Jeep had added two more trims to the Grand Cherokee lineup; Orvis and TSI. Similarly, it was also launched with only a single powertrain, a 4.0-liter inline-6 engine that pumped out 190 horsepower.
By 1997, a 5.2-liter Magnum V8 was also available as an option which made 300 pound-feet of torque and 225 horsepower, whereas the original 4.0-liter inline-6 now produced 5 horsepower less due to emission regulations. Both engines, however, were only available with a 4-speed automatic transmission for the 1997 year model.
Oh My Features
The Jeep Grand Cherokee was Jeep's chance to steal the SUV market from Ford, and it did so by adding many features. For instance, Jeep initially made the driver-side SRS airbag standard in the steering wheel, and by 1997, the passenger-side front airbag was also made standard, whereas the higher-end Limited trim came equipped with a digital climate control setup.
Cosmetic Changes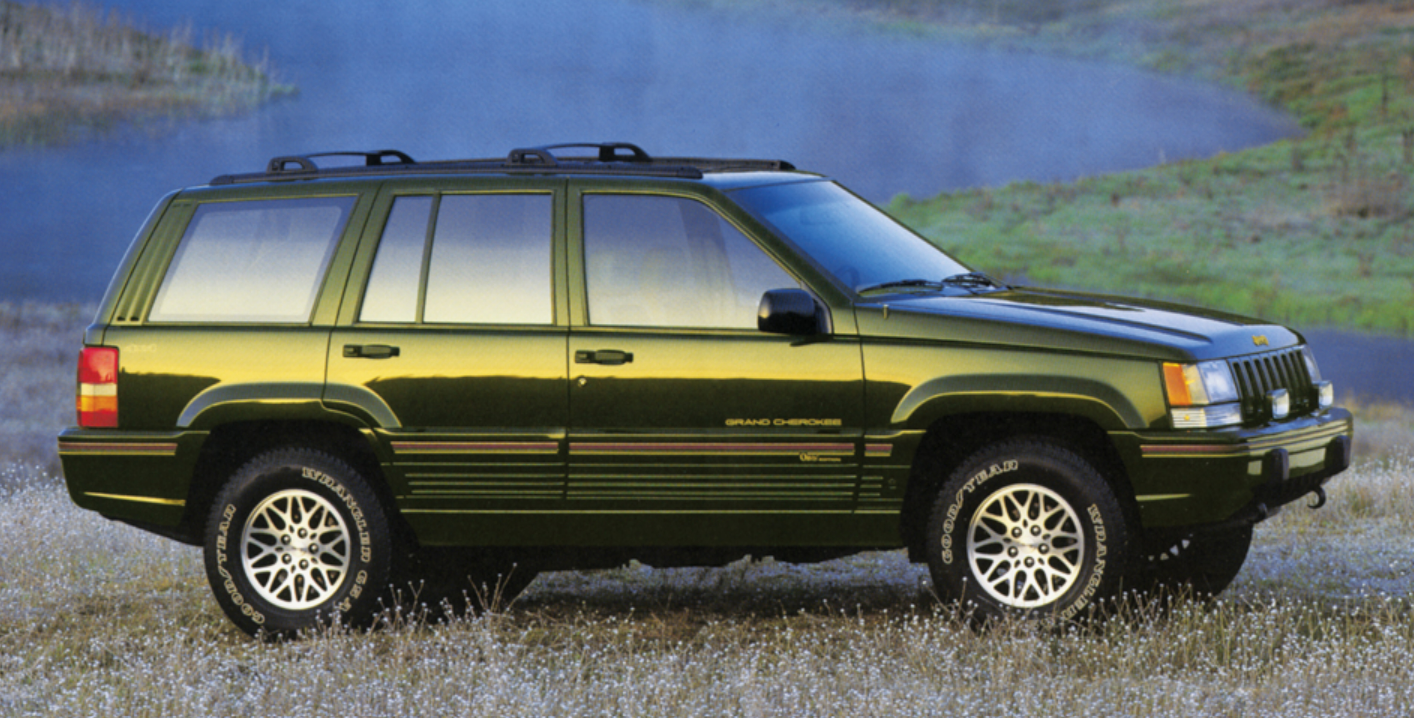 The 1997 Grand Cherokee came with minor cosmetic changes since major changes were made for the 1996 model year. The 1997 model similarly featured restyled rear and front bumpers and side cladding which added sharp looks to the Grand Cherokee. The meaner, larger front grille showcased an aggressive look, while the updated interior and aluminum-alloy wheel option gained more audience.
The previously above-cladding kept "Laredo" subtext was repositioned below the new cladding, similarly, the Grand Cherokee badge was also placed below the front doors with a larger font. The V8 trims had a new V8 badge on the rear lift gate. The models equipped with a four-wheel-drive system had their 4X4 decal now replaced with raised metal letters.
Electronic Vehicle Information Center
A new digital Electronic Vehicle Information Center (EVIC) was introduced; this system was standard on all trims and became the new attraction for customers. It worked by monitoring the Grand Cherokee's critical systems and prompted through visual and audible feedback when it sensed any fault. It had a strong eye over the rear and front lighting system, engine oil level, hood, doors, engine coolant level, and tailgate.
Besides monitoring critical vehicle systems, the EVIC also provided the vehicle's due maintenance reminders which could be set by the user via screen controls, along with current time and date information.
The Grand Cherokee had an OBD II diagnostics port in the driver's side dashboard; which was convenient when troubleshooting the vehicle using a computer.
This was looked upon by critics as a highly useful and convenient system that helped in monitoring and maintaining the Grand Cherokee.
Other Digital Upgrades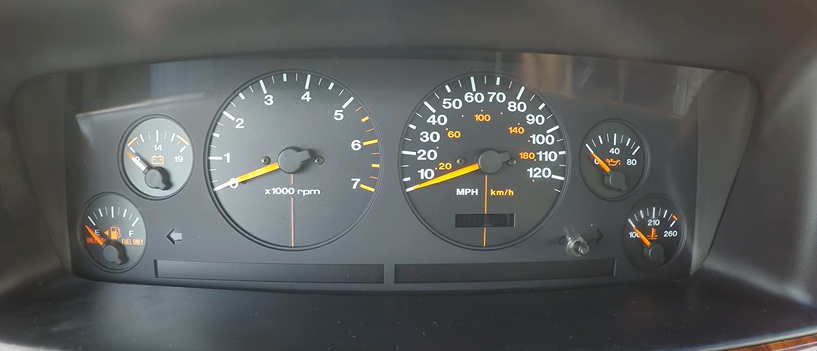 The digital upgrades were adored by gearheads, such as the digital odometer. And the 120 miles per hour speedometer tempted drivers to push the monstrous 5.2-liter V8 to its max. Fun and engagement were added with the help of user-programmable features such as the flashing of the tail and headlamps when a button on the key fob was pressed, when to prompt the next due maintenance, or whether to sound the horn when the vehicle was remotely operated.
A mini trip computer was integrated into an overhead console; it provided information such as outside temperature in Fahrenheit or Celsius, the direction of travel, Trip A and Trip B mileage, and vehicle range based on the current fuel tank level.
The Grand Cherokee was starting to gain more and more customers thanks to the convenient features it was offering. We have learned that useful data is called information, and this is what Jeep was doing; converting data into information and cashing it out.
These features allowed the customer to now have a sense of how much will their vehicle run with the particular fuel they had, and can calculate the exact fuel economy of their Grand Cherokee with the help of data provided. Back in 1997 when automotive technology was on the rise, Jeep got a hold of the market by raining features to please the buyers.
Besides controlling the audio system, the 3-spoke steering wheel was also equipped with cruise control buttons, and the old horn buttons were replaced with a new, dual-note horn pad.
Keyless Entry
What took the market by storm was the keyless entry system which allowed the user to step into the vehicle without needing to use the key to open the door, and the segment-exclusive vehicle security system which could be activated and deactivated via the key fob.
Lights
The 1997 Grand Cherokee welcomed the passengers with illuminated interior lights whenever a door was opened and worked in conjunction with the automatic headlights, which turned off automatically.
Jeep did a marvelous job providing an illuminated ignition cylinder, which turned out to be very convenient because now it could be easily located when driving in low light conditions. Now in 2022, these features may sound too simple; illuminated ignition cylinder, like really? We have autonomous driving systems today, and what on Earth do I have to do with an ignition cylinder when I have to push-start or touch-start today? Well, back in 1997, technology was not as advanced as it is today.
We have seen exponential advancement in technology since then, which has led to the automotive market being very competitive, but it has also provided exceptional convenience to drivers, or should I now say passengers for people who use Tesla's auto-pilot today.
Audio
Although it was not as crisp as today's premium vehicle audio systems in comparison, the factory-fitted Infinity Gold audio system provided the passengers with a great audio experience with its 5-band graphical equalizer, and a multi-CD player (depending on trim) connected to a 120-Watt amplifier which was installed beneath the second-row seats. While earlier models allowed the buyer to have either the CD player setup or the cassette player, this model came with both.
Interior Upgrades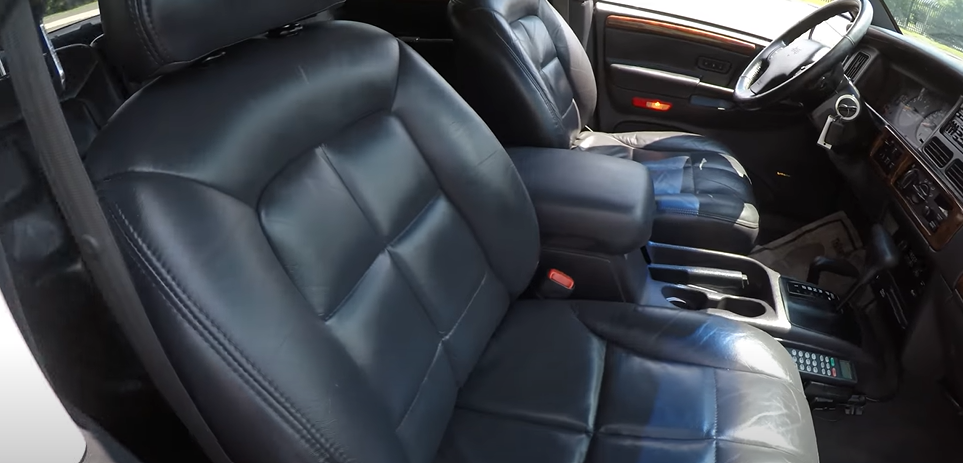 Besides the built-in minicomputer, the overhead console featured useful storage. You could store up to two pairs of sunglasses and one garage door opener. It also had four reading/map lamps which were useful when going on adventures.
The interior chrome handles added a royal touch to the interior, and besides the cigarette lighter, a 12-volt auxiliary port was installed to power external devices such as coolers, cellular phones, and other devices.
The memory function recalled the passenger and driver's dual-powered, seat adjustment setting at the push of a button, it also did the same for radio preset and mirror adjustments. This button panel was located on the driver's door and these settings were called by two engraved keys which prompted the set adjustments.
Creature comforts were added to 1997 Jeep Grand Cherokee by introducing heated front passenger and driver bucket seats wrapped in luxury leather, which made daily commutes on cold mornings cozy and relaxing, and the faux wood interior provided a subtle touch to the interior.
It was operated via sliding controls which were located next to the lighting controls on the driver's side. The addition of an optional power sliding-and-tilt sunroof pleased customers asking for a luxury-inspired SUV, and the steering controls for the audio system allowed the driver to skip unwanted songs while keeping eyes on the road.
Besides controlling the audio system, the 3-spoke steering wheel was also equipped with cruise control buttons, and the old horn buttons were replaced with a new, dual-note horn pad.
Practicality and Safety Features
Besides features, the Jeep Grand Cherokee was made to be a practical SUV. The big glove box allowed one to securely store important belongings, while powerful headlamps and bumper-integrated fog lamps carried function without breaking form.
The rear lift glass was optional on the 1995 Jeep Grand Cherokee Orvis edition, but by 1997, it had been available to the Laredo and Limited trims as well. The standard rear door child locks, and standard power door locks and windows made sure life was easy and safe for every family.
Grand Trims
The Grand Cherokee was offered in many trims back then, with each one having a distinct personality.
Laredo
By 1997, the Laredo trim, which had previously been the mid-range trim level, had become the base trim for the Grand Cherokee. Though it was the entry-level trim, it still had much to offer; from pleasant warning chimes and keyless entry to air conditioning and soft-touch surfaces, the Laredo trim was successful as entry-level trim.
The automatic transmission, AM/FM audio system with cassette player, and power windows and locks were the basic things that people were looking for in this range, and thanks to the Laredo trim, Jeep stole this market as well.
Special Edition
The Special Edition was placed above the Laredo trim and featured the premium Infinity Gold premium audio system with CD players, a 120-watt amplifier, an AM/FM stereo system with a cassette player, and 6 speakers.
The front-row powered bucket seats were very comfortable and provided a very relaxing commute. And while a security system kept the Grand Cherokee safe, the body-color side skirts and rear and front bumpers added a sharp look to the vehicle.
TSI
The TSI trim was made to paint a sporty Grand Cherokee. Besides existing Special Edition features, the TSI added sports 16-inch alloy rims, sport-perforated and leather-trimmed seating surfaces, 225/70R16 Goodyear Eagle GA tires, blue side skirts, rear and front bumpers accents, and heated front seats. The TSI was offered with both engines and was also available in a 2-wheel drive configuration as well.
Limited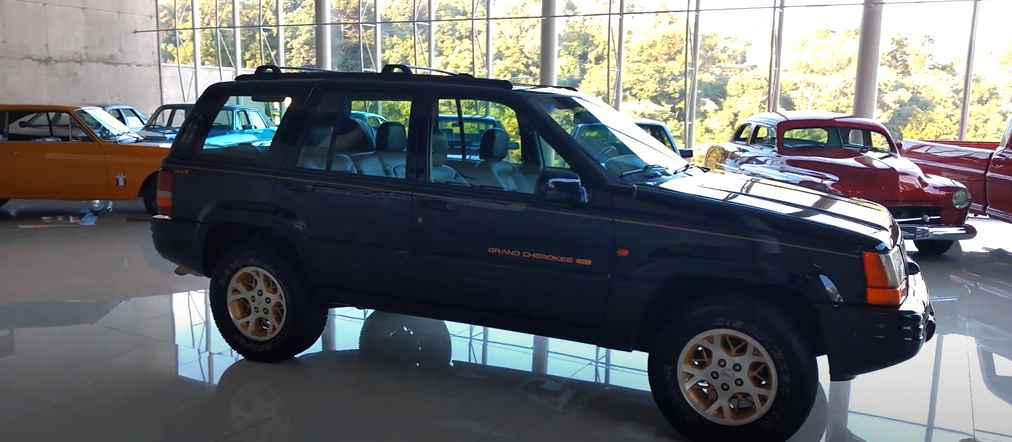 Top-of-the-line, the Limited was the most luxury-focused trim available with the Grand Cherokee. On top of the Laredo trim, the Limited added a 6-speaker Infinity Gold premium audio system, a leather-wrapped steering wheel, a security system, and premium power bucket seats for the best-in-class creature comfort.
Electronic Vehicle Information Center (EVIC) added convenience for the user, while gold-plated badging (oh my), a body-colored front grille, and rear and front bumpers added a stylish look to the vehicle.
Orvis Edition
Jeep partnered with Orvis and created the "Orvis Edition" which was available from 1995 to 1997. As luxurious as the Limited trim, the Orvis Edition was the most expensive Grand Cherokee available when added with options. Available in Light Driftwood and Moss Green color schemes and Orvis brand badging, these were the only two visual significant exterior differences.
While all other trims had the 5.2-liter V8 as standard, the Orvis edition was also available in the 4-liter inline-6. The Orvis Edition also added the Up-Country suspension group, tow hooks, and a rear lift glass.
This edition had a significantly more beautiful interior; it comprised tan and two-tone green leather seats, with Orvis insignia, road red stitching, and a tan dash. It was not just a regular cabin, but a work of pure art and craftsmanship.
Safety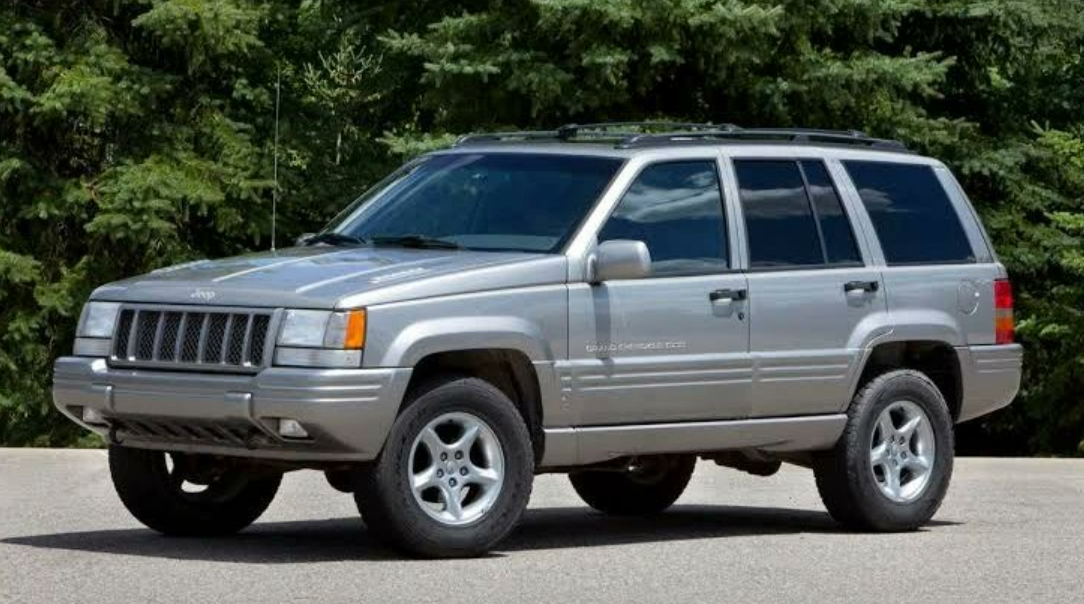 The Insurance Institute for Highway Safety had evaluated the 1997 Grand Cherokee for safety and had found it to earn a marginal score in the moderate overlap frontal offset test.
On the other hand, the National Highway Traffic Safety Administration had awarded the 1997 Grand Cherokee three out of a maximum of five stars in frontal driver safety and four out of five in frontal passenger safety.
Awards
While other Grand Cherokee model years in the 1990s had been awarded many times, the 1997 Grand Cherokee V8 received the Best Family 4×4 award from Beta Blog, Best 4×4 award from Bearded Monthly, and Best Vehicle of the Year award from Asheville Chronicle.
Crawl My Rock
You know how it all started with the Jeep brand. From a military-based utility vehicle to a 4×4 family SUV, Jeep has gone through countless design iterations to develop the most robust 4×4 system. Unlike many other manufacturers, Jeep does not only offer part-time 4×4 systems, but it also offers full-time for maximum traction over loose surfaces.
While a part-time 4×4 system uses two differentials to lock all wheels, the full-time 4×4 allows greater control thanks to an additional center differential. The part-time system utilizes the two differentials when going off-road, but since it locks all wheels, it cannot be used for continuous driving.
On the other hand, the full-time 4×4 system, with the help of the center differential, powers all four wheels while catering to the outside wheel's larger turning radius without damaging the gears. This makes the full-time 4×4 system way more effective in tough driving conditions.
Initially, the Grand Cherokee was offered in two types of 4×4 systems; Command-Trac and Selec-Trac. As mentioned above, the Command-Trac was a part-time 4×4 system and offered temporary 4×4 off-roading assistance, but it was dropped in 1996.
The Selec-Trac on the other hand offered legendary traction and grip with its full-time 4×4 system and, could also be operated part-time. Both of these 4×4 systems were shift-on-the-fly. A shift-on-the-fly 4×4 system allows the driver to switch to and from 4×4 mode while moving. This adds much convenience in comparison to one which requires the vehicle to be stationary.
Moving on, the 4.0-liter inline-6 and the 5.2-liter gave the Grand Cherokee ample power and traction over any given terrain and driving condition, without compromising on creature comforts or ride quality, which made it a successful SUV.
You may be wondering what type of suspension the 1997 Grand Cherokee had. Well, it had an exclusive Quadra-Trac suspension which assisted the full-time 4×4 system. This suspension design was implemented on both the rear and front axles and used a total of four control arms on each side.
The two control arms below and above the axles countered the braking and drive reaction by controlling rotation along the lateral axis as well as longitudinal movement. Moreover, the track bar, also known as the Panhard rod, was used to control the axle laterally.
Up Country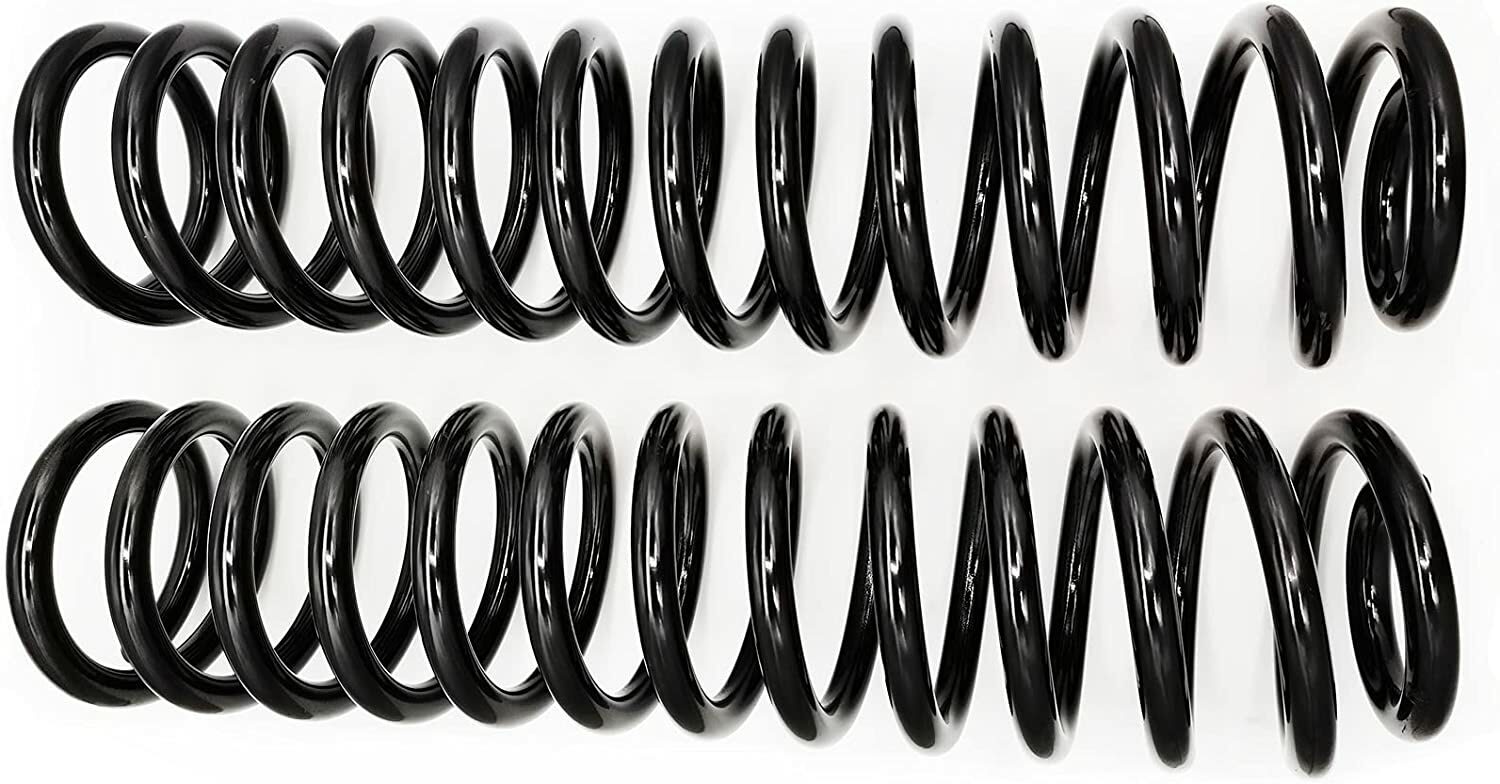 While the Quadra-link suspension used two gas-filled shock absorbers and two coil springs, the optional "Up-Country" package allowed the user to get longer bump stops, taller coil springs, and German-made heavy-duty gas-filled shock absorbers which were placed upside down.
The "Up-Country" back in 1997 made the already capable Grand Cherokee much more adventure-oriented, and outdoor enthusiasts loved it. And for people who did more on-road traveling than off-road, the 5.2-liter V8 provided a quick getaway with a zero to 60 mph acceleration time of just 8.2 seconds. Yes, just 8.2 seconds, don't compare it with the Wrangler's 6.4-liter Hemi V8 today which can do the same in half the time, back then in 1997, 8.2 seconds on such a heavy SUV was praised as exceptional.
Not to forget that the "Up-Country" package also increased the Grand Cherokee's overall ground clearance by one inch, which ultimately increased its approach, break-over, and departure angle as well as water fording ability, hence, improving overall 4×4 capability.
But if you were not interested in off-roading back then, and were looking for utility and towing, Jeep had another deal for you. The 1997 Grand Cherokee was also offered with a rear-wheel-drive-only option, which was cheaper than 4×4 models and provided a quieter cabin with a smoother drive in fair weather conditions. And with the 5.2-liter Magnum V8 engine, users could tow a maximum of 6700 pounds, which was more than enough for hauling large trailers.
Alternatives
1. 1997 Jeep Wrangler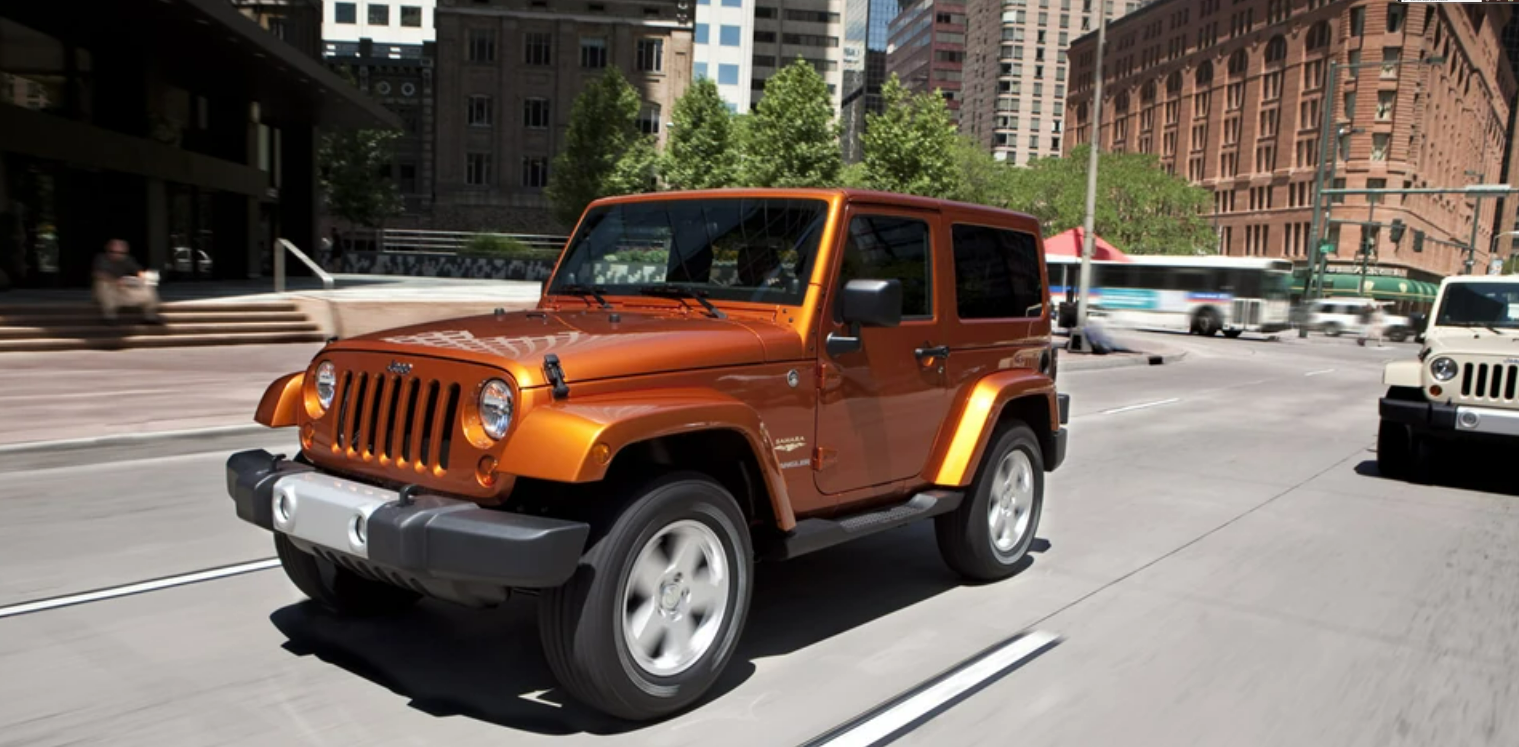 The iconic Jeep Wrangler was designed as the master of off-roading and adventure for people who wanted open-air freedom and raw power. Originally designed for the military, the Jeep Wrangler was later used by farmers who needed 4×4 functionality. With time, the idea of an open-top SUV was accepted by outdoor enthusiasts, and the Jeep Wrangler quickly gained fame.
Back then, in 1997, the Jeep Wrangler was offered with only two engine configurations; a 2.5-liter inline-4 cylinder and a 4.0-liter inline-6 cylinder. Both engines were available with a 3-speed automatic transmission or a 5-speed manual transmission.
The 1997 Jeep Wrangler came with vinyl seats, an AM/FM stereo, two speakers, and a removable rear bench seat. The legendary Dana 44 rear axle was available with a 3.73 axle ratio, colored fender flares, 30-inch tires, and a Trac-Lok limited slip differential transfer case. Although the Jeep Grand Cherokee provided better comfort, the Jeep Wrangler was made to take on punishing terrains with its open-air experience.
2. 1999 Toyota 4Runner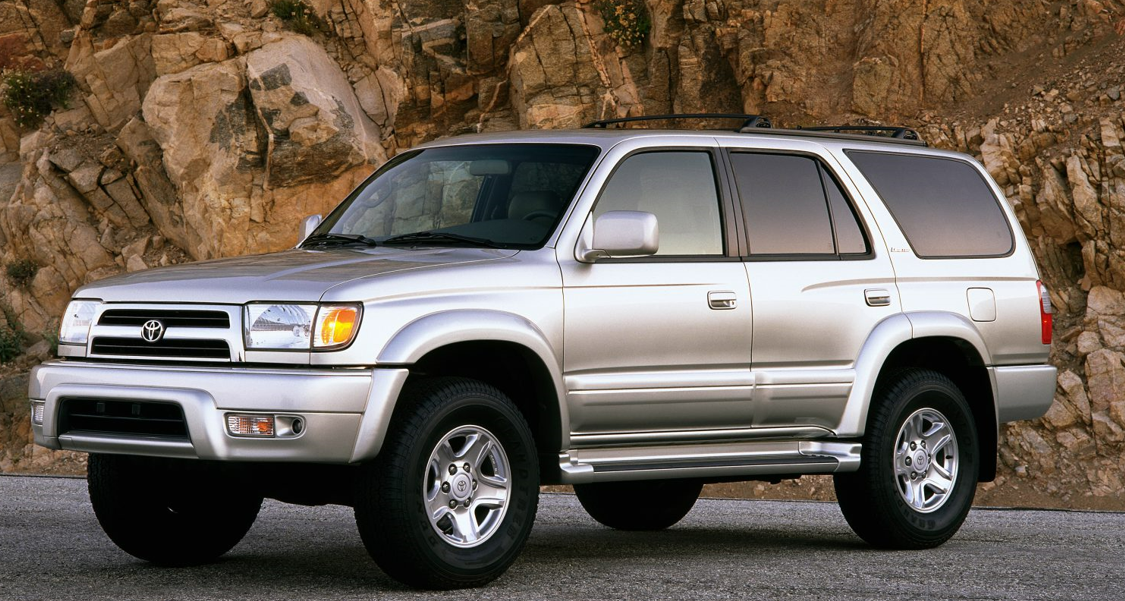 The 1999 Toyota 4Runner was a direct competitor to the Grand Cherokee. The Toyota 4Runner was available with two engine configurations; a 2.7-liter inline-four cylinder, and a 3.4-liter V6. The 2.7-liter inline-4 offered 177 pound-feet of torque and 150 horsepower, while the more powerful 3.4-liter V6 pumped out 217 pound-feet of torque and 183 horsepower. Both engines were available with a 4-speed automatic or 5-speed manual transmission.
The 1999 Toyota 4Runner was a 5-seater mid-size SUV that came with a part-time 4×4 system. It offered a towing capacity of 3500 pounds and 5000 pounds, depending on engine size. Although it was less powerful than the Grand Cherokee and did not offer a full-time 4×4 system, the 4Runner was much more reliable and durable than the Grand Cherokee, thanks to its body-on-frame chassis. But this also meant that the Toyota 4Runner drove more like a truck than a sedan, and the Grand Cherokee here had an advantage due to its unibody construction.
3. 1999 Toyota Land Cruiser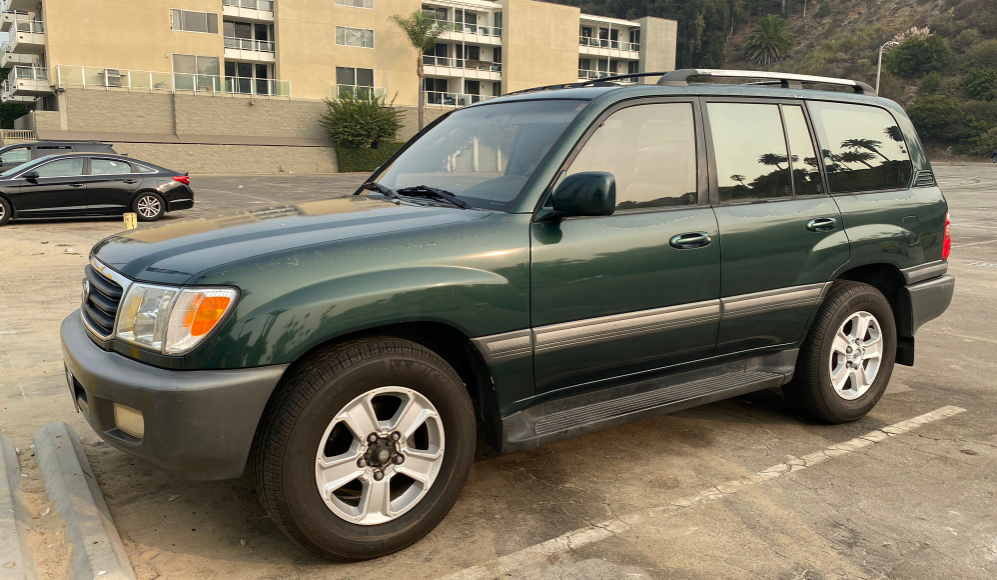 The 1999 Toyota Land Cruiser was Toyota's flagship SUV. Made to outlast the human race (no, really), the 1999 Toyota Land Cruiser featured an all-new chassis and body design update, with a new 4.7-liter V8 pumping out 320 pound-feet of torque and 230 horsepower. The Land Cruiser also came with a part-time 4×4 system, and its comfortable interior, long-lasting design, and capable off-road functionality made it indestructible.
The interior was roomy, with storage bins distributed throughout the cabin. Auxiliary power, power sunroof, and leather upholstery made commuting comfortable, while the rigid body provided better safety at highway speeds. On tough terrains, the locking rear differential came into play to offer superior traction to keep you moving at all times. Even to date, the 1999 Land Cruiser lives on, most with its original paint and transmission. The Land Cruisers, which were religiously maintained, are still as strong as they were when new.
FAQs
Question: How many miles can a 1997 Jeep Grand Cherokee last?
Answer: The 1997 Jeep Grand Cherokee has been a very successful SUV. Users have reported the 1997 model with great positive reviews. The 1997 Grand Cherokee required a transmission rebuild at around 160k miles, as per most user reviews. Moreover, minor sensors needed to be changed once their life was over. The idle air control valve sensor and throttle body sensor needed to be replaced, along with the water pump. But mechanically, it had been very reliable.
Question: Are old Jeep Grand Cherokees reliable?
Answer: The Jeep Grand Cherokee is a robust SUV that comes with a powerful engine and full-time 4×4 system, depending on the trim. In comparison to today's part-time 4×4 SUVs, the old full-time 4×4 Grand Cherokees offer better traction on snow and slippery road conditions. Reliable up to 150k miles, the old Jeep Grand Cherokee suffers from sensor and transmission failures. Therefore, if you are planning on buying an old Grand Cherokee, it is much better to have the radiator, water pump, throttle body sensor, idle air control valve sensor, and transmission inspected by a mechanic.
Question: Is Jeep Grand Cherokee good for off-road?
Answer: The Jeep Grand Cherokee is not only good on-road, but it is great for off-road as well. This is achieved thanks to the Grand Cherokee's monocoque chassis and full-time 4×4 system. The monocoque chassis allows the Grand Cherokee to have a ride quality of a sedan; with low body lean and less disturbance, the vehicle runs smoothly. Moreover, the full-time 4×4 system allows the Grand Cherokee to continuously power all wheels resulting in optimum traction regardless of terrain or curves.
Question: Which is better off-road, Cherokee or Grand Cherokee?
Answer: The Jeep Grand Cherokee is better at off-roading thanks to its more powerful engine, full-time 4×4 system, and upgraded suspension, which allows it to handle any terrain without losing traction. The Cherokee, on the other hand, had a 2.5-liter engine in comparison to Grand Cherokee's 4.0-liter inline-6 and 5.2-liter V8.
Question: What engine did the 1997 Jeep Grand Cherokee come with?
Answer: The 1997 Jeep Grand Cherokee was available in two engine configurations; a 4.0-liter inline-6 cylinder engine and a 5.2-liter Magnum V8. While the 4.0-liter inline-6 offered 185 horsepower and 225 pound-feet of torque, the 5.2-liter V8 made 300 pound-feet of torque and 225 horsepower. Both engines were only available with a 4-speed automatic transmission.
Verdict
The 1997 Jeep Grand Cherokee had been successful in providing purpose to the people. Unlike most vehicles, the Grand Cherokee had a personality. It offered form and function without compromising on quality. It knew what it was; a practical mid-size SUV which can take on any off-roading trail while fulfilling creature comforts.
Even today, owners are still happy with their 1997 Grand Cherokee, as it has stayed loyal to them. Most 1997 Grand Cherokees have crossed 150k miles, and all the owners mostly complain about is the transmission breaking down at this point, with a few sensor malfunctions. The engine and suspension, on the other hand, still run great.
You should also accept that some things cannot live forever. The shock absorbers, for example, have a fixed life. Once they cross it, they are prone to failure. But the manufacturer also must fix flaws in its vehicle.
In summary, the 1997 Grand Cherokee has been quite a durable SUV. Maybe not as durable as the 4Runner or the Land Cruiser, but as a Jeep, it has done a great job.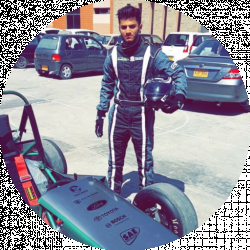 Latest posts by Zabrain Arshad
(see all)