The Toyota 4Runner is a Japanese-built midsize SUV that first appeared on the American market in 1984. It started as a modified Toyota Hilux pick-up truck, but since then, it has developed into a car in its own right. You've probably seen them around.
So, you're interested in the Toyota 4Runner but are also considering similar competitors? To help you through your search process, I've compiled a list of what I'd consider the top 4Runner competitors across the US.
I've organized these into categories, so you can prioritize what you're looking for. Below, you'll find the best alternatives to the Toyota 4Runner in terms of:
Price (initial and running)
Functionality (including fuel economy, cabin space, and efficiency on and off the road)
Off-roading
There are many different types of cars out there today. As an SUV driver, your priority is, of course, a mix of practicality and performance. I hope you'll find some inspiration from this list of 4Runner competitors and be able to choose the vehicle that's best for you.
Let's get into it.
Bottom Line Up Front
Four cars stood out to me as strong 4Runner rivals. The top 4Runner competitor, in my opinion, is the Jeep Grand Cherokee. It'll do everything a 4Runner will and more (with the right package) and comes at a similar cost. Most importantly, when you return to the asphalt, it easily triumphs over the Toyota.
For other midsize SUVs offering superior cost-effectiveness or day-to-day practicality, check out the following:
Ford Explorer

Hyundai Santa Fe

Kia Telluride
Toyota 4Runner Review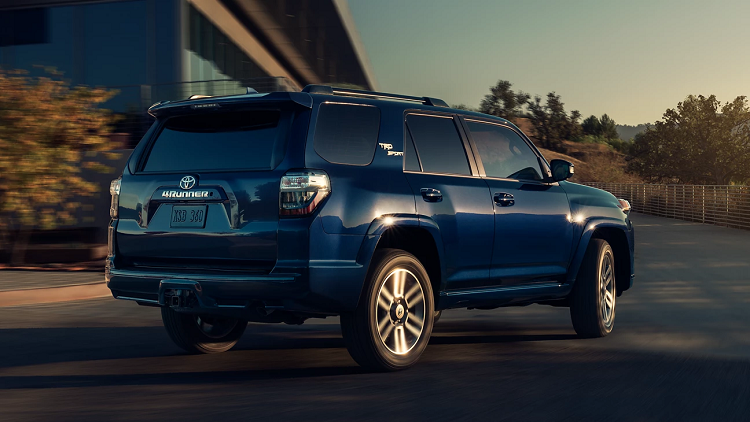 The Toyota 4Runner is a decent SUV with well-above-average off-road capabilities. Its four-wheel drive, high ground clearance and ride height, and powerful engine ensure it does just enough. Driving around on bumpy fields, rocky roads, mud courses, across pot-hole-filled streets, or other similar terrains, the 4Runner is in a class of its own (regarding SUVs).
Inside, there's plenty of room for the driver and passengers, making it a relatively comfy option for a reasonably practical all-terrain car. It's also got Toyota's well-deserved reputation of being long-lasting, durable, and reliable. If you buy one, you can expect the 4Runner to hang around with you for some time.
However, when it comes to road usage, most car critics agree with my opinion: "…meh". The very features that make it exemplary off-road inhibit its performance once it returns to ordinary streets.
The ride is a little too stiff to call comfortable, and although the spacious cabin offers occupants lots of room, it feels outdated, bare, and plastic. Worst of all, in my opinion, is the pretty slow acceleration coupled with the awful fuel economy: for a 270 horsepower V6, you don't get moving too quickly, and you'll end up with no better than 19 mpg.
Even when it comes to big cars, that's bad. Finally, the 5-speed transmission is good enough but frustratingly unable to work out when you want it to downshift.
The 2022 Toyota 4Runner starts at $37,605, which is on the higher end next to its competitors. With optional extras and higher trim levels, you can expect to be paying well into the $50,000s. At the higher end, it's actually less than alternative SUVs – but you probably aren't getting quite so much car for your money, either.
So, in conclusion? The 4Runner could be a good option if your main focus is a comfortable cross-country experience. However, there are probably better options out there.
Toyota seems to have been caught in two directions, primarily focusing on the 4×4 capabilities but getting somewhat distracted by a half-hearted attempt at road practicality.
As a result, they've produced a car that seems like it should be a bricklayer, but it's dressed up in some cheap suit and sent off to a party it really doesn't want to attend. Other vehicles can offer similar off-road adventures at a lower price and with better performance when you get back on the day-to-day streets of your local area.
Check out the competitors I've put together below.
Toyota 4Runner Competitors: Price
First, I've chosen to consider what other cars you can get for a similar price in 2022. The 4Runner starts at about $37,500 – quite a lot compared to other midsize SUVs.
The highest options rise to the mid $50,000s. In comparison, why not check out the Kia Telluride or the Hyundai Santa Fe. Neither of these has the same all-terrain capabilities as the 4Runner, but this is to be expected. (Read the section on Off-Roading for more information on these vehicles!)
Price: 4Runner vs Hyundai Santa Fe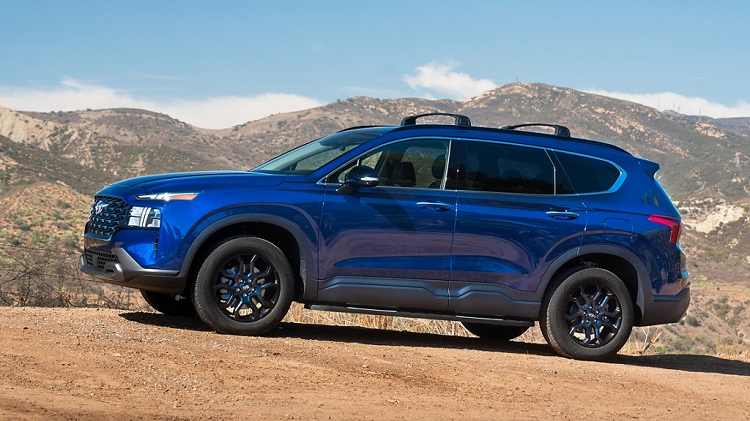 When it comes to price, the 4Runner pales into insignificance next to the Hyundai Santa Fe. Of course, again, you won't be getting the same off-roading potential, but there's nothing quite like it in terms of cost.
With prices starting at around $27,000, the base model is ten grand cheaper than the 4Runner's. In technical terms, that's loads.
The Santa Fe's fuel economy is far superior, with real-world tests easily achieving 29 mpg and above. If you were to drive the 4Runner and Santa Fe in convoy, you'd spend 53% more on fuel in the Toyota for the same trip. Or, to put it in more real-life terms, the average American drives 14,263 miles annually.
Assuming current prices of $4.80 per gallon would come to $2,360.77 for the Hyundai. The Toyota comes to $3,603.28. That's a staggering increase for doing the same driving, and over a few years of car ownership, it really starts to add up.
The downsides? It's a little low on power for a midsize SUV, and the ride's a little firm. However, its relatively low-riding setup gives you good handling and decent steering feedback for electric power steering.
The 4Runner also has an uncomfortable ride but can't match the Hyundai for vehicle control and lack of body roll. If you want to compare another SUV with the 4Runner in terms of price, I think the Santa Fe is your best option.
Price: 4Runner vs Kia Telluride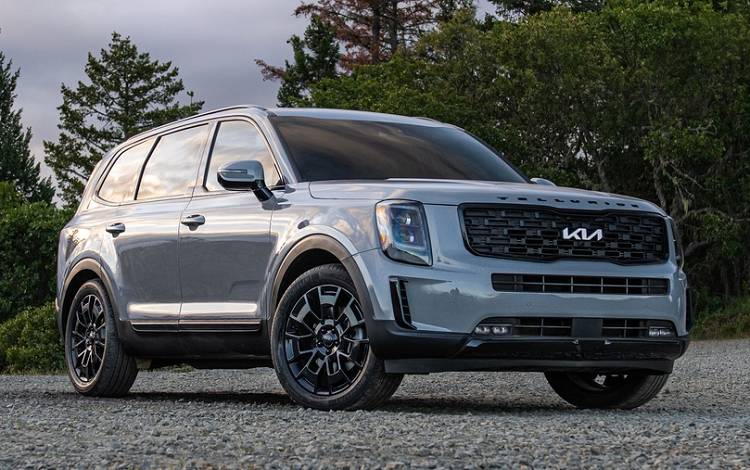 The Kia Telluride starts at about $33,000, with the highest specifications coming in at about $45,000. Compare this to the 4Runner's $37,500 starting price – it's about $4,500 cheaper.
On paper, that might not seem like a lot, but how much will $4,500 contribute towards fuel and insurance these days? It's probably a year's running costs for some people.
Does that make it worthwhile for you? Perhaps. The gulf just becomes more prominent when we look at the higher-end specifications. Expect to get a top-of-the-range Telluride for $45,000, although optional extras will take it well over the $50,000 mark.
The Kia doesn't have the same off-road capabilities compared to the Toyota. It has a bog-standard V6 sending power to the front wheels, with optional all-wheel-drive capability ($2,000).
However, if it's primarily about road-going costs for you, the Telluride triumphs over the 4Runner by far. It's less to begin with but then comes with up to 26 mpg on the highway. The Toyota might get 19 if you're lucky. That means you're likely to spend 37% more on fuel. As prices continue to rise, can that really be justified?
Inside, the Telluride has a much nicer cabin, with plenty of room for up to eight people and luggage. There aren't many midsize SUVs that come close in terms of top-quality interiors for low prices.
Toyota 4Runner Competitors: Functionality
Different people will all rate functionality in varying ways. I'm taking functionality to mean "ease of use" or "practicality": multipurpose activities, family and group compatibility, fuel economy, and on-road driving experience.
So, the Toyota 4Runner really struggles in a few of these areas. Although it's spacious, offering room for five (or seven, at a squeeze) people and plenty of cargo, and great when heading off the beaten path, you'll soon find that the poor fuel economy and the rather terrible asphalt experience take away from the honeymoon period brutally quickly.
A good competitor, therefore, must be spacious, good off-road, with excellent fuel economy and driving feel.
My top picks here are the Ford Explorer and the Jeep Grand Cherokee.
Functionality: 4Runner vs Ford Explorer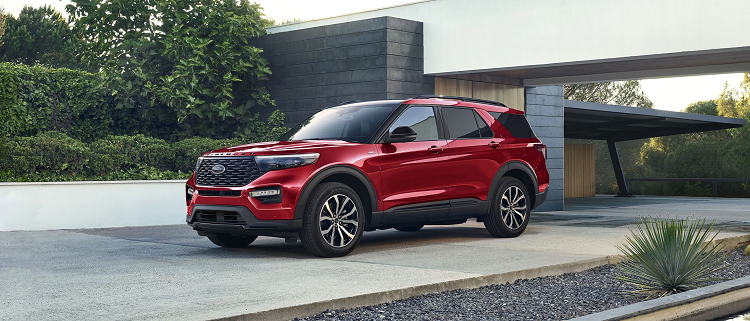 The Ford Explorer starts at about $33,000, but for functionality, I'd recommend spending a little extra ($46,245 – okay, a lot extra) on the Timberlake package. This gives you a transfer case to enable a four-wheel-drive when needed, and includes a torque sensor-controlled limited-slip differential.
Although the cabin is quite basic and it's not the most comfortable in the second and third rows, well… it has second and third rows! You can fit up to seven people in the Explorer, with significant extra luggage room. Even when the rear seats are folded up, you shouldn't have any problems slotting a few extra bags in the bag.
On top of this, the Explorer is widely accepted as having excellent handling for a large, heavy SUV. The 3.0-liter V6, the most powerful engine option on offer, provides 415 lb/ft of torque – plenty for off-roading.
The Explorer won't ever compete with the 4Runner in off-road capability alone. You can add a four-wheel-drive to the base 4Runner SR5 for just $1,875, giving a total cost far below the Explorer.
The Toyota also takes the edge regarding passenger comfort (although you can't fit so many in). However, the Ford outshines its rival in almost every other practical area, so the extra cost might be justified if you're looking for a good mix of a runaround and toy.
Functionality: 4Runner vs Jeep Grand Cherokee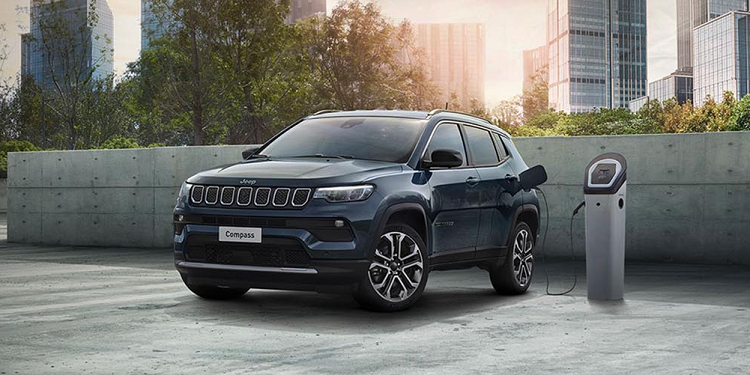 The 2022 Jeep Grand Cherokee is one of the few cars that can match the Toyota for off-road ability. It comes at a similar price, although high-end versions can get quite excessively expensive ($90,000 and beyond!). Where the Jeep starts to pull away from the 4Runner is in its seamless switch between off-road brute and calm, road-going machine.
The Grand Cherokee is perfectly capable of achieving both of these states effortlessly. In contrast, the Toyota seems to always be longing to be back bouncing over rocks and wading through rivers.
The Jeep Grand Cherokee starts at around $34,000 and holds five or seven seats, like the 4Runner. However, the Trailhawk – the off-road-specific version – comes in at $45,600.
This is probably similar to what you'll spend on a 4×4 4Runner, but it comes packed with accessories (discussed in the next section of this article). You'll find a spacious, comfortable interior, but it pulls away from the Toyota in quality. It's a pleasant space to sit in, unlike its competitor.
On the road, the Grand Cherokee gets much better fuel economy. Although we don't have official readings for the 2022 model yet, last year's Cherokee reached 26 mpg on the highway. You'll also find a much more responsive, powerful engine (several options are available) and an overall much more functional all-around car.
Toyota 4Runner Competitors: Off-Roading
The 4Runner has an impressive 9.6 inches of ground clearance. It's undoubtedly one of the best-in-class for off-roading, coming with skid plates as standard to protect the underside. Toyota has certainly leaned more towards the all-terrain capabilities rather than focusing on the road-going aspects.
Of course, you need four-wheel-drive. Many SUVs in the same consumer bracket come with all-wheel-drive. Casual readers might not be aware of the difference. All-wheel-drive is a sort of temporary four-wheel-drive. It's usually mainly used as part of the traction control system but should be switched off most of the time.
All-wheel-drive can usually be temporarily forced to stay on by pressing a button, but it deactivates whenever you reach a speed preset by the manufacturer (typically about 30 mph).
All-wheel-drive is better for fuel economy but can't compare with four-wheel-drive in off-road capabilities. A 4Runner competitor, then, must have four-wheel-drive, to at least match it in terms of performance.
When it comes to a midsize SUV with off-road capabilities, you can't really beat the Jeep Grand Cherokee Trailhawk.
Off-Road: 4Runner vs Jeep Grand Cherokee Trailhawk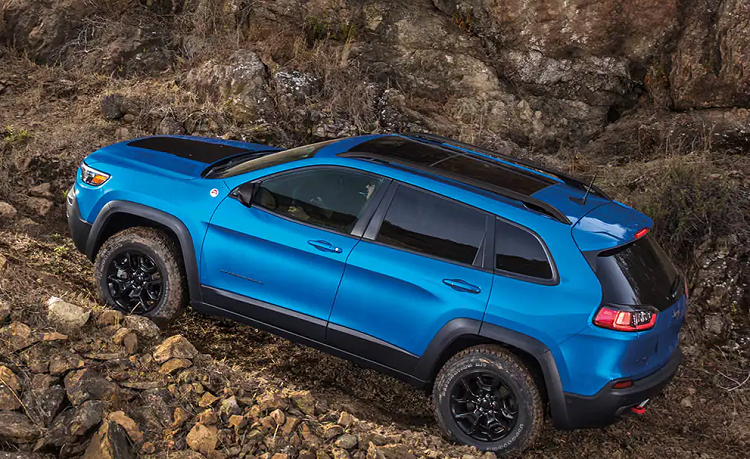 There aren't many midsize SUVs on the American market with the same off-road capabilities as the Jeep Grand Cherokee. It rivals the 4Runner in terms of efficiency on cross-country journeys and courses.
The two are near enough rivals. However, when it comes to leaving the rocks and mud behind and heading back to the paved roads, the Jeep blows the Toyota out of the water.
With the Toyota 4Runner, you should probably expect to be paying in the mid $40,000s for a good, 4×4-optimized package. The Jeep Grand Cherokee Trailhawk option comes in at $45,600, as mentioned in the previous section.
You could also spend an extra $3,395 to upgrade the V6 to a 360-horsepower V8. The Trailhawk comes with four-wheel-drive – as you'd hope! – along with all-terrain tires, a limited-slip rear differential, three skid plates, air suspension, and interior luxuries like heated seats and an advanced stereo.
In this setup, the Grand Cherokee Trailhawk offers up to 10.8 inches of ground clearance – even more than the 4Runner. Note that the standard Jeep still has 8.6 inches – not as much as the 4Runner, but still a reasonable amount.
Both Toyota and Jeep come with industry-leading reputations for 4x4s and off-road vehicles – think of the Land Cruiser and even the original Willys Jeep – and they're still delivering.
A critical factor in choosing an all-terrain car is how easy it is to fix and the support you'll need from both the manufacturer and enthusiast groups. Both Toyota and Jeep have all of this covered – and then some – when it comes to off-roading.
In summary, when it comes to off-roading, I don't know why you wouldn't choose the Jeep. It can do everything the 4Runner can and much more for the same price, with better fuel economy and a much more pleasant driving experience.
You might sacrifice passenger comfort and space a little, admittedly, but broadly speaking, the Grand Cherokee easily triumphs over the 4Runner overall.
Frequently Asked Questions
Question: Are 4Runners Better than Jeeps?
Answer: "Better" is and always will be a matter of opinion and perspective – "better at what?" Next to its closest midsize SUV rival, the Grand Cherokee (and perhaps the Wrangler), the 4Runner is probably a little more spacious and comes with substantial off-road premiums.
However, the Jeep could keep up with the Toyota without issue, and when it gets back to the road, it's much nicer to drive.
As such, in my opinion, you're probably better off with a Jeep Grand Cherokee than a Toyota 4Runner.
Question: Which Lexus SUV is Comparable to a 4Runner?
Answer: If you're interested in a Toyota 4Runner, a comparable Lexus SUV to consider would be the GX460. This SUV is mounted on a truck base, meaning it should be great both off- and on-road.
Both it and the 4Runner have remained pretty much mechanically the same since their introduction over a decade ago. They're both reasonably popular, and although the Lexus is more expensive up-front, second-hand versions are nearly identical in price today.
However, the Toyota holds its value much better, potentially making it a better investment for the future.
When it comes to the on-road expedition, the Lexus is superior. It has a more powerful engine and what feels like a better-designed powertrain overall. It also comes with a nicer cabin: think leather, not plastic.
The two are reasonably similar off-road, with the 4Runner just about taking the edge. The GX460 has a capable powertrain but slightly less ground clearance (and tire grip) than the Toyota.
Overall, the Lexus GX460 feels like a reasonably capable road car heading off the beaten track. In comparison, the Toyota 4Runner is a 4×4 all-terrain vehicle that can sometimes handle asphalt too. The best one for you depends on whether you prioritize street driving (Lexus GX460) or cross-country journeys (4Runner).
Question: Is the 4Runner Still Worth Buying?
Answer: The Toyota 4Runner has a great history, stretching all the way back to the Toyota Hilux, one of the best off-road vehicles of all time (as demonstrated by Top Gear). Previous generations have been excellent.
But.
The 2022 model is just lacking next to competitor midsize SUVs. It's a full-blown all-terrain vehicle – and it's undoubtedly incredible when you're off-roading – but with a rushed attempt to disguise it as a road-going car. As such, it's trying to appeal to the wrong target audience. Toyota seems to have somewhat scuppered itself.
The old 4Runners were great – classics, in some people's eyes. They last a long time, too, so you might consider buying a high-mileage second-hand version. The future generations might also be fantastic! However, today's car? Hmm… maybe not.
Conclusion
From an unbiased perspective, the 4Runner has many things going for it. When you leave the road behind, it's second-to-none in its class, with excellent ground clearance and a setup clearly designed for cross-country use.
It's reliable, durable, and spacious, too. But, when it comes down to practicality and functionality, competitors walk all over it. The fuel economy of the Toyota alone is enough to put most people off.
For 4×4 enthusiasts, look no further than the Jeep Grand Cherokee Trailhawk. This will provide you with precisely the same experience, but you'll be able to use the car on the road comfortably too. The 4Runner is still a decent option; let's not forget.
If you're more interested in a practical SUV, keep your eye on the Ford Explorer. It has a few downsides, but it's a bit of a jack-of-all-trades in many ways. Sure, you won't get quite the same off-road technology – it's not built for that.
But you can fit a good number of people in, you get good gas mileage, and you'll still be able to venture off the beaten track for some mild 4x4ing. The Jeep Grand Cherokee is also reasonably practical.
Finally, if you're just looking for the cheapest, most economical run around, I'd suggest the Hyundai Santa Fe. It has outstanding gas mileage and is currently market-leading in terms of its low purchase cost.
Dream on when it comes to any serious off-road adventures, but this plucky little car is great fun to drive and can still comfortably make its way along mild countryside routes when needed.
That's all from me. I hope you've found this article informative and, at the very least, have a better idea of what to look out for!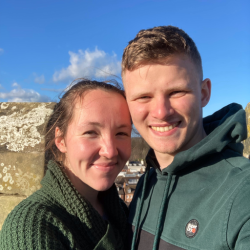 Latest posts by Ben Kitchen
(see all)