A part of the Wrangler TJ family, the 2002 Jeep Wrangler belongs to the vehicle's 2nd generation. This is five generations after the original Wrangler, the legendary World War II model, and you can see the family resemblance between the 2002 model and the one launched in the 40s. For instance, Jeep retained the iconic circular headlights and vertical grille slats. 
However, the 2002 Jeep Wrangler is more refined than its ancestors, albeit still a bit spartan (more on this later). In this 2002 Jeep Wrangler guide, you'll find out about this SUV's engine options, performance, and common problems as reported by Wrangler owners. Keep reading to learn why the 2002 Wrangler deserves your attention.
Bottom Line Up Front
The 2002 Jeep Wrangler is an exceptional off-roader, just like its siblings in the vehicle's second generation. If you're looking for a powerful SUV that can go anywhere, this is one to consider. I recommend the X trim with a 4.0-liter engine as it strikes the perfect balance between power, comfort, and affordability. 
2002 Jeep Wrangler Overview
Trim Levels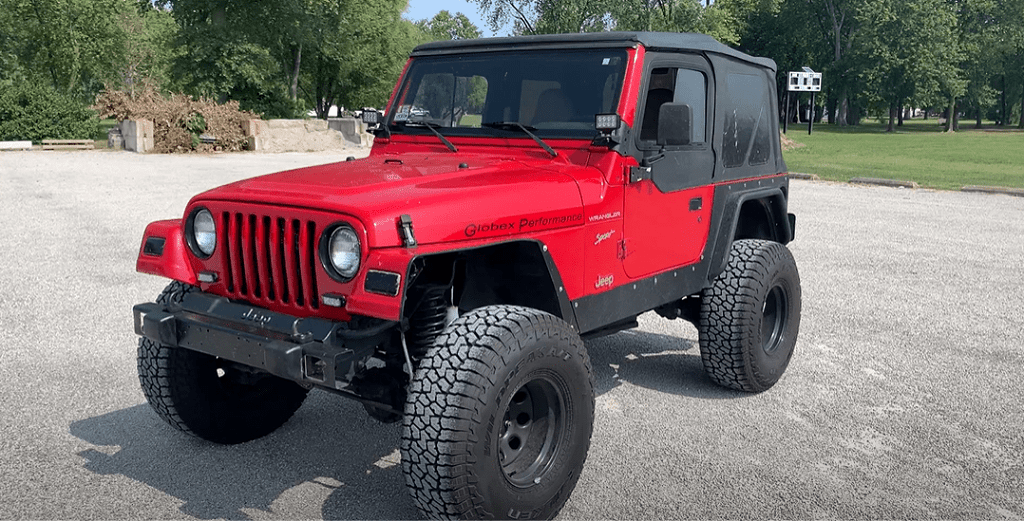 Jeep gave the Wrangler four trim levels in 2002, as opposed to just three in the previous year. There were the SE, Sport, and Sahara, just like in the 2001 model, with the X trim added for 2002 to sit between the SE and Sport. The base trim levels came as a bare-bones vehicle, with no rear seat, rear-area carpeting, or even a stereo. All these were optional add-ons that eventually pushed the price to X trim territory.
As standard, the X and Sport trim levels came with a foldable rear seat, carpeting throughout the vehicle, and an AM/FM stereo, among other features. The Sahara trim was given the best interior, boasting premium cloth upholstery, air-conditioning (this was surprisingly missing in the lower trims), and cruise control.
All models had a soft top as standard, but owners could opt to buy a hard top for added security. Interestingly, the SE and X had more expensive hard tops than the Sport and Sahara. Still, I would recommend this over the soft top as it's more practical.
Exterior
The 2002 Jeep Wrangler looks indistinguishable from the 2001 model, which in itself looks similar to the 2000 model. All second-generation Jeep Wranglers (the TJ models) have the classic circular headlights that the latest models (4th generation) still have.
Its wheelbase is 93.4 inches, and the ground clearance is an impressive 8.2 inches, which underscores the Wrangler's go-anywhere DNA. Overall the 2002 Wrangler is 155.4 inches long and 66.7 inches wide. This vehicle has a brutish look that endears it to Wrangler purists.
It can be taken apart; the roof and doors can be detached and the windshield folded down. There's no question that the Wrangler's spartan design is what makes it popular among offroad enthusiasts, coupled, of course, with its 4×4 capabilities. 
Interior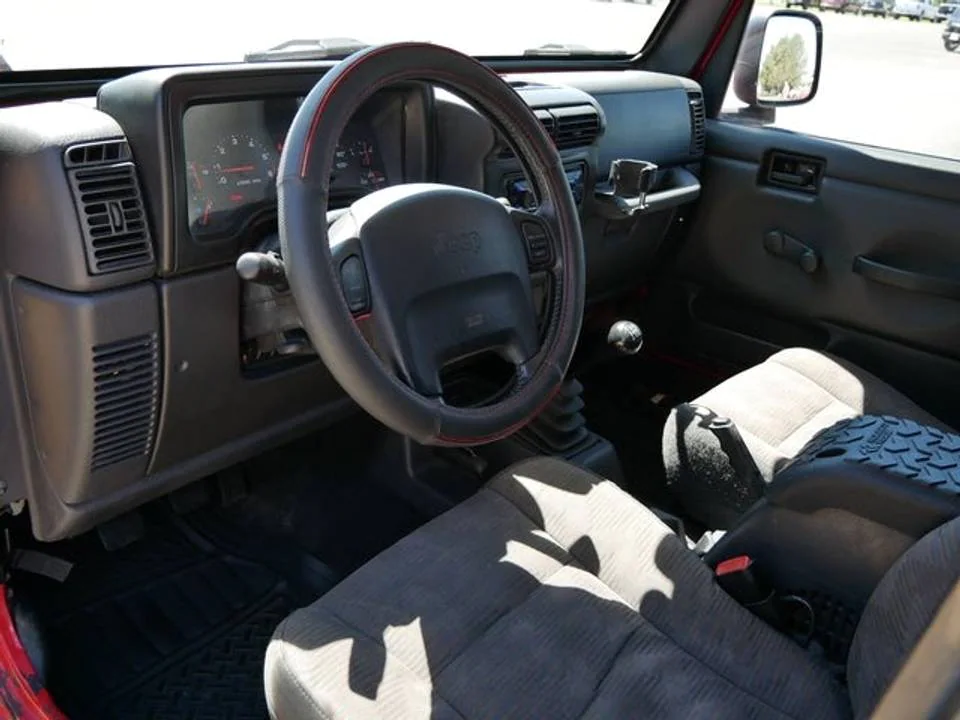 The situation inside is no different, with a basic cabin that is unquestionably elegant in its own right. You get removable carpeting in the front because, well, you'll need to clean them after your foray in the mud. The Wrangler offers the option of a two-seater or four-seater. However, if you opt to carry the rear passengers, you'll lose out on cargo capacity. However, its rear seats are easily folded down to offer decent cargo capacity, which I'll talk more about later in this article.
There are comfortable front seats in the Wrangler TJ, with ample leg and shoulder room in the front. The rear isn't too bad either; the 2001 Wrangler offers 40.6 inches of rear headroom and 35 inches of rear leg room. However, the rear seat isn't as comfortable as the front, though it has enough padding for the passengers. 
MSRP Value and Current Value
At launch, the 2002 Jeep Wrangler had an MSRP of $15,230 for the SE model, $18,410 for the X model, $20,080 for the Sport, and $23,450 for the Sahara. 
Presently, according to Kelley Blue Book listings, you can get a 2002 Jeep Wrangler for as low as $10,000. On Carfax, you can get a Sahara model for about $12,000, which is regarded to be great value for the vehicle. However, prices go as high as $17,000 or as low as $9000.
2002 Jeep Wrangler Features and Specs
Engine Options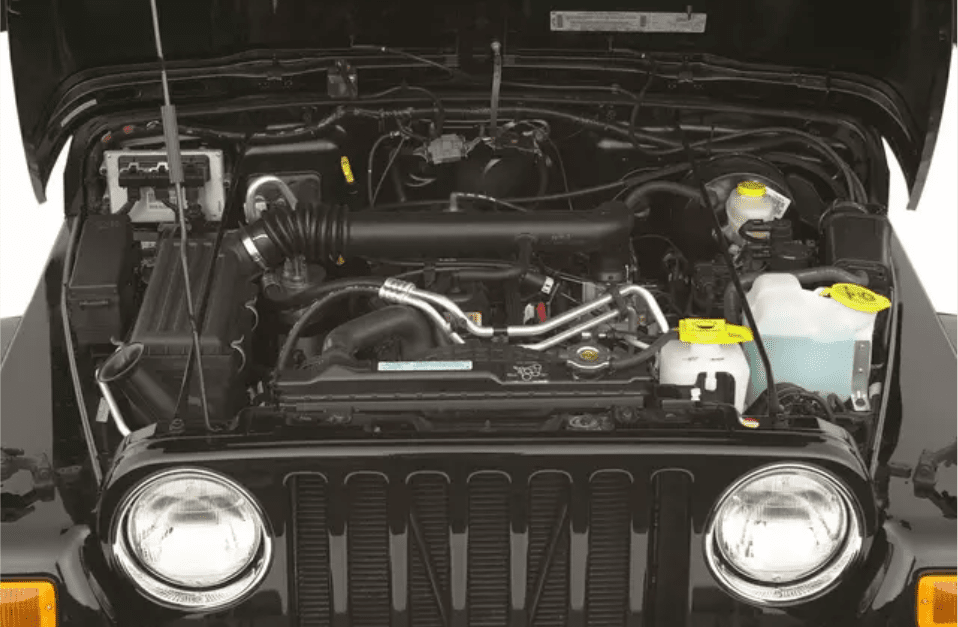 The lowest-spec 2002 Jeep Wranger (the SE) came with an inline 4-cylinder 2.5-liter engine that churns out just 120 horsepower and 140 lb-ft of torque. Although this is the most fuel-efficient engine, its power is underwhelming on the pavement as it feels a bit sluggish in picking up speed. Still, it makes light work of offroad trails and is recommended for those looking for a secondary vehicle for weekend adventures.
All other trim levels get the more powerful inline six-cylinder 4.0-liter engine that gives off 190hp and 235 lb-ft of torque. This engine performs well both on and off-road, offering excellent acceleration on the highway and ample torque to maneuver rough terrain. I recommend the X trim as it offers the power of the higher trim levels and the affordability of the SE model.
Transmission and Drivetrain
The standard transmission in all 2002 Wrangler models is a five-speed manual that Jeep describes as heavy-duty. However, you can opt for a three-speed auto, which, in my opinion, isn't ideal for such a capable offroader.
The Wrangler's drivetrain is made up of a robust four-wheel-drive system in a body-on-frame structure. The TJ generation got coil springs, as opposed to leaf springs in older generations. Because of this, the 2002 Jeep Wrangler – and its 2nd-generation siblings – has improved on-road handling as well as excellent off-road performance.
Consequently, the ride is smooth: if you're familiar with the first-generation Wranglers, then you know that the ride in those was borderline punishment. Remember, though, that the Wrangler's high center of gravity makes it wobbly on corners, so don't expect sports-car-level handling.
Safety Features
The 2002 Jeep Wrangler is equipped with front airbags for the driver and passenger, but there are no side airbags. The vehicle also has height-adjustable seat belts. Results of crash tests by the IIHS (Insurance Institute for Highway Safety) indicate that this vehicle offers an overall 'acceptable' level of protection in the event of a front impact.
However, its side-impact protection is 'marginal.' The NHTSA (National Highway Traffic Safety Administration) gave the 2002 Jeep Wrangler four out of five stars in front protection and three stars in rollover resistance.
Cargo and Towing Capacity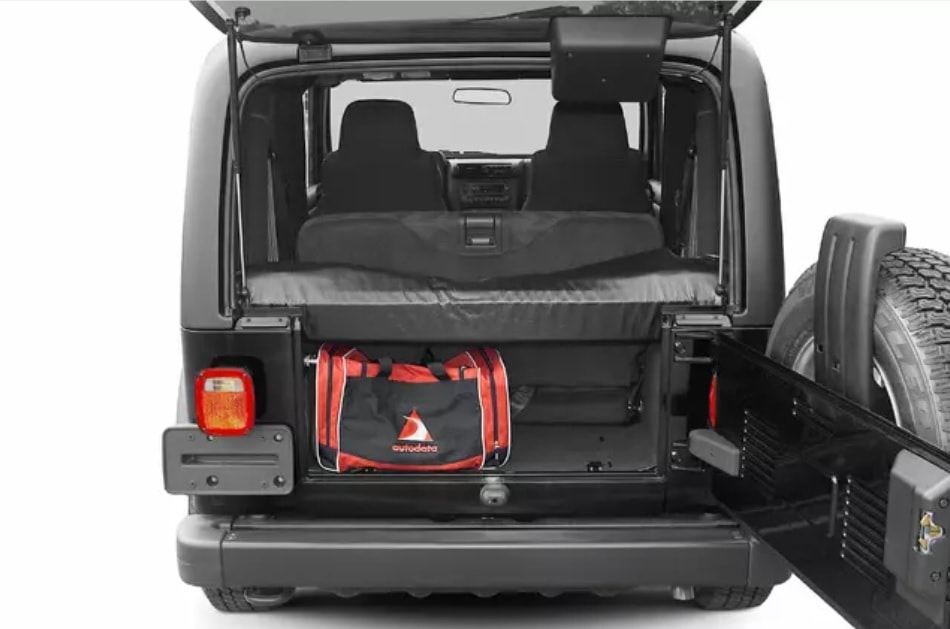 All 2002 Wranglers, irrespective of trim level, can tow up to 2000 lbs (900 kgs). Clearly, the Wrangler isn't meant for pulling trailers since this is a two-door SUV that's lighter than its competitors. The vehicle's maximum payload is 1345 lbs (610 kgs), with a cargo capacity of 53.5 cubic feet without the rear seat and just 11.5 cubic feet with the rear seat installed.
Fuel Economy
According to data from the US Department of Energy, The SE model with a 2.5-liter engine and a five-speed manual transmission is rated to offer 16mpg in the city and 19 mpg on the highway. The 4.0-liter engine with a manual transmission gets 14mpg in the city and 17mpg on the highway. 
If you opt for the 3-speed automatic transmission, you'll lose about 1mpg in the 4.0-liter engine and 2mpg in the smaller engine.
2002 Jeep Wrangler Common Problems
The Jeep Wrangler TJ models have similar problems; I've outlined a few common ones below that affect the 2002 model as well as its siblings in the second generation. For more common problems, check out the list in this 2003 Jeep Wrangler guide.
A-Pillar Water Leaks
Common in the TJ Jeep Wrangler, this issue is caused by poor-quality A-pillar seals on both the driver and passenger sides. If you're looking for a 2002 Wrangler, or any model in the second generation, confirm whether these seals have been replaced.
If not, you're most likely going to experience leakages. Brands like Fairchild, Crown, and Dorman make some of the best-quality door seals, costing from $50. 
Loose Suspensions Components
At some point, Jeep Wranglers develop what enthusiasts refer to as the death wobble. This is when the vehicle shakes from side to side, making it difficult to control. Most of the time, this wobble starts when you're driving at 55 to 60 mph.
For most Wrangler owners, the death wobble is caused by loose suspension or steering parts, and replacing the loose parts usually solves this. A lot of owners have also solved this by balancing the tires or simply rotating them.
Leaky Radiator
TJ Wranglers are infamous for having leaky stock radiators, perhaps caused by a design flaw. The best solution is to replace the OEM radiator with a third-party brand as the stock ones still develop the same problem after a couple of thousand miles. Some of the best brands to consider are Derale, Griffin, and Novak, among others.
Cracked Exhaust Manifold
Jeep Wrangler models from 1991 to 2009 may eventually develop a cracked exhaust manifold. This is especially common in the '97 to '99 models, but there are also complaints of this issue in the 2002 Wrangler.
The main sign of this problem is a ticking noise from the engine, most noticeable when accelerating. To solve it, you'll need to install an aftermarket manifold header. Some users recommend buying stainless steel versions as these last longer than OEM ones.
2002 Jeep Wrangler Model Recalls
According to the NHTSA, there have been six recalls on the 2002 Jeep Wrangler. The table below breaks down these recalls and the problems that were solved.
| | | | |
| --- | --- | --- | --- |
| Date | Problem | Models Affected | Solution |
| April 2002 | A design flaw caused dirt or water to accumulate in the ignition switch. | 2001 and 2002 Jeep Wranglers. | Affected vehicles got a redesigned ignition switch. |
| May 2002 | Debris accumulated in the intake and exhaust manifolds due to a design flaw. | 4.0L Wranglers | Vehicles got a manifold shield installed. |
| June 2004 | Aftermarket roof racks from Bestop would detach from the hardtop cover due to a mispositioning of the rotary latch. | 1997 to 2003 Jeep Wranglers. | Bestop initiated the recall and sent repair kits and installation instructions to owners. |
| January 2006 | Some aftermarket fuel pumps made by Airtex easily degraded, thus causing fuel leaks. | 1997 to 2004 Jeep Wranglers. | Airtex replaced the fuel pumps with issues. |
| March 2006 | Seals in some third-party brake master cylinders would become rigid in cold weather, leading to leakage of brake fluid. | 1997 to 2005 Jeep Wranglers. | Brake Parts, Inc replaced the brake hydraulic master cylinders in the affected Wrangler models. |
| April 2006 | Wranglers with aftermarket lights from Pro-A Motors lacked amber side reflectors as required by the Federal motor vehicle safety standards. | 1987 to 2003 Jeep Wranglers. | Pro-A Motors offered to buy back the affected products. |
2002 Jeep Wrangler Accessories
There are numerous Jeep Wrangler accessories that you can add to improve the look and performance of your SUV. Here are just a few of the main ones that you should consider.
Tops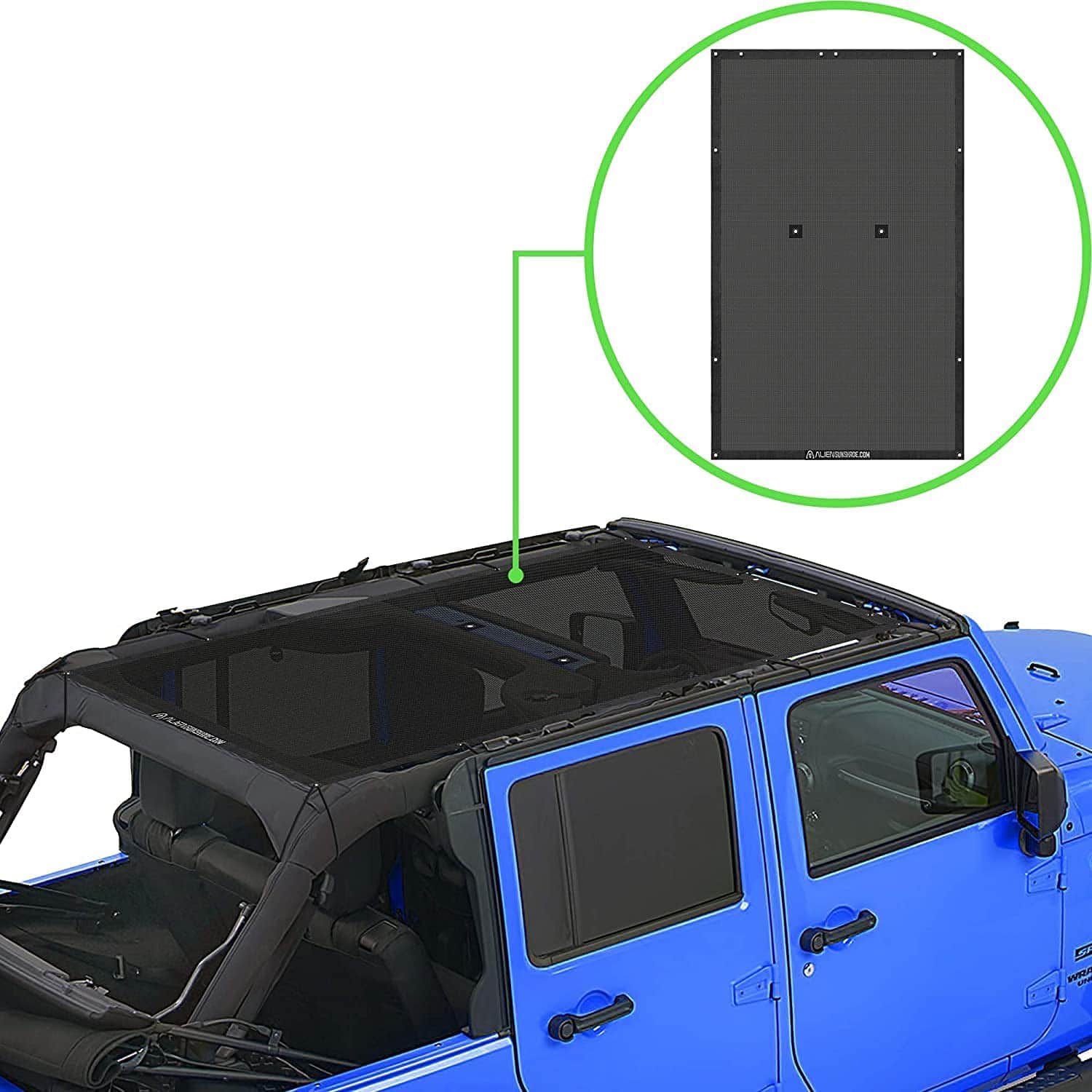 There are different aftermarket covers for the TJ Wrangler models that are both hard and soft-top varieties. You can opt for a tonneau cover for just the cargo area and leave the cabin open. There are also brands known as wind jammers/breakers that cover the cabin's top and behind the front seats, leaving the cargo area. These transform the Wrangler into a truck.
Manufacturers like Smittybilt and Bestop offer some of the best tops. You can also consider Alien Sunshade if you're looking for a mesh top. You can buy these on sites like extremeterrain.com, and they cost at least $70 for a mesh top, $80 for wind jammers, $250 for a soft-top cover, and $2000 for a hard top.
Lift Kits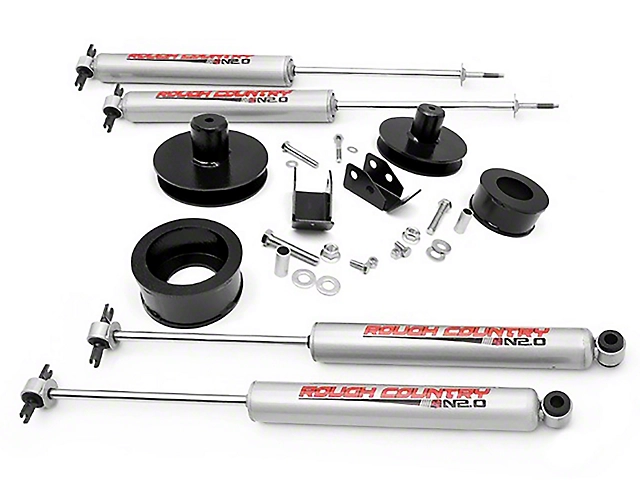 The Wrangler TJ's ride height is already pretty impressive, but you can lift it even higher if you intend to push your Wrangler to its limits. Lift kits replace OEM suspension parts, and they add up to an extra 5 inches of ground clearance. Lift kits also make it possible to use larger tires and improve the vehicle's off-road capability.
Brands like Tuff Country, Sky Jacker, Tera Flex, and Mammoth 4×4 sell some of the best kits. Expect to spend anywhere from about $100 to over $5000. This depends on whether you choose a body or suspension kit and how much you want to lift your Jeep. Here's an in-depth look at how to choose Jeep lift kits.
Winches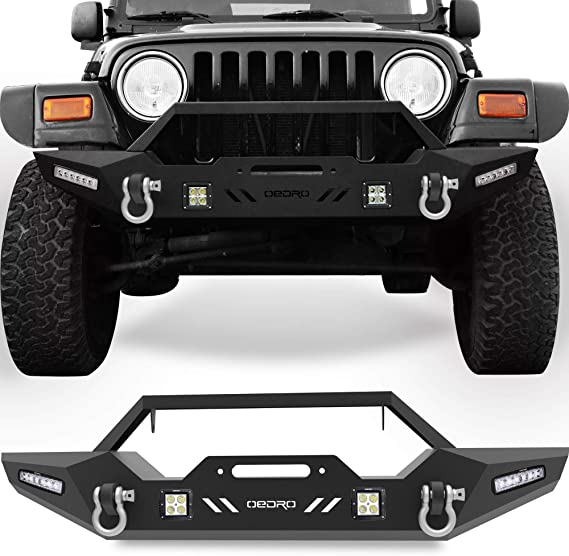 The Jeep Wrangler is designed for extreme offroading, and it's likely to come up against some mud at some point in its life. This is why a winch is a necessary accessory for Wrangler owners, allowing you to pull yourself out of sticky situations. 
You can choose either a hydraulic winch – which uses the steering pump – or an electric winch, which uses the Jeep's electrical system.
The winch you choose should be rated to pull at least 1.5 times your Jeep's total weight, including the additional weight from modifications.
For instance, the 2002 Jeep Wrangler has a gross weight of 4.450 lbs (2018 kgs), so the winch should be rated at 6,675 lbs (3027 kgs) or more.
2002 Jeep Wrangler Alternatives
1. 2002 Toyota Land Cruiser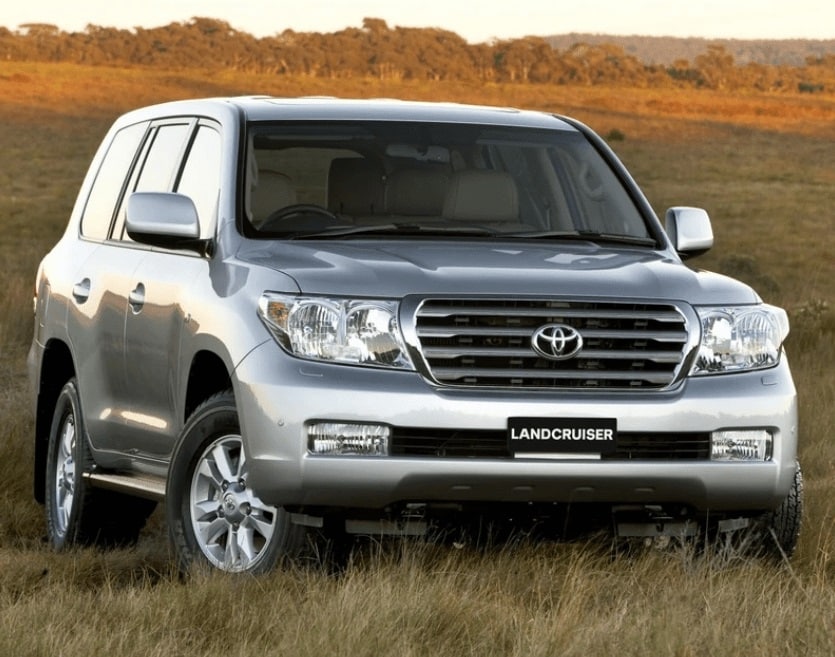 The Land Cruiser has always been Toyota's most capable off-roader, but unlike the Jeep Wrangler, it offers interior comfort for more than two passengers. Granted, the Toyota Land Cruiser isn't a direct competitor to the Jeep Wrangler, but which car is? This one is more of a Grand Cherokee competitor but with a bit more power and significantly more reliability. However, whatever the Wrangler can do, the Land Cruiser can also do – to a certain degree. 
You get just one engine option in the 2002 Land Cruiser; a 4.7-liter V8 engine with an impressive 230 horsepower. This engine is mated to a four-speed automatic transmission. As a result, the Land Cruiser is snappy on the tarmac with excellent acceleration for a heavy SUV. 
Inside, you get more comfort than you would in the spartan Wrangler interior. If you're looking for luxuries like leather seats, ample legroom, and even a third row of seats, then the Toyota Land Cruiser will make you feel special.
Off-road, this SUV performs spectacularly, with capabilities that rival the Jeep Wrangler's. This vehicle not only boasts 10 inches of ground clearance but also a full-time four-wheel-drive system.
The vehicle also has the company's active traction control and vehicle skid control, frills that are unavailable in the 2002 Jeep Wrangler. Depending on the mileage, you can get a 2002 Toyota Land Cruiser for $9000.
2. 1997 Land Rover Defender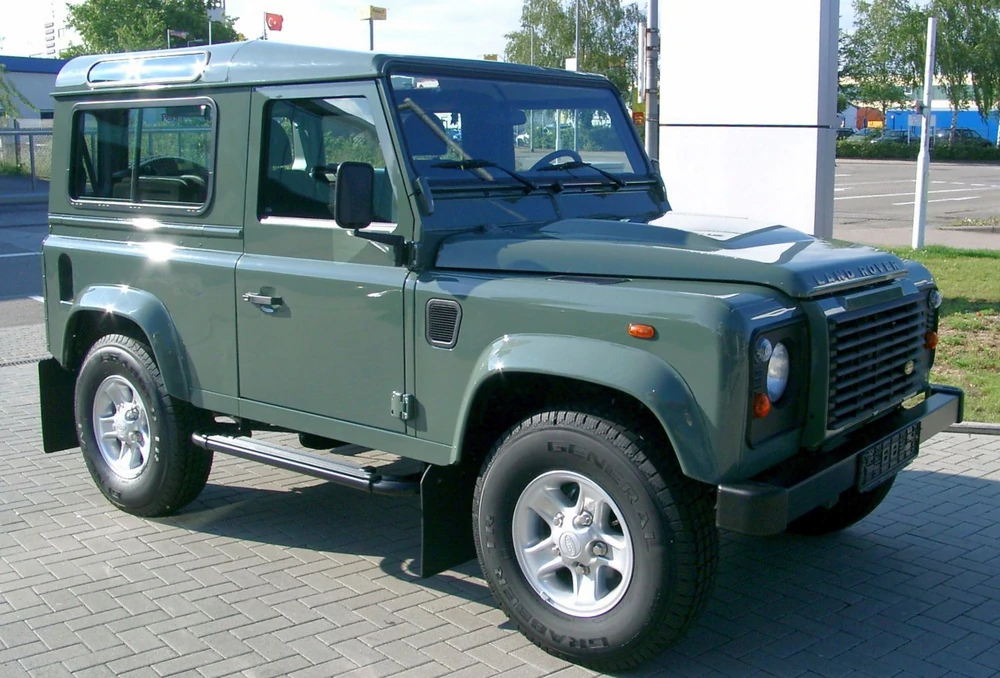 The '93 to '97 Land Rover Defender is probably the closest direct competitor to the Jeep Wrangler, but this SUV was only sold in the US up to 1997, at least until 2020 remodel. Because of its rarity, the 1997 Defender costs a premium, with prices starting as high as $95,000 in the US. At these prices, the 1997 Land Rover Defender is more of a collectors' item than a daily driver. Ignoring the insane prices for a moment, the Defender is a phenomenal offroader that stands up against the legendary Wrangler.
The Defender is a legend in its own right, with a history that stretches back to the late 1940s. The 1997 model is part of the generation that pioneered the Defender branding, but it retained the boxy design and circular headlights of the very first models.
Just like the Wrangler, the Defender only had a two-door version in this era, and it came with a 2.5-liter turbo-diesel engine, but dealers upgraded these vehicles so you can find models with a 4.0L V8 engine.
This vehicle's interior is rustic, so if you love the Wrangler's aesthetic, you'll love the Defender as well. Its raised ride height gives you a commanding view over the road, and its offroad performance gives you confidence that the vehicle will take you anywhere.
3. 1995 Suzuki Samurai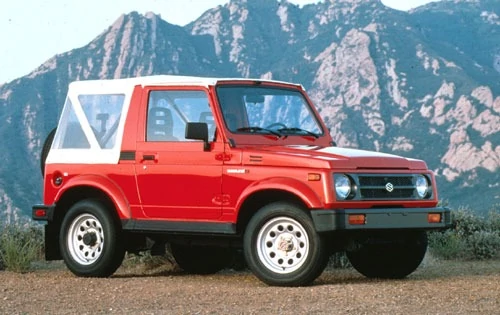 The Suzuki Samurai is another SUV from the archives, at least in the US. Sales of the Samurai were stopped in the US in 1995, but it lived on in the rest of the world as the Jimny. Still, during its life, this vehicle impressed with its offroad prowess, despite being a tiny SUV that seemed to want to be a Wrangler when it grows up. 
This vehicle came with a small 1.3-liter four-cylinder engine with a meager 66 horsepower. Its similarity to the Wrangler is that it only has a two-door version, and you can get removable tops. Also, it has an 80-inch wheelbase and twin solid axles on leaf springs. The Samurai is smaller and more fuel-efficient than the Wrangler, but that's expected of a small engine. The Suzuki Samurai is a light vehicle that's hardy enough to handle off-road terrains. Presently, you can get a Samurai from about $8,000 to over $15,000.
FAQs
Question: Is a 2002 Jeep Wrangler a TJ?
Answer: Yes, the 2002 Jeep Wrangler is a TJ. The TJ models are Wranglers from 1997 to 2006.
Question: What does a 2002 Jeep Wrangler weigh?
Answer: A 2002 Jeep Wrangler has a curb weight of 3360 lbs (1524 kgs).
Question: Does a 2002 Jeep Wrangler Sport have air conditioning?
Answer: No, the only trim level of the 2002 Jeep Wrangler that has air conditioning is the Sahara trim.
Bottom Line
TJ Jeep Wranglers are loved by enthusiasts because of their rugged design and impeccable offroading performance. The 2002 model doesn't let it's family down as it can handle extreme conditions. If you're considering a go-anywhere vehicle, the 2002 Jeep Wrangler certainly deserves your attention. 
However, compared to other SUVs from the 2000s era, the Wrangler offers less interior space, and it isn't as comfortable as, say, a 4Runner or even its relative, the Grand Cherokee. If you're looking for slightly more comfort and on-road performance, then consider these alternatives.
Before you go, also find out about the 2003 Jeep Wrangler in our guide.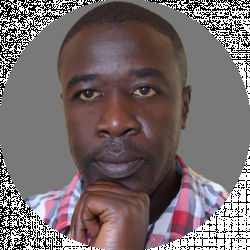 Latest posts by Barry Juma
(see all)