The 2003 Jeep Wrangler model is a part of the vehicle's second generation, which was launched in 1997. Also known as the Jeep Wrangler TJ, these models still had the Wrangler's classic two-door design and round headlights that harken back to Jeep's World War II days. 
However, by 2003, the TJ Wrangler had grown up quite a bit, getting more powerful engine options plus improved automatic and manual transmissions.
In this 2003 Jeep Wrangler guide, you'll learn everything you need to know about this model's trim levels, engine options, and performance. I've also shared some information on the common problems the 2003 Wrangler has to help you decide whether it's still worth buying in the 2020s.
Bottom Line Up Front
The 2003 Jeep Wrangler is a tough offroader that can go anywhere. It was designed to withstand the harshest conditions and is one of the most reliable Jeep Wranglers. However, this SUV doesn't offer much interior comfort and you only get a two-door version.
If you're an off-road enthusiast looking for a vehicle that will handle abuse, this is a car to consider. But, if you want a daily driver, consider a more comfortable SUV like the Jeep Grand Cherokee.
2003 Jeep Wrangler Overview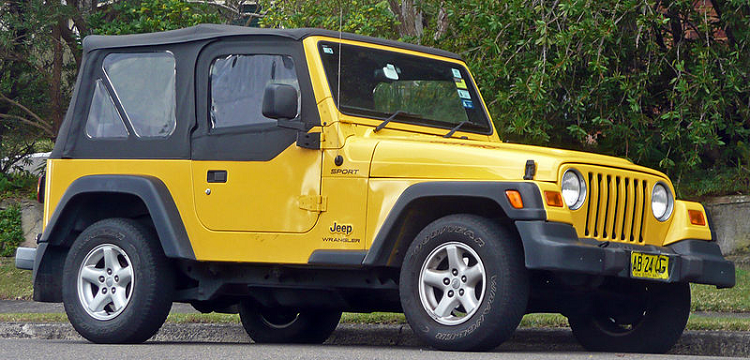 Trim Levels
The 2003 Jeep Wrangler came with five trim levels. The lowest trim is the SE, followed by the X, Sport, Sahara, and at the top of the pyramid is the Rubicon. 
Jeep gave the lowest-specced model vinyl upholstery but buyers could upgrade to cloth upholstery, which was standard in the higher trims. The cheapest Wrangler also only came with front seats as standard with the option of adding a rear seat for an extra cost.
If you opt for the higher trim levels, you get carpeting throughout the interior including the cargo area, as well as a leather-wrapped steering wheel. 
All models are off-road capable, but the Rubicon was given the most oomph. If you opt for this trim, you'll enjoy 31-inch tires and locking differentials among other features.
Exterior
Jeep retained the Wrangler's rugged DNA that is reminiscent of the very first model of the 40s. The iconic circular headlights, fold-down windshield, and exposed hinges are a part of this vehicle's identity and the 2003 model stayed true to this design.
Jeep enthusiasts love this spartan design language, right down to the classic soft top that's easy to fold down for a wind-in-hair experience. There's also a hardtop option (much to the dismay of purists) that I think is more practical in all weathers. 
It's always been easy to strip down the Wrangler; with merely a screwdriver, you can remove the top and doors. The 2003 model maintained this unique aspect of the Wrangler that has been standard for decades. 
Interior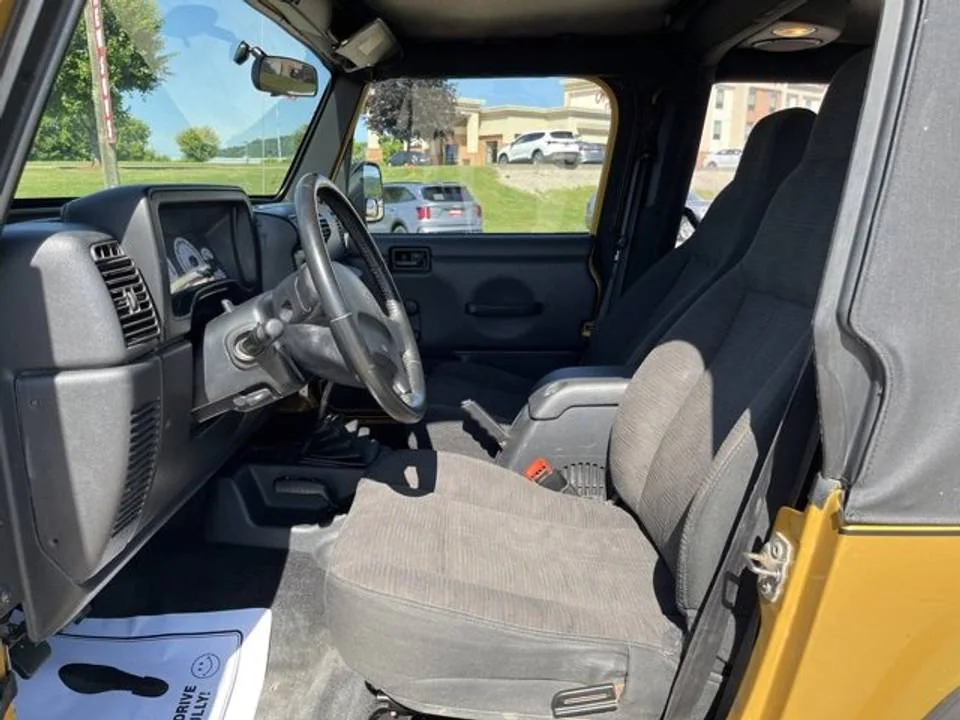 In 2003, Jeep's focus on the Wrangler wasn't luxury, and its bare-bones interior is a testament to this. Jeep purists maintain that this is part of the Wrangler's DNA, that it's supposed to be merely utilitarian. If you're looking for comfort and luxury, consider the Jeep Grand Cherokee. 
Of course, this philosophy has changed over the years, but back in 2003, the Wrangler's interior was simple and spartan. As standard, you'd get just two seats – the driver and front passenger. If you needed more seating space, Jeep offered just one more seat at the back, and that's it.
Still, this model year was slightly more comfortable than its predecessors, offering extra adjustability on the front seats. Those who opted for a rear seat could still remove it with ease. 
MSRP Value and Current Value
The lowest specced 2003 Jeep Wrangler (SE) had an MSRP of $15,665, but this price quickly rose if you opted for extra bells and whistles like cloth upholstery. 
The X trim started at about $18600, the Sport at $20,500, Sahara at $24,000, and the Rubicon at $24,300. 
Currently (2022), according to Carfax, a good price for the 2003 Rubicon is $15,000, the Sport and Sahara are about $12,000, the X is about $9000. 
According to Kelley Blue Book, a fair purchase price for the 2003 Wrangler SE is shout $9000.
Related reads:
2003 Jeep Wrangler Features and Specs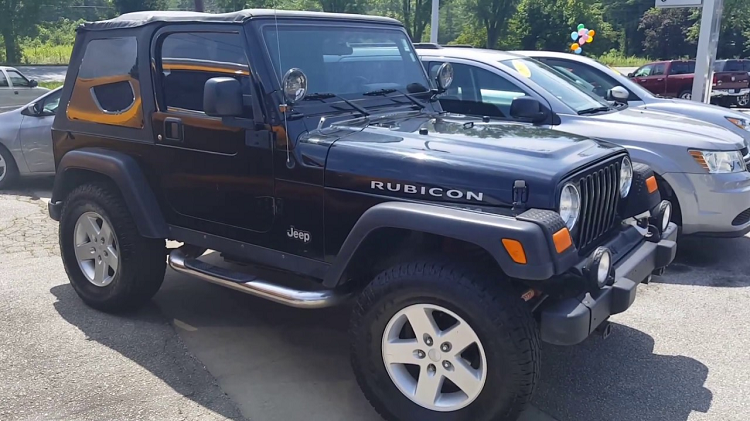 Engine Options
The lowest trim came with an inline 4-cylinder 2.4-liter engine with 150 horsepower and 165 lb-ft of torque. All other trim levels got a muscular 4.0-liter inline 6-cylinder engine with 190 horsepower and 235 lb-ft of torque.
The 2.4-liter engine benefits from good fuel economy compared to the 4-liter, but it suffers in acceleration. I would opt for the 6-cylinder engine since the Wrangler is meant to be a powerful offroader.
Transmission & Drivetrain
Buyers of the 2003 Jeep Wrangler had the choice between a four-speed automatic or a five-speed manual transmission. All models came with the manual transmission as standard, which had improvements over the previous model years.
Reviewers praised both transmissions, especially when mated to the punchier 6-cylinder engine. 
All models of the 2003 Wrangler have a four-wheel-drive system. The Rubicon model gets the most robust drivetrain, boasting locking differentials in the front and rear, Dana axles, and a 4:1 low-range transfer case. All these come as standard in the Wrangler's highest trim level.
Safety Features
Sadly, because of the Wrangler's modular design, its IIHS safety scores are mixed. The 2003 model got a good rating in pelvis protection for the driver, an acceptable score in the driver's head protection, and a poor score in torso protection. 
Thankfully, head, pelvis, and torso protection for the rear passenger were good. 
The 2003 Jeep Wrangler only offers front airbags for the driver and passenger. However, being a bare-bones offroader, it lacks modern safety features like electronic stability control, side airbags, and auto emergency braking.
Cargo & Towing Capacity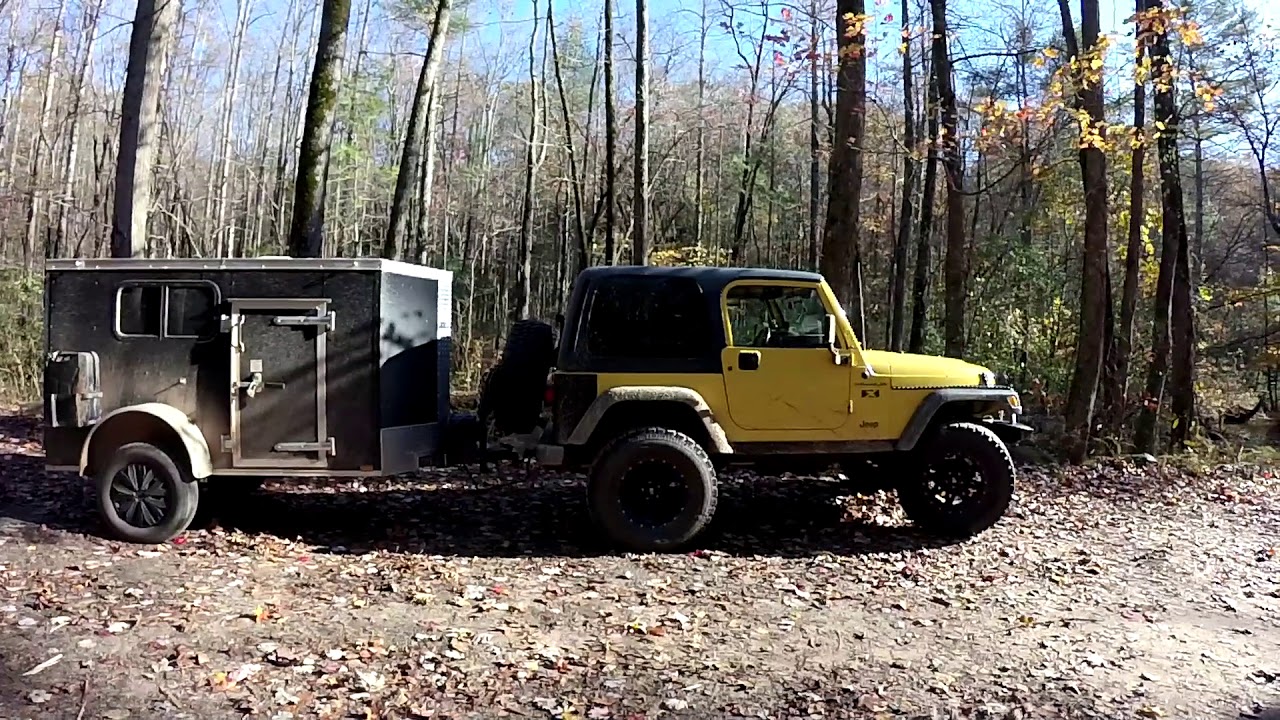 If you opt for the 2003 Wrangler with rear seats, you'll get a cargo capacity of 9.1 cubic feet. With just the front seats, the SUV's total cargo capacity is 47.2 cubic feet. Moreover, this vehicle has a maximum payload capacity of 1215 lbs (550 kgs).
All 2003 Jeep Wranglers have an official towing capacity of 2000 lbs (900 kgs).
Fuel Economy
The SE trim with a four-cylinder 2.4-liter engine offers the highest fuel economy, with a consumption rating of 18mpg in the city and 20 mpg on the highway. All other trims come with the 4.0-liter six-cylinder engine, which offers 16mpg in the city and 19mpg on the highway.
2003 Jeep Wrangler Common Problems
A-pillar Seal Leaks
The second-generation Wrangler was marred by a problem with poor seals along the a-pillar, which led to leaks through both the driver and passenger door. The issue arises in vehicles with a mileage of as little as 40 miles, making it a universal problem.
The only solution is to replace the seal with one of better quality. If you're buying the 2003 Jeep Wrangler, confirm whether the previous owner had this replaced.
Loose Front-end Parts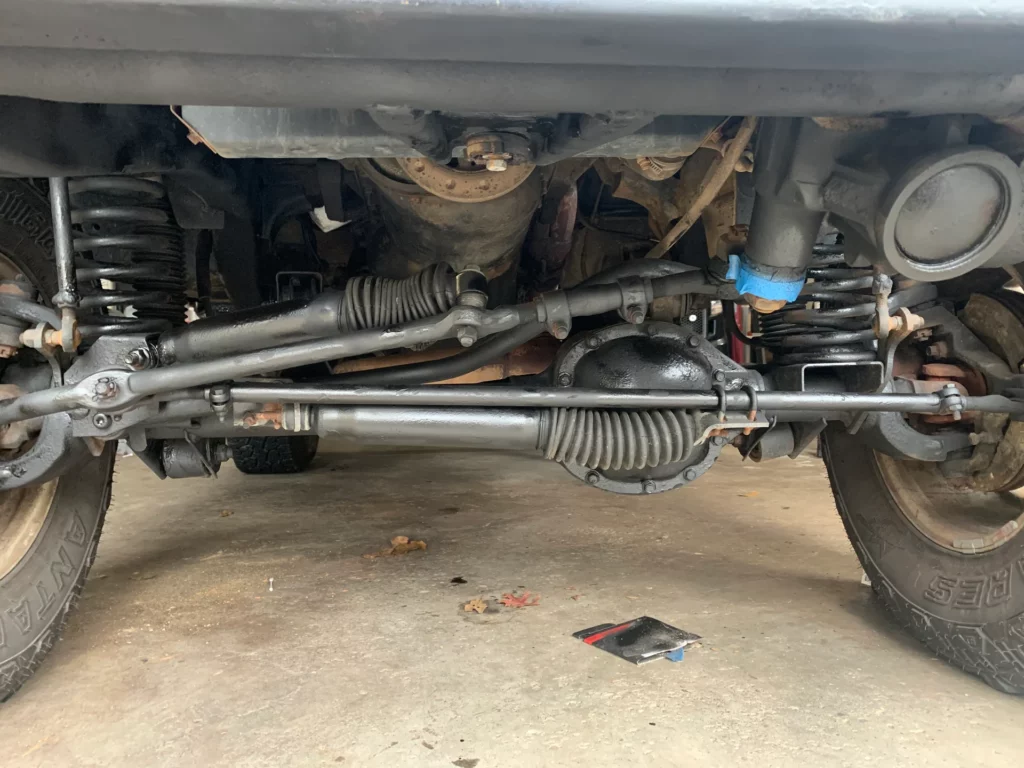 This is a common problem in both the first and second-generation Jeeps. It mainly affects the steering components and suspension parts which loosen over time. As a result, the vehicle may start to wobble, especially at speeds of about 50 mph.
Usually, getting the wheel balanced and constantly rotating the tires solves this issue. However, some users have had to replace the steering and suspension components in extreme cases.
Oil Leaks
The Wrangler is notorious for its oil leaks through the oil pan gasket, timing chain cover, and valve cover. This problem is solved by replacing the seals and gaskets in the leaking points. Most users experience this in the oil pan gasket and replacing this does the trick. 
If you're getting a 4.0-liter model, keep an eye out for this issue as this engine experienced the leakage problem more than the 2.4-liter one. 
Pinion Seal and Transfer Case Leaks
This is another common leakage issue in second and third-generation Jeep Wranglers. It happens through the pinion seals in the front and rear differential, and the transfer case. 
To fix this, you'll have to open and reseal the transfer case.
Throttle Position Sensor Failure
Common in first and second-generation models, this problem causes difficulty in starting the Jeep or the vehicle may stall. It also leads to sluggish acceleration and rough idling. The main issue is a failure of the throttle position sensor that will need to be replaced to fix the problem.
Frame Rust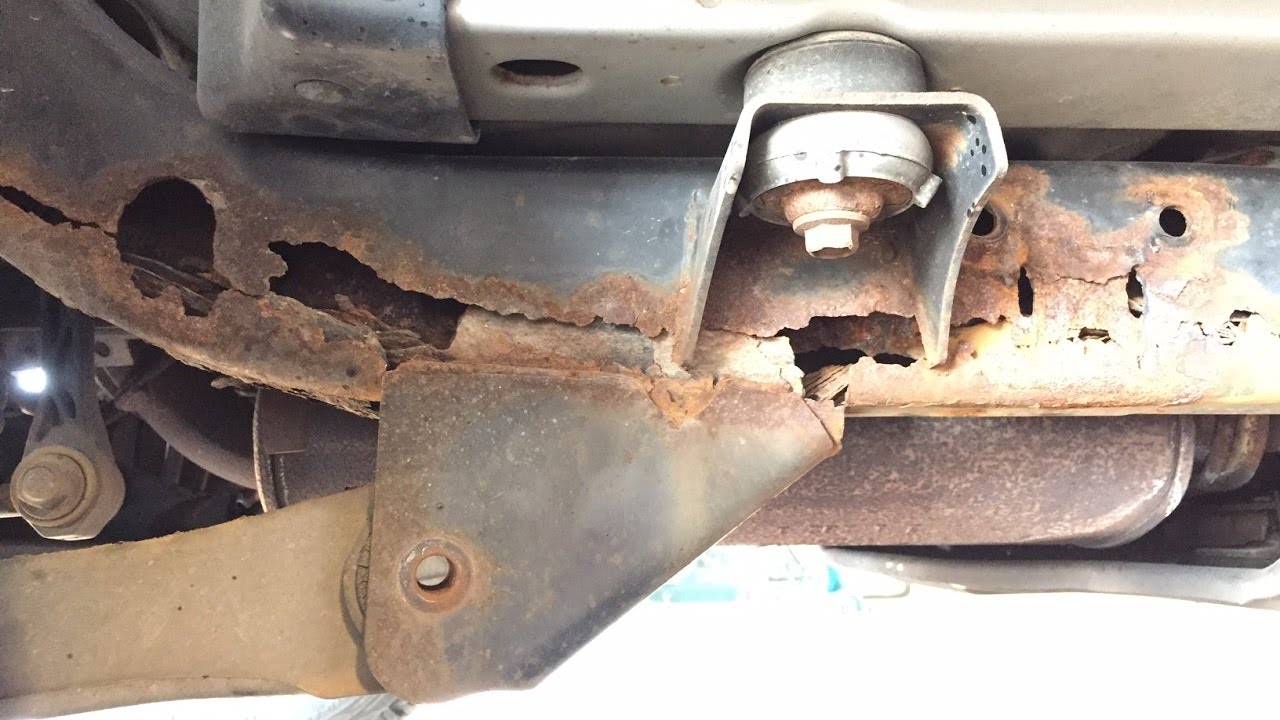 Most old Jeeps tend to develop rust in the frame. If you intend to buy a 2003 Wrangler, keenly check underneath the vehicle for any signs of rust; extreme rust is a no. 
2003 Jeep Wrangler Model Recalls
According to the NHTSA, there have been four recalls of the 2003 Jeep Wrangler, all of them involving aftermarket parts. Here's a look at what issues were addressed.
Brake Hydraulic Master Cylinder Recall
This recall was initiated back in 2006, affecting 2003 Jeep Wranglers, among other vehicles, that had aftermarket brake hydraulic master cylinders from third-party brands that are listed on the NHTSA website.
These parts experienced leakage of brake fluid because the seals would become rigid in cold temperatures. The manufacturer of the parts, Affinia, made the recall and replaced the brake hydraulic master cylinders in the affected vehicles.
Fuel Pump Leak Recall
Some vehicles, including some 2003 Wranglers, had aftermarket electric fuel pumps installed that were manufactured by Airtex. These fuel pumps' connectors ended up prematurely degrading after some time, thanks to their incompatibility with the fuel used in the SUVs. Consequently, a fuel leak would arise.
Airtex instituted the recall and replaced the fuel pumps.
Roof Rack Recall
This recall was made by Bestop Inc, the manufacturer of aftermarket roof racks for the Jeep Wrangler. The roof racks had a problem with the latches that attach to the vehicle's cover, causing the Wrangler's hardtop cover to loosen and unlatch from the roof rack.
The manufacturer supplied repair kits and installation instructions to owners of affected vehicles.
Aftermarket Lamp Recall
Vehicles that had Pro-A-Motors aftermarket headlights and turn signals installed were recalled because these lamps didn't meet the federal vehicle safety standards. Owners were refunded by the manufacturer.
2003 Jeep Wrangler Accessories
You can buy original Jeep Wrangler accessories on Mopar. Retailers like Amazon, Carid, or eBay, are also good places to shop for parts for your SUV.
Here are a few recommendations for you to consider.
Roll Bar Grab Handles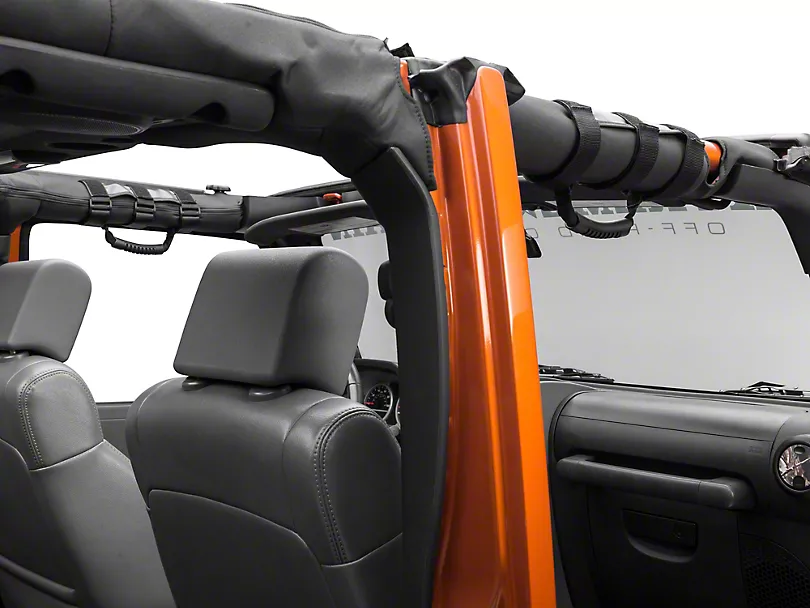 Wranglers are known for their high ground clearance and, although this is excellent for maneuvering rough terrain, it makes the Jeep rather difficult to enter for shorter people. 
For this reason, roll bar grab handles are great accessories for the Wrangler, allowing you to pull yourself up and into the vehicle.
These accessories also come in handy when you're on the trail since you can hold onto them to avoid being thrown around in your seat. 
I recommend the RedRock Extreme Sport Grab Handles, which are adjustable and boast rubber grips. 
Offroad Bumpers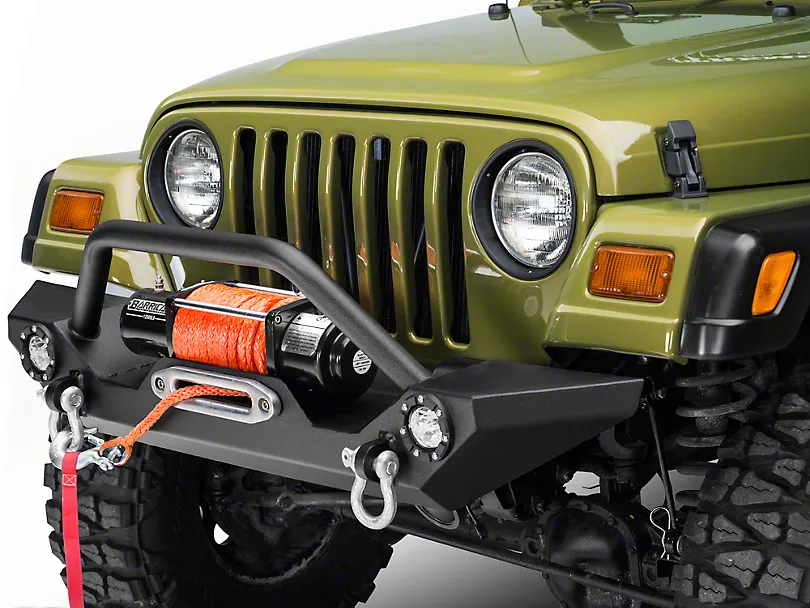 It goes without saying that the Jeep Wrangler is at home in extreme offroading situations. Therefore, the vehicle's stock bumpers just won't do, both when protecting the car's body and getting recovery points.
You can choose full-width, mid-width, or stubby bumpers for your 2003 Wrangler, all of which offer different levels of protection. 
Full-width cover the entire width of the vehicle, from fender to fender. Mid-width bumpers only cover the width of the vehicle but they don't extend to the flares. Finally, stubby bumpers typically only cover the grilles. 
I recommend the Barricade Trail Force front bumper if you're looking for one that can also hold a winch.
Roof Rack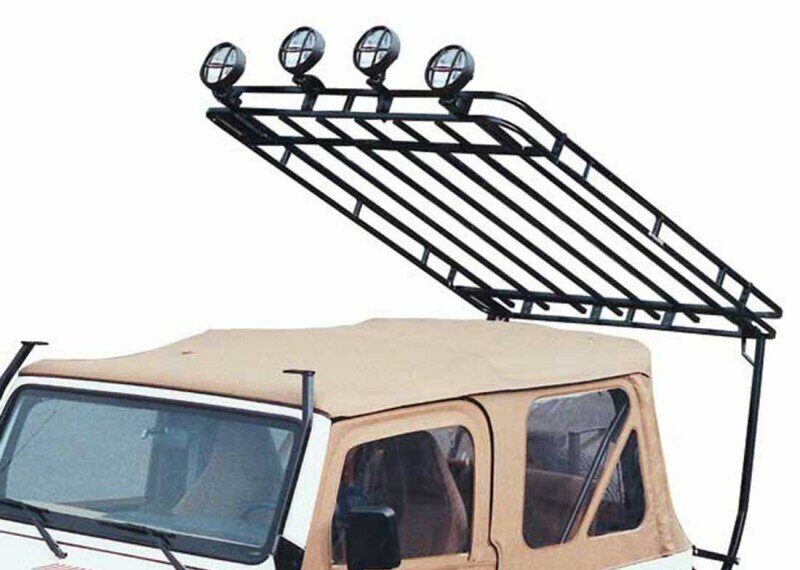 The TJ Wrangler wasn't known for its ample cargo capacity, especially if you opt for the second row of seats. Therefore, a roof rack will help you solve this issue by creating extra space at the top of the vehicle.
You can choose between lightweight aluminum roof racks or heavy but rugged steel brands. If you don't intend to carry heavy cargo, then a neoprene roof rack might work for you. 
My top recommendation is the Garvin 34098 Wilderness Expedition Rack. It's a versatile rack that can be installed in both soft and hard-top Wranglers. Plus, it can carry a load of up to 300 lbs (136 kgs).
2003 Jeep Wrangler Alternatives
Admittedly, the Jeep Wrangler TJ is in a class of its own. In fact, the company proudly states that there aren't any direct competitors to this vehicle. But, don't get me wrong, there are a number of off-road-capable vehicles that match the prowess of the Jeep Wrangler. 
Here's a look at a few 2003 Jeep Wrangler alternatives that you may consider.
2003 Toyota 4Runner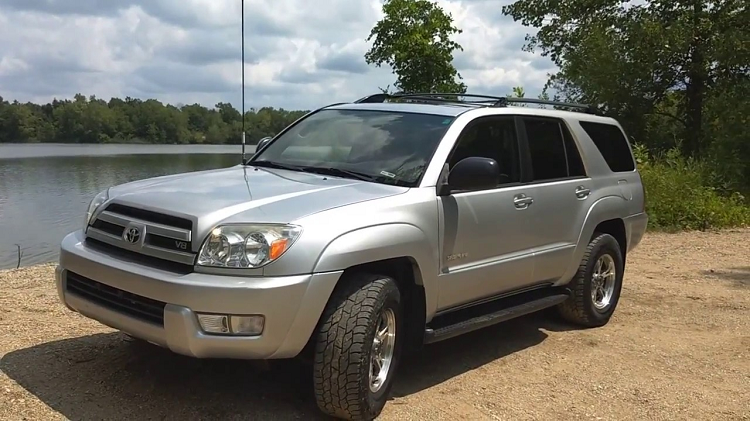 Considered one of the most reliable SUVs, the Toyota 4Runner's fourth generation, which started in 2003, is actually regarded as the vehicle's best generation of all time. This might seem like hyperbole, but when you experience the 4Runner, you just might become a believer.
And it's no secret that Toyotas have a stellar reliability record, although the TJ Wrangler isn't far behind. In fact, Repair Pal gave the 2003 Jeep Wrangler a rating of 3.5 out of 5, as opposed to the 2003 4Runner's 4.0 out of 5. 
The 2003 Toyota 4Runner offers a more spacious alternative to the Wrangler, with two or three rows of seats depending on the model, and a larger cargo capacity. 
It also offers more powerful engines: a 4.0-liter V6 and a 4.7-liter V8. These are mated to either a 4-speed automatic or 5-speed automatic transmission. 
The Wrangler's spartan aesthetic might appeal to its staunch fanbase but those outside this group might find it a bit uninspiring. If you're the latter, the 4Runner's interior will be a breath of fresh air. In 2003, Toyota made the 4Runner roomier, and there was leather trim and heated seats in the highest trim level.
Furthermore, the 4Runner has bells and whistles like electronic traction control, and downhill assist control, both of which improve its off-road capability.
2007 Toyota FJ Cruiser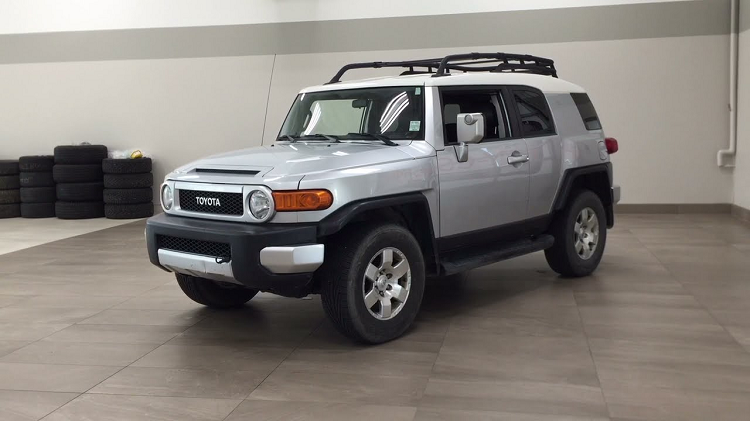 Toyota's vehicles have been termed as boring and conventional, but not the FJ Cruiser. The 2007 model was an unconventionally designed SUV that was uncharacterisitic of Toyota. And it's an ideal alternative to the Jeep Wrangler because it appeals to a niche group of enthusiasts. 
The FJ Cruiser descended from the Landcruiser 40 Series of the late 50s, which had numerous similarities to the Wrangler of its era. Toyota revived this vehicle in 2006 and gave it a modern design with softer curves and a more comfortable interior. 
However, this SUV never lost its rugged appeal as it was meant to perform well off-road. In short, it retained its original utilitarian personality.
This vehicle came with a 4.0-liter V6 engine that churned out 239 horsepower and 278 lb-ft of torque. Its engine was actually the same V6 used in the 4Runner at the time.
With a locking rear differential, traction control, and a ladder frame, the 2006 FJ Cruiser was certainly designed for rough terrain, just like the Jeep Wrangler. 
You can get a 2007 FJ Cruiser for about $15,000, with some costing as much as $40,000. Its relatively high resale price is a testament to the vehicle's popularity, which has grown since its discontinuation in 2014.
2003 Jeep Grand Cherokee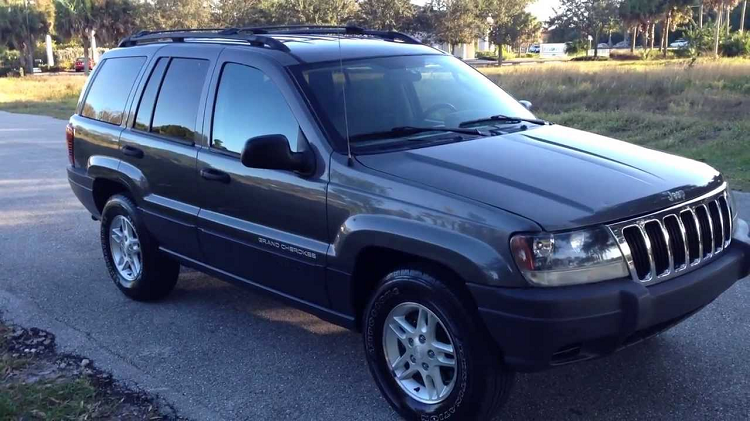 There's no better alternative to a Jeep than a Jeep! Granted, the Grand Cherokee isn't as hardy as the Wrangler, but where it lacks in rugged appeal it more than makes up for in interior space and luxury.
Still, the 2003 Jeep Grand Cherokee was (and still is) an offroad-capable SUV but targeted the luxury offroad vehicle segment. This vehicle offers the best of both worlds – offroading competence and on-road comfort. 
All models but one came with either a four-wheel drive or rear-wheel drive. You also get to choose between a 4.0-liter 6-cylinder engine or a 4.7-liter V8 engine. Both of these offer dismal fuel economy but they are powerful enough for towing. In fact, this model has a towing capacity of 6500 lbs (3000 kgs).
Inside, the Grand Cherokee is a far cry from the bare-bones Wrangler. It has comfortable seats that some offroad enthusiasts complained were a little too comfortable for a serious off-roader. I think that's just splitting hairs.
Frequently Asked Questions
Question: Is a 2003 Jeep Wrangler Sport a TJ?
Answer: Yes, all second-generation Jeep Wranglers, which ran from 1997 to 2006, are known as TJ Wranglers. This also includes the 2003 Jeep Wrangler Sport.
Question: What Year Jeep Wrangler should I Avoid?
Answer: According to CarComplaints.com, the 2012 Jeep Wrangler has the most complaints, with most users complaining of electrical and engine problems. 
Question: At what Mileage do Jeeps Start having Problems?
Answer: On average, Jeep Wranglers have a lifespan of 10 to 15 years and can run for well over 100,000 miles. If you take care of your Wrangler, it might even rack up 400,000 miles.
Bottom Line
The TJ Jeep Wrangler, which ran from 1997 to 2006, was built to withstand harsh conditions, making it a hardy vehicle. Although newer Jeep models struggle in reliability, this generation is loved for its go-anywhere record, which makes it popular among enthusiasts.
If you're looking for a tough and no-frills two-door offroader, the 2003 Jeep Wrangler is worth considering.
Before you go, find out about other 4-by-4 vehicles in this article.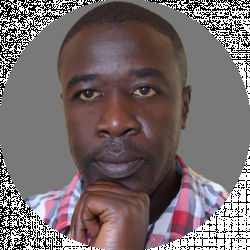 Latest posts by Barry Juma
(see all)