Do you like to go on off-road trips? Are you seeking a long-lasting vehicle that has been tested and proven? The 2005 Toyota 4Runner might be a treasure if you said yes to that question.
While the fourth-generation Toyota 4Runner was designed to appeal to a broader range of buyers, it retained many of the same key features as the third generation. On the other hand, it has more passenger space, a smoother ride, a quieter cabin, and an optional V8.
The new 4Runner was marketed as a mid-size semi-luxury SUV with off-road capabilities, and it was based on the Land Cruiser Prado 120 line. Toyota offered SR5, Sport Edition, and Limited trim levels.
To put it simply, the 2005 Toyota 4runner is noted for its dependability and robustness. A vehicle that you can rely on for the long term. Toyota 4Runners from the 2005 model year are expected to survive for an extended period. However, this does not rule out the possibility of issues. Welcome to a 2005 Toyota 4runner Guide.
Bottom Line Up Front
Toyota's 4Runner first appeared over two decades ago as little more than a pickup truck with a fancy bolt-on cap. While it has evolved into a highly sophisticated machine over the years, it retains its work boots by sticking to body-on-rame construction. 
Sport utility vehicle Toyota 4Runner is truly capable of going off-road. It is modeled on a truck, so many people choose it to avoid unibodies. It features a powerful basic V6 engine and can tow up to 7,000 pounds when equipped with an optional V8. With a 270 horsepower output, the V8 engine provides powerful, snappy acceleration on the highway. 
With its exceptionally high durability and little maintenance requirements, the Toyota 4Runner is a fantastic option for rough terrain, highway driving, or towing. On the other hand, I'd advise you to keep an eye on your gasoline usage. 
2005 Toyota 4runner Guide
Trim Levels
The Toyota 4Runner is a four-door sport utility vehicle (SUV) available in three trim levels for 2005. The company included V6 and V8 engines and two- and four-wheel-drive systems to provide Toyota consumers with as many options as possible. SR5 versions have a CD player, remote keyless entry, a telescopic steering wheel, and a trip computer as standard equipment.
The bigger wheels that come with the Sport Edition aren't the only difference between it and the base model. The X-REAS shocks in the Sport Edition assist reduce body roll during corners. Other features include:
A hood scoop.

A leather-wrapped steering wheel with controls for the radio and the cruise.

High-contrast seat materials.
Further features include lighted running boards, dual-zone automatic temperature control, leather upholstery, and rear-seat audio controls. Among the available options are a DVD-based navigation system and third-row rear seats. Optional X-REAS shocks and a height-adjustable rear air suspension are available for the Limited.
Table 1: Trim Levels of Toyota 4Runner 2005
| | | |
| --- | --- | --- |
| SR5 | Sport  Edition | Limited |
| SR5 V6 | Sport Edition V6 | Limited V6 |
| SR5 V8 | Sport Edition V8 | Limited V8 |
| SR5 V6 4WD | Sport Edition V6 4WD | Limited V6 4WD |
| SR5 V8 4WD | Sport Edition V8 4WD | Limited V8 4WD |
Interior Look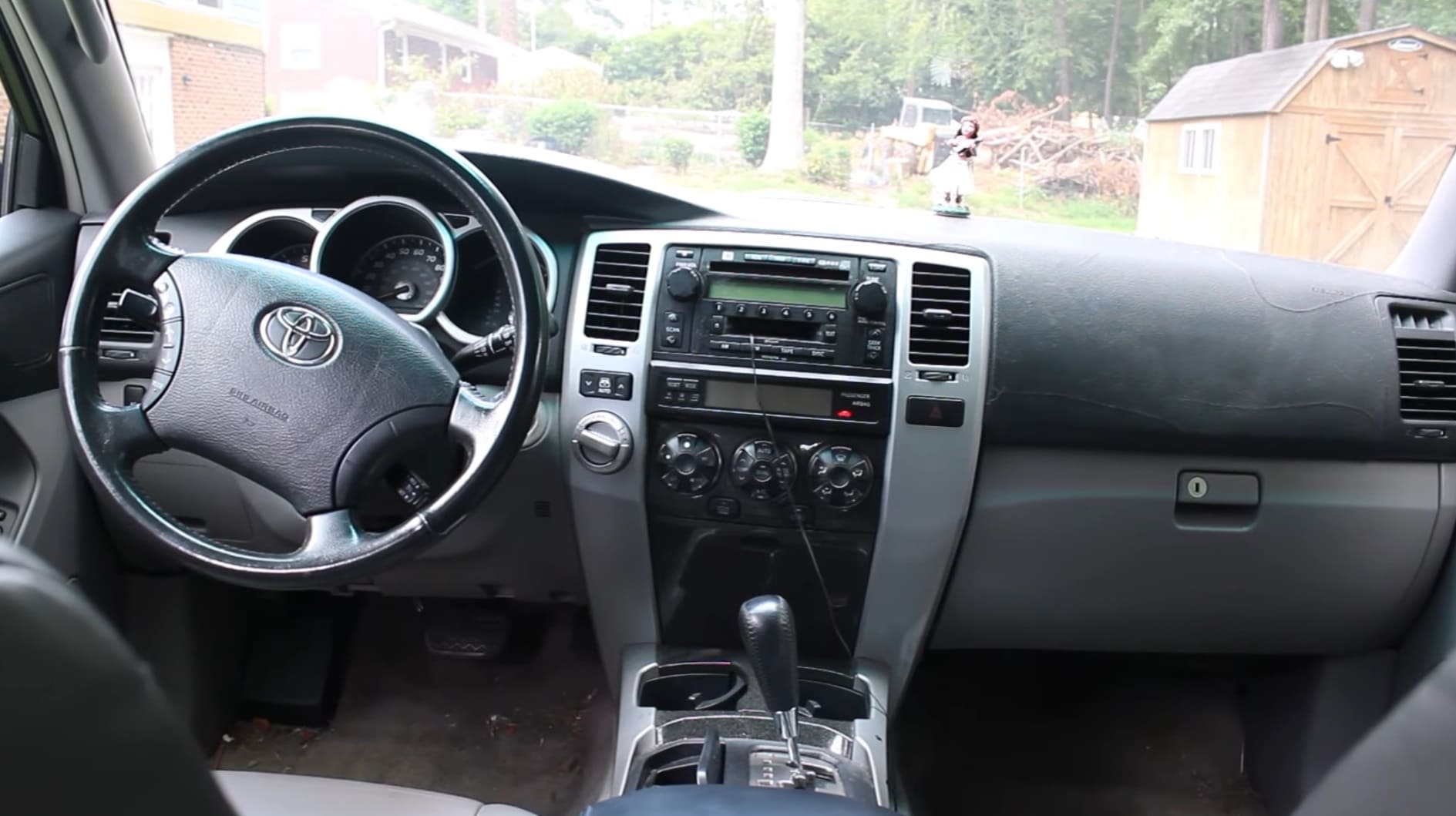 The third-row seat of the 4Runner can accommodate two more passengers in addition to the five people who can ride comfortably in the second row. Aesthetics and functionality go hand in hand in the interior design of this vehicle, with the majority of controls being easy to locate and operate. The temperature controls, which resemble intuitive dials but function more like joysticks, are the one major complaint of most owners.
Compared to other mid-size rivals, the maximum cargo capacity is 75 cubic feet, a little less. It features a rear window that opens and closes with automatic control and a tailgate with a suction lid.
Optional extras like JBL speakers and a large tray and cupholder are available for the back seats, further enhancing the comfort level. Even though this vehicle is decades old, the inside is in fine shape.
Engine Options and Performance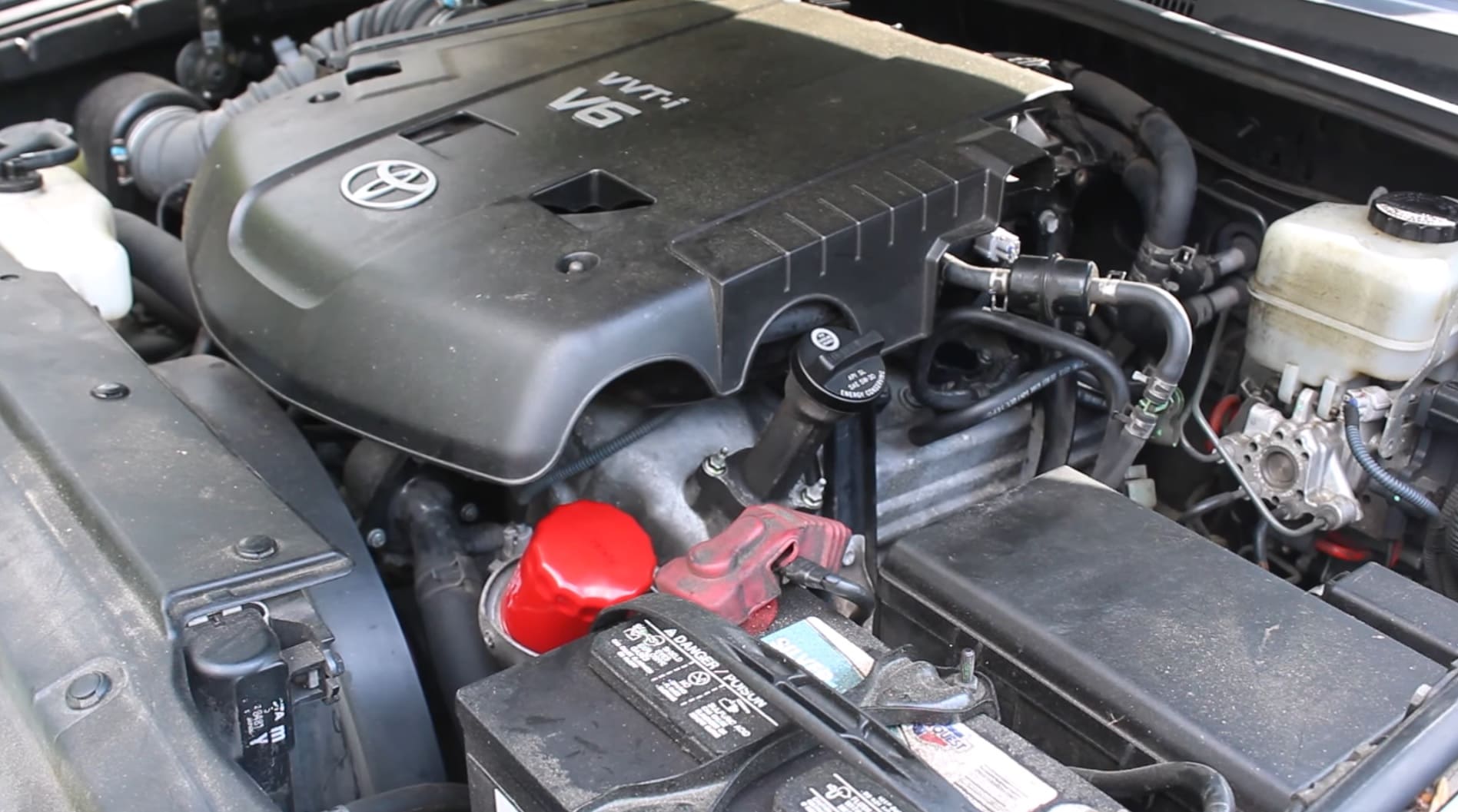 You may get a 2005 Toyota 4Runner with either a 2WD or a 4WD system and one of the two engines. 245 horsepower and 283 pound-feet of torque are produced by the 4.0-liter V6 engine that comes standard. The 4.7-liter V8 engine, available as an option, puts forth 270 horsepower and 330 pound-feet of torque. Automatic transmissions are standard on all 4Runner models. The new V6 has a 5-speed transmission, an improvement over the previous generation's 4-speed.
The maximum towing capability of V8 vehicles is 7,300 pounds, whereas that of V6 models is 5,000 pounds. V6 versions get 17-18 city mpg and 21 highway mpg fuel consumption. 15-16 mpg in the city, 19-20 on the highway for V8 models.
Table 2:2005 Toyota 4Runner V6 Engine 
| | | | |
| --- | --- | --- | --- |
| Base Engine Size | 4.0L | Torque | 282 lb-ft @ 3.800 rpm |
| Cylinders | V6 | Valves | 24 |
| Horsepower | 245hp @ 5.200 rpm | Cam type | Double overhead cam (DOHC) |
 Table 3:2005 Toyota 4Runner V8 Engine 
| | | | |
| --- | --- | --- | --- |
| Base Engine Size | 4.7L | Torque | 320 lb-ft @ 3.400 rpm |
| Cylinders | V8 | Valves | 32 |
| Horsepower | 270 hp @ 5.400 rpm | Cam type | Double overhead cam (DOHC) |
Both of these engines have a long track record of dependable operation. Either the V6 or the V8 will satisfy your needs. If you maintain them properly, you won't have any significant issues with these engines on your 2005 Toyota 4Runner adventure.
V8 engines are available if you require more towing capability or want a smoother ride, and there is no substitute for further movement. The V6 engine, on the other hand, delivers excellent performance and a smooth ride thanks to the 5-speed transmission.
Regarding performance, 2005 4Runner's rear axle locker is missing, despite the center diff locker being there.
Fuel Economy/MPG
Table 4:2005 Toyota 4Runner Fuel Consumption
| | | | |
| --- | --- | --- | --- |
| Toyota 4Runner 2WD | Combined MPG | City MPG | Highway MPG |
| Automatic 5-spd 6-cyl, 4.0 L | 18 | 16 | 20 |
| Automatic 5-spd 8-cyl, 4.7 L | 16 | 15 | 18 |
| Toyota 4Runner 4WD | Combined MPG | City MPG | Highway MPG |
| Automatic 5-spd 6-cyl, 4.0 L | 17  | 15 | 19 |
| Automatic 5-spd 8-cyl, 4.7 L | 16 | 14 | 18 |
2005 Toyota 4Runner Safety Features
Brake assist (BA) and Electronic Brakeforce Distribution (EBD) are standard features on all 4Runners (EBD). VSC (Variable Stability Control) is also included. Front and rear side airbags installed on the front seats and overhead side curtain airbags are available as options on all models.
If you don't want your side airbags to open accidentally under rough driving conditions, you can disable them. The 4Runner received four out of five stars in frontal-impact testing and five out of five stars in side-impact testing during crash testing.
2005 Toyota 4Runner Prices/Market
A 2005 Toyota 4Runner with a mileage range of 71,320 to 285,540 kilometers costs anywhere from $6,250 to $26,499, depending on options like the SR5 Sport V8 or SR5 Sport V6 automatic.
Consider the average price of four distinct 2005 Toyota 4runner models to get a better sense of pricing:
Table 5:2005 Toyota 4Runner Prices
Model
Market Value

2005Toyota 4Runner SR5 V6 4×4

 

Average market value: $8,716

 

Low market value: $6,537

High Market Value $10,895

2005Toyota 4Runner SR5 Sport V6 4×4

Average Market  Value: $9,078

Low Market Value: $6,808

High Market Value: $11,347

2005Toyota 4Runner SR5 Sport V8 4×4

Average Market Value: $8,712

Low Market Value: $6,534

High Market Value: $10,890

2005Toyota 4Runner SR5 Sport V8 4×4

Average Market Value: $9,497

Low Market Value: $7,123

High Market Value: $11,871
The price difference between sport and non-sport versions is modest. If you want a sports model, you may expect to pay an extra $1000.
The 2005 Toyota 4Runner has a good reputation, and I think you'll be happy with your purchase if you consider that reputation.
2005 Toyota 4Runner Accessories
Almost three decades after its introduction, Toyota's 4Runner mid-size SUV is still going strong. Since it is one of the most popular vehicles in its class, it can be seen everywhere. There are also plenty of add-ons available, both from the manufacturer and from third parties. The official Toyota Parts Center Online is an excellent place to look for genuine parts and accessories.
Below are some accessories offered originally:
Sport Bumper Trim:

It gives a nice look to 4Runner. They are designed to absorb impact to the front to minimize low-speed collision damage. However, some owners believe it is not good quality.

Wheel Locks:

These anti-theft lug nuts keep thieves from taking your car's nice alloy wheels by securing the lug nuts to the wheel rims.

Hood Protector:

This aerodynamic Hood Protector can help keep your vehicle's windshield and hood clear of debris.

Roof Racks (SR5 Only)

: Adding more cargo space to your automobile is as simple as installing a set of roof racks. It allows you to load up your vehicle and transport a wide range of heavy and bulky stuff, from sports equipment to camping gear.

All-Wheather Floor Mats:

These heavy-gauge rubber floor mats are easy to clean with a hose and maintain your original carpet in the best possible way. Any weather is no problem for these floor mats.

Exhaust Tip:

You can buy new exhaust tips from the official store for your 4Runner.
2005 Toyota 4Runner Competitors
2005 Mitsubishi Endeavor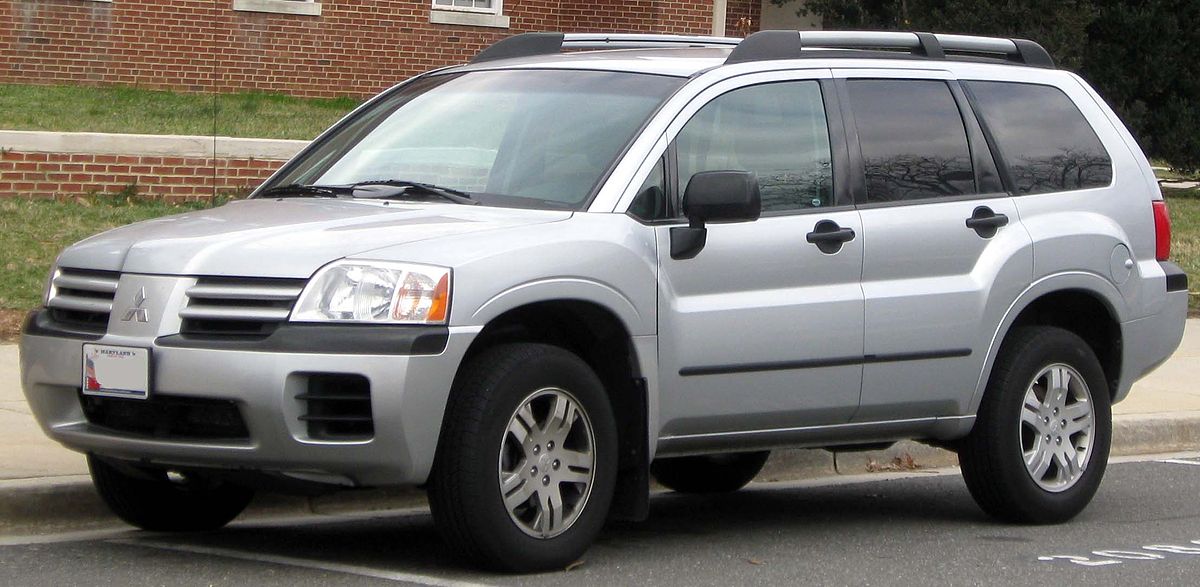 The Mitsubishi Endeavor is a mid-size SUV, similar to the Toyota 4Runner since it's built more like a truck than a car. It is possible to buy the Mitsubishi Endeavor with either front-wheel drive (2WD) or all-wheel drive (4WD) (AWD). LS, XLS, and Limited are the three trim levels for each configuration.
These vehicles all come with the same V6 engine and four-speed Sportronic automatic transmission, letting the driver manually swap gears if they want.
2005 Toyota Highlander
The Highlander is a car-based SUV, unlike the 4Runner, and it's not a 4Runner-level off-roader, in other words. The 2005 Toyota Highlander is available with a four-cylinder or V6 engine, front-wheel drive, or four-wheel drive all the time.
If you're looking for a vehicle you can use for everyday commuting and won't need to tow, the Highlander can be a good choice. There's no denying that the 4Runner has more power, but it's not the power that everyone needs.
Check out this guide to learn more about how the Toyota 4Runner compares to the Highlander.
2005 Honda Pilot
Highlander and other crossovers are more equivalents to the Honda Pilot. It is a practical, effective, and trustworthy model. Honda is powered by a 255-horsepower 3.5-liter V6 engine, an automated transmission, and advanced four-wheel drive. Compared to a truck, it is closer to a car. What makes it great, though, is that it gets fantastic gas mileage. Given that both Honda and Toyota are regarded for dependability, this is a good offer. Up to eight people can fit in its seats.
Final Thoughts
Toyota 4Runner is highly capable whether on the pavement or in the dirt; the Runner is a well-rounded mid-size SUV and a trendy second-hand car. It has powerful engine options, is well mannered on pavement, and it had above-average off-road capability while giving a comfortable ride. It has a well-trimmed cabin and a good list of standard equipment for its years; on the other hand, its cargo capacity isn't much more than many smaller SUVs.
FAQ: Frequently Asked Questions
Question: What are the most common problems with a 2005 Toyota 4Runner?
Answer: The most common difficulties you could encounter are braking system problems, automatic transmission problems, and rust-corrosion/body-paint problems.
Question: Does the 2005 Toyota 4Runner have a lot of problems?
Answer: Overall, it is a reasonably dependable automobile, which accounts for its popularity. Although it doesn't have many issues, the 2005 Toyota 4Runner is an older model. Buyers should still thoroughly inspect the vehicle they intend to purchase.
Question: How many miles will a 2005 Toyota 4Runner last?
Answer: If properly maintained, a 2005 Toyota 4Runner might go up to 300.000 miles and possibly even longer.
References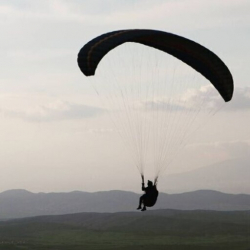 Latest posts by Mehmet Atalay
(see all)