There are several wheel options for the Toyota 4Runner. It may be a challenge to find the perfect set of wheels. There are factors you need to consider that determine your selection criteria.
Not all wheels are recommended for your Toyota 4Runner. Some may be the perfect fit, while others may not give you the style and performance you want. If you want to know how to get the best 4Runner wheels, read on!
Our Top 6 Toyota 4Runner Wheels
We did thorough research on Toyota 4Runner fan pages, online stores, and user ratings to come up with a list of the best wheels. Our list is comprehensive and will give you the details you need to know to make an informed buying decision. Here we go!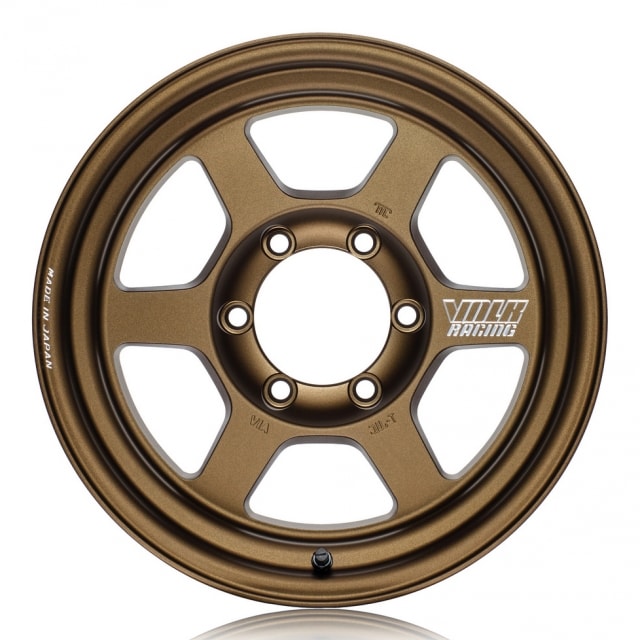 This is a company that is renowned for making great street wheels. The TE37X is recommended for the Toyota 4Runner. It's one of the most iconic aftermarket wheels.
For starters, it has an incredibly simple mold and design form forged construction. This makes it marginally stronger than other forged wheels in the market. Initially, their wheels were common on JDM vehicles. This is why it's no surprise they started gaining popularity in the 4Runner market.
The TE37X is one of the strongest and lightest wheels you can get for your 4Runner. They come with a 6-spoke design that is sleek. It's not only great for a Toyota 4Runner but the Tacoma and other vehicles with similar specifications.
Apart from being a great street racing wheel, it also performs in cross-country settings. Keep in mind it's one of the few wheels with a fully forged construction. This is why it's the strongest wheel on our list.
On the downside, it's marginally pricier than other wheels on our list. Additionally, there are few fitments to pick from. The wheels are great for people who want the strongest wheel for their 4Runner.
Pros
Simple mold and design form

Sleek 6-spoke design

Great for street and off-road

Fully forged construction

Strong wheel
Cons
Few fitments to choose from

Pricey
Are you looking for a wheel that is more than just stylish and strong? Then the Fuel Zephyr D101 may be your perfect solution. Apart from offering an outstanding custom look, it also offers superior performance levels.
The first thing you notice is it has an exclusive multi-spoke pattern. Furthermore, it's innovatively engineered with the finest aluminum material. The result is a single cast alloy construction with the ability to handle anything it comes across. These wheels guarantee maximum strength than their technical perfection and stiff construction. Coupled with their styling, the wheels take your 4Runner to new levels.
On our list, none of the wheels feature beadlocks. The reason is it's illegal to use beadlocks for road use in most states. Additionally, balancing them correctly is a challenge. Apart from featuring functional beadlocks, they also come with a unique and bold design.
If you didn't know, you could use lower PSIs on beadlocks than standard tires. Lower tire pressure increases the footprint of your tire. You end up getting more grip when driving off-road. Lastly, if your tire experiences a hard side-impact, Beadlock decreases the chances of the tire getting ripped off the bead.
Fuel 1PC D101 17X9 6X135 MT-BLK -15MM Custom Wheel | Amazon
Backspace dimensions and wheel offset have been strategically developed to reduce scrub radius, improving all-around handling and ride quality and making a set of these wheels the perfect complement to an ICON Vehicle Dynamics suspension system.
Buy at Amazon
We earn a commission if you make a purchase, at no additional cost to you.
Pros
Exclusive multi-spoke design

Single cast alloy construction

Bold and unique design

They can use low PSIs

Functional beadlocks
Cons
Balancing is a challenge

Beadlocks are illegal for road use in most states
Icon is synonymous with high-quality suspensions. What you may not know is they offer a handful of attractive Toyota 4Runner wheel options. These options not only handle exceptionally but also look good on your ride.
The Icon Alloy Alpha uses application-specific load ratings and dimensions. This means you get fantastic strength and weight in a complete package. This model features simulated beadlocks to give your 4Runner an off-road look you are looking for. Since beadlocks are illegal in most states, simulated beadlocks are the way to go if you are looking for a great look without breaking the law.
The Alpha from Icon offers a potent blend of off-road capability and on-road looks. This combination is aimed to increase both the function and form of your vehicle. The wheel is engineered to optimize position and maximize caliper clearance. The result is you get unhindered steering function and suspension travel.
It features a split eight-spoke design (mesh style). The lip of the wheel has a simulated beadlock ring. You notice that each spoke makes a v-shape at the center of the wheel where they meet. Such a design exudes aggressive styling meant to match the overall aesthetic of your 4Runner.
Pros
Application-specific ratings and dimensions

Simulated beadlocks

A potent blend of on-road looks and off-road capability

Mesh style 8-spoke design

Maximizes caliper clearance
Cons
A handful of options for the 4Runner
Although Venom Rex came to the off-road wheel scene recently, it's part of the internationally renowned Vorsteiner Company. Popular for building wheels for supercars and sports cars, Vorsteiner is gaining popularity in the off-road wheel platform. Their wheels are just as good and sometimes better than other companies that have been in the market for some time.
The majority of off-road wheels are developed using a cast construction. VR602 doesn't use the same. Instead, they use a stronger flow-forged construction. Not only are they lightweight compared to others in the market, but they are also strong.
A lighter tire/wheel combo improves overall handling. This is because unsprung weight affects handling negatively.
The VR602 uses an elegant and sharp split 6-spoke design. It looks awesome on the Toyota 4Runner. This wheel is designed for both off-road and on-road use. It combines innovative and distinct design methods with the rugged and robust styling associated with previous off-road wheels. When these two concepts were combined, Venom Rex discovered they could create one of the lightest wheels available in the market.
Venom Rex VR602 | Amazon
The Venomrex 602 combines our distinct and innovative design methods with the robust and rugged styling of traditional truck wheels.
Buy at Amazon
We earn a commission if you make a purchase, at no additional cost to you.
10/01/2023 04:11 pm GMT
Pros
Strong flow-forged construction

Lightweight

Great handling

A sharp and elegant 6-spoke design

Awesome aesthetics
Cons
Few options for the 4Runner
Method is one of the popular names when it comes to off-road wheels. They offer everything from basic off-road/street wheels to race wheels. For the Toyota 4Runner, the MR305 is the go-to option. They look good and come at an affordable price point.
The MR305 is specifically designed for SUVs, trucks, and dedicated off-road vehicles like the 4Runner. They have an attractive bold design and solid construction to complement the natural DNA of these vehicles.
This wheel features Street-Loc Version 1 lip on a classic 12-window and undercuts design. The result is you get a rim that simulates a true beadlock wheel. Additionally, you get the label "Method" machined into the face of the wheel. You will find there is a push-through center cap featuring the MRW logo.
Take note these wheels are stronger than what you may find in the market. For instance, they feature load ratings of about 2,500 lbs. to 4,600 lbs. determined by the application. The MR305 is made from A356 aluminum. Combined with T6 heat treatment, it offers you durability and performance on any type of road.
Method Race Wheels MR305 NV Matte Black Wheel | Amazon
The 305 NV Wheel features an iconic 12 window design with a debossed Method logo on either side of the center cap. The lip undercut simulates a true beadlock wheel and has replaceable lip bolts with optional colors available. It boasts a strong 2,500- 3,640 lbs.
Buy at Amazon
We earn a commission if you make a purchase, at no additional cost to you.
10/01/2023 04:22 pm GMT
Pros
Solid construction

Attractive bold design

It looks like a beadlock wheel

T6 heat treatment

Made using A356 aluminum
Cons
Limited options available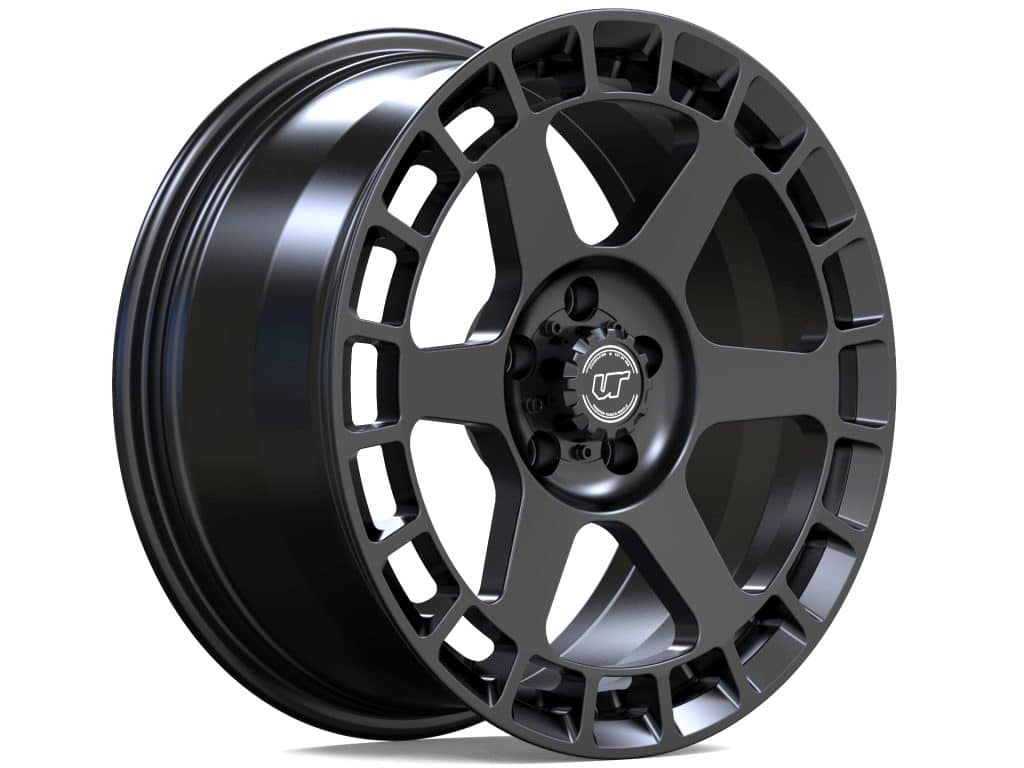 VR Forged D14 is a full one-piece, forged monoblock wheel. It's perfectly matched to the Toyota 4Runner, and other off-road vehicles. Around the outer edge, it features a unique CNC-machined ring. The wheel's rugged appeal is a result of a simple but sporty 6-spoke design.
Keep in mind these wheels are manufactured using a 10,000-ton press. The result is incredible strong wheels capable of standing up to the elements of spirited driving and off-road adventures. VR Forged D14 is your one-stop-shop if you are looking for a Toyota 4Runner when with quality performance, attractive styling, and solid construction.
One of the good news is the D14s are designed to work with the Toyota 4Runner and other off-road vehicles' OEM TPMS sensors. This means the wheels will not affect your 4Runner's OEM brakes or brake kits.
Each wheel goes through rigorous quality control and testing measures to ensure they meet standard regulations. At the same time, they withstand any abuse before they are sold to you.
You will notice that VR Forged D14 has an impressive lineup of Toyota 4Runner wheels that are monoblock forged. They have an aggressive and simplistic design that offers function and form.
Pros
1-piece forged monoblock wheels

Unique CNC machined ring on the outer edge

Great for outdoor adventures and spirited driving

Compatible with OEM TPMS sensors

Meets standard wheel regulations in most states
Cons
Toyota 4Runner Wheel Buying Guide
Now that we have a list of the best wheels for the 4Runner, it's time we need look at factors that determine a good wheel. Just because a wheel or rim looks good doesn't mean it will meet your needs. Check out the buying guide below to know the features you should look for in a 4Runner wheel.
Bolt Pattern
The first place to start when looking for a Toyota 4Runner wheel is the bolt pattern. It consists of the number of lugs compared to the diameter of your wheel's circle when it gets to the center of the wheel. This is crucial because the pattern on the axle hub has to match your wheel's bolt pattern.
These two have to match. If they are off by a little bit, it will cause your wheel to be off-center. The result is poor handling that may result in an accident. Due to their experience, a good mechanic may be able to do this for you. However, it's important to note you can't just put any wheels on your 4Runner just because they look good.
For the bolt pattern, there is something you can do to ensure you get the best results. Start by removing any wheel, but we recommended the rear one. Why? It's because the rear wheel is the easiest to remove, considering the hub won't stand in your way.
Once you have removed the wheel, skip a stud and measure the distance from one stud to the outside of the other. Keep in mind you need to skip a stud. The figure you get is the actual measurement of the bolt pattern. For a Toyota 4Runner, a 5-lug bolt pattern is the norm. Do a simple check if you are not sure.
Alternatively, you can check with your mechanic if you are not sure about the bolt pattern. If they are 4Runners experts, they should be able to know the pattern immediately. Additionally, they should be able to point you in the right direction when it comes to wheels.
Some Toyota 4Runner owners use their stock or factory wheels. If you are into racing or serious off-roading, this may not be an option for you. Whatever the reason, you need to understand the bolt pattern before you change the wheels on your 4Runner.
TRD
You may have come across the acronym TRD on some Toyota vehicles. It stands for Toyota Racing Development. It's an in-house Toyota tuning shop for their vehicles. TRD is responsible for supporting Toyota's racing interest worldwide and streetcars for better performance.
The company believes that wheel or rim designs are crucial. They believe the design can break or break the appearance of your 4Runner. Toyota emphasizes that not wheel and all-wheel designs are equal.
For instance, if you go for steel wheels, you should know they are fancier when they have a set of hub caps. These types of wheels are usually the wheels you get when you buy a new car. The reason behind this move by manufacturers is the wheels are inexpensive and easy to produce. Steels wheels have minimal demerits, and they work fine.
There are some aluminum alloy wheels. Contrary to some people's belief, these dissipate heat better and are lighter. For the 4Runner, go for TRD Beadlock or TRD SEMA. These two were designed for great braking, being lightweight, maximum stability on corners, and great heat dissipation. The result is improved performance on your 4Runner.
TRD wheels are great because they factor in backspace, brakes, and offset and weight of your 4Runner. Toyota guarantees a master's design as well as a commitment to great service and quality. Most people assume TRD wheels are only good for their appearance. What they don't know is these wheels have exceptional performance.
To design and develop the optimal wheel for a Toyota 4Runner, TRD wheels use CAD design. Considering the wheels are made by Toyota, they know what is best when it comes to the 4Runner.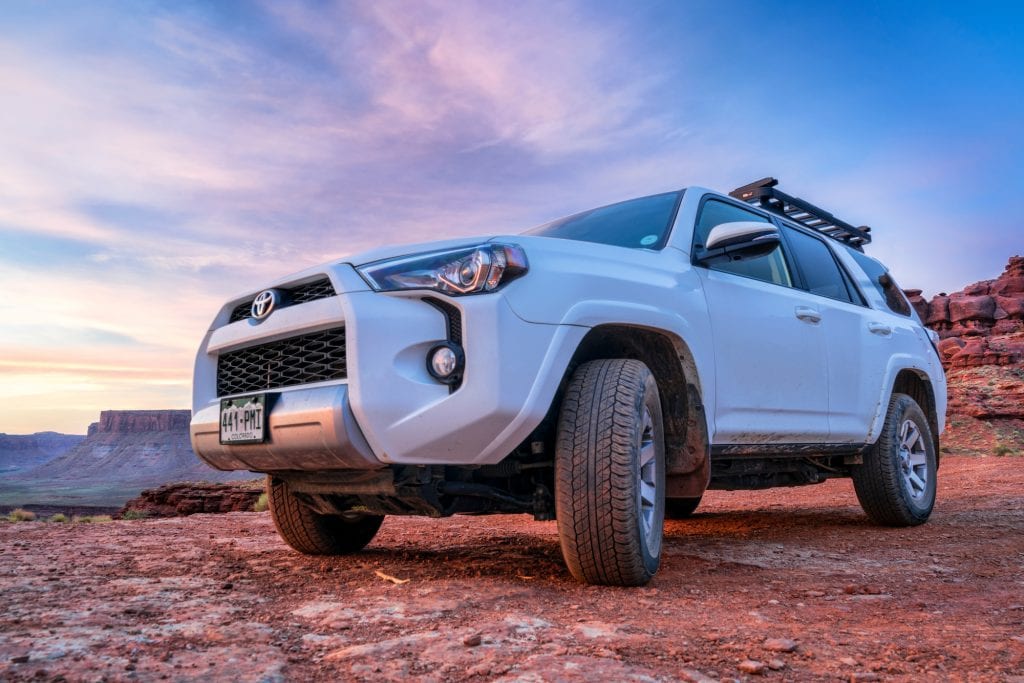 Limited
For the limited wheels, you get alloy wheels with three options, namely cast, billet, and forged. Both cast and forged wheels are aluminum. The methods used to manufacture the wheels are different despite them being made from the same material.
For instance, cast wheels are lighter and less strong than their forged counterparts. Despite their differences, forged and cast wheels have more or less the same performance.
SR5
We recommend the matte black TRD 17-inch wheel for the 2020 and 2021 models of Toyota 4Runner SR5. These wheels make a statement whether you like it or not. They are 17-inch cast-aluminum wheels with a 6-lug pattern.
The SR5 is popular because it incorporates the proper brake clearance, weight, and offset. Such features ensure you get the proper reliability, finish, and fit.
The matte-black finish gives them a nice look. On the downside, such a finish is prone to marks and scratches. If scratches and marks bother you, go for an alternative wheel with a gloss finish.
Other features include:
It comes with a TRD center cap

Compatible with TPMS

7-inch wheel width

4 mm offset
You can get more information about the TRD 17-inch matte black alloy wheel from Toyota's official website.
OEM/Factory Wheels
OEM (Original Equipment Manufacturer) wheels are also known as factory wheels. Just as the two names suggest, these are wheels that come from the original manufacturer.
When you buy a brand new Toyota 4Runner, the wheels that come with the car are referred to as factory wheels. The majority of lower-trim or base models don't come with fancy rims or wheels. All the same, the factory wheels are still great. When you decide to upgrade, you will come across bigger rims.
Usually, a Toyota 4Runner comes with aluminum alloy wheels. The size depends on the trim level and model year. For example, the 2016 4Runner comes with a transwheel aluminum wheel. It has a six-double-spoke design, 6 x 5.5 bolt pattern, and 20 x 7 rim.
These wheels are a challenge to buy, considering the number of original equipment manufacturers is low. It means you may only find them from Toyota alone. If you are looking for used factory wheels, check out some of the reputable online websites. You may get someone who is selling them to get aftermarket wheels.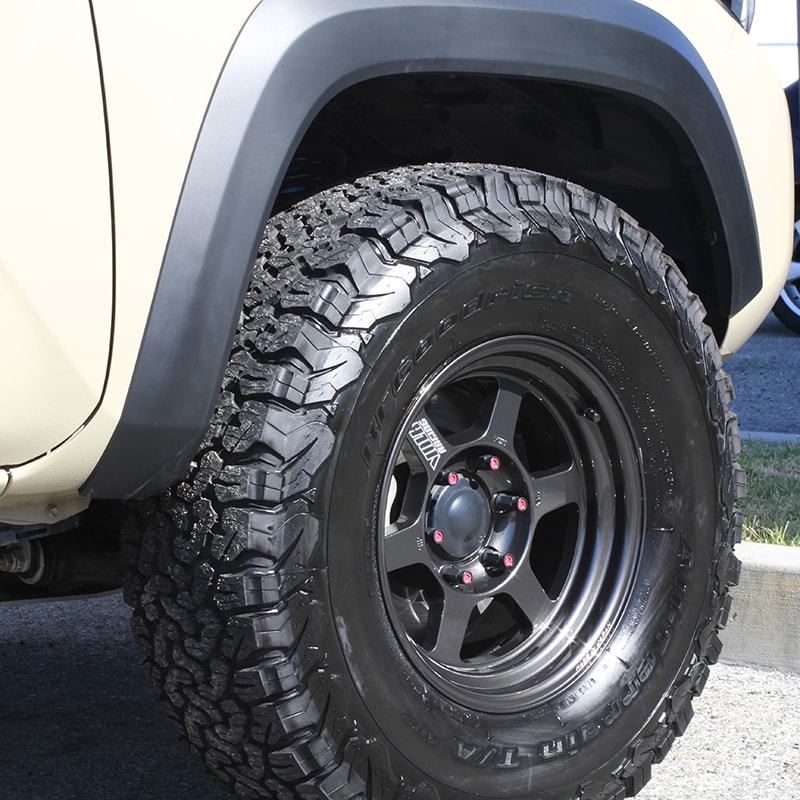 Toyota 4Runner Wheels FAQs
Question: Are Toyota 4Runner Wheels the Same?
Answer: No. The only thing they have the same is the bolt pattern, which is 6 x 5.5 inches. Once you have the right bolt pattern, you can use any wheels. All you have to consider is if the wheel is best for on-road, off-road, or a combination of both. This way, you can make an informed decision.
Question: What Materials are Used to make 4Runner Wheels?
Answer: Usually, the stock parts come with aluminum alloy wheels. The size and how big the wheels are will be determined by the trim level and models year of your vehicle. For instance, the 2016 Toyota 4Runner comes with a transwheel Aluminum wheel. It has a six double-spoke design, 6 x 5 ½ inch bolt pattern, and 20 x 7 rim.
Question: What is the Offset on Stock Toyota 4Runner Wheels?
Answer: When you purchase the wheel, you notice it has a 30 MM offset. This equates to offering 30 MM or more clearance between the strut assembly and wheel. It also means the wheel centerline is off by 30 MM.
Question: What Does Backspacing Mean?
Answer: It's determined by measuring the distance between the wheel's outer lip and the mounting surface on the back of the wheel. The backspacing, just like the offset, depends on the car's design and size.
Bottom Line
Getting wheels for your 4Runner is easy if you know how to go about the process. We have listed 6 of the most popular for your perusal. Choose one depending on your driving i.e., off-road, on-road, or both.
If you find you can't use any of the wheels provided above, use our buying guide. It is a comprehensive guide on what you need to consider before you get a Toyota 4Runner wheel. All this information ensures you get the best wheel for your 4Runner.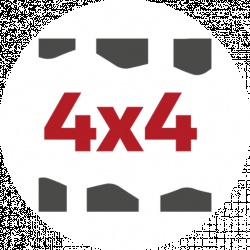 Latest posts by 4x4 Reports Team
(see all)