This 1994 Ford F150 guide focuses on what is widely regarded as one of the best and most reliable trucks ever produced by the motor company, as part of the best-selling consumer vehicle of all time.
Despite this, you can generally pick one up for less than $4,000 – sometimes, closer to $1,000 or $2,000. It'll be in pretty condition at this price, too!
While there are a couple of horror stories out there, almost every 1994 Ford F150 owner talks about their truck like a child prodigy. They love it.
In this article, I've put together a comprehensive guide on the 1994 Ford F150. 
History of the 1994 Ford F150

1994 Ford F150 available specifications

How do you value a 1994 F150?

Owner reviews

Common problems

Maintenance tips

How does the 1994 F150 compares to rival trucks?

Should you get a 1994 Ford F150?
History of the 1994 Ford F150
The 1994 Ford F150 is part of the ninth generation of the Ford F-Series, mid-way through its production.
In 1980, Ford completely re-engineered the F-Series architecture, providing an entirely new structure for vehicles to be based on. Engineers redesigned the truck in every way, marking its most significant change since 1965. This generation, the seventh, would be modified into the eighth in 1987 and the ninth in 1992.
The ninth-generation F-Series models were produced for Model Years 1992 to 1998. However, the ninth-generation F150 ceased after 1997, being replaced by the tenth-generation model.
Continue reading our full guide to 1998 Ford F150.
Ford's combined truck sales consistently lagged behind their closest rivals, General Motors, throughout the ninth generation. However, F-Series sales numbers rose consistently year-on-year, from 472,000 in 1992 to 780,000 in 1996, when Ford finally reclaimed its position of selling the most trucks, beating the combined total of Chevrolet and GM.
In 1994, 646,039 F-Series trucks were sold across Ford's range. Sales numbers climbed steadily until they peaked at over 900,000 per year in about 2004/2005 when there was a sudden fall. Nowadays, F-Series sales are rising back to the levels they were back in the 90s and early 2000s.
The ninth-generation F-150 went through a significant interior redesign compared to its predecessor. The exterior had a slightly lower hood and rounder bumpers, fenders, and grille, in a (successful) attempt to somewhat modernize its appearance. Today, it's one of the most sought-after modern collectibles.
In 1994, Ford slightly updated the dashboard, but most changes were reasonably minor. Models also came with several new or changed features:
The first Ford PowerStroke engine (available halfway through the 1994 Model Year) was a 7.3-liter T444E turbo diesel engine.

CHMSL (Center High Mount Stop Lamp).

Side door intrusion beams.

A CFC-free (

chlorofluorocarbon

) air-conditioning system.

Brake-shift interlock (stopping the driver from changing gear out of Park unless the brake pedal is depressed).

Driver's-side airbag as standard.
Several options were also available (more on this in the next section).
Although it was introduced in 1993, with production lasting through to 1995, the 240 bhp SVT Lightning and its 5.8-liter Windsor FI V8 were also being manufactured in 1994. White was added as an option, and 4,007 models were made during the year.
1994 Ford F150 Available Specifications
As alluded to above, a 1994 Ford F140 can come in a few available specifications.
1994 F150 Engines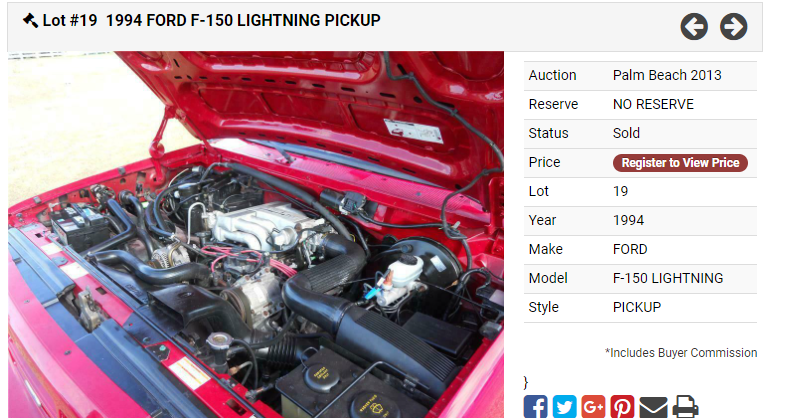 An F150 from 1994 will come with one of the following engines:
4.9-liter Inline-6 (150 bhp, 260 lb-ft).

5.0-liter V8 (205 bhp, 275 lb-ft) – although the automatic transmission models had only 195 bhp.

5.5-liter Windsor V8 (240 bhp, 340 lb-ft) – this engine was only used on the SVT Lightning.

5.8-liter V8 (210 bhp, 325 lb-ft) – with added roller lifters for this Model Year.
As standard, the truck would come with the 4.9-liter I6 and a 5-speed manual transmission. No matter what options you selected, all 1994 Ford F150s came with:
15″ steel wheels.

Tinted glass.

ABS on the rear wheels.

Power steering.

Power brakes.

Driver front airbag.

Interval windshield wipers.

Vinyl seating.
Optional extras, aside from the 4-speed automatic transmission and engine upgrades, included the following:
FlareSide bed (this became an F150 sub-model).

Remote keyless entry, including an alarm.

A CD Player was incorporated into the existing stereo system.

Power-assisted driver's seat.

An electrochromic rearview mirror was available on some luxury packages.

Air conditioning (if so, it would come with the CFC-free version).

Manual sliding rear window.

Tachometer (or "rev meter" to most people).

Power windows.

Towing Package.

Cruise control.

Limited slip differential.

Tilt steering wheel.

Cloth seating.

Rear step bumper.
You could get the F150 in a wide range of colors:
Electric Red Clearcoat Metallic.

Crimson Clearcoat.

Light Opal Clearcoat Metallic.

Tucson Bronze Clearcoat Metallic.

Tobago Green Clearcoat Metallic.

Deep Forest Green Clearcoat Metallic.

Royal Blue Clearcoat Metallic.

Brilliant Blue Clearcoat Metallic.

Iris Clearcoat Metallic.

Oxford White.

Black Clearcoat.

Raven Black.
These three colors were available, but not on FlareSide models:
Colonial White.

Desert Copper Clearcoat Metallic.

Sunrise Red Clearcoat Metallic.
For the interior design, you could select from:
Medium Mocha.

Royal Blue.

Ruby Red.

Opal Grey.
How Do You Value a 1994 F150?
When you come to buy (or sell) a car, knowing its value is, of course, an essential step in the process.
A few different factors can affect a 1994 F150's value, in particular the method of sale (trade-ins will be worth approximately half a private sale) and the truck's general condition. Edmunds has a helpful tool for estimating what your 4.9-liter I6 F150 might be worth – follow the link to check it out.
The value of your vehicle mostly depends on how much work needs doing to it (or will need doing shortly) and its general appearance. Check all of the following:
Dashboard lights

 – if the Check Engine light, for example, is clearly activated, it usually represents a significant underlying problem with the motor. Other warning lights can likewise lower what the truck is worth.

Mileage 

– this is a big one. In general, the less the reading on the odometer, the more the car is worth. In reality, this doesn't always mean that the truck is in better condition. For example, it may well have sat doing nothing for a decade. However, it tends to increase a vehicle's worth nevertheless.

Specifications 

– the larger the engine, the more it'll be worth (in most cases). For instance, the XL and XLT specifications are more sought after than the Regular Cabs. Any optional extras fitted to the truck, such as air conditioning or power seats, will also increase its value.

Engine and transmission condition

 – even if the warning lights aren't illuminated, an F150 with a failing engine or transmission can be clearly felt by someone taking it for a test drive. Since these repairs are, of course, particularly pricey, you can expect the F150's value to decrease.

General repairs

 – no car is perfect, and every single one of them needs repair work done regularly, or they'll fall to bits. A buyer will be less willing to pay the full price if an F150 needs a whole load of fixes – from brakes to headlights and tires to seat belts.

Bodywork

 – if the F150 has rusted or dirty body panels, people will pay less for it. This is because it often means the truck has either been well used (and has probably been overdriven) or hasn't been looked after properly, since the owner either didn't bother to wash it or it was so dirty that it simply wasn't worth it.

Interior

 – while the interior isn't exactly critical to an F150's function, a nice, well-looked-after cabin space is more likely to increase its value. By contrast, peeling paint and a strong smell of cigarette smoke will put most people off, lowering what the average person is willing to pay for it.
Follow this link to see 1994 Ford F150s for sale on Auto Trader and note the variation in costs. At the time of writing, prices range from $1,500 to $34,500.
To estimate the value of your F150 or one you're looking at, check its general condition, engine size, mileage, optional extras, and whether it needs any repairs. If it's a high mileage truck in poor shape with an I6, it's probably worth between $1,000 and $2,000. A truck with 50,000 miles, a shiny paint job, and a sparkling engine might be closer to $15,000 or $20,000.
Owner Reviews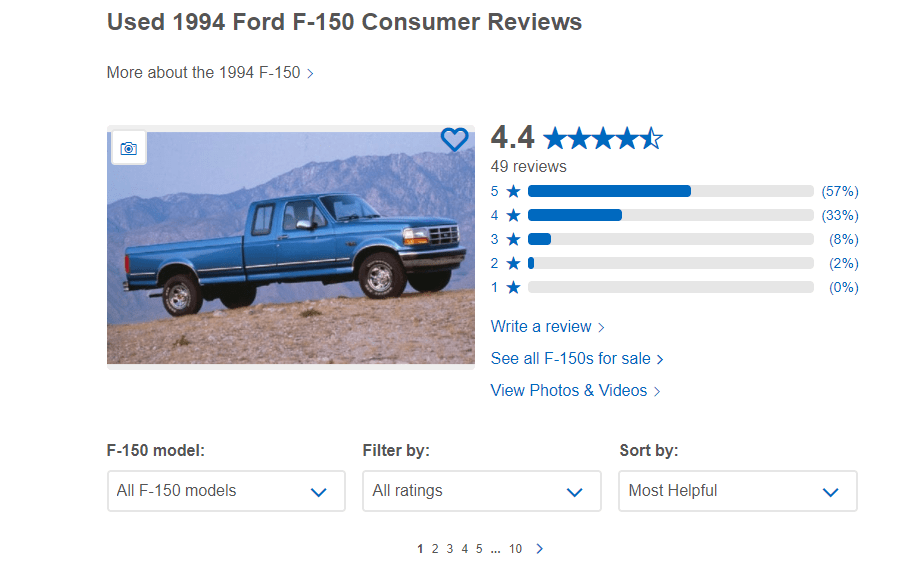 Here, I've compiled a generic overview of owner reviews. Specifically, I've looked for common themes across a few different widely-used websites, such as Edmunds and cars.com.
Most owners at the time note that they "really like the body shape from that era" – a theme that crops up across all positive reviews.
"It's been super reliable," said one owner writing on Edmunds, echoing the sentiments of many others in the same column. Of course, a 1994 F150 requires just as much looking after as any vehicle, but most consumers report it never lets you down if you treat it right. For reasons unknown, it sometimes gets a bad reputation for reliability online (such as on Repair Pal). However, this can probably be attributed to the old problem where satisfied customers don't leave reviews; unsatisfied customers do. As the same 1994 F150 owner said, "My old beater Ford keeps on trucking!" and "She's not the problem right now, I am."
Other reviews on Edmunds are entitled "One Tough Truck," "One Tough Ford," and "Just Keeps Going and Going…".
Cars.com owner reviews follow much the same line of thought. "Rock solid," said one customer. "Body and interior was beat up, but mechanically… can't beat it. Ran great, but [I] had to let it go because I finally had enough money to get a new one. Actually, I probably should have kept it."
The following review, from a 1994 Ford F150 driver in Indiana, was entitled, "I don't want to sell it but I have to." In the review, the owner states, "This truck has been reliable, and I love driving it."
It's not just suitable for road use, too, as the next customer writes: "I owned a 1994 Ford F150 straight 6, and it was the best truck for my farm work". 
Overall? Owners, both past and present, would recommend this truck to anyone. It comes with generally glowing praise for its mechanical durability and reasonable levels of comfort for everyday use.
Common Problems
The general opinion is that F150s mainly were brilliant until the early 21st century when their reputations started to slip drastically downhill. In the 2010s, the newer F150 generations were much more reliable, resulting in sales numbers consistently rising.
As mentioned in previous sections, the 1994 Ford F150 is one of the most mechanically sound trucks out there. As such, there aren't too many common problems to list here.
However, I've managed to find a few things you should keep your eyes out for, just in case.
Rough idle 

– some owners report 1994 F150s developing a rough idle. A rough idle is when the engine struggles to keep ticking over when it's running at tick over, such as when you're stationary. The motor might feel clunky, unbalanced, and slow to respond. A common cause of this issue is the EGR sensor sticking, causing the EGR valve to remain slightly open all the time. You'll need to replace the valve and the sensor to fix this.

Noises from the rear end 

– some 1994 Ford F150 owners reported hearing noises at the rear of the truck. These noises happen while turning after driving at highway speeds for some time. It developed, on average, at about 110,000 miles on the clock. To repair it, you'll need to purchase and install an updated differential clutch kit.

Ball joints 

– a common issue with many vehicles, the ball joints on early-90s F150s are particularly susceptible to water exposure. This will make them wear out quickly, and you'll need to fit some new ones. 

Leaking oil gasket 

– the oil pan gasket on F150s of this time is known for springing a leak. You'll notice engine oil underneath the car and on the exhaust, producing a burning smell. It's crucial to avoid losing oil, of course, so you'll need to replace the gasket to stop the leak.

Drive belt 

– the drive belt (also known as a serpentine belt or alternator belt) has a reputation for developing a fault. If there's a problem, you'll hear a chirping sound from the front of the car. The belt may have twisted a pulley, usually for air conditioning or power steering.

Automatic transmission flare-up 

– 1994 and 1995 F150s can suffer from this transmission problem. The TR/MLP can develop a fault, causing the transmission to become misaligned. As a result, when the transmission shifts into fourth, the engine might flare.
Maintenance Tips
It's always important to look after your car, whether it's a big, rugged truck (like the 1994 Ford F150), a supercar, or a supermini. With this particular truck, you shouldn't have to do anything beyond the normal, but keeping up to date with regular maintenance is sure to save you time and money in the long run.
Keep up to date with the service schedule provided by Ford. Since your 1994 Ford F150 is, at the time of writing, about 27 years old, there's probably no immediate need to take it to a Ford dealership for servicing or repair work. They'll have access to more specialized equipment and parts, of course, but a reliable local mechanic is more likely to cost you much less for the same job. However, if you need some specific Ford-only part, you might save yourself some money by going directly to the dealership.
Oil and Filter Change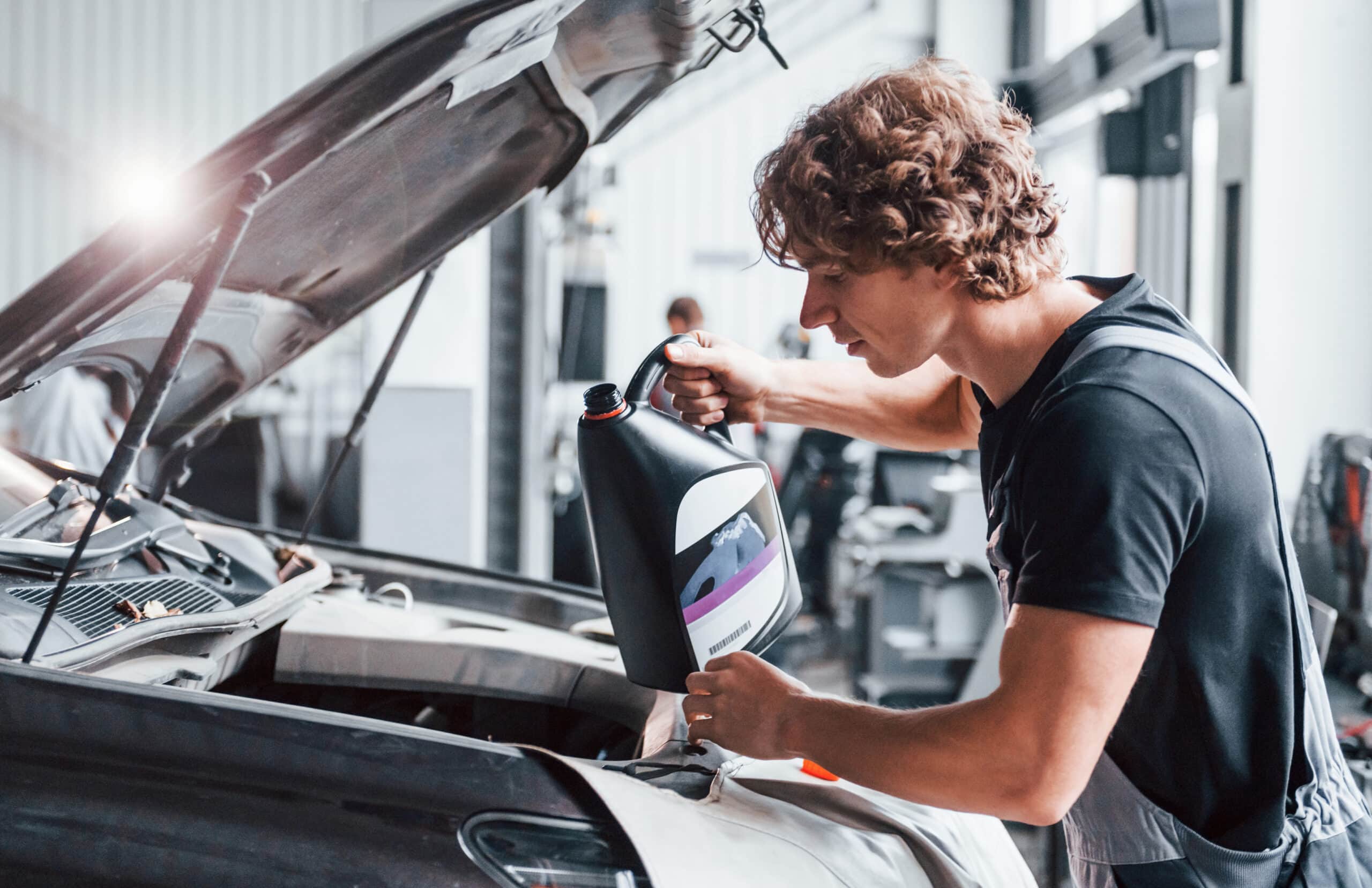 The oil and oil filter in a Ford F150 need changing every year. While you could get this done by a local auto shop (and thus potentially get your service book stamped), this is also a job you could do yourself if you know your way around the basics of engines.
You'll need tools to perform an oil change, such as a 3/8″ torque wrench, socket set plus extensions, oil pan, and potentially an oil filter removal tool. I would also advise getting hold of PPE, such as nitrile gloves, coveralls, and goggles. Absorbent granules are also really useful in case you spill some oil.
Once you're prepared, you'll need some motor oil and a new oil filter. One of the biggest mistakes most people make at this point is purchasing either the wrong oil or the wrong oil filter (or both). Many online websites have tools that filter out all the parts that don't fit your vehicle. These are incredibly useful, but they can sometimes be wrong. I've been caught out by it on numerous occasions. To make sure you're getting the right oil, check your vehicle handbook as well as other online Ford updates.
For the 1994 Ford F150, most engines required 5W30 when new. However, 5W20 is now the recommended viscosity for most engines. 
I would always, always recommend fully synthetic oil. It's more pricey at the moment, sure, but it'll save you much more money in the future. Since it means your engine won't degrade anywhere near as quickly, higher-quality engine oils help decrease the truck's depreciation. In terms of oil brands, it's best to stick with the more well-known ones, such as Castrol, Mobil 1, and Shell. You can find some good, slightly less expensive alternatives in Valvoline and Pennzoil.
When fitting an oil filter, use an online checker to make sure it fits your truck. Oil filters shouldn't be more than $20, and many will cost less than $10. Most 1994 Ford F150s use a spin-on-type oil filter. Look for brands such as Motorcraft, FRAM, WIX, Purolator, and Mobil 1.
Tire Balancing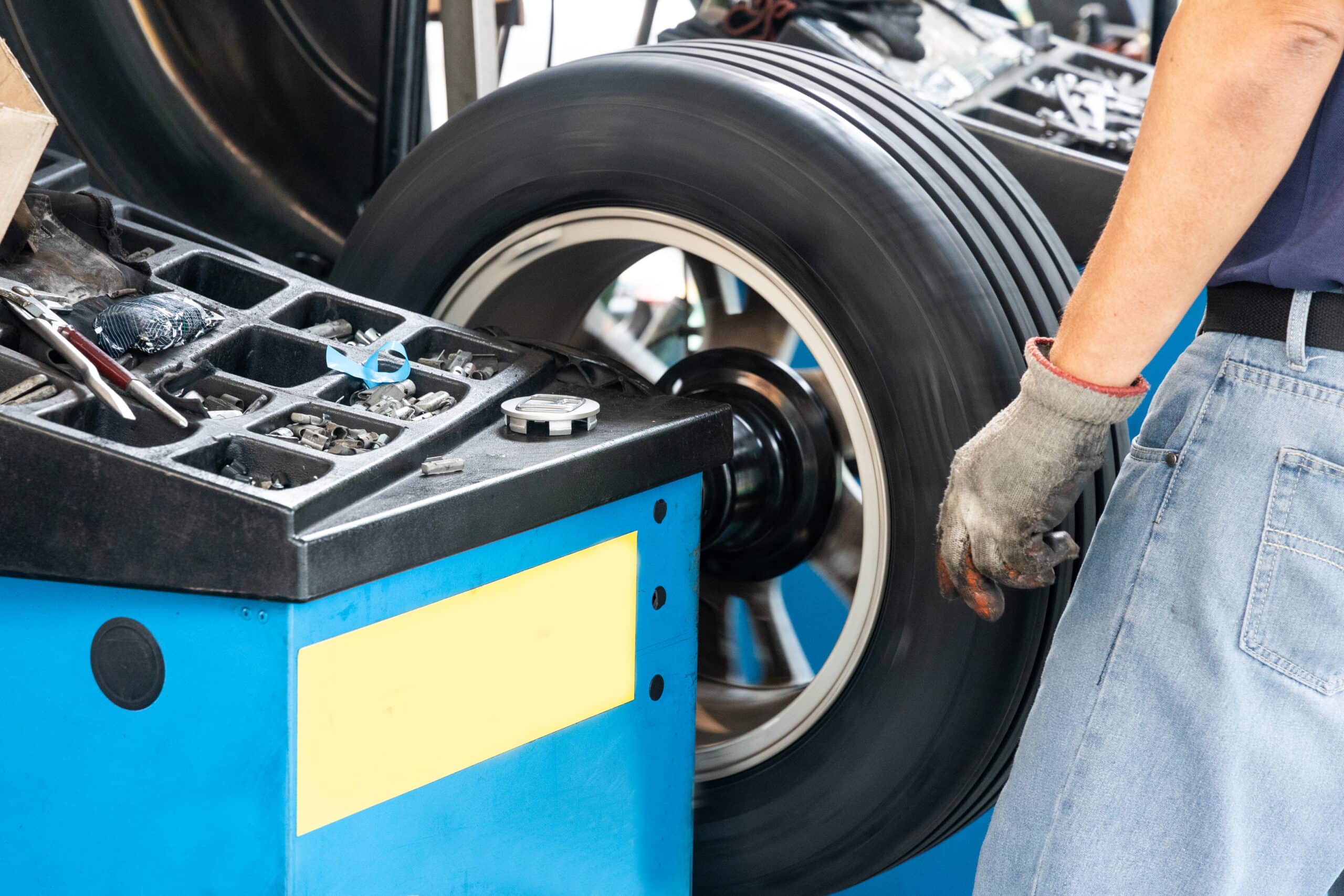 When tires are fitted to a vehicle, they're usually naturally unbalanced. That is, rotating it would cause it to wobble slightly. This is entirely normal and is caused by microscopic manufacturing defects that are currently impossible to eliminate.
To solve the imbalance, tires get "balanced" before fitting. This involves attaching it to a special machine (creatively named a "tyre balancer") and attaching weights to the points it defines. For steel wheels, these weights are hammered onto the rim. With alloy wheels, they're stuck on the inner face.
Every year, when your car has a service, it's vital to get the wheels balanced, as the weights detach with time. If you can keep up to date with this, you'll find that your tires and suspension components wear down much more evenly (and therefore slowly).
While tire balancing is possible to do yourself, you'd have to purchase a massive machine at a reasonably high cost. As a result, it's usually more sensible to just get a mechanic to do it for you.
Wheel Alignment
Wheel alignment is the direction the tires are facing. If they aren't pointing straight ahead (or, usually, toeing slightly in or out, depending on manufacturer instructions), it can cause tires to wear down unevenly – a very dangerous situation.
Keep up to date with alignment by getting it checked every time you take your car in for a service. 
Air and Cabin Filters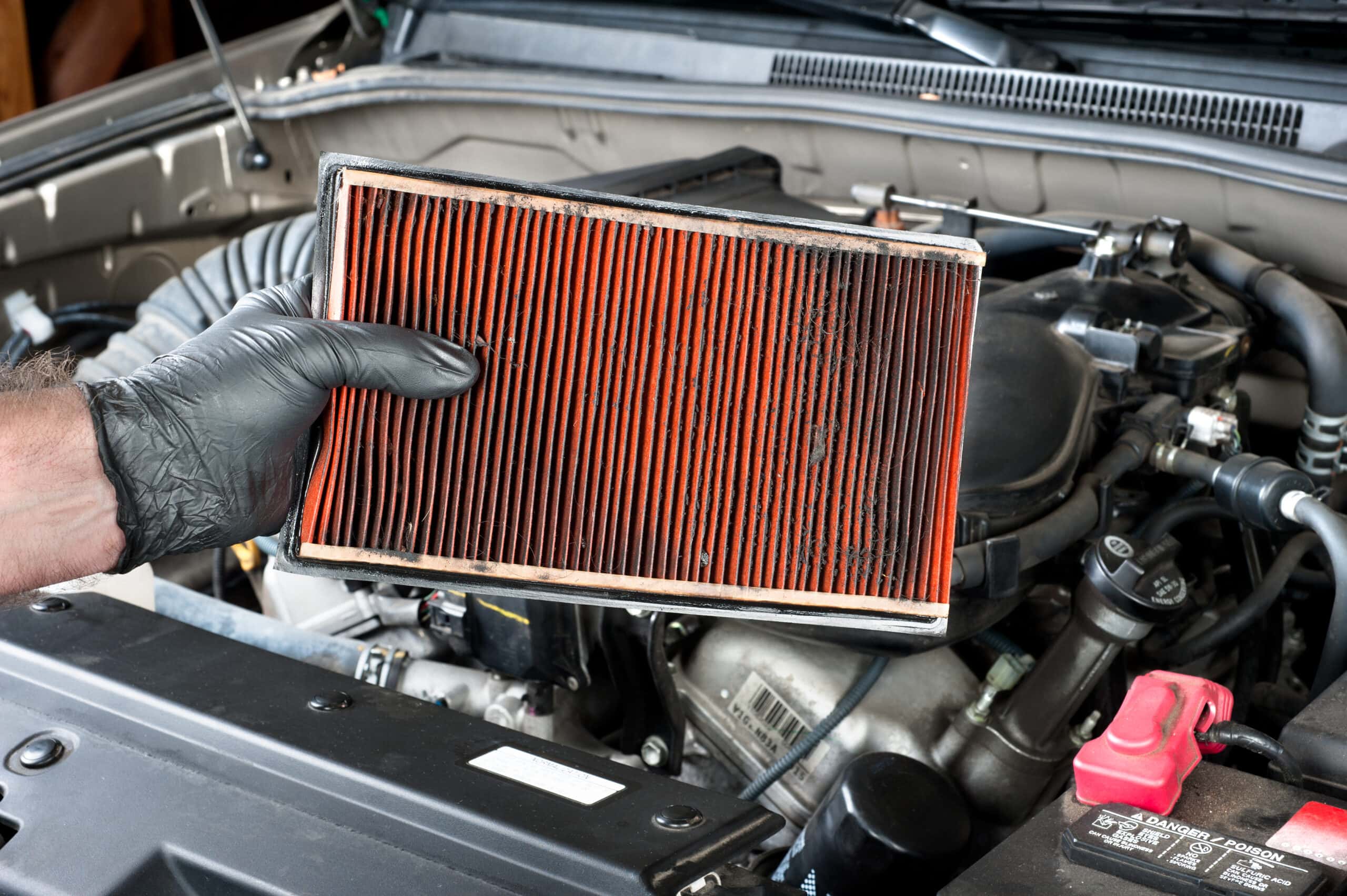 An air filter removes particulates from the oxygen heading into the engine itself. A cabin filter does the same job for the air being sent into the cabin (where you sit).
It's important to replace both of these regularly. I'd recommend every year, along with the oil and filter change, but you might get away with only changing them every two or three years.
Like oil filters, check air and cabin filters fit your vehicle before buying anything. Again, look for well-known, reliable aftermarket brands like ACDelco, WIX, Spectre, and FRAM. For the highest quality, check out K&N. 
For the more mechanically-minded amongst you, you could certainly do some of this routine maintenance yourself. Changing oil, oil filters, air filters, and cabin filters is child's play for a technician, and, in most cases, it shouldn't take longer than half an hour to do the lot. 
However, wheel balancing would be complicated to do at home, and wheel alignment nigh on impossible. Since you'll need to take the F150 into a shop for this work anyway, you might as well inquire whether it's worth servicing everything in one go.
Overall, I'd recommend taking your car for a regular service every year. Book it in for the same time annually, so you always remember. A 1994 Ford F150 with evidence of routine maintenance will be worth more money if you ever come to sell it. It's also likely to last longer and work better, giving you a better return on your initial investment in the truck.
How Does the 1994 F150 Compare to Rival Trucks?

The ninth-generation Ford F150 was built as a competitor to the Dodge Ram. Today, Ford and GM (Dodge) are still battling it out over the pickup truck market. However, the F150 has – currently – firmly cemented itself as top dog over the Ram 1500.
Back in the mid-90s, they were still fiercely competing with one another. 
The ninth-generation F150 was a fairly comprehensive overhaul of the entire truck. Compared to the previous generation, it was a notable improvement. It could come with a CD player, driver's side airbag, and keyless entry. The Dodge Ram 1500, then in its second generation, had a bold, curvy design, more space inside, and was named Truck of the Year in 1994. The Quad Cab was also the first pickup to feature four doors.
Both the F150 and Ram 1500 had very similar offerings when it came to engines. Both models came with an Inline-6 option and a few different V8s. Displacements and power outputs were near enough the same for both. However, the F150 wins, hands down, regarding diesel options. The PowerStroke turbo-diesel was a masterpiece (although that's not to say that Dodge's turbo diesel engine was terrible – it was also pretty good for the time).
Performance-wise, there's very little to separate the two. Ford probably wins when it comes to reliability and durability, although the Ram 1500 also has an excellent reputation for plodding along. Dodge would just about take the crown when it comes to interior space and ride comfort, in my opinion.
Finally, let's talk about the looks. From my point of view, the simplistic yet stylish F150 has aged better than the Ram 1500. Of course, aesthetics are down to personal preference, but I find the lower hood from Ford looks more appealing than the big nose of the Ram. Others would disagree with me, I'm sure – what do you think?
Frequently Asked Questions
Question: Are 1994 F150s Reliable?
Answer: Yes. The 1994 F150 has one of the best reputations amongst owners for reliability.
Its reputation has been somewhat affected by certain online forums, but ask almost any owner of a 1994 F150 and they'll give it a glowing commendation.
Question: What Year is Bad for Ford F150?
Answer: The 1994 Ford F150 was one of the best years for the model's reliability. Overall, mid-90s F150s generally have the best reputation of all. Ford F150s with the worst reputations are from the mid-2000s, with Model Years 2004 to 2006 being the worst of all.
If you need a dependable truck, I'd recommend avoiding F150s between 2004 and 2008 (inclusive).
Question: What are the Best Years for Ford F150?
Answer: In my opinion, the Ford F150s from 1993 through to 1996 are the best you can get on a budget. If you have a little more money available, the newer F150s (2012 and onwards) also have an outstanding reputation.
Conclusion – Should You Get a 1994 Ford F150?
Absolutely – depending on what you need it for.
A 1994 Ford F150 is one of the best examples of the model before the early-2000s crisis. They're known for rugged reliability, and you can pick one up for very little. While its fuel economy isn't fantastic compared with modern alternatives, this is more than made up for by the cheap initial payment and, in general, low maintenance and repair costs.
For me, it slightly edges out the Ram 1500 from the same period, although you might disagree. 
If you're thinking of buying a truck, a 1994 Ford F150 is a great way to go, whether for the road, off-roading, or farming.
What do you think of the 1994 Ford F150? Be sure to let me know in the comments.
Read more: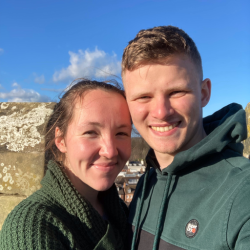 Latest posts by Ben Kitchen
(see all)