If you enjoy off-roading or frequently drive in wet conditions, you may want to consider adding fender flares to your car. Fender flares are often installed in the wheel well to protect the vehicle's body from dirt, mud, and another material is thrown at the surface area by the tires.
Our shopping guide to the best Toyota Tundra Flares includes fender flare alternatives to help you keep your vehicle's appearance in hard driving conditions.
Reading reviews, examining product characteristics, and delving into the intricacies of available materials and combinations are all part of finding the finest flares for your Tundra. With the correct flares, renewing the appearance of your Tundra and safeguarding your fenders may be a simple and easy process.
Types of Flares
Fender flares are available in a variety of styles. Before picking which sort of fender flare to place on your Tundra, you need to understand the usefulness and look of each type. When looking for aftermarket flares for your rig's fenders, you have several options.
Rivet-Style Fender Flares
Rivet-style fender flares, also known as pocket-style fender flares, are a popular form of flare that gives your 4×4 a hefty off-road appearance. These flares increase the area of your vehicle's fenders that cover the wheels.
This, of course, provides further protection for the paint on your car. They also have external rivets to give your vehicle a more robust appearance.
You don't have to worry about damaging your vehicle's body panels because rivet-style fender flares normally attach inside existing holes. You also don't have to put in many hours to attain professional-grade effects because these fender flares are typically simple to install on your vehicle.
There are numerous fantastic alternatives on the market now for rivet-style fender flares. Innovative rivet-style fender flares from Bushwacker, WARN, Smittybilt, and others are guaranteed to improve the overall look of your truck. While also providing the extra protection needed to preserve the paint and keep it in good condition.
Even better, top manufacturers' rivet-style flares allow you to color match your flares by adding factory paint numbers into your purchase. If you prefer the effect of contrasting finish colors, you may also choose an accenting color to get the desired look.
Extra-Wide Fender Flares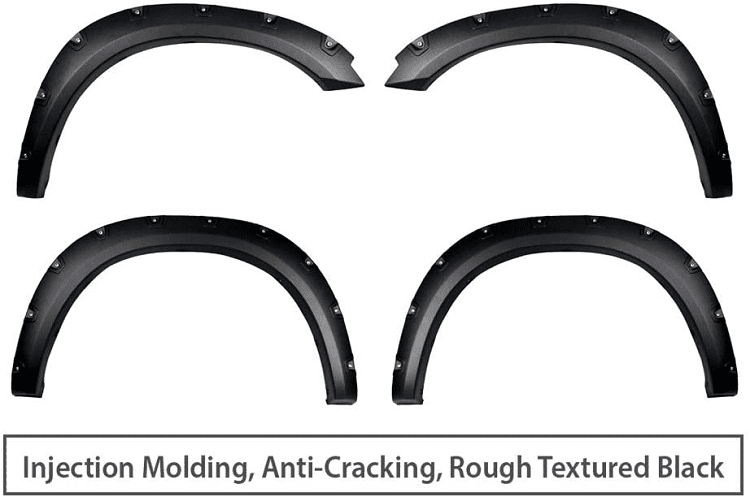 If you often take your 4×4 off-road, you've probably already added larger and higher tires. Off-road fans like extra-wide fender flares because they assist in deflecting pebbles, dirt, and gravel away from the paint, reducing the likelihood of chips or scratches.
These flares extend well beyond your vehicle's fenders, allowing you to travel off-road without fear of causing paint damage due to tire kick-up. Installing extra-wide fender flares makes sense if you have altered your car with a lift kit, added beefier tires, or made other changes.
Cut-out Fender Flares
Cut-out fender flares may be appropriate for your off-road vehicle if you are feeling a little more daring or want to run wider tires.
However, because you must cut into your 4×4's existing fenders, installing these flares needs some grit and confidence. If you lack the necessary tools or skills to create a perfect cut, you should leave the cut-out installation to the professionals.
Nonetheless, despite their rather complex installation, cut-out fender flares look fantastic. They also allow you to install bigger tires than your car would normally allow. In any case, if you pursue this route, you will undoubtedly attract attention.
Naturally, picking a cut-out option may be a fantastic choice if you want to eliminate rust or other damage surrounding your current fenders.
You may be able to remove pieces of your 4×4's fenders if you find existing corrosion or rust while fitting your rig's new flares. However, fender flares will not solve the problem if you have corrosion beyond the standard cut-out region.
Street-Style Fender Flares
Creating a tough appearance for your favorite off-road vehicle may not be at the top of your priorities list. Street-style fender flares are a wonderful alternative if you want a flare that compliments your 4's current lines. These flares add some extra protection to your vehicle's paint while remaining unobtrusive.
Furthermore, street-style flares are often installed fast and readily without the use of specialist equipment. If you often travel on paved roads, you may probably acquire the extra protection you seek without significantly changing your vehicle.
Why You Should Buy Flares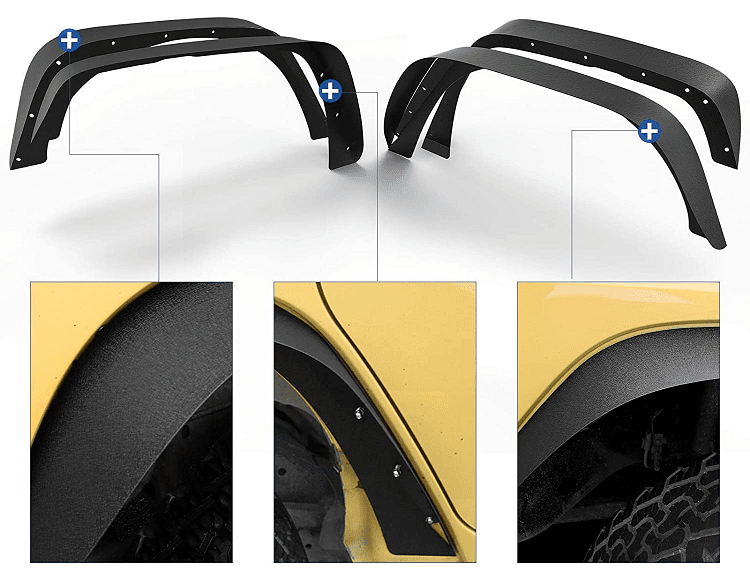 Flares are an excellent option for individuals looking to protect their wheels from dirt, scratches, sand, and other external damage. The way they sit on the fender and wheel well protects the paint finish. If you do any off-roading or driving in hazardous weather, you should invest in a good pair of flares.
Flares are also a very affordable way to give your car an improved, renewed appearance. If your budget doesn't allow for anything as extreme as a paint job or new rims, installing a pair of fender flares or new wheel covers is a great option to give your car a sharper appearance.
Because they can be installed in a matter of hours, they provide for an easy do-it-yourself improvement that won't keep your car out of operation for an extended period of time.
Flares are also useful for concealing unsightly rust or body damage around your vehicle's fender or wheel arch, and they can aid to enhance suspension travel in off-road vehicles. They also enable the installation of larger wheels and tires for improved traction in adverse situations.
Important Features to Consider
Not all flares are made equal. Fender flares should fit your car properly and be simple to install. Here are some factors to consider while looking for the finest fender flares for your vehicle:
Size and Fit
The size and fit of your flares are arguably the most critical factors to consider when selecting the best flares for your Tundra. To guarantee a correct fit, carefully compare your vehicle's year, make, and model to a specific product. A bad fit results in less protection and a less slick look.
Style
The style is the second most significant consideration when purchasing the greatest fender flares. Pocket style, cut-out, street style, OEM style, extra-wide or extended, and fender trim are the most common fender flare styles.
Pocket-type fenders are distinguished by exposed ornamental rivets put into the flare's top and are frequently secured with strong adhesive tape and sheet metal fasteners. In order to expand the size of the tire, cut-out fender flares necessitate cutting sheet metal out of the OEM fender.
Street-type fender flares provide a modest enhancement, but OEM style fender flares seem to be standard equipment on the vehicle.
They are frequently painted to match the car's color. Extra broad or extended fender flares protrude from the vehicle's body, whereas fender trim adds no width to a vehicle's fenders but looks beautiful and covers any corrosion around the wheel arches.
Material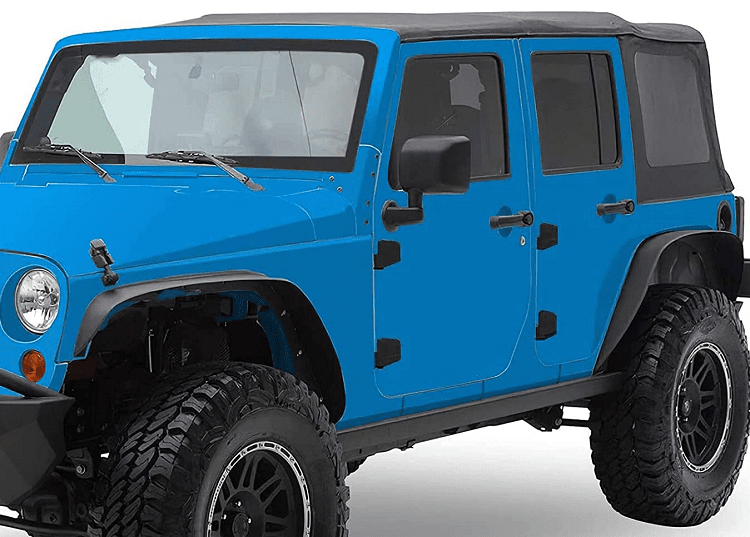 Flares are produced from a variety of materials, some of which survive longer than others. ABS or polypropylene plastic flares are inexpensive and long-lasting. They can typically be painted for a factory-custom look. Metal fender flares are highly robust, although they are slightly more expensive.
Rubber fender flares feature a flexible shape that makes them perfect for older or obscure automobiles with few aftermarket fender flare alternatives, and they won't shatter after a collision. Although they don't survive very long, they are cheap to replace.
Installation Process
Depending on your degree of competence, the installation technique is really important. If you have little familiarity with automobile engines, you will want flares that are simple to install.
The ones that are simple to install are not always the most durable. So, if you have any expertise dealing with them, you should get the pair that requires some work to install.
You may also take them to a mechanic if you want a pair that is more secure on your car but don't know how to install them.
Price Range
Finally, think about how much money you're willing to spend on fender flares. Fender flares range from $50 to $500 or more for each set.
Flares I Recommend for the Toyota Tundra
Tyger Auto TG-FF8D4078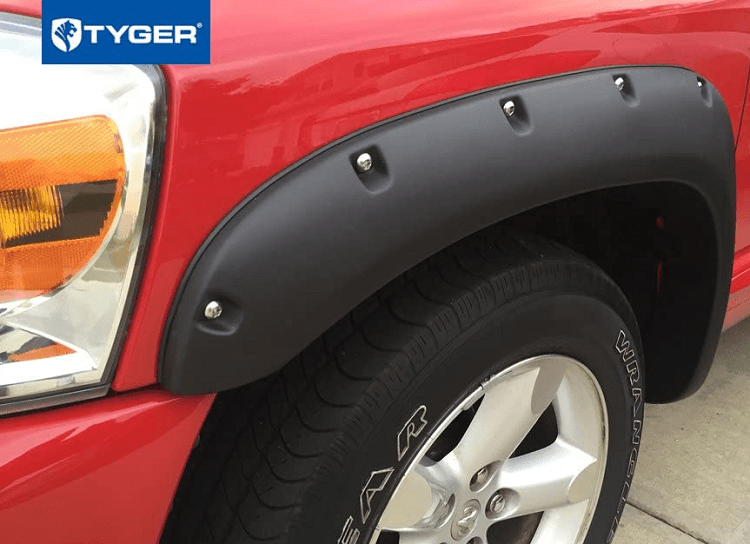 These flares are composed of polypropylene, which is an impact-resistant material. The more impact-resistant the flares, the better. And this one nails it with this feature.
They were created using the injection molding technique. The design is riveted and bolt-on, making it ideal for giving your car an off-road appearance.
This item provides adequate tire covering in order to keep debris and dirt off of your vehicle, which is its primary function. Furthermore, its quality may be relied on.
When compared to other regularly used plastics on the market, the TYGER flares contain the highest grade polypropylene, which is far more robust and flexible.
Even thickness might be an issue when it comes to flares of various types. The TYGER flares employ cutting-edge injection molding technology to ensure that each component is uniformly thick.
The pocket patterns are different, and they manage to give your car that distinct off-road look. The rivets do not require any drilling to be inserted into the truck's body.
It works with aftermarket bumpers but not with mudflaps. The rivets are made of stainless steel and are purely cosmetic.
Pros
The finish is matt black and UV resistant
The installation duration is no more than 2 hours
Rubber edge trims are included with the package to avoid scratches
Cons
The instructions are ambiguous
Flares will not fit until they are trimmed
OxGord Fender Flares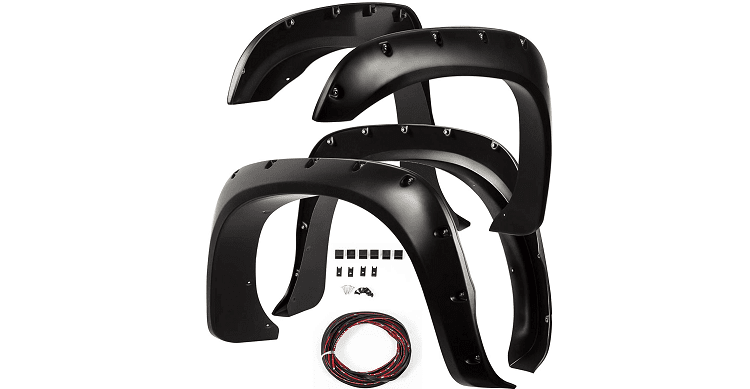 With this four-piece fender flare bolt, you can give your car a one-of-a-kind style. The OxGord brand creates the most high-end automotive accessories.
The setup is straightforward. All you have to do is properly line all of the fender flares. You will be provided with the necessary hardware to connect them. So do it.
This has a matt finish. It is also constructed of a flexible type of plastic that protects your tires from any kind of collision and is beautiful.
If you don't want your flare to be black, you may paint it to make it another color. You may choose the hue to match your preferences as well as the color of your vehicle.
The set includes four fender flares as well as the hardware installation kit! It is also extremely resistant to heat and destructive impacts.
Pros
There is no need for drilling
There is an installation kit provided
The matt black surface may be easily repainted
Excellent value for money
Cons
Don't fit as snugly as you'd want
Plastic is a little difficult to work with
YITAMOTOR Steel Fender Flares Kit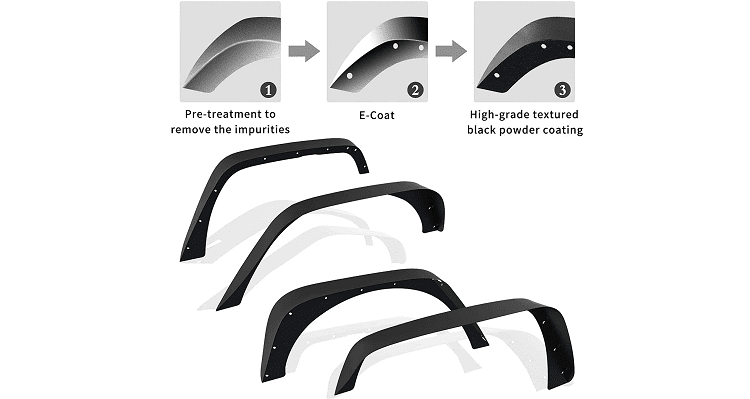 As previously said, it is the best-painted fender flayer because of the electrophoretic painting method. The coating process is electronic, which means it can endure the roughness of the environment.
Because the structure is heavy-duty and constructed of steel, your vehicle's wheels will be properly protected from sand, mud, scratches, and other damage caused by the outdoors.
Each fender is designed to be narrow in order to give additional tire coverage, which is intended for bigger tires. Off-road styling is also preserved.
One problem that people with this brand of fenders experience is that their tires may grind against the fenders. This product does not make contact with the vehicle's wheels. It not only protects the tires effectively, but the surface of the fenders makes them extremely easy to clean. So you wouldn't have to dig too far to get rid of the collected dirt.
The installation is simple; it takes about two hours to complete. And you'd just need a few simple tools to get started. The documentation is included in the packaging, so you won't have to cut or drill anything.
Pros
Heavy-duty stainless steel ensures strength and longevity
It is simple to install
There is no need for cutting or welding
Cons
They occasionally ship without any hardware
oEdRo Solid Steel Fenders Flares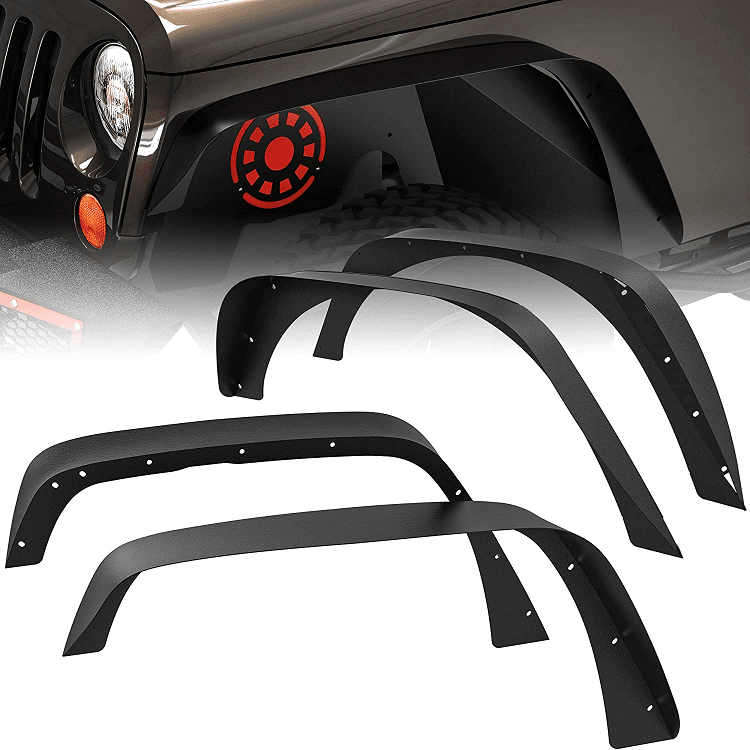 The color is textured black, and it is constructed of black powder-coated steel, which is quite hard duty.
These are exceptionally simple to install because no cutting or drilling is required. They will simply fit into the factory holes that are already there.
They will shield your wheels from external harm as well as debris such as mud or sand. They are also impervious to harm. They will not allow your vehicle's side to become soiled.
These fender flares are made entirely of steel. The textured black powder finish ensures durability as well as rapid usage.
Furthermore, rust is avoided at all costs because the textured black powder is of excellent quality and the welding method is also laser-based.
They will provide a great fit, eliminating the need for you to spend extra time and effort on alterations. They are also high coverage, which means they will provide excellent wheel protection.
Because of this protection, the wheels tend to last longer than they would otherwise.
Pros
It is a great match for all of the models mentioned
Simple to set up
There is no need for cutting or drilling
Stylish
Cons
An extra rivet nut tool would be required
Hooke Road Solid Steel Flat Fender Flares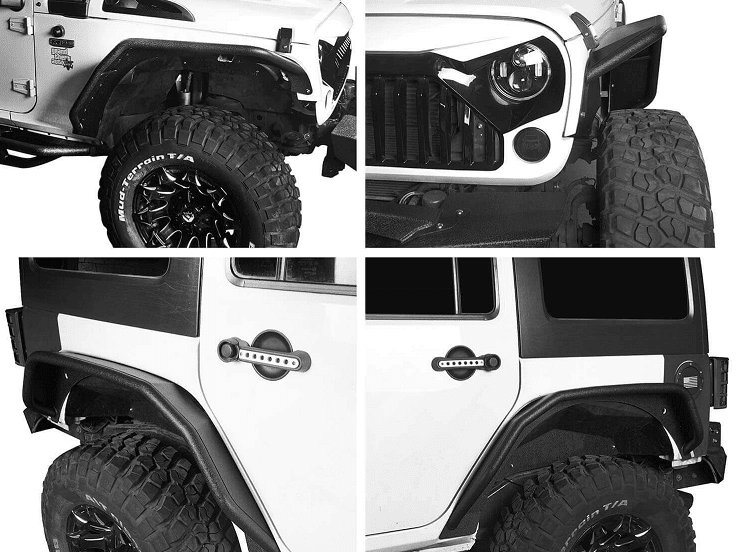 The material is textured black steel, which means it is both strong and long-lasting. The black powder coat guarantees that you are ready to use it right away.
Steel mixed with a black powder coating makes it resistant to deterioration. The top finish prevents corrosion and makes the fenders very easy to clean. They don't hold a lot of dirt.
All four sections of the rear and front and both sides will be included in the package. And just the back fenders will need to be drilled in. The front ones do not need to be drilled.
For the price, the quality provided is adequate. The fit is excellent. Installing the fenders will be a snap. The fenders are really strong and well-made.
Pros
The installation time is shorter
The hardware is of exceptional quality
The coating is durable
Cons
Installing without a manual is difficult
Money Autosports Factory/OE Style Fender Flares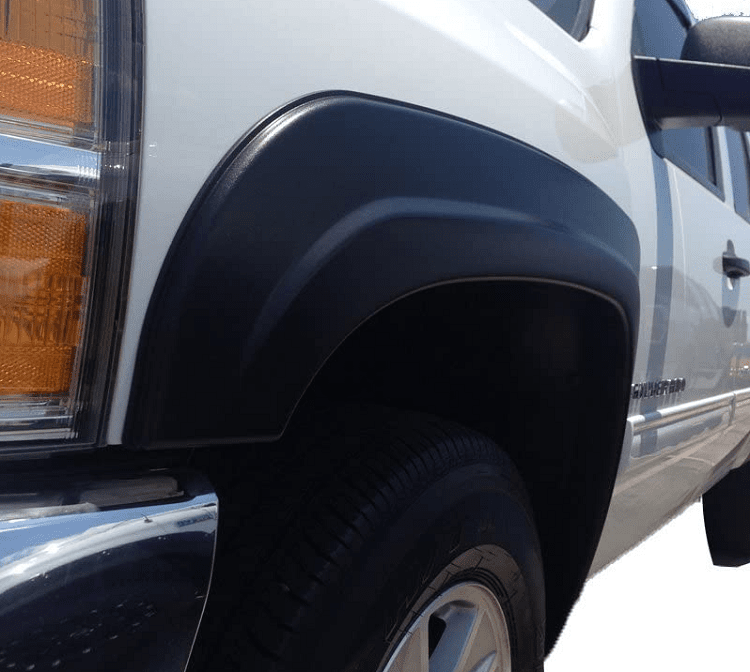 They are compatible with Toyota Tundra vehicles from 2007 to 2013. If you own any of them, they will be the greatest fender flares for Tundra.
The kit includes a complete four-piece set of fender flares. All of these parts are made of high-quality plastic, making them flexible and resistant to harm.
They produce the hardest and most lasting fender flares available due to the material and the black light OE textured treatment. This is what distinguishes their product from others.
The nice aspect is that you may install them as is or paint them any way you like. You may paint them to match the color of your car or to your personal preference. Or even both.
The kit also contains very basic and easy-to-follow instructions and all of the hardware required for installation.
Pros
They are both lightweight and durable
It has an OE satin textured finish
Can be painted without the need for pre-treatment or sanding
It comes with an installation kit and a user handbook
Cons
Because flares are not pre-drilled, installation is problematic
Fenders are readily detached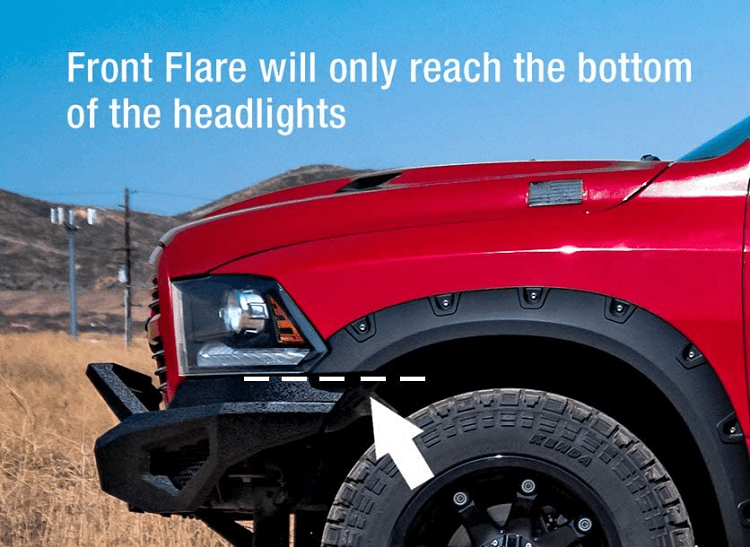 The product comes with stainless steel, marine-grade rivets that may be put into the rivet pockets.
It should be emphasized that these rivets are solely intended for ornamental reasons. They are not intended to hold the flares into the truck's body.
They also provide enough tire coverage, which offers increased protection for the sides of your vehicle. The texture is also UV resistant, and matt coated. The texture is delicate, making it extremely easy to clean.
The handbook that comes with it is also quite simple to comprehend, making the installation procedure much easier. The guidebook also includes graphics to make it much easier to understand.
They take around 2 hours to install on average, and no drilling is necessary. They are not prone to manufacturing flaws like as cracking or warping.
Pros
Rivets are quite ornamental
The installation procedure is simple
The manual includes simple-to-understand illustrations
Cons
Pinch clips are too shallow to clip both surfaces at the same time
Screws are very lengthy
Opall Fit Front Inner Fender Liners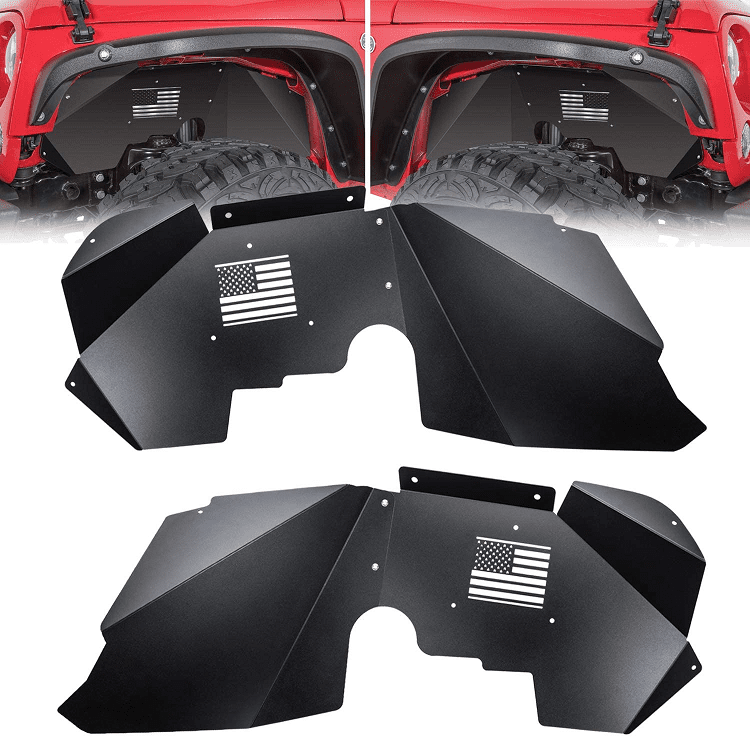 A fender is a portion that is prone to damage since it is placed near the vehicle's edge. They are constantly battered by gravel, stone chips, and a variety of other flying debris.
These factors wreak havoc on the components of your vehicle. They are also destroyed when they are struck by vehicle doors and shopping trolleys when you are in a parking lot.
The tires kick up salt, snow, mud, or rain, which hits the metal surface of the automobile and accelerates the rusting process.
As a result, they become more prone to corrosion and deterioration over time. As a result, it is critical to place fenders on all four tires of your car.
Its appearance also distinguishes it from the competition. And if you want to give your bike an appearance that matches its excellence, they are a must-have.
Pros
They are quite fashionable
Aluminum that is resistant to corrosion
They're simple to alter and inspect
Cons
Debris accumulates between layers
Rattle the spring perch on top
Auto Dynasty for 99-06 Tundra Factory Style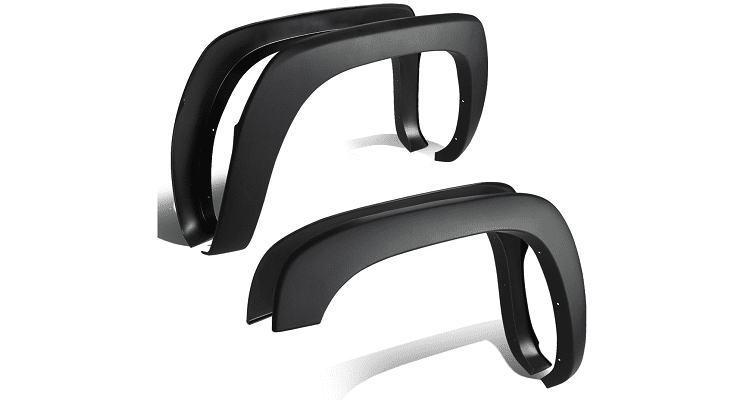 These fenders have the most robust appearance. They provide increased tire covering while without seeming awkward at all.
Most of the time, flares that reach outward increase air resistance. This one isn't going to let it happen. It has no effect on the speed or performance of your vehicle.
The material used to make them is a one-of-a-kind poly substance. You are free to color them whatever you wish. You may even have them painted before they arrive.
They'll fit well in your vehicle. There is no need to drill or cut anything. If you want something that works for a reasonable price, they are ideal. However, if you desire perfection, you may have to start with the first few fenders on this list.
Pros
Customization is possible
Provide greater coverage
Enhance the car's look
Cons
They are a bit tough to put in place
Adhesion can be a problem
FAQs
Question: Do Flares Hide Rust?
Answer: Yes. Fender flares both conceal and embellish the corrosion in the fender. It offers your automobile a new tough appearance, and it looks much better on a freshly painted vehicle.
However, if left uncontrolled for an extended period of time, the rust may migrate to the fender flares. If you can't salvage your rusted fenders, try purchasing factory-painted rust-resistant fender flares.
Question: Can Fender Flares be Used with Mud Flaps?
Answer: Most fender flares and mud flaps are incompatible. If you want to add fender flares, you must remove your mud flaps. However, fender flares function just as well (if not better) than mud flaps.
They provide more protection from debris thrown from your tires to the body of your car. Mudflaps primarily protect your vehicle's underside.
Question: Can I Install Tires Larger than My Fender Flares?
Answer: If the tires do not fit inside the "protective gap" of the fender flares, they will lose functioning. Fender flares function best when they form a shelter over your tires, shielding your car and other vehicles from flying debris. You should also consider purchasing larger and wider fender flares that completely cover the tires if you get larger tires.
Conclusion
Tyger's pocket-style fender flares will never let you down because they're made of anti-aging polypropylene. They have a tough and robust look and provide more flexibility and durability.
What distinguishes these fender flares? In addition to being made of anti-aging propylene, they are constructed using the Injection Molding Technique, which improves performance and reduces collision.
Furthermore, because to their stability and hardness, they do not shatter easily, and you do not have to worry about them falling while driving.
Not to mention that these flares can survive high temperatures, allowing you to bike in any weather.
Additionally, they are completely UV-resistant. Nevertheless, individuals who wish to customize their vehicles may do so easily because this kit is DIY paintable. The smooth surface of the flares aids in color blending.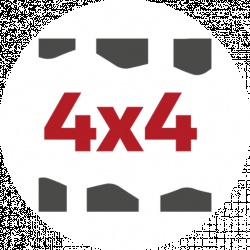 Latest posts by 4x4 Reports Team
(see all)