Are you looking for something that will set your Jeep Patriot apart from the crowd? If so, a set of aftermarket wheels may be just what you need. They will help make a strong visual statement, which is the main reason for such upgrades, although there is more to it. Besides better looks, finding the best Jeep Patriot rims may also change how the vehicle behaves on and off the road.
And with so many brands and models on the market, picking the right ones may not be a straightforward job. If not careful, you may end up with something that will not fit your Jeep or upset its ride. This article will help you avoid such situations by explaining how to choose the perfect wheels.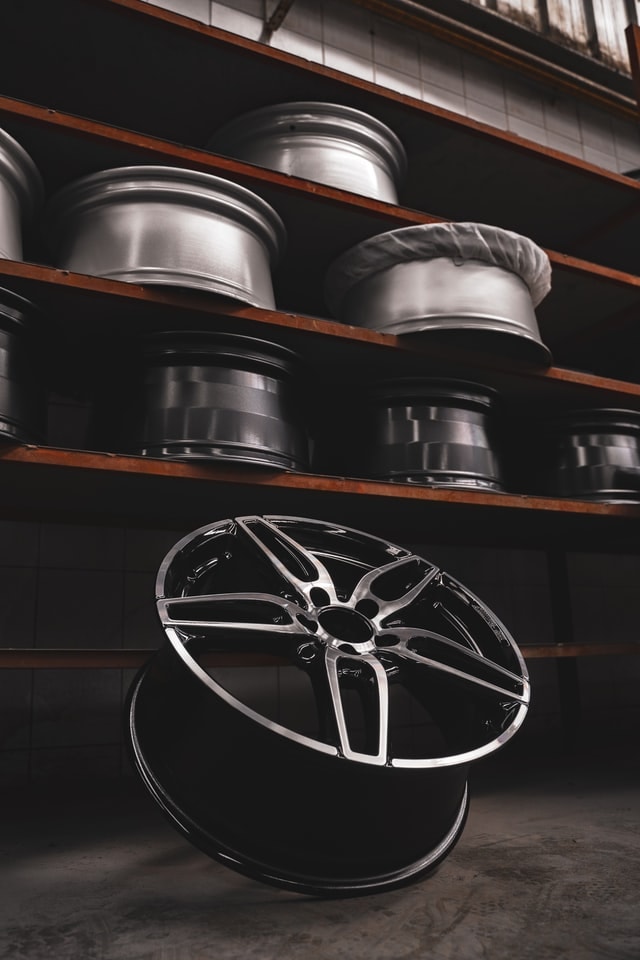 The Selection
To make this guide simple, I will divide wheels into three main categories and pick the best for each of them. First, there are aftermarket models, which are similar in size and style to stock ones. These will aim at owners who are aiming at a moderate styling upgrade.
After that, there are oversized wheels that help transform Jeeps' appearance. Lastly, I will look into robust wheels suitable for even the most demanding offroad applications.
Most automotive enthusiasts know all about Enkei as a brand and its product range. Established in 1950 as an Ensyu Keigoukin, this Japanese manufacturer has offered high-end wheels for even the most demanding applications. Since then, they have been present in different branches of motorsport, a world in which only the fittest fitness would survive.
Even today, Enkei has a wide range of wheels for all sorts of motorsport applications, ranging from racing to drift. But the most notable success is their partnership with the McLaren F1 team, to whom they have been supplying wheels since day one.
It is only natural to expect that Enkei used this expertise when designing and manufacturing wheels for road applications. And luckily for all those who want a bit hint of race-inspired technology on their vehicles, they have. This EV5 series wheel is among the most popular items from their product range.
Upsides it offers include a robust construction that ensures superior stiffness. And with their five-spoke design and bronze finish, they will make any vehicle stand out from the crowd. As such, these wheels are ideal for owners who want to improve the looks of their Patriots while not affecting the ride.
Pros
A lightweight wheel that is also very robust
High-strength alloy construction
Available in several attractive finishes
Cons
A considerably higher price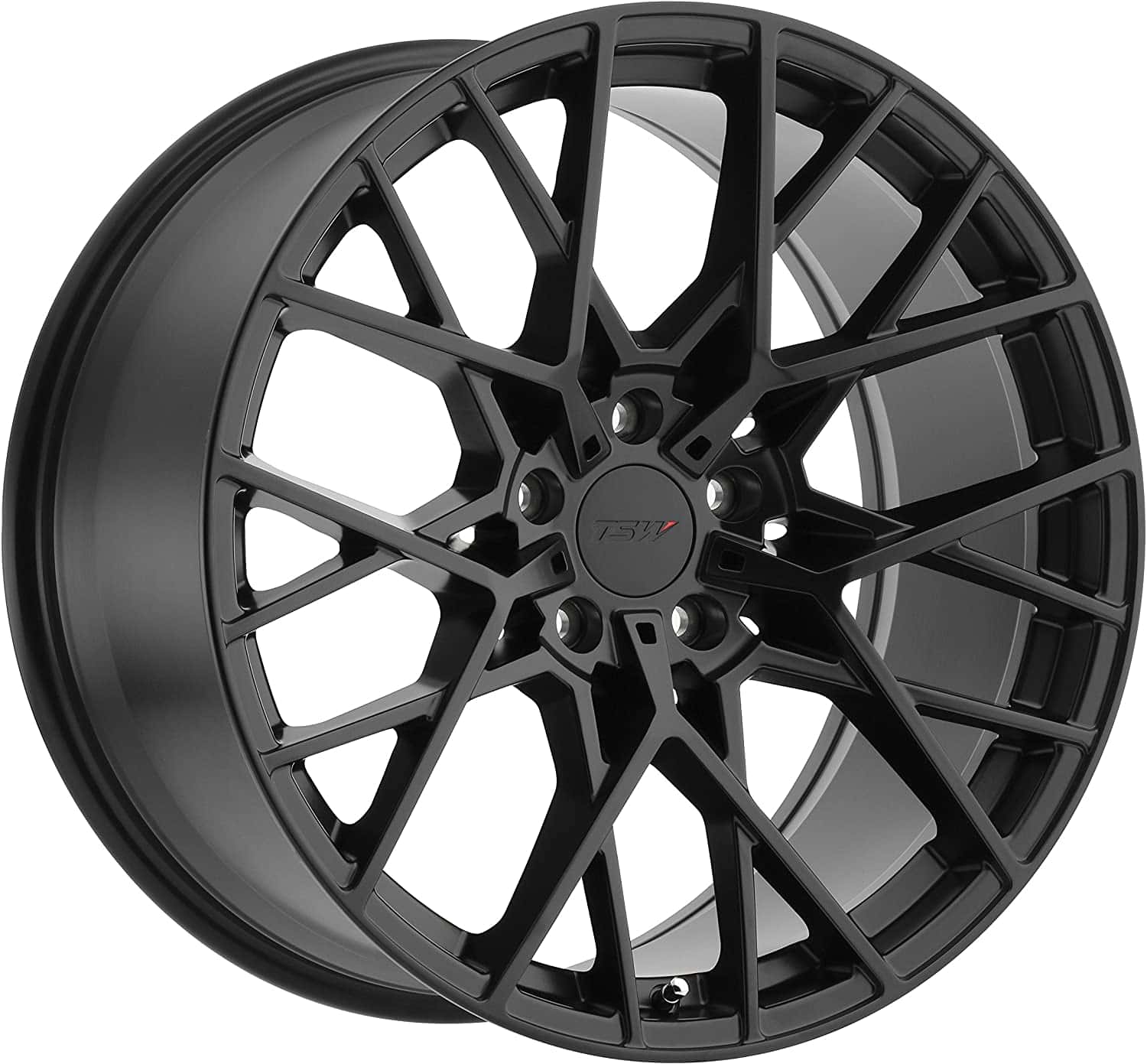 When looking for attractive and well-made rims for any vehicle, TSW is one of the go-to choices. This reputable manufacturer was founded in 1967 by Eddie Keizan, a former racing driver, under the name Tiger Sports Wheels. Over time, the company has branched out in Europe and US, only to eventually move its headquarters to California.
Today, they have a wide range of well-made wheels that look great. TSW always likes to say they make wheels remarkable for their uncompromised quality and stunning design. And their product lineup has several models in multiple sizes for all popular vehicles on the market.
Although all TSW wheels are remarkable in their own way, Sebring is a model that holds a special place. One of the most notable features is a "wheel behind the wheel" design that forms a three-dimensional mesh pattern. It is worth knowing this shape really comes to life while moving. As such, these wheels will make a huge visual statement when cruising down the road.
Their outer diameter measures 19″, which is considerably more than stock ones. These wheels should come with low-profile tires to prevent any offsets to suspension geometry. And with such a combo, Jeep Patriots will have better handling, making it sportier. However, big wheels and tires with thin sidewalls are less suitable for off-road use.
Pros
Unique 'wheel in wheel' design
They have a strong visual impact while driving
Improved handling and cornering
Cons
A larger diameter makes them more prone to damage
Less suitable for off-road applications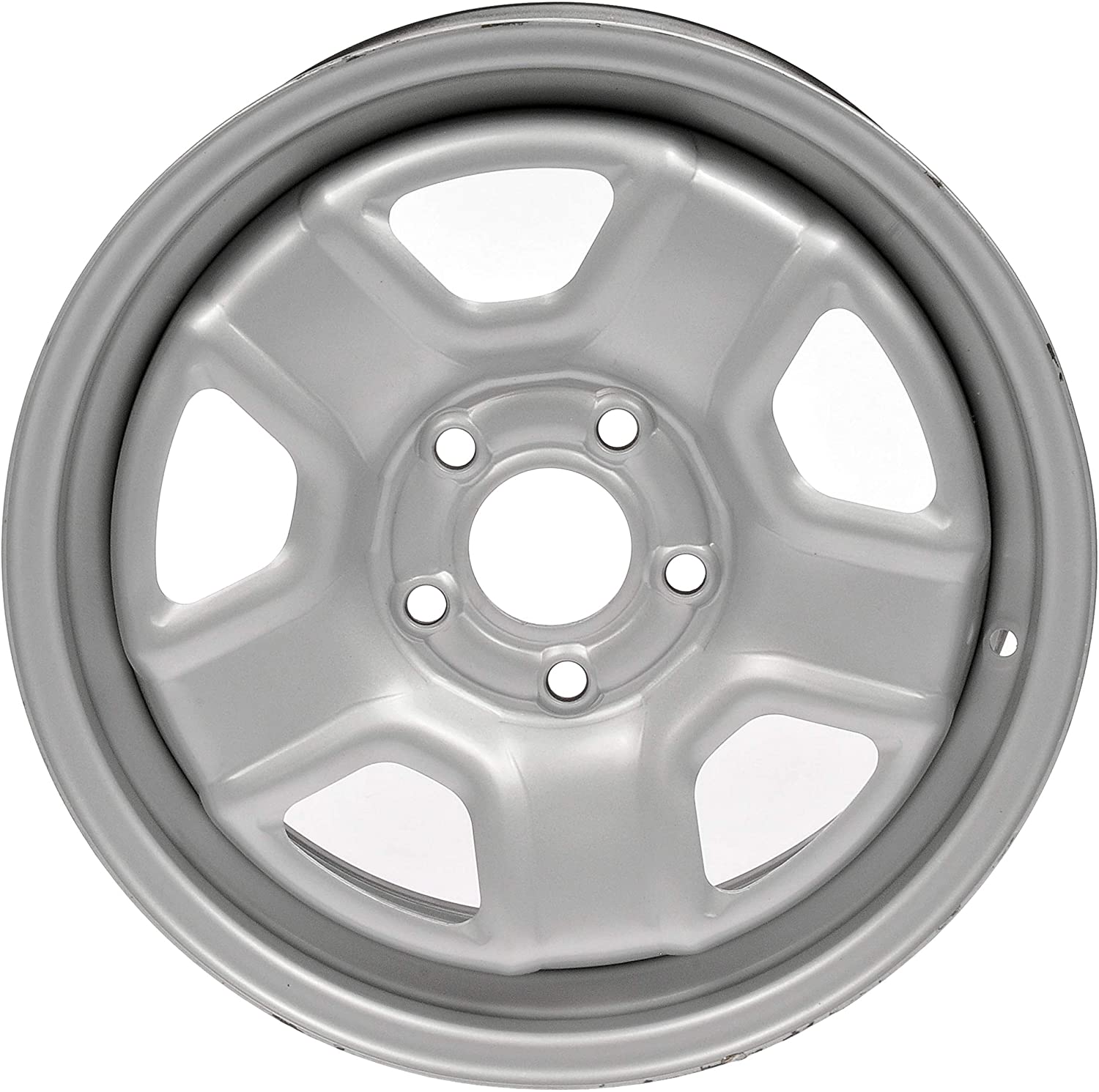 Anybody who ever repaired a car came across Dorman Solutions and one of the products from their vast lineup. This US-based manufacturer has been on the market for decades, during which it offered a range of replacement parts for all sorts of applications. In most cases, these are affordable alternatives to OEM products with a comparable level of quality.
Dorman achieves this by simplifying the product while also dealing with known weak spots. Today, their product range has more than 80,000 items, ranging from mechanical components to body parts and interior trim.
Obviously, wheels from such manufacturers will put function far above the form, as the case is with these steel ones. With a simple design and robust construction, they can take a lot of beating without bending out of shape. And even if damage does happen, these wheels will be easy and inexpensive to repair.
The design itself is not something everybody will like, although there is a way to overcome this. A custom paint job with unique details will give them a new look. When fitted with a set of all-terrain tires, these Dorman steel wheels can transform Jeep Patriot into a capable off-road machine.
Pros
Simple and durable construction
It is easy to repair if damaged
Comes at an affordable price
Cons
Its basic design can be a setback for some
Things to Consider When Choosing Wheels
Materials
One of the most apparent differences between various wheels is the material they are made from. In most cases, buyers can choose between steel ones or those made from alloy. Thanks to a simple manufacturing procedure, steel wheels are a cheaper option. But this is only one upside, as their sturdy construction makes them robust and less prone to damage. And even if they bend out of shape, repairing them is an easy and inexpensive job. On the downside, these wheels are heavier and offer a limited number of design variations.
As their name would suggest, alloy wheels use a mixture of aluminum or magnesium instead of steel. This makes them significantly lighter than their steel-built counterparts, which offers several benefits. Better fuel economy and lower loads on suspension and steering components are just some of them.
Additionally, casting as a manufacturing method allows alloy wheels to come in many shapes and different designs. Mind you, there are some drawbacks, with a comparably higher price being the most obvious one.
Size
As standard, Jeep Patriot came out of the factory with wheels and matching tires in two sizes. In the entry-level Sport trim, buyers would get either steel or alloy wheels, both 16″ in diameter. With more luxurious Latitude and Limited models, 17″ Aluminum wheels were the only option. To change how their Jeeps look and feel, many owners will choose rims that are different in size than stock ones.
If going down that route, there are several things you should have in mind. Assuming your Jeep is stock and has no suspension modifications, the outer diameter of the wheel should remain the same. As a result, bigger wheels should have tires with thinner sidewalls.
Such tire combo will ensure sharper handling, making the whole vehicle sportier. Still, this comes at the expense of ride comfort and the ability to absorb bumps. This is why bigger wheels may not be a good idea for rough roads and terrains.
Design
One of the most prominent features that sets a particular wheel apart from the rest is its design. As with many other similar things, the looks themselves are a matter of personal taste. Still, there are several key factors to consider here. Massive and bulky wheels are a better option for harsh terrains, as they will easily cope with rock-studded trails.
As opposed, drivers who spend a lot of time on highways may benefit from a more open design. Weighing less, they improve fuel economy while also helping cool the brakes by allowing more air to pass around them.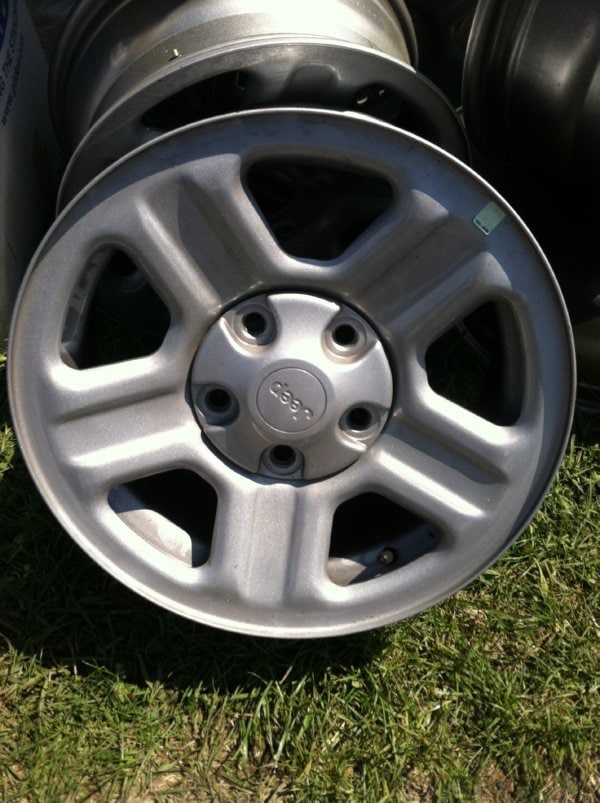 Which Wheels Will Fit My Jeep Patriot?
After deciding on the size and shape of wheels, you need to check if selected ones will fit your Jeep Patriot. There are several aspects to consider here, with a bolt pattern being the most important one. This value represents the number of bolts and the diameter between them. For a Jeep Patriot, this number is 5×4.5, meaning that each wheel is held in place with five bolts. And the diameter in which they are spread out around the hub is 4.5″.
Even if the bolt pattern matches, it is worth checking how the wheels line up against the hub. OEM and brand-specific ones have a center bore that fits snugly on the wheel hub. These are called hub-centric rims, and they ensure an easier fitment and provide a better ride.
Many aftermarket wheels aim at several brands, so many of them have a center bore that is larger in diameter. These rely on lugs to position them in place on the hub, which gives them their lug-centric name. Mind you, wheels like these are more prone to problems caused by incorrect fitment, although wheel spacers can help overcome this issue.
Lastly, there is a value called offset, which tells how the wheel will flush against the side of the vehicle. This is the distance between the hub flange and the wheel centerline. A higher value means the wheel will be sitting more inwards, while one with lower or negative values will be pushed outwards. The latter gives the Jeep a wide-wheel setup and a more aggressive look. Still, too much of it may upset the handling and increase loads on steering and suspension components.
Frequently Asked Questions
Question: What size are Jeep Patriot wheels?
Answer: All Jeep Patriots had either 16″ or 17″ wheels as standard, depending on their trim level. But over the years, many owners have installed wheels with bigger diameters or chunkier tires on their vehicles. And there is an important thing to consider if you want to do the same. Unless you have installed a lift kit, the outside tire diameter should remain roughly the same as the factory one. This ensures enough space and clearance to stop them from rubbing against the bumpers and suspension components. You can always use this handy tire size calculator to check if the particular tire and rim combo fit the bill.
Question: Will Wrangler wheels fit on a Patriot?
Answer: Jeep Wrangler is a popular and capable offroad vehicle that has been around for a while. And because it was always sold in large numbers, there are a lot of wheels for it, both OEM and aftermarket ones. This is why many Patriot owners wonder if they can fit such wheels on their vehicles.
Because both Wrangler and Patriot have the same bolt pattern and wheel hubs, their wheels are interchangeable. However, the back ones from a Wrangler will stick a bit more outwards, as these vehicles have different rare axle configurations.
Question: What is the maximum wheel size for a stock Jeep Patriot?
Answer: There has been a lot of discussion over the years about wheel sizes for Jeep Patriot. One of the most common questions is how big a wheel would fit with no suspension modifications. Although there is no definitive answer here, the general consensus is that 22″ wheels are the absolute maximum. Still, you should know is that a corresponding tire will have an extremely thin sidewall. Such tires have almost no flex, which considerably impacts ride comfort.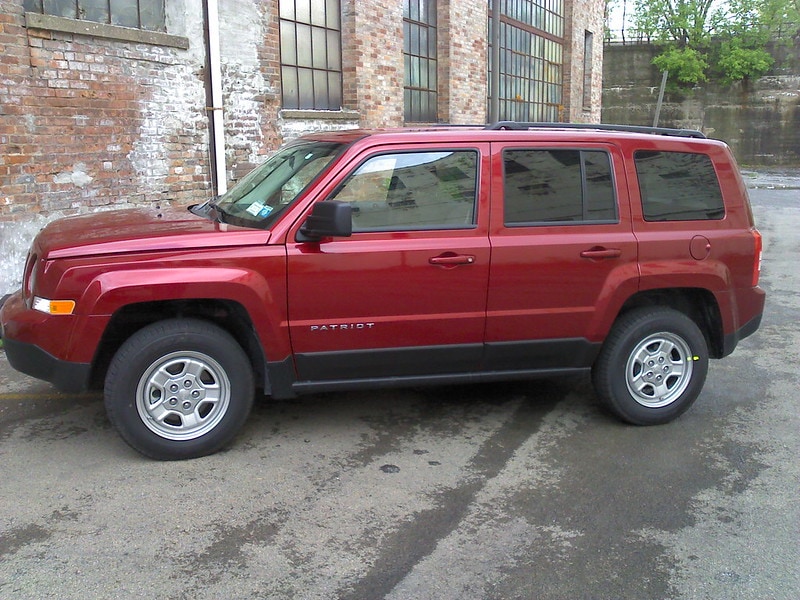 Last Words
As you may have seen here, there is quite a lot to look for when choosing a set of wheels for your Jeep Patriot. Besides the shape and size, you must also consider technical aspects such as bolt pattern and offset.
And there is also a question of intended use, which can be a decisive factor. While sturdy wheels are necessary for offroad use, ones with larger diameters will help improve handling.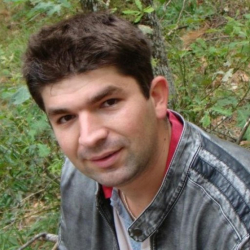 Latest posts by Bojan Popic
(see all)