If you own a Ford F-150 and wonder why it has an unleveled stance, you came to the right place.
If you take a carpenter's level on the bed of your truck, you will notice that the bubble is pointing towards the back of the truck. That's what we call rake.
Rake implies that the nose of the truck is lower than the back. It is entirely normal, and most truck manufacturers today do it on purpose.
And for a Good Reason!
Trucks are bricks on wheels and have almost no aerodynamics. That results in annoying wind noises when driving on the highway and can really affect fuel consumption. Therefore, in their attempt to minimize and eliminate those issues, pickup trucks makers deliberately include the rake in their design.
Another Reason!
Is that trucks are built to carry heavy loads and tow massive trailers. When empty or unloaded, the bed of the truck will sit a couple of inches higher than the front. When fully loaded, the bed of the truck squat down and becomes level with the front.
But what if you don't load your truck to the max or haul heavy trailers? What is the solution?
In that case, a leveling kit is your best option. First and foremost, let us get the basics. Just as the name suggests, a leveling kit is designed to raise the front of your vehicle so that it becomes on the same level as the back of the truck.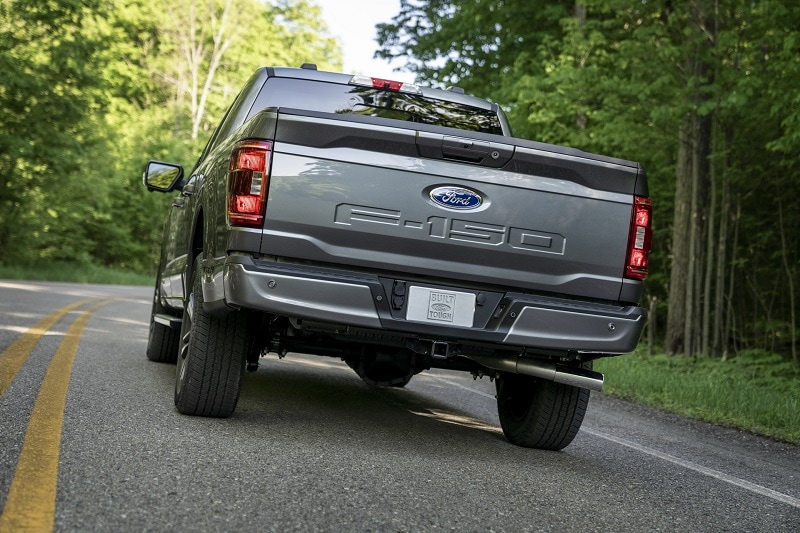 So How Does It Work?
The leveling kit is added to the OEM suspension, which will help eliminate the rake by raisin the front and evens out the overall stance of the vehicle. And it's not just about aesthetics.
Leveling kits also bring functionality to the table. Many people want to install bigger tires to the stock wheels of the truck and give it a meaner look. And that is where the leveling comes in handy.
The rear wheels have one movement, which is straight up and down, so adding larger tires won't be a problem. The real issue is at the front. Once the leveling kit is installed, you will be able to fit a set of 33" or 35" tires.
It gives you more ground clearance and enables you to fit new bumpers. Or you can go the extra mile and fit a snowplow.
The vast majority of leveling kits are made to sit on top of the stock front spring. In other words, you get the extra height and maintain the same steering, handling, and shock absorption that you originally had before getting the kit installed.
Just like any other suspension modifications, make sure to get a professional alignment to ensure proper handling and maximum longevity for your tires.
Most truck leveling kits usually include a spacer, a big hockey puck made from laser-cut steel or aluminum billet that fits on top of the upper strut mount. Thus, giving you the extra lift without altering the geometry of your suspension.
Other leveling kits may include extra parts depending on the manufacturer's suspension setup. For example, a spacer leveling kit that goes on a Ford F-150 cannot fit on a Chevy Silverado that uses a torsion front suspension.
One-size-fits-all does not apply to leveling kits. Every kit is made for a specific truck make and model. So, if you ever come across a leveling kit that fits any type of vehicle, you should probably hold back and investigate before you buy it.
There are different types of leveling kits, and each one has a specific purpose to serve. I'll break down the lay of the land for you. There are a couple of different types of leveling kits to pick from.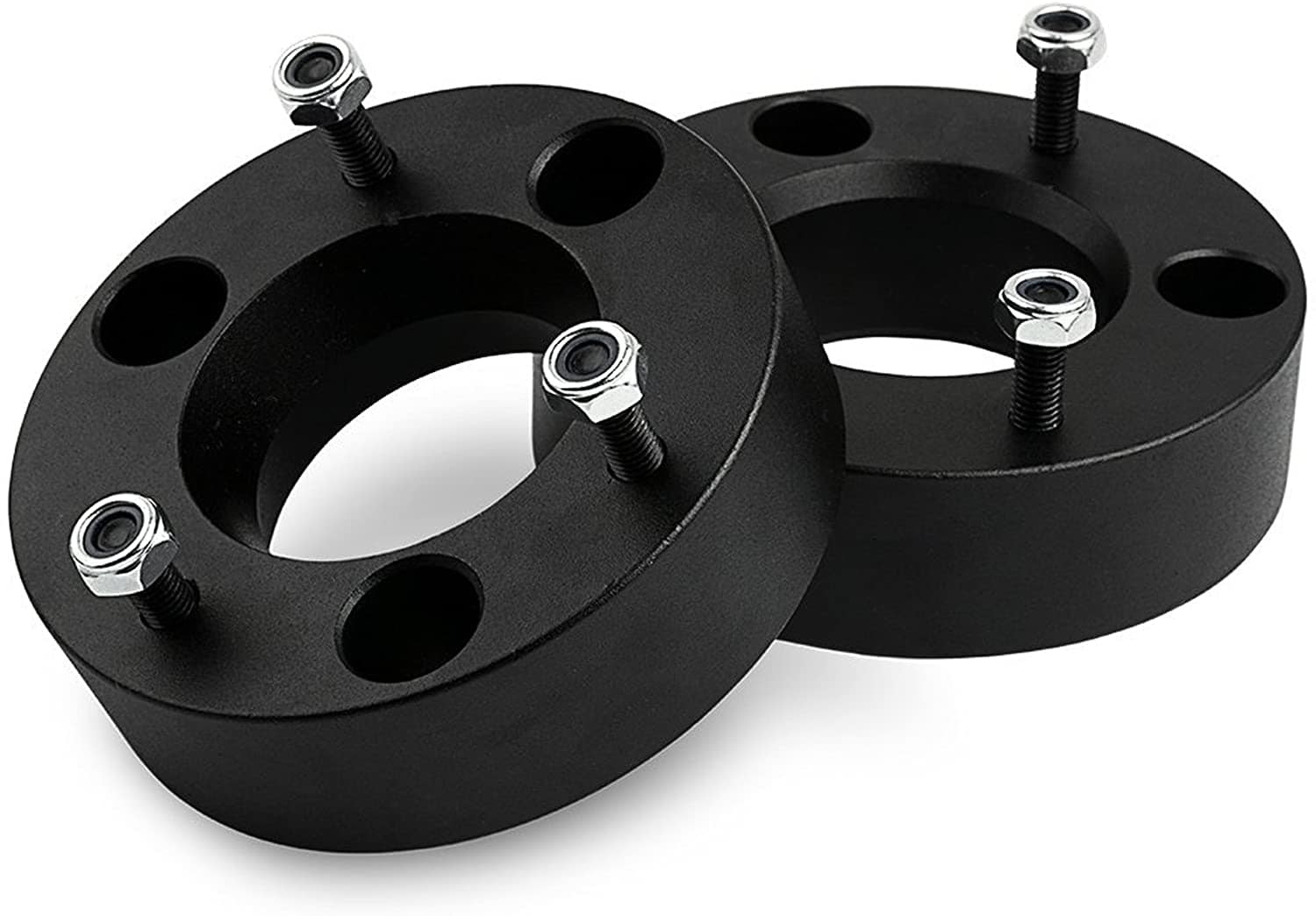 These kits are used on vehicles that include coil overs in their front suspension set up, which includes the vast majority of mid and full-size pickup trucks. To put it simply, this kit fits a spacer (the hockey puck described above) on top of the upper factory strut, lifting the front by up to 3 inches.
Just jack the vehicle up, slide the kit in, and voila! You are ready to roll.
It takes 2 hours max to install, but if you are new to such things, you can ask for the help of a professional. The spacer is fabricated from billet aluminum, laser-cut steel, or PPA Plastic that is resistant to corrosion, heat, and chemicals. And you can always remove it if you don't like the end results.
You can also find leveling kits with an adjustable strut. It allows you to change the height of your kit depending on your personal preferences. The average height a leveling kit has is 2 inches, you can go up one more inch if you like to, but these adjustable kits have more leeway.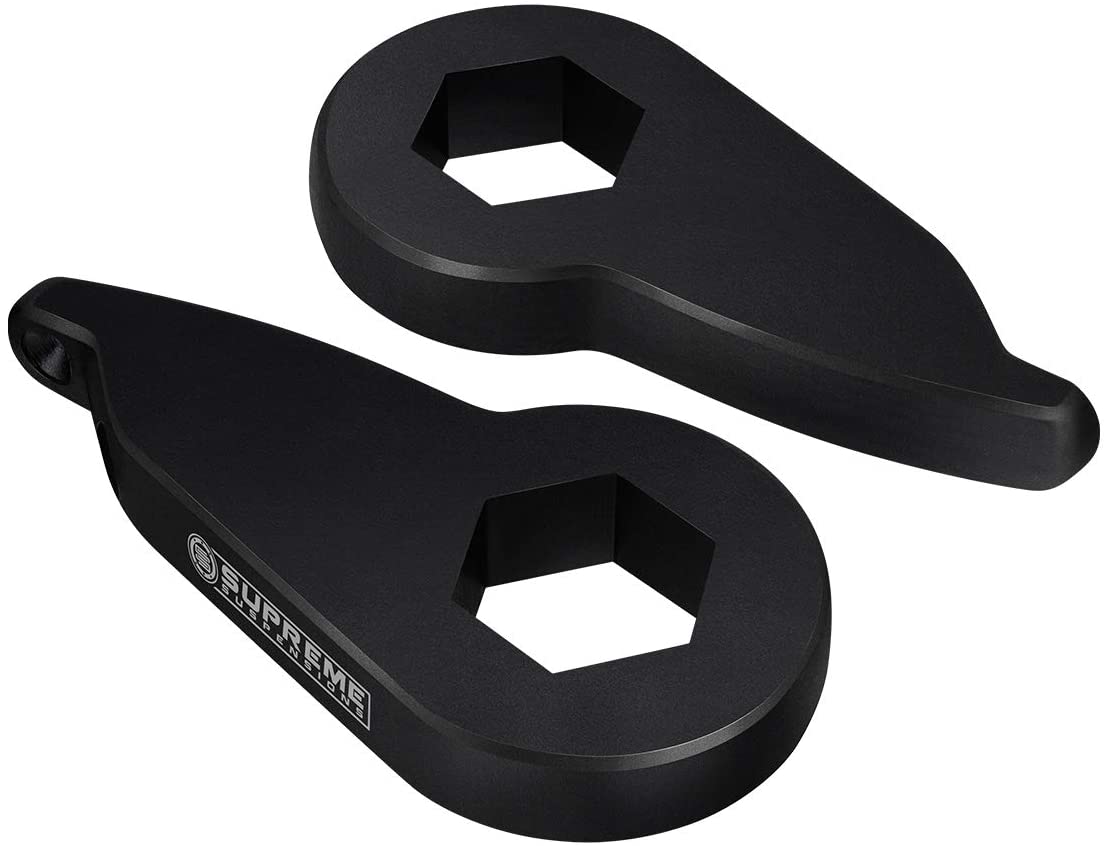 As the name implies, this kit is for vehicles that include a torsion bar suspension system, and here is why. If you try to get a slight lift by adjusting the stock keys, you will end up putting too much pressure on them.
As a result, they can be damaged, and they will damage your wallet in the process. Because they could cost a lot of money to fix.
The torsion keys kit replaces the factory torsion bar keys on your truck and changes the position of the clock of the bar. The kit has stronger keys to give you the extra lift without sacrificing the ride.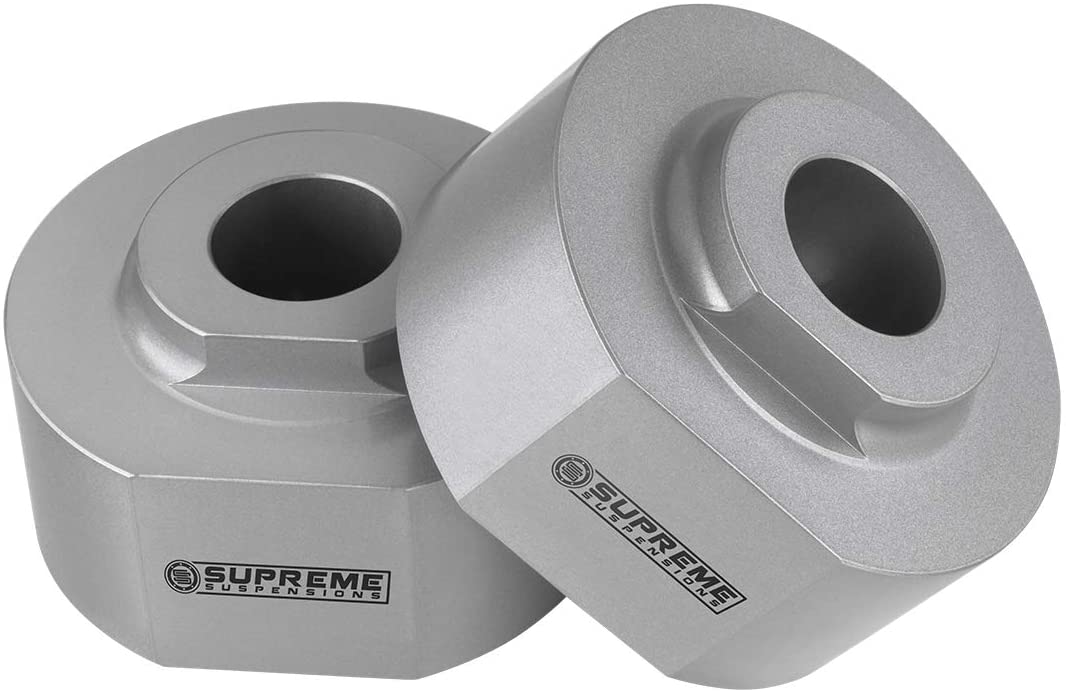 These kits are similar to strut extensions, but it fits the spacer to the upper or lower mount of the spring instead of the strut. Shock extensions are required so do make sure that they come with the kit, or you may need to buy them separately.
It is very important to consider the make and model of your truck because leveling kits are designed for different vehicles. You should also measure the rake, which is the height difference between the front and the back.
How Do You Choose the Right Kit for You?
Measure the distance from the top of the wheel well to the center of the wheel for both the front and back. For instance, if your F-150 measures 18 inches in the back and 16 inches in the front, it means you have 2 inches of rake, and you need a 2 inches leveling kit in the front.
2 inches of rake is common, yet vehicles may defer from one another, so make sure you get the right measurements.
Another factor that may impact your purchasing decision is what you want from the leveling kit. A standard leveling kit that adds a couple of inches will do the trick if you are looking for a level stance for your truck.
Some people prefer to keep a small rake, whereas others like to raise the front or the back to get more towing or winching capabilities or just more ground clearance.
It is recommended that you go for a high-end leveling kit if you are planning to go off-road. Your personal preference will help you decide which kit you want.
And now to the fun part.
Installing the Leveling Kit
Leveling kits are typically much easier to install than lift kits. Nonetheless, if you feel uncomfortable or you just don't want to do it yourself, there are many workshops specialized in installing lift and leveling kits, and they will do the job for you.
That way, you can avoid making any mistakes that may cause serious damage to your truck.
Here are some golden nuggets that you might need to bear in mind.
It can be very exciting to level your truck. You may find that something does not feel right after you sit behind the wheel. Even if you have experience in such matters, make sure to drop your truck at a professional workshop to check your handy work.
The steering may be stiffer than usual. Tires wear out abnormally. Even the ride can be unstable. But no need to panic because these issues are common and, most of the time, can be fixed with a simple alignment.
There are a lot of mechanical shops with pros experienced in leveling and lifting kits. Describe the problems you are facing to the technicians, and they will give you a solution almost instantly.
With all the basics covered, here are the five best leveling kits to get for your Ford F-150.
Best Ford F150 Leveling Kits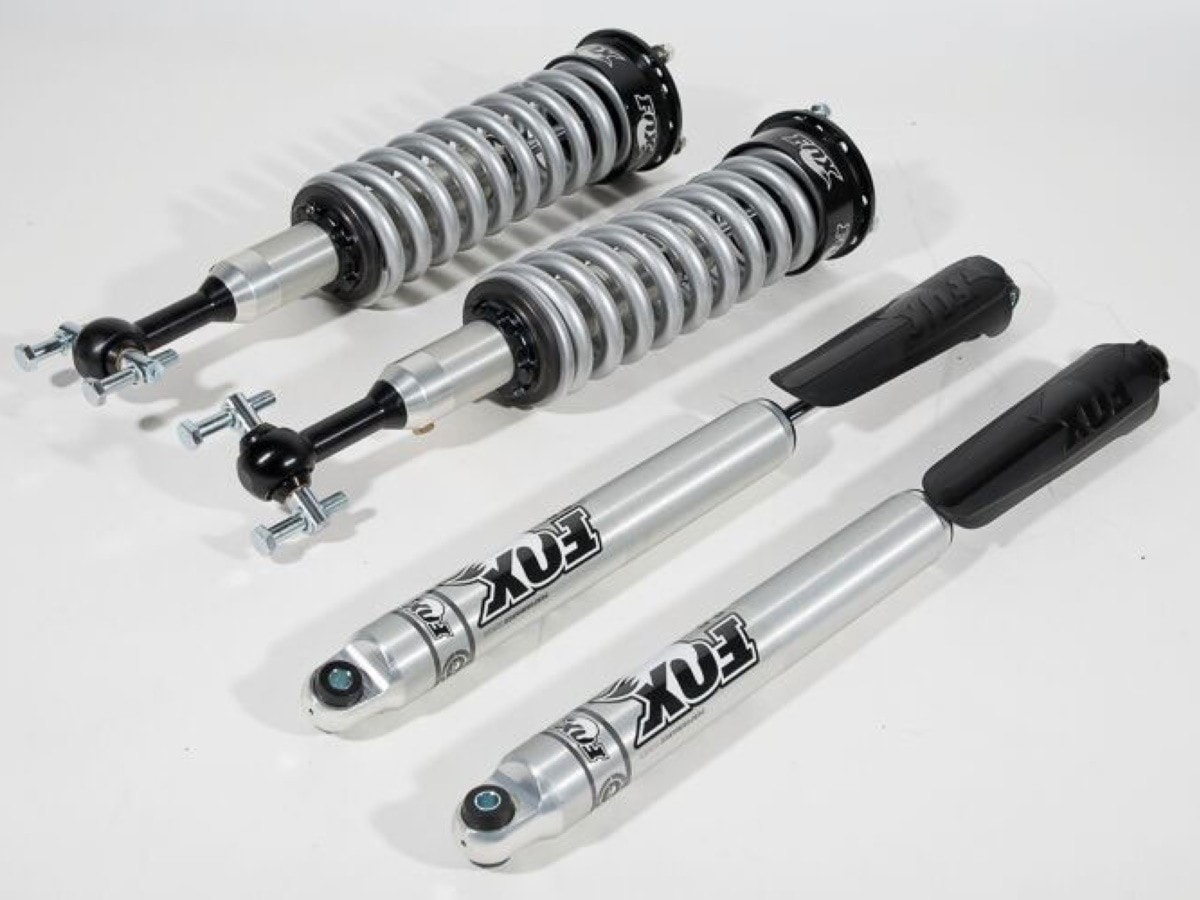 One of the main reasons many people choose leveling kits over full lift kits is the price. Roush Fox 2.0 leveling kit will not be nice to your bank account. However, it does provide great value for money.
It is one of the high-end leveling kits you can buy today for about $ 1,400, and since it's a Fox part, you know it will be made with great quality.
The kit is made in the US and it comes with two Fox mudguards for added shock protection, two 6061-T6 rear aluminum body shocks with internal floating pistons, two billet aluminum mounts, and two front adjustable coil-over shocks with matching coil springs.
Roush Fox 2.0 is top quality suspension kit designed for the Ford F-150 model from 2015 to 2020, and you can get it installed from the factory as part of the Roush fender flares, wheels, and Tire package. Unfortunately, the kit is not compatible with the 2021 F-150 with the optional continuously controlled dampening suspension (CCD).
It provides an adjustable 2" inch lift. In other words, the front coil-over can be set to a max height of 2" inches or lower to an inch or an inch and a half, according to your liking. Alongside the menacing look, the Roush Fox 2.0 leveling kit offers serious off-roading performance.
Plus, it eliminates body roll and increases stability, and gives you that extra boost of courage to drive your F-150 the way it is meant to be driven. You can fit 33" inch tires with this kit, which is the recommended size.
You can go up to 35" inch tires but it will require further modifications due to rubbing inside the wheel well.
It comes with a manual if you want to install it by yourself in 4 hours. It may take less time if you hire a professional. Unlike other kits, the Roush Fox 2.0 comes fully assembled and ready to be fitted.
A note to keep in mind, 2021 year models will need the lower spring perch to be adjusted by 5/8 on an inch down on the strut shaft for optimal performance.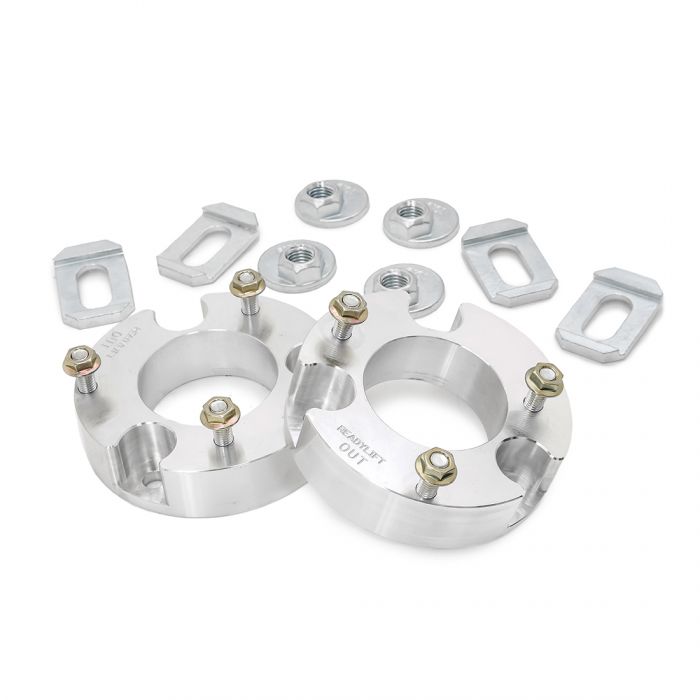 To get the most out of your F-150 means that you need to take a leap and upgrade to bigger tires. It can be problematic with the factory setup and rake, thus you need a leveling kit to avoid that.
ReadyLift is one of the safest, easiest, and most affordable kits you can buy. It includes 2" inch front strut spacers, alignment cam plates, cam nuts, and installation hardware. It is made out of corrosion-resistant billet aluminum for more durability.
It adds the needed height to get rid of the rake without compromising the original ride quality. The spacers fit nicely on top of the factory coil-overs assembly. That way, you will not have to trim the studs or add any modifications.
The lift in the front is enough to squeeze in a set of 35" inch tires. It is possible to upgrade to 37" inch tires with extra mods in the wheel well to avoid any rubbing. You can install the kit on the newer F-150 models, whether it has a rear-wheel-drive or four-wheel-drive.
It costs  $ 229.95 on average. And it comes with a lifetime warranty.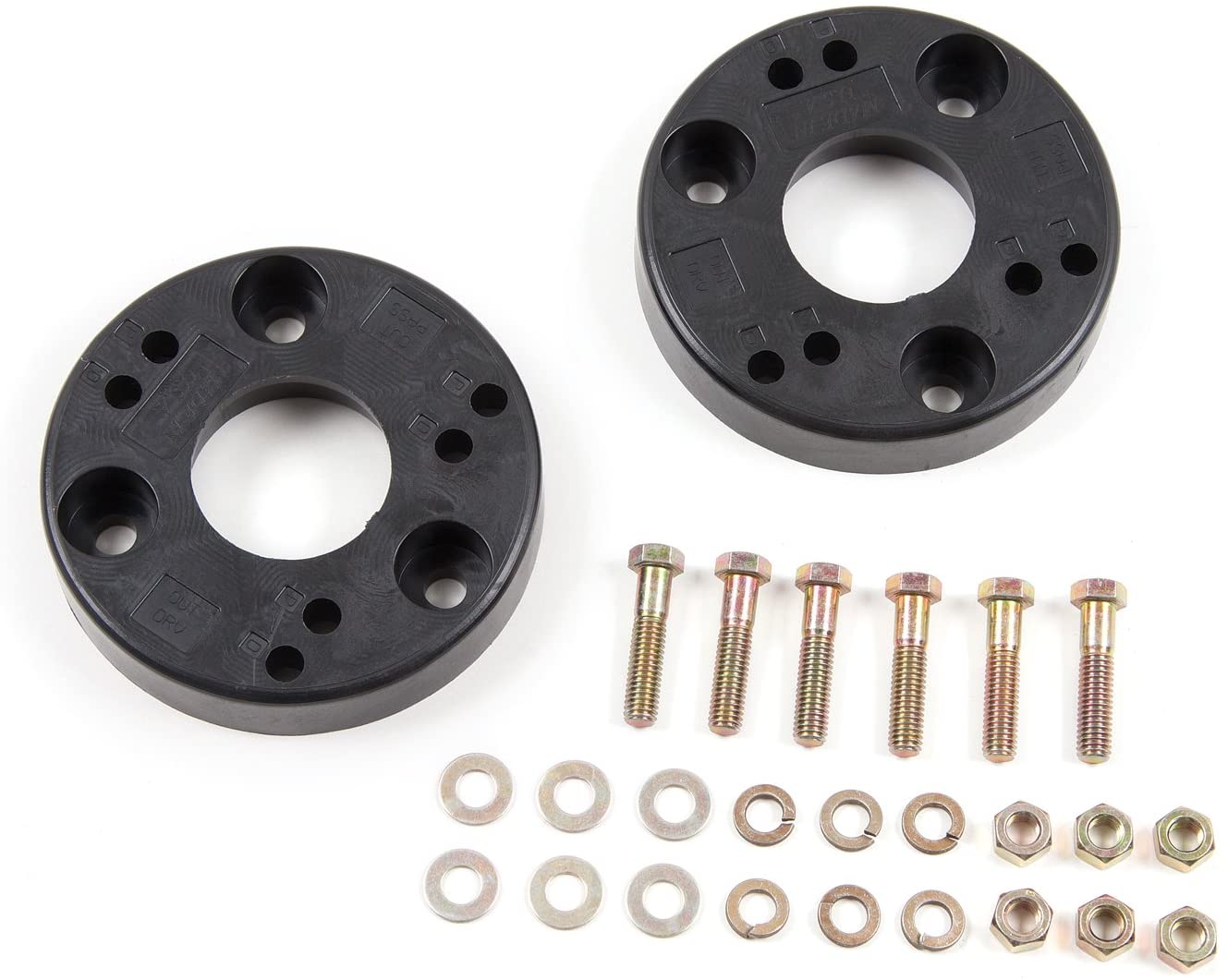 Zone Off-Road offers a very cheap and easy to level your truck in just two hours. The kit includes two spacers fabricated from thermoplastic synthetic resin. The spacers sit on top of the strut between the cap of the strut and the chassis of the truck.
They are designed to maintain all handling characteristics and factory ride quality. It fits all 2021 Ford F-150 models except the Raptor. Plus, it involves a 2" inch block kit in case you want to keep the tail high stance.
It gives enough clearance to fit 33" inch tires. It's a bolt-on installation, so if you hate it, you can take it off.
Yes, it's that easy!
Zone Off-Road offers the kit with 5 years/60,000 miles drivetrain warranty and a lifetime warranty for the product itself at a starting price of 60 dollars.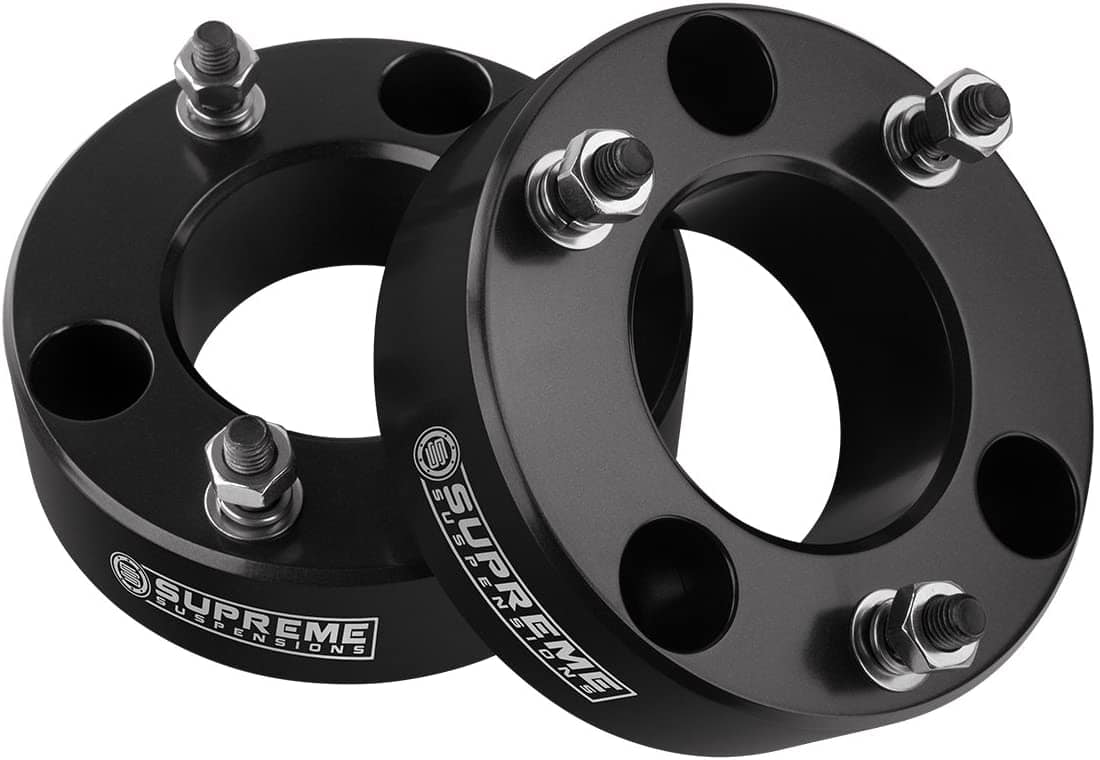 The marketplace is drenched with different leveling kits for almost all kinds of vehicles. The Supreme Suspension 2.5" pro billet strut spacer leveling kit is a great option to go with.
It fits all Ford F-150 models from 2004 to 2021, including both 2-wheel and 4-wheel drive variants, except for the Raptor.
This kit is the perfect choice for every F-150 owner who is looking for an easy, fast, and wallet-friendly solution to even out the truck's factory rake and gives you extra space to fit in bigger wheels and tires.
It gives the truck a leveling stance and aggressive look by adding 2.5" inches in the front while maintaining the stock ride quality. The spacers feature high-quality and durable materials. They feature a CNC billet aluminum construction with a cool black finish for more strength and corrosion resistance.
The kit comes with a manual to guide you through the installation process and include all the necessary hardware.
It is worth noting that the spacers measure at 2" inches, and the extra half-inch comes from the slight change in the suspension's geometry. The recommended tire size to fit in with no worries is 33" inches.
As far as the price goes, the Supreme Suspension kit costs about  150 bucks. The kit is not very hard to install, and it will take just about two hours to finish the job.
It does feature a direct bolt-on installation, but you would want a professional alignment afterward.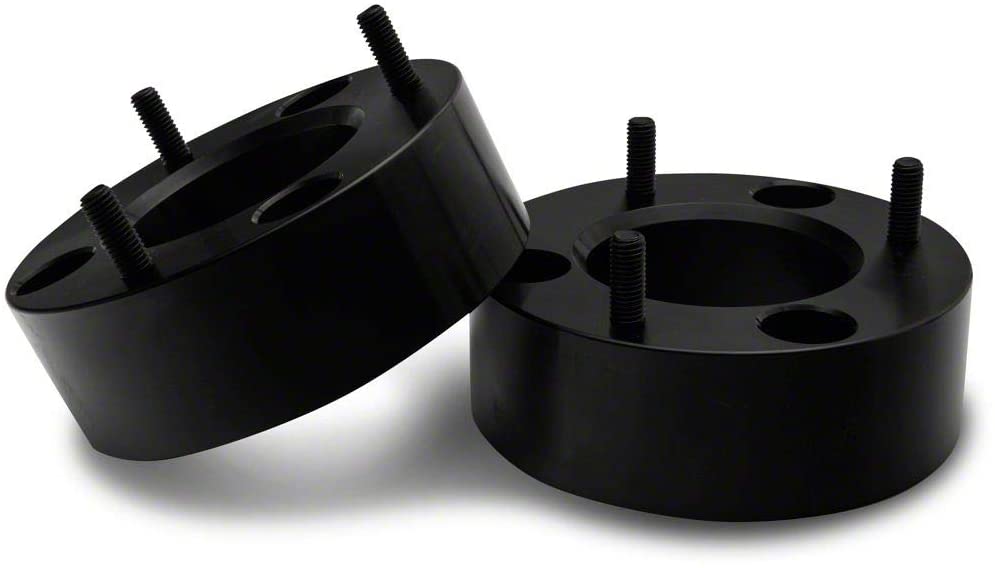 This kit is available for 2004 and newer 2-wheel and 4-wheel drive Ford F-150 excluding the Raptor models. You should be checking this out for your own truck.
The F-150 usually comes with a 2"-2.5" inch factory rake, thus making the Mammoth 2.5" a perfect fit. The kit levels up the front with the rear end to give the truck a more aggressive stance.
Trying to fit 33" inch tires with the stock suspension can a bit of a tight squeeze, but they will sit comfortably on the truck after the kit is installed. You can upgrade to 35" inch tires, but how they fit depends on your offset, backspacing, as well as the width of the tires you want.
So if you go for a 35×12.5, it may cause some rubbing at full lock. In this case, further modifications may be called for. It's a thick tire so be sure to make the right measures.
The Mammoth 2.5" kit provides great ground clearance enough for light off-roading. To be safe, I recommend going for a leveling kit or even a full lift kit if you want to spend most of your driving off the road.
The kit includes two 2.5" inch spacers made out of CNC machined billet aluminum, which makes it very affordable compared to other kits in the same category. Some of the expensive high-end kits are made of steel constructions, so this cuts down on the cost without sacrificing the quality.
I actually prefer aluminum because you don't have to worry about rust as much as you do with steel. Plus, it has a black anodized finish to add to its durability. It's great, especially for the winter salty roads.
Since it's a bolt-on installation, the kit doesn't take more than 2 hours to fit in, and it may take even less on 2-wheel drive F-150s.
Pros and Cons of Leveling Your F-150
Cons
Leveling kits with 2.5"+ inches will put a bit more stress on the suspension components of your truck, which ultimately leads to premature wear and tear. The CV angels might be slightly off, ball joints will be in a compromised position, so you might consider upgrading some of the suspension parts.
The majority of the leveling kits maintain the original drive quality and feel, but others may give a stiffer feeling. Furthermore, if you level your truck and tow or haul a heavy load, the rear end will squat down.
Another downside to the leveling kit involves fuel economy. Leveling your F-150 results in more wind resistance on the highway, hence why the rake was originally there. In addition, you are limited when it comes to tire options.
Most leveling kits offer enough lift to fit 33" inch tires, but additional modifications may be required if you want to fit 35" inch tires.
Some kits of more lift to fit 35" inch tires and even 37"s, but it puts stress on other suspension components and leads to premature wear and tear.
Pros
Buying a leveling kit is a lot cheaper than buying a lift kit. You can get a good quality leveling kit for as low as 60 bucks. For that price, you can get a better ride quality, bigger tires, and more ground clearance for off-roading.
Not to mention getting rid of the rake and giving your truck a mean look.
Golden tips
It is recommended that you hire a professional to install your leveling kit. Even if you are a seasoned professional and can install it in your garage, it is preferable to check with experts to examine any defect and get an alignment.
And don't forget to adjust the headlights because it may seem like you are driving with your high beams on to other road users.
FAQ
Question: Why are leveling kits so inexpensive?
Answer: Leveling kits are a lot less cheap than lift kits because they include fewer parts and easy bolt-on installation.
Question: How much lift does a leveling kit provide?
Answer: On average, leveling kits add about 2" inches to your truck. But, it differs from one kit to another. There are kits that can give you an inch of lift, 2", 2.25", 2.5", 3" inches.
Question: How big of a tire can I fit with a leveling kit?
Answer: Your tire options are very limited with kits that give you a max lift of 2.5 inches. It is recommended to get 33" inch tires, but you may be able to squeeze in 35" inch tires depending on the make and model of your truck.
Question: Do I need an alignment after installing a leveling kit?
Answer: Yes. It is a very common error many people make. You must get your truck a professional alignment to get optimal performance and stop premature wear and tear on both of your tires and suspension components.
Conclusion
All in all, leveling your truck is a big decision, so do not rush through the process. Take some time and do research on the different leveling kits and how they work. Because it can be very confusing with so many moving parts. Ask for a professional opinion and make sure the kit you picked matches the make and model of your ride.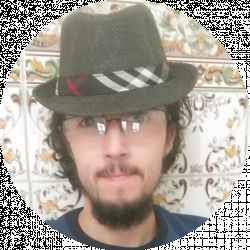 Latest posts by Tommy Verrcity
(see all)