The 2001 Toyota Tacoma is part of the first generation of the Tacoma family, which ran from 1995 to 2004. This year, Toyota opted for a couple of facelifts on the Tacoma that gave it a slightly more rugged look that is still quite appealing in the 2020s.
In this 2001 Toyota Tacoma guide, I've done a great deal of research on this 20-year-old vehicle to help you learn the car's good, bad and ugly sides so that you can make an informed decision.
This article has information on the 2001 Tacoma's trim levels, engine options, current value, as well as its common problems. Keep reading to find out all you need to know.
Bottom Line Up Front: The 2001 Toyota Tacoma is one of the best models in the first generation, famed for its reliability. This compact pick-up truck is ideal for those who want to haul light to medium loads, but if you intend to haul heavy cargo, consider a more powerful truck like the Ford F-150. However, this truck is still worth buying in the 2020s.  
Overview of the 2001 Toyota Tacoma
Released in 1995, the Toyota Tacoma was taken through some mild changes that are noticeable in the 2001 model. For starters, the 2001 Tacoma looks slightly more aggressive, with a bit more ground clearance and a slightly redesigned grille. These few changes were enough to transform it from a compact hauler to a rugged offroader. This new look was retained in the rest of the first-gen lineup that ended in 2004. 
2001 is also the year that Toyota debuted a double-cab version of the Tacoma, which made this vehicle more than just a load carrier. Granted, the two-door models have what is considered seats behind the front row, but they're extremely uncomfortable and lack any form of legroom. Tacoma's four-door model is the way to go if you're looking for a vehicle that can carry passengers as well as a load. However, the double-cab still has little legroom, making the rear seats uncomfortable for taller passengers.
By today's standards, the interior is rather spartan, but that's expected for a vehicle that's over 20 years old. This model is considerably more comfortable than previous years, with a couple of extra bells and whistles like an improved climate control system, a new four-spoke steering wheel design, and an orange-illuminated instrument cluster. Toyota opted for a weird clock placement in the Tacoma, behind the steering wheel where absolutely no one can see. 
2001 Toyota Tacoma Specs and Features
Versions and Trim Levels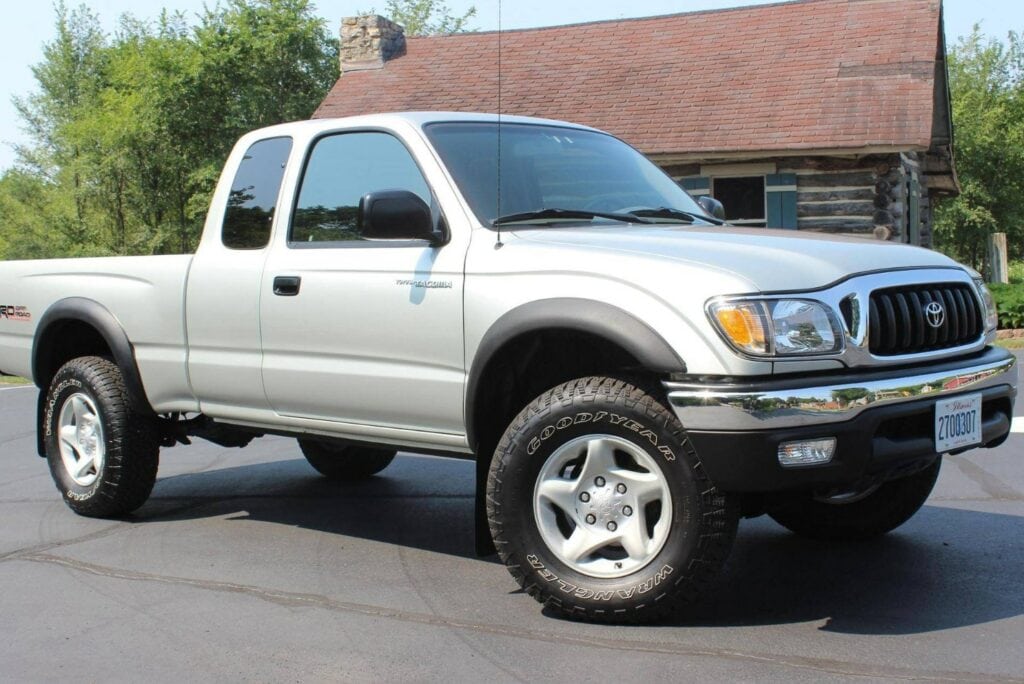 The 2001 Tacoma had three versions: Regular cab, Xtracab, and Double-cab. Whichever version you prefer, there are three trim levels to choose from in each: Base, PreRunner, S-Runner.
Tacoma's cheapest trim level is the Base Regular Cab version with two-wheel-drive followed by the Base two-wheel-drive Xtracab model. The most expensive Base trim level is the 4WD Xtracab model.
The PreRunner is Tacoma's middle child, and it only comes in 2WD versions. This trim level's double-cab version is the most expensive in the line. 
You can also get V6 versions of the Base and PreRunner trim levels – the S-Runner has a V6 as its standard engine. More on the engine options below.
Engine Options & Transmission
The Tacoma has three engine options across its various trim levels. There's the 2RZ 2.4L four-cylinder engine only found in its 2WD models; the 3RZ 2.7L four-cylinder engine in the 4WD models; and the 5VZ 3.4L V6.
The 2.4L engine can produce 142hp and 160ft/lbs of torque, the punchy 2.7L one is able to produce 150hp and 177ft/lbs of torque while the powerful 3.4L V6 produces 190hp and 220 ft/lbs of torque. 
Tacoma's Base trim level has the 2.4L engine in its Regular and Xtracab 2WD models while the 4WD models get the 2.7L. PreRunner is a 2WD-only trim level but it has the larger 2.7L engine. You can, however, opt for either the Base V6 or PreRunner V6 if you're looking for more grunt.
As I mentioned earlier, the S-Runner only has the 3.4L V6 engine. This trim level also only has a 2WD Xtracab version.
You can get either a five-speed manual transmission or a four-speed automatic transmission across the 2001 Toyota Tacoma lineup.
Here's a table breaking down the different 2001 Tacoma versions, their engine options, and fuel consumption.
2001 Toyota Tacoma Version
Engine Option
Power

Base 2WD Regular Cab

2RZ 2.4L 4cyl 

142 hp, 160ft/lbs torque

Base 2WD Xtracab

Base 4WD Regular Cab

3RZ 2.7L 4cyl

150 hp, 177ft/lbs torque

Base 4WD Xtracab

PreRunner 2WD Regular Cab

PreRunner 2WD Xtracab

PreRunner 2WD Double Cab

Base V6 Xtracab & Double Cab

 5VZ 3.4L DOHC 24-valve V6

190 hp, 220 ft/lbs torque

PreRunner V6 Xtracab & Double Cab

S-Runner
Safety Features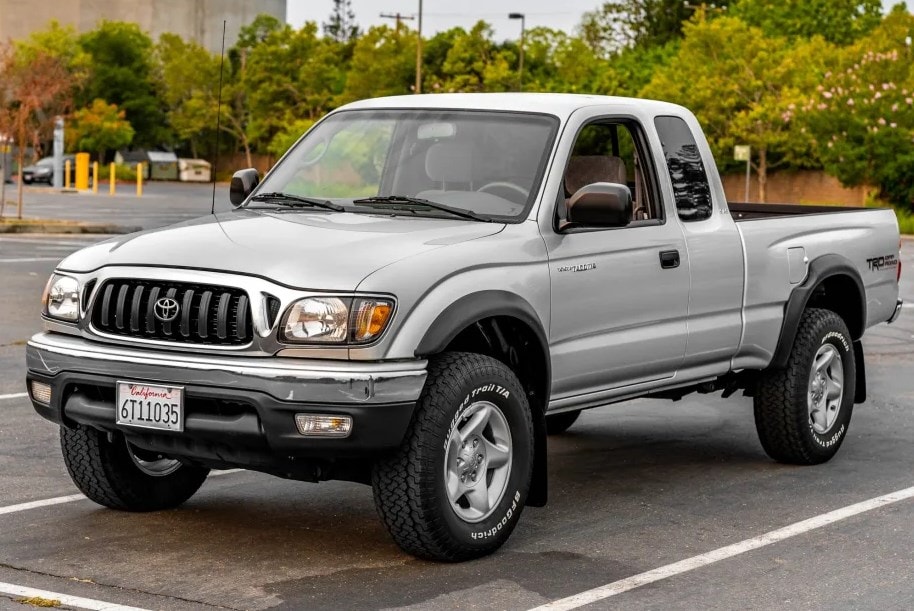 Toyota gave the 2001 Tacoma both driver and front passenger airbags that are designed to keep your head safe in the event of a crash. All models also got height-adjustable safety belts as well as pre-tensioners, which tighten during an accident to keep you securely strapped to your seat.
You might find some models with a theft and panic alarm as these were optional features.
Cargo & Towing Capacity
Both the 2.4L and 2.7L engine options in the 2001 Tacomas can handle a payload of 1600 lbs (725 kgs), while the 3.4L V6 engines are able to carry up to 1900 lbs (860 kgs). However, you'll get the best hauling performance from the models with an automatic transmission; the clutch in the manual transmission models is prone to overheating when carrying heavy loads. If you're partial to manual transmissions then you'll have to contend with a lower payload capacity to prevent this problem.
The smaller engines can tow up to 3500 lbs (1590 kgs) while the muscular V6 can handle up to 5000 lbs (2300 kgs). 
Check out this article to learn all you need to know about the towing capacity of all Tacoma generations.
Fuel Economy
Below is a look at the fuel consumption rating for each one of the 2001 Toyota Tacoma trims. This data is according to Autoblog.com.
2001 Toyota Tacoma Trim
Engine
Fuel Consumption

Base 2WD Regular Cab

2.4L 4cyl 

22mpg (city), 25mpg (highway)

Base 2WD Xtracab

Base 4WD Regular Cab

2.7L 4cyl

19 mpg (city), 22 mpg (highway)

Base 4WD Xtracab

PreRunner 2WD Regular Cab

PreRunner 2WD Xtracab

PreRunner 2WD Double Cab

Base V6 Xtracab & Double Cab

 3.4L V6

17 mpg (city), 20 mpg (highway)

PreRunner V6 Xtracab & Double Cab

S-Runner
2001 Toyota Tacoma Value
MSRP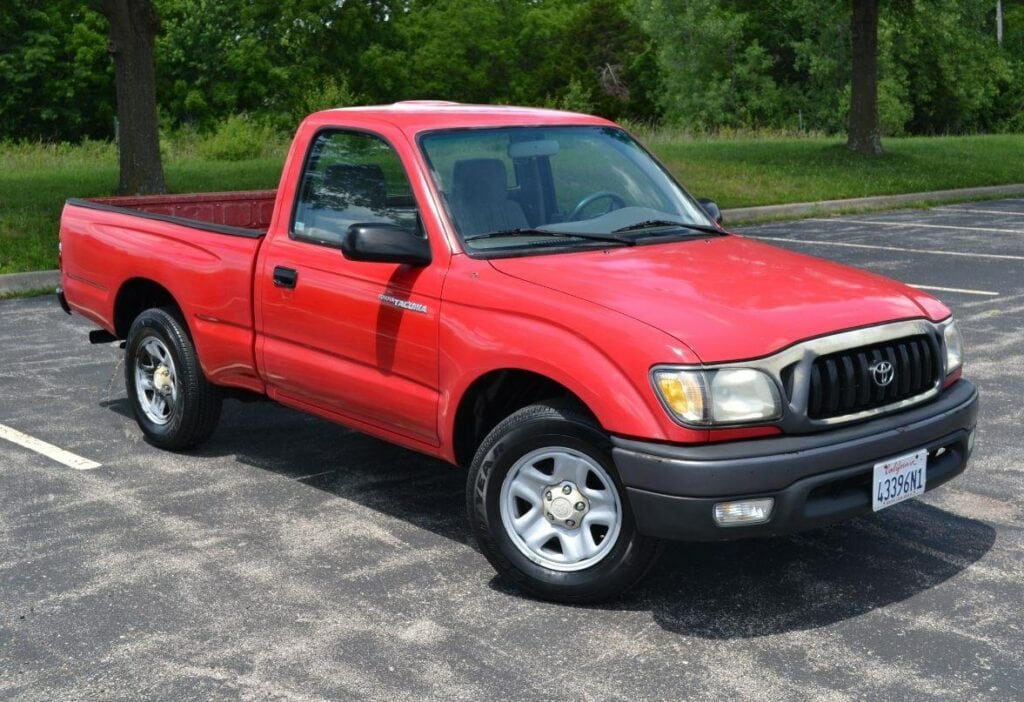 When released, the 2001 Tacoma started at $11,845 for the Base 2WD Regular Cab model. For the extra cabin space in the Xtracab, you would pay $14,485 for the 2WD Base model. 
The PreRunner Tacomas started at $13,375 for the Regular Cab trim while the Double-cab cost about $18,000.
Tacoma's Base V6 model would set you back at least $19,500 while the PreRunner V6 started at $18,100. The S-Runner only came in the Xtracab trim and it cost about $18,000. 
Here's a table breaking down the MSRP of each 2001 Tacoma version.
| | |
| --- | --- |
| 2001 Tacoma Model | MSRP  |
| Base 2WD Regular Cab | $11,845 |
| Base 2WD Xtracab | $14,485 |
| Base 4WD Regular Cab | $16,255 |
| Base 4WD XtraCab | $18,375 |
| Base V6 4WD Xtracab | $19,465 |
| Base V6 4WD Double-Cab | $21,965 |
| Pre-Runner 2WD Regular Cab | $13,735 |
| Pre-Runner 2WD Xtracab | $16,335 |
| Pre-Runner 2WD Double-Cab | $17,955 |
| Pre-Runner 2WD V6 Xtracab | $18,185 |
| Pre-Runner 2WD V6 Double-Cab | $18,815 |
| S-Runner 2WD Xtracab | $17,905 |
Current Value
Depending on the trim level and mileage, you can get a 2001 Toyota Tacoma for as low as $3500 or as high as $15,000. According to Kelley Blue Book, a great price for a used 2001 Tacoma is about $6000. I wouldn't recommend spending anything close to the car's original MSRP, considering that it's a 20-year-old model with lots of miles on the odometer. 
2001 Toyota Tacoma Common Problems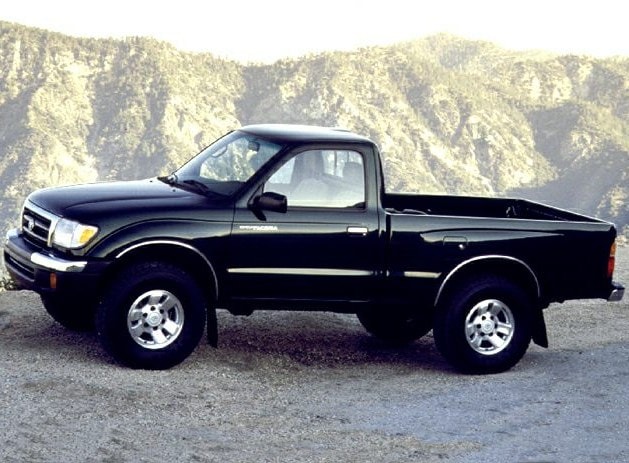 Automatic Transmission Issue on High Mileage Models
According to Repair Pal, some 2001 Toyota Tacomas with a mileage of over 125,000 miles have been reported to have transmission shifting issues. Some owners complain that the vehicle doesn't immediately enter into drive mode after shifting the gear lever to D. The vehicle would need to rev to RPMs of over 2000 before drive kicks in.
Other owners report that the vehicle takes time to shift to the second gear first thing in the morning. 
This issue is mainly caused by a throttle position sensor that requires adjustment or malfunctioning of the shift solenoid. In a number of cases, the shift solenoid required replacing.
Sadly, the transmission problem has been reported in Tacomas from 1995 to 2015.
Starter Failure
The 2001 Toyota Tacoma's starter tends to fail, especially in vehicles that have clocked over 100,000 miles. Users have reported difficulty in starting their vehicles; most people say that they had to attempt multiple times for their vehicles to start. 
Most of the time, the starter needs to be replaced, however, sometimes it's just an issue with the starter solenoid contacts. 
Rough Idling and Backfiring Engine
This problem was mainly reported by owners of the 2.7L Tacoma models. Customers stated that the check engine light turned on and the vehicle's idling became rough. According to Repair Pal, the cause of this issue is worn-out engine valves resulting from eroded valve seats. 
This engine's valve seats were discovered to be too soft, meaning that they easily wear out after thousands of miles. Owners were advised to have their Tacoma's engines inspected every 40,000 miles to have the valve clearance adjusted. 
If you're buying a 2001 Tacoma, make sure the vehicle has no loss of power, there aren't misfires, and there's no check engine light. Also, use an OBD2 scanner to confirm that there are no P0300, P0301, P0302, P0303, and P0304 codes, which are an indication of the valve issue.
Bad Mass Airflow Sensor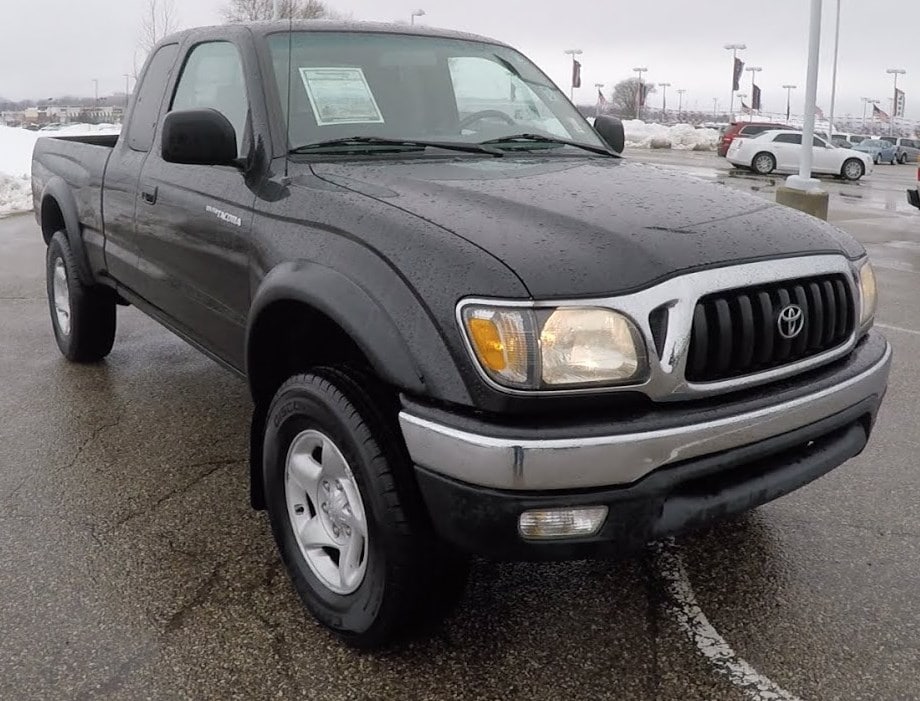 Some owners of Toyota Tacoma models from 1996 to 2013 reported this problem and it's very likely to occur in the 2001 models. The mass airflow sensor determines how much air the engine requires for combustion in different driving situations. This ensures that the engine doesn't burn too much or too little fuel.
When the mass airflow sensor fails, the engine may start to use more fuel than it requires. A sign of this is black smoke coming from the exhaust. Conversely, there may be low supply of fuel to the engine, resulting in low power from the engine.
All those who had this issue reported the check engine light turning on to warn them of a mass airflow sensor failure. Fixing it first requires a check engine light diagnosis and testing to ascertain the issue. Ultimately, the airflow sensor will require cleaning or replacing altogether.
Crankshaft Pulley Bolt Comes Loose
There are cases of the crankshaft pulley bolt falling off, mainly reported in Tacomas from 1995 to 2001. The main symptom of this is a thumping/rattling noise in the engine and the car stalls when idling. According to Repair Pal, the best way to fix this is by applying a thread locker and re-torquing the pulley bolt. 
Failed Balance Shaft Bearing and Timing Chain Tensioner
The balance shaft bearing is designed to reduce engine vibration, but in Tacomas that have clocked over 160,000 miles, this bearing starts to fail, causing a rattling noise. In most cases, this also results in a failed timing belt tensioner that causes the timing chain to make a 'slapping' noise. 
When buying a 2001 Toyota Tacoma, make sure you carefully inspect the vehicle's timing chain system. It's advised that owners adhere to the oil change schedule and use only the factory-recommended engine oil to prevent this issue.
Frame Rust
A lot of the 2001 Toyota Tacoma models had an issue with the vehicle's frame prematurely rusting from the inside, thus compromising its strength. There was a recall of some vehicles that had the frame replaced entirely. Thoroughly check the frame of the Tacoma you intend to buy to make sure that there's no rust. You may also confirm whether the vehicle is one of those whose frame was replaced.
2001 Toyota Tacoma Model Main Recalls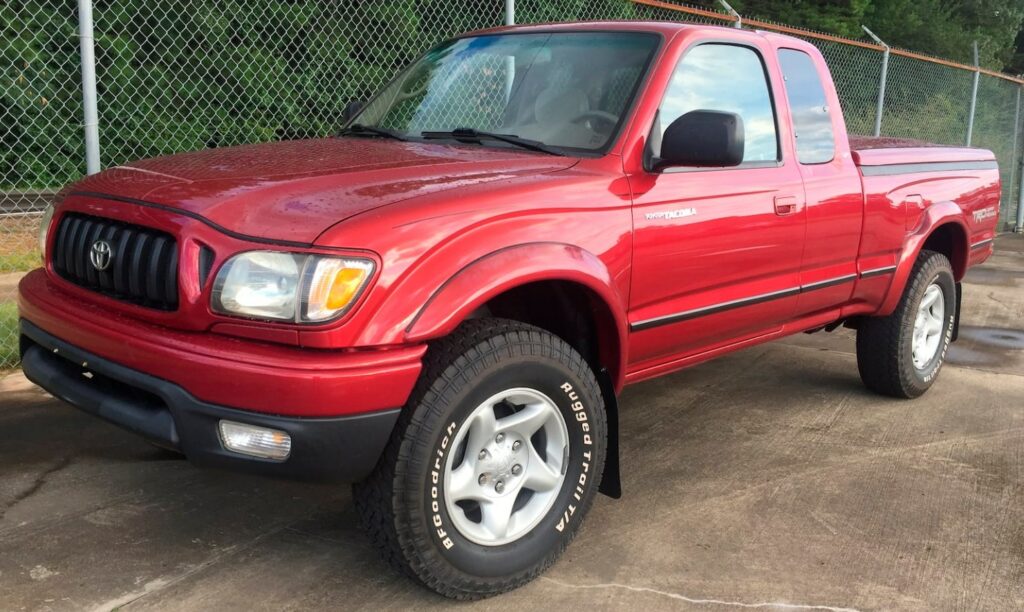 In 2012, Toyota recalled 2001 to 2004 Tacoma models that were registered in the colder US states. This recall was to fix a corrosion issue with the spare tire carrier lift plate. It was noted that the lift plate wasn't well coated during manufacture, therefore making it susceptible to rust in the cold states. Toyota replaced the spare tire carrier lift plate.

The 2001 Toyota Tacoma was part of a group of Toyota SUVs and trucks that were recalled back in 2006 due to a lower ball joint manufacturing fault. It was reported that the ball joints in these vehicles left the factory scratched, making them highly prone to loosening and wearing off quickly. Toyota dealers ended up replacing the front suspension lower ball joints.
2001 Toyota Tacoma Replacement Parts
You can buy OEM replacement parts for your 2001 Toyota Tacoma from Toyota's official website. The site lists all the online dealers near you, as well as how much the parts costs, allowing you to select the most affordable dealer.
Here's a table with some of the main OEM replacement parts and their prices.
| | |
| --- | --- |
| Replacement Part | Average Cost |
| Starter motor | From $70 to $250 |
| Timing chain tensioner | $35 |
| Balance shaft chain tensioner | $44 |
| Alternator | $400 |
| Shock absorbers | $162 |
| Electric fuel pump | $500 |
| Fuel filter | $50 |
| Disk brake rotors | $85 |
| Brake pads | $55 |
You can also buy replacement parts on Carid.com.
2001 Toyota Tacoma Accessories
Accessories for the 2001 Toyota Tacoma are sold on the Toyota website as well as on Carid.com. Below is a list of just a few accessories that you can buy for your Tacoma.
Front and Rear Offroad Bumpers
If you're planning to test your 2001 Tacoma's offroading capability, then you should consider accessorizing your vehicle with offroad bumpers. The bumpers will give your Tacoma a rugged look while offering improved protection from damage to your car in case of an offroading incident.
Offroad bumpers also provide a sturdy place to fasten recovery straps when you need to be pulled out of a sticky situation. These bumpers are installed directly onto the vehicle's frame, allowing you to mount a winch on them.
These accessories can be made of steel, carbon fiber, aluminum, or even fiberglass. However, extreme offroaders have nothing but love for classic steel bumpers, which have proven to be the best at withstanding the rigors of offroad driving conditions.
Depending on the bumper design, you can get them from about $1000 to over $3000. 
Tonneau Covers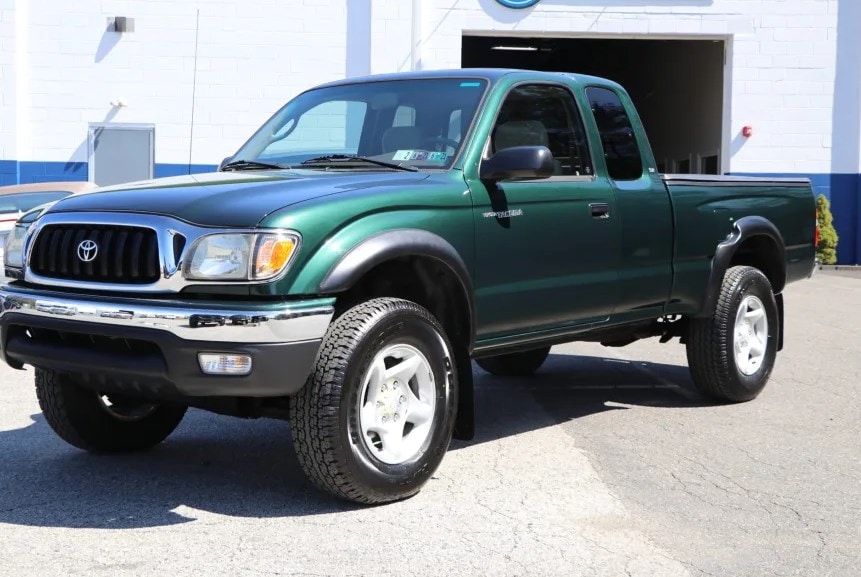 Since you're likely to make full use of the cargo bed of your Tacoma, consider getting a tonneau cover to protect your load from the elements or from thieves. These covers also improve the appearance of your truck by giving the bed a neater look than if it were bare. 
There are both hard and soft tonneau covers made with different materials. The best ones are made of aluminum as they offer a high degree of durability, but they're also costly. If you're looking for an affordable tonneau, consider those made of heavy-duty vinyl. 
Vinyl tonneau covers cost from $150 to $300 while aluminum brands can cost upwards of $500. Some of the best brands are LEER, Tyger, oEdRo, and TruXedo.
Winches
Winches are an important part of any offroading enthusiast's arsenal and finding the right one for your Tacoma is important. These handy accessories can either be electrically powered or controlled by a hydraulic system. 
Hydraulic winches are the more superior of the two types but they're also more expensive. Consider these if you are an extreme offroader and you're likely to find yourself stuck in near-impossible situations. For most people, the electric winches will do just fine.
The cheapest winches cost about $150 and you can spend over $1000 on a hydraulic winch.
Offroad Lights
Offroad lights can either be halogen, xenon or LED. Halogen lights are the most affordable but they also produce heat, making them the least efficient. However, this feature is also a pro as the halogen lights can defrost themselves in very cold areas. If you live in an area where temperatures can dip below 0 degrees then you may consider halogen lights.
Xenon lights have a high light output, able to illuminate the farthest. These are ideal for those who love high-speed offroading. LED lights are the most energy-efficient and they come in smaller sizes than the alternatives. They, however, aren't ideal for cold areas since they can't defrost themselves.
The cheapest offroad lights cost about $80 while the most expensive cost upwards of $450. 
Check out this article to find out more about the accessories that you can buy for your 2001 Toyota Tacoma.
2001 Toyota Tacoma Competitors
First-Gen Toyota Tundra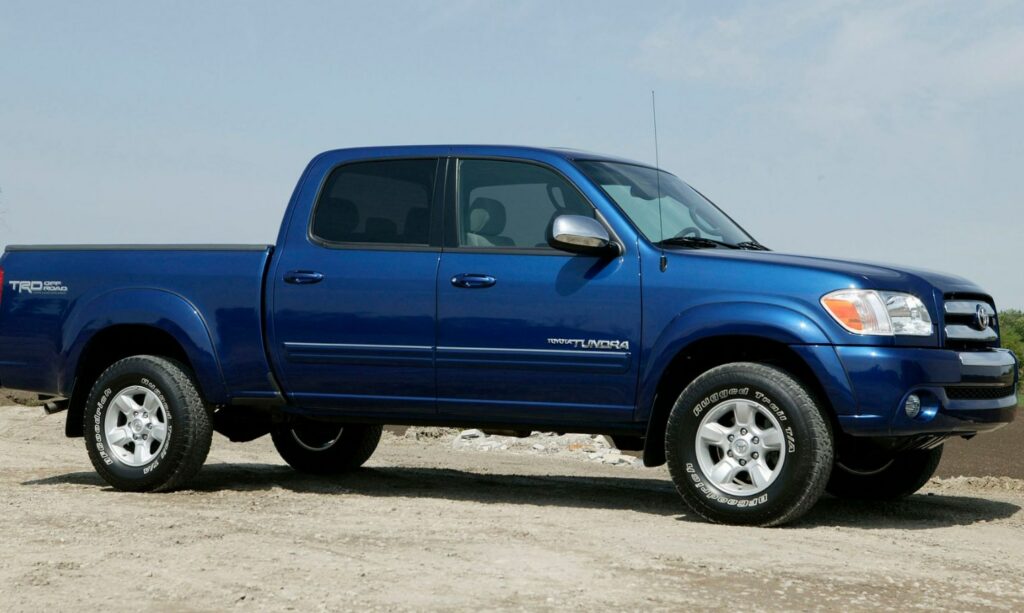 The first generation Toyota Tundra ran from the year 2000 to 2006. This vehicle was Toyota's more powerful pickup truck that offered an alternative to power-hungry drivers who felt like the Tacoma didn't pack enough of a punch. With a 3.4-liter V6 and a 4.0-liter V8 engine, the first-generation Tundra certainly satisfied those who were looking for more grunt. 
The Tundra went head to head against the uber-successful Ford F150 with some claiming that it was more of a Japanese version of its Ford counterpart. Whatever the case, this vehicle is a Toyota and it came with the brand's reputation for reliability.
If you're looking for a powerful alternative to the Tacoma, the Tundra is one to consider. Its V6 models can tow up to 4500 lbs (2 tonnes) while the muscular V8 can tow up to 7100 lbs (3.2 tonnes). 
However, with more power comes lower fuel efficiency; the Toyota Tundra models have a fuel consumption rating of 14 to 16 mpg, depending on the engine. 
This article dives deeper into the Toyota Tundra from its first generation to the present one. Go ahead and check it out.
2001 Nissan Frontier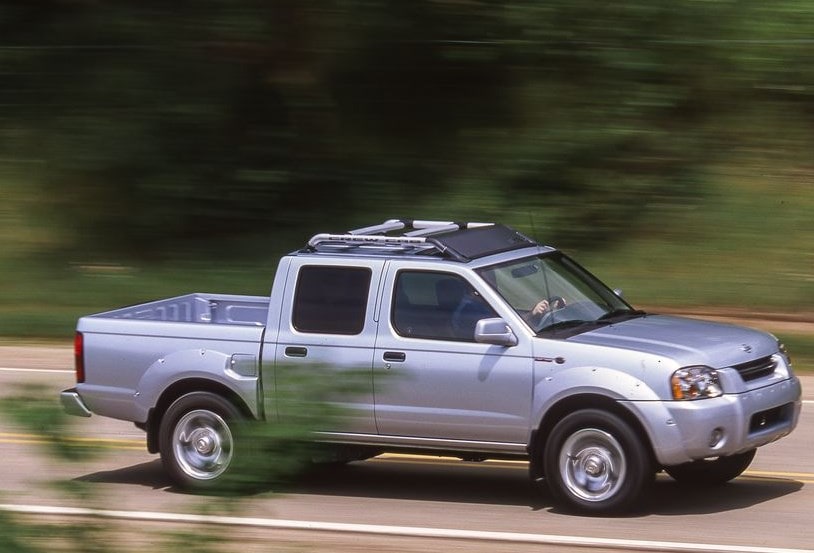 Current prices for a 2001 Toyota Tacoma seem a bit inflated, and if you feel the same, consider going for a 2001 Nissan Frontier. With about $3000, you can get yourself a 200,000-mile Frontier in good condition. 
Nissan first launched the frontier in 1997 (known as the Navara outside of North America) to faceoff with greats like the Toyota Tacoma and, of course, the might Ford F-150. Its base trim level, the XE, came with a 2.4L engine with 143hp. Owners could, however, opt for the Desert Runner XE that boasted a larger 3.3L V6 engine with 170hp. Other trim levels – the SE and SC, came with the V6 engine as standard. 
Just like the Tacoma, the Nissan Frontier also has different cabin configurations in each trim level: there's the regular cab, the roomier King Cab and the double-cab version that Nissan calls the Crew Cab.
2001 Ford F-150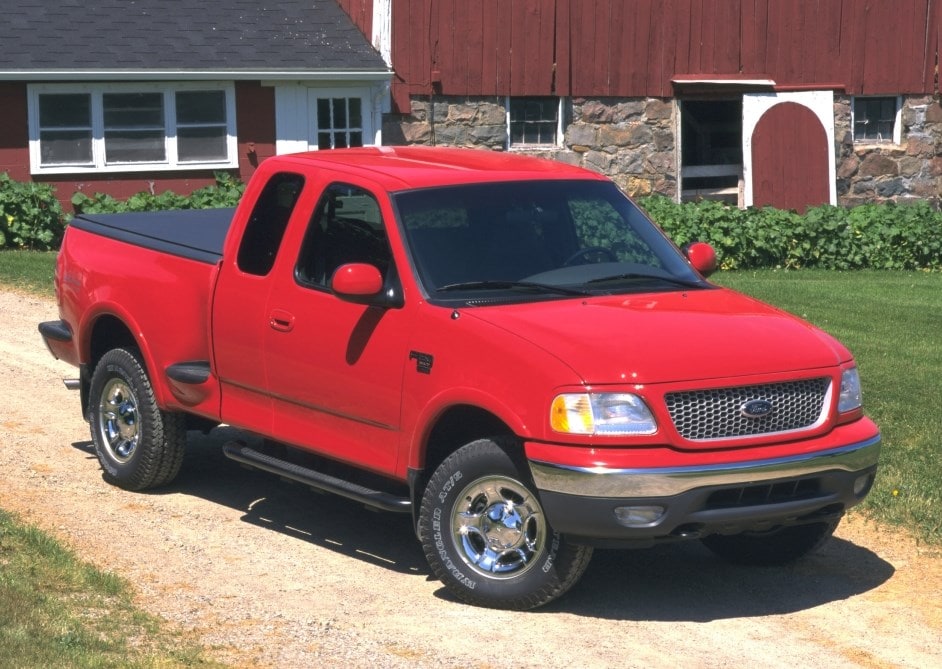 Ever since the very first Ford F-150 in the late 70s, Ford has made this vehicle a synonym for powerful pickup trucks in North America. The 2001 model won acclaim for its power and reliability and that stands true today. In fact, this is still one of the highest-rated trucks on KBB with a total of 4.7 stars out of 5.
There are four trim levels available: Lariat, XL, XLT, and SVT Lightning. This truck also has three cabin configurations depending on your needs; there's a Regular Cab, SuperCab, and SuperCrew, which is Ford's double-cab version. You also get a choice of either two-wheel or four-wheel-drive across its trim levels. Underscoring the F-150's strength is its three engine options: a 4.2L V6 with 202hp, a 4.6L V8 with 232hp, and a 5.4L V8 with 380hp. 
Find out more about this and other generations of the Ford F-150 in this article.
Frequently Asked Questions
Question: Is a 2001 Toyota Tacoma a good year?
Answer: Yes, 2001 is a good year for the Toyota Tacoma. The first generation from 1995 to 2004 had few complaints and by 2001, Toyota had made fixes to the issues that the Tacoma had in the previous years. 
Question: How many miles will a 2001 Toyota Tacoma last?
Answer: If well maintained, a 2001 Toyota Tacoma can last 300,000 miles since this truck is known for its reliability.
Question: What is a 2001 Toyota Tacoma worth?
Answer: According to Edmunds.com, an outstanding 2001 Toyota Tacoma should be worth about $7000 while an average one is worth about $5000.
Bottom Line
The 2001 Toyota Tacoma is a reliable compact truck that is still worth buying in the 2020s. However, it struggles to haul or tow heavy loads so only buy the Tacoma if you plan to put it through some light to average work. Still, consider the automatic transmission since the manual tends to overheat when put to the test.
Interested in other generations of the Toyota Tacoma? Check out this in-depth article.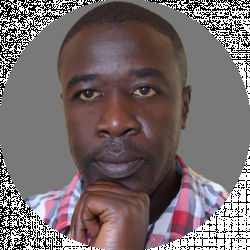 Latest posts by Barry Juma
(see all)