1993 was the second production year of the Ford F-150 line's fourth generation and the ninth generation of the entire F series. After four generations of this iconic vehicle, Ford had perfected the art of the pickup truck, making this one of the most popular vehicles in North America.
And this model retains a huge fan base in the 2020s, as is common with the popular F-150 family. The 1993 Ford F-150 is no doubt a powerful machine, giving its Chevrolet and GMC competitors a run for their money.
If you're considering getting the 1993 model, then you're probably drawn to its strength and reliability, or perhaps its powerful engine options. 
In this 1993 Ford F-150 guide, you'll find out about this truck's trim levels and engine options, as well as the common problems that are likely to emerge in this vehicle that's almost 30 years old.
Bottom Line Up Front
The 1993 Ford F-150 is a strong pickup truck that remains popular in the 2020s. It came with three engine options, but, sadly, all of them are thirsty so prepare to spend time at the pump.
If you're looking for a powerful workhorse, consider the 5.8-liter V8, which produces 210 horsepower. However, if fuel economy is an issue, then consider a smaller truck like the Toyota Tacoma.
1993 Ford F-150 Overview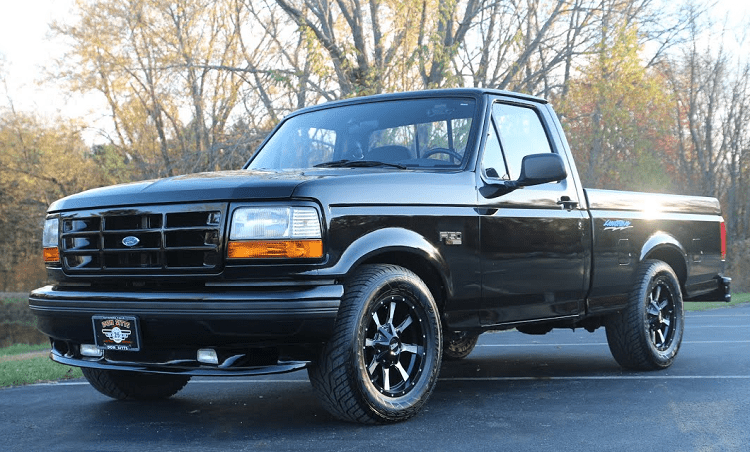 Exterior
With almost three decades under its belt, the 1993 F-150's age is evident in its shape, which was almost ubiquitous among pickup trucks from its era.
Think about the Dodge Ram or the Chevy Silverado from the early 90s and you'll understand what I mean. Still, this boxy design retains a significant degree of popularity in the 2020s thanks to its vintage appeal. 
This vehicle had Regular and SuperCab variants as well as short and long-bed options (more on these later). All of these models have the F-150's classic rugged look that's a testament to its gritty pedigree. Car and Driver aptly describes this vehicle as a Terminator truck. 
Buyers of the 1993 F-150 could choose from 13 exterior color options, ranging from mocha to white. 
Interior
The interior of the 1993 F-150 is what you'd expect from an early 90s pickup truck: rotary AC controls and an AM/FM stereo with a cassette player.
The SuperCab model had extra room behind the front seats, with a bench for carrying extra passengers. However, the extra passengers would only have to be kids as the legroom back there is almost nonexistent. And it should be over short distances as even your kids will find this row uncomfortable.
The front is a different story; ample legroom and headroom are a hallmark of the F-150 line and the 1993 model is no different.
Ford offered the choice of four interior trim colors in this vehicle: Crystal Blue, Scarlet Red, Dark Chocolate, and Medium Mocha.
MSRP and Current Value
On release, the 1993 Ford F-150 cost from $11,138 to $14,700. Currently, you can get this pickup truck for as little as $2500 to over $10,000, depending on the mileage, trim level, and the truck's condition.
Read this article to find out all you need to know about valuing a used Ford F-150.
1993 Ford F-150 Features and Specs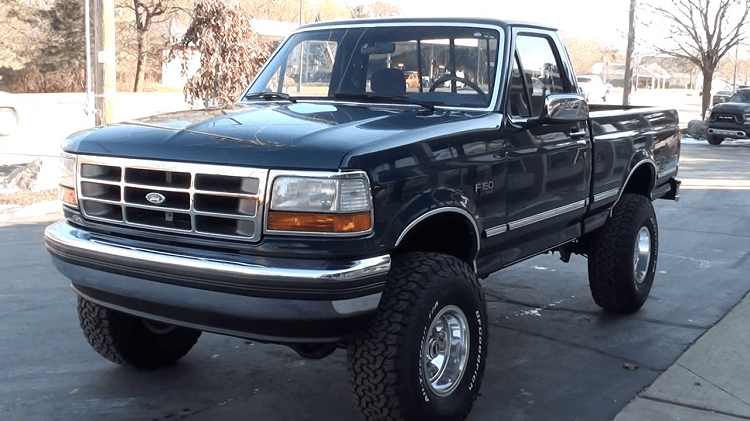 Trim Levels
The 1993 F-150 had three main trim levels: Custom, XL, and XLT Lariat. However, there was a fourth option, the sporty F-150 Lightning, a project of the company's Special Vehicle Team (SVT), but this is considered more of a 1994 model as it debuted in late 1993. Find out more about the SVT Lightning in our 1994 Ford F-150 model guide.
In this article, we'll focus on the three main trim levels.
Interestingly, air-conditioning came as an optional feature in the Custom and XL trims but was standard in the XLT Lariat. You also couldn't get an AM/FM radio as standard in the Custom trim, just an AM radio – this was standard in all other trim levels. 
Standard features across all trim levels were halogen headlamps, a removable tailgate, vent windows, and an electrical accessory outlet. 
This vehicle also had Regular Cab and SuperCab variants, with the SuperCab offering extra space behind the front row in the form of a bench. Sadly, there wasn't a four-door Crew Cab model for the F-150 – for this, you'll have to buy the F-350 series.
Engine Options & Transmission
There are three engine options for the 1993 Ford F-150: a 4.9-liter EFI I6 with 150 hp, a 5.0-liter V8 with about 195 horsepower, and a punchy 5.8-liter V8 putting out an impressive 210 horsepower. 
The 4.9-liter and 5.0-liter models have transmission options of either a five-speed manual, a four-speed manual, or a four-speed automatic. If you prefer the powerful 5.8-liter V8, you can only get a four-speed automatic transmission with this vehicle.
All trim levels got the smallest engine (4.9-liter I6) with a five-speed manual transmission as standard, but buyers could upgrade to the more powerful engines irrespective of the trim level. 
Drivetrain
Ford's 1993 F-150 came with either a two-wheel-drive drivetrain or a 4×4. However, only the SuperCab version has a 4×4 option; if you prefer the Regular Cab then you'll have to settle for a 4×2. 
Safety Features
Sadly, the 1993 Ford F-150 had neither side nor head airbags, but back then this feature wasn't standard in vehicles, so it's no surprise. The truck, however, had anti-lock brakes, giving it a degree of safety.
The '93 F-150 earned a three-star NHTSA safety rating for the driver's side and five stars for the front passenger's side. 
Cargo Capacity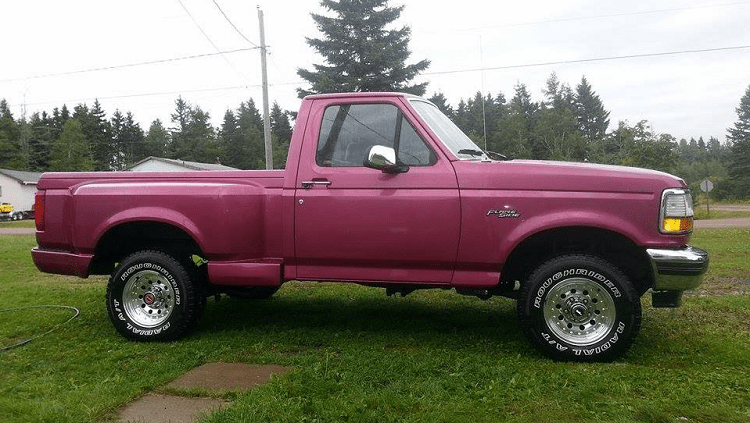 The table below breaks down the payload capacity for each 1993 Ford F-150 model. (Source: Ford 1992 F-Series Brochure)
Cab Type
1993 Ford F-150 Model
Average Payload
Regular Cab

4×2 Short Bed

1472 lbs/668 kgs

4×2 Long Bed

1567 lbs/710 kgs

4×4 Short Bed

2100 lbs/953 kgs

4×4 Long Bed

2083 lbs/945 kgs

SuperCab

4×2 Short Bed

1830 lbs/830 kgs

4×2 Long Bed

1915 lbs/869 kgs

4×4 Short Bed

1820 lbs/826 kgs

4×4 Long Bed

1670 lbs/757 kgs
1993 Ford F-150 Common Problems
Here's a look at some of the commonly reported problems of the 1993 Ford F-150, as listed on Repair Pal.
Heater Failure
The 1993 Ford F-150 is one of the numerous model years that develop this issue that's commonly reported in vehicles that have covered an average of 143,000 miles. Users have reported that the heating in the cabin fails to function completely, or just a small amount of heat is blown into the cabin. 
Most often, this issue is caused by the failure of a blend air door actuator but it could also be a result of a faulty thermostat.
Rough Idling
Several models of the F-150 have been reported to have this issue, and this includes the 1993 model. On the milder end, users have complained that their F-150 has intermittent rough idling that can be felt in the car.
In most vehicles, the truck starts smoothly but idling changes once the vehicle warms up. Sometimes the smell of gas comes from the exhaust. 
This problem is caused by an EGR (exhaust gas recirculation) valve that's stuck open, allowing exhaust gas to re-enter the engine. The solution: replace the EGR valve and sensor. 
Rear Differential Issue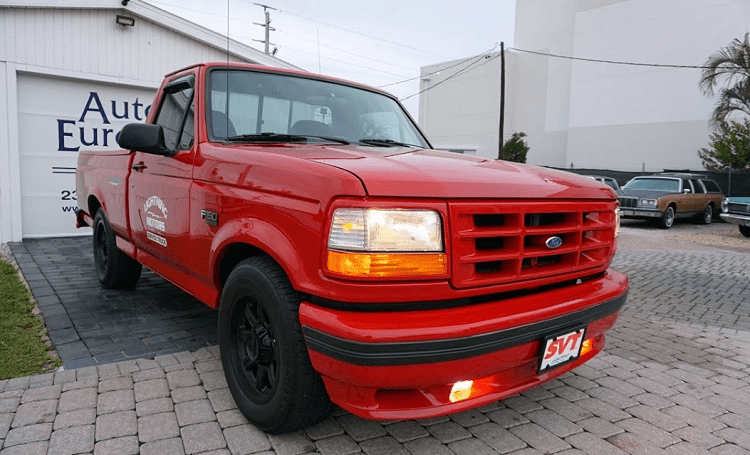 Noted in Ford F-150s from 1991 to 1993, vehicles with this issue produce a grinding noise in the rear when turning, driving on rough terrain, or after a long highway drive. To solve the issue, you'll have to replace the differential clutch kit. 
The problem is common in F-150s that have covered over 100,000 miles, but some lower mileage vehicles have also had this issue.
Leaking Oil Pan Gasket
1993 Ford F-150s that have covered an average of 120,000 miles are more prone to developing this issue. A result of this would be a burning smell when the truck is running, because of the accumulation of oil on the exhaust system. In most cases, this problem is fixed by replacing the oil pan gasket. 
Damaged Alternator Connector
This issue is common in the fourth-generation Ford F-150 model, especially in 1992, 1993, and 1994 trucks, among a few later years. Usually, the battery light turns on to indicate a loss of connection to the alternator resulting from damage to the wire harness. This is fixed by replacing the wire harness connector.
1993 Ford F-150 Replacement Parts
It's no doubt that your 1993 Ford F-150 will require some parts to be replaced at some point – this truck is almost 30 years old after all. Ford's official dealers are a good place to start your search, but it might be difficult to find parts for this 1993 model and some orders may take over two weeks to fulfill.
Carid.com has a wide variety of parts and accessories for most vehicles, and this includes the 1993 Ford F-150. However, you'll have to settle for third-party brands. Other places where you can buy new replacement parts are Amazon and eBay.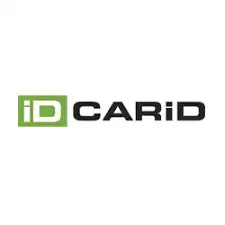 1993 Ford F-150 Recommended Accessories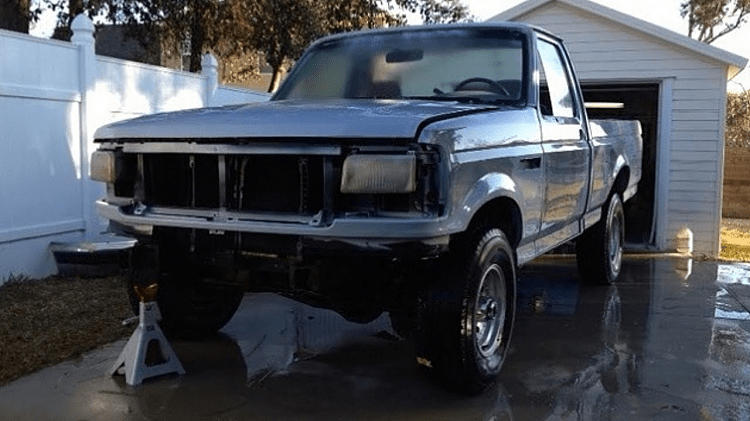 Tonneau Cover
There are reports that tonneau covers can improve your truck's gas mileage by about 1.8%. Without a cover, your truck's bed will trap the air flowing over it, thereby increasing drag and forcing the engine to work harder. A cover will eliminate this by improving the truck's aerodynamics, allowing air to freely flow over the bed. 
The more obvious reason to get a tonneau cover would be to protect your cargo from the elements (and from thieves). You can choose between a soft cover, which is the cheaper option, or a hard cover, which offers greater security. There are also folding, roll-up, hinged, and retractable styles that you'll have to consider.  
Winches
If you intend to take your truck offroad, then you'll need to have a winch on hand. These can either be electric or hydraulic, with the former being the most commonly used by average offroaders.
Electric winches draw power from the car's battery and are the easiest to install and use. Hydraulic models, on the other hand, are more powerful and they're recommended for extreme offroaders. 
You'll also need to choose between a steel or a synthetic winch cable. Synthetic cables are considered the better options as they're stronger and lighter than steel. 
Some of the best winch brands are Warn, Smittybilt, X-Bull, and Champion.
Custom Horn
Pickup trucks don't have to be serious workhorses all the time; you can jazz your 1993 Ford F-150 with a fun custom horn. Still, you can get this accessory if the vehicle's factory horn fails for some reason. 
You can opt for an air horn, a musical horn, or a simple electric horn. The loudest of these is the air horn, but they're not as easy to install as their electric counterparts. 
Chrome Trim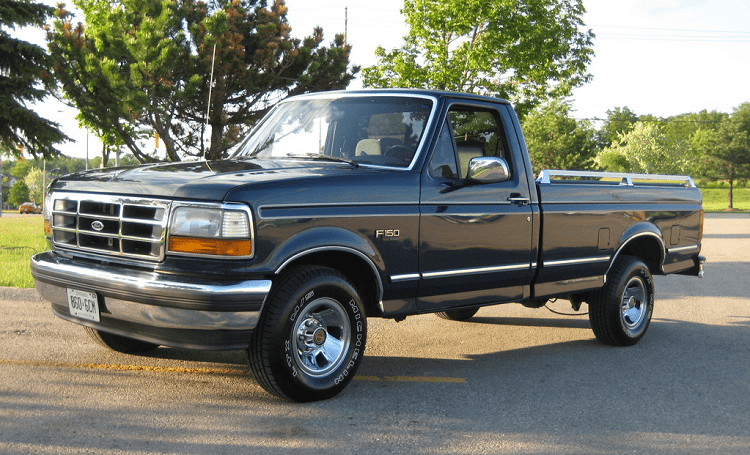 You can transform the look of your 1993 F-150 by adding chrome trim that will give it a more modern look. There are chrome door handles, fender trim, mirror covers, window trim, and gas cap covers, among others, which are designed to fit your vehicle. 
Other than style, these accessories offer a layer of protection to the truck's body, with some designed to withstand high impact. 
You can buy chrome trim for your 1993 Ford F-150 on Carid.com or carparts.com.
Bumpers
The right bumper for your truck will boost the vehicle's style as well as offer functionality. And if you're getting a winch, you'll need a strong bumper on which to mount it.
You'll need to consider whether you want a full- or partial-width bumper, whether you need bull bars, and if you'll be installing secondary lights on the front. 
There are different types of bumpers, ranging from heavy-duty to modular, all of which are purpose-built for different scenarios.
For instance, heavy-duty bumpers are meant for extreme offroaders who might require to winch themselves from time to time. Here's an article that dive's deeper into the types of bumpers and what to consider when choosing one.
We also wrote an in-depth article on the Ford F150 accessories, so check it out here to find out more.
1993 Ford F150 Competitors
Second-Generation Dodge Ram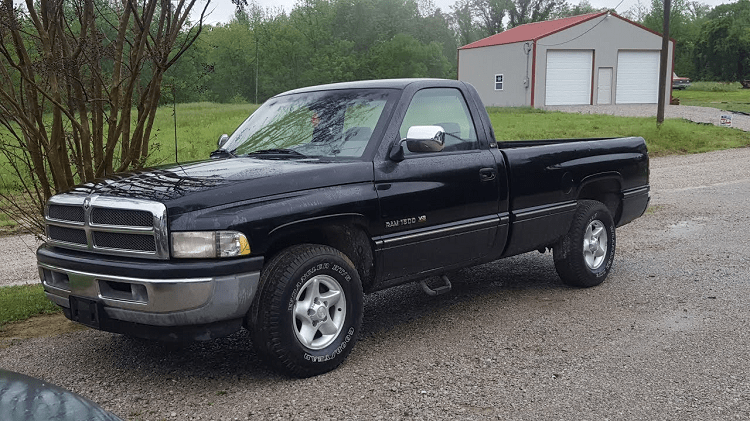 Dodge's second-generation Ram pickup truck ran from 1994 to 2002, within which period the vehicle received various facelifts. My favorite year in this generation is 1994, which debuted a stylish, muscular design, characterized by a curvier shape than its 1993 sibling. This design was lauded by many, earning the vehicle the 1994 Truck of the Year award. 
The changes extended to the interior, with the 1994 model getting more storage space in the glove compartment as well as the center console. This vehicle is slightly wider than the Ford F-150, so there's a bit more hip room, but headroom is similar in both trucks.
Dodge gave its 1994 Ram four engine options: a modest 3.9-liter V6 with 175 horsepower, a 5.2-liter V8 with 220 horsepower, a 5.9-liter V8 with 230 horsepower, and a gargantuan V10 that could produce a staggering 300 horsepower.
Unlike Ford's 1993 F-150, the Ram came with extra safety features that were considered a luxury in the early 90s. These included driver airbags that came as standard on all trim levels, as well as optional four-wheel antilock brakes. 
Speaking of trim levels, this truck had four: the top-tier Laramie SLT, the mid-tier ST and LT, and the entry-level WS. Dodge also offered the option of two-wheel and four-wheel-drive.
1993 Chevrolet k1500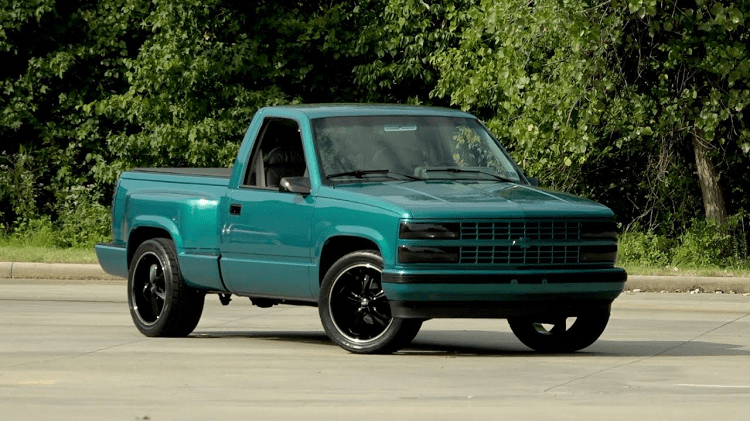 Back in the early 90s, Chevy ran against stiff competition from their Ford and Dodge rivals, with the growing popularity of the F-150 and the muscle of the Dodge Ram.
Despite this, the 1993 Chevy k1500 remained a worthy adversary, designed for hauling heavy cargo. Granted, compared to its rivals, this truck isn't as good-looking, although enthusiasts might argue to the contrary. Its four headlamps are iconic to the k1500, and its boxy shape was a common design in its era. 
The Chevy truck offered four engine options: a 4.3-liter V6, a 5.0–liter V8, a 5.7-liter V8, and a powerful 6.2-liter V8. There were also two body styles – a regular cab and an extended cab. You can get the Chevy for as little as $3000 and as high as over $15,000. 
First-Gen Toyota Tacoma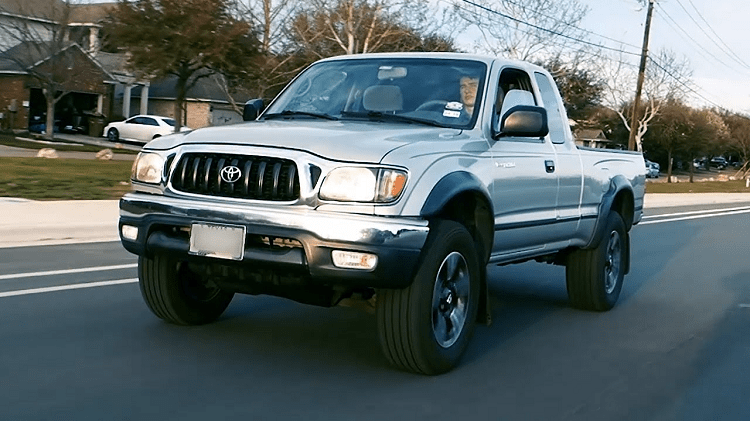 First launched in 1995, the Toyota Tacoma is renowned for its reliability and strength. The 1995 model came into a competitive market that was dominated by the F-150.
This pickup truck is smaller than Ford's, with smaller engine sizes on offer. Toyota offered the option of a 2.4-liter four-cylinder, 142 horsepower engine, a 2.7-liter four-cylinder producing 150 horsepower, and a 3.4-liter V6 that had an output of 190 horsepower.
These engines pale in comparison to the massive engines in the Dodge, Chevrolet, and F-150 trucks, but it's an alternative for the budget-conscious driver, offering excellent fuel economy. Plus, it goes without saying that Toyota's engines are significantly more reliable. 
There were two body styles available – the regular cab and the extended cab – but the double cab was available from 2001. 
Frequently Asked Questions
Question: Is a 1993 Ford F150 Reliable?
Answer: The 1993 Ford F-150 is a reliable truck if it's well taken care of. According to user reports, an F-150 is able to run like new for over 200,000 miles if properly maintained.
Question: What Year Ford F150 Should I Avoid?
Answer: 2004 is considered by enthusiasts to be the worst year for the Ford F-150 because of numerous engine failure reports in that year. The 2004 model also had a problem with the gas tank mounting, which necessitated a recall of over a million trucks.
Question: How Long do Ford F150 Engines Last?
Answer: On average, a Ford F-150 engine will last about 225,000 miles before requiring an engine rebuild. If well maintained these trucks can last up to 300,00 miles.
Finally
1993 is considered one of the best years for the Ford F-150 truck, so if you're considering getting one, this vehicle is likely to offer the durability and strength expected of a pickup truck.
However, this vehicle is close to 30 years now, so be sure to take the time to inspect the frame and body for rust. Also, consider getting one with less than 150,000 miles to assure you of a couple more years of service.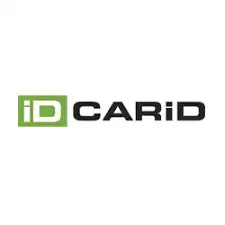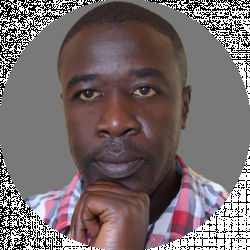 Latest posts by Barry Juma
(see all)