The popularity of the Tacoma pick-up truck remained intact in 2002, 7 years after Toyota released the very first model of this first generation. This generation was (and still is) one of the most reliable for the Toyota Tacoma, with 2002 upholding this reputation.
There isn't much of a difference between the 2001 and 2002 Toyota Tacoma, with the latter year upholding the minor facelift done in 2001. But that's not a bad thing as the 2001 model was considered a workhorse with appealing rugged looks.
In this 2002 Toyota Tacoma guide, you'll find out more about the quirks and features of this 20-year-old vehicle to help you decide whether it's worth your hard-earned cash.
Bottom Line Upfront
The 2002 Toyota Tacoma is a reliable car that is worth considering in the 2020s. This vehicle is a workhorse that's designed to haul light to average loads. However, if you'll be carrying or towing heavy loads, opt for the auto as the manual transmission overheats when overworked.
2002 Toyota Tacoma Overview
Exterior Look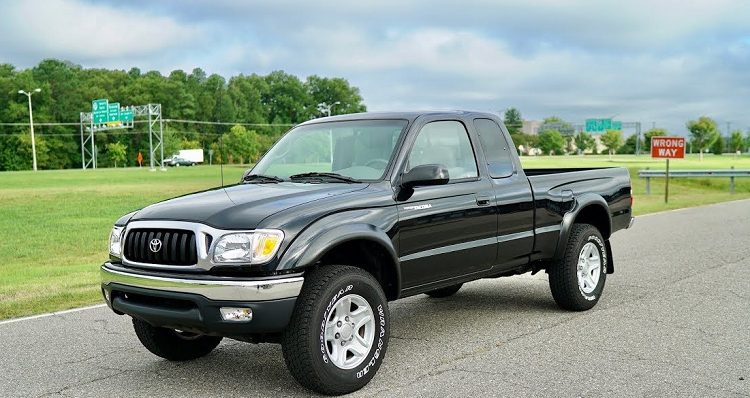 The 2002 Toyota Tacoma looks similar to its older brother, the 2001 model, which received a mild facelift that carries on into the following years. Toyota changed the grille – it now had vertical bars – and raised the hood a little. The front bumper turn signal lights were also changed, with the 2001 to 2004 models getting larger rectangular ones.
So, much like the previous year, the 2002 model came with a slightly more aggressive look than the 2000 and earlier models. Its 4×4 version looks the best, in my opinion, with higher ground clearance and larger tires. The 2-wheel-drive versions sit lower on the road, designed mainly for the tarmac.
If you're familiar with the 2001 model (check out this guide if you're not), then the 2002 Toyota Tacoma will give you feelings of deja vu. 
Body Types
Similar to the previous year, the 2002 Toyota Tacoma came in three body types: 
Regular cab 

Xtracab 

Double cab
The regular cab offers the largest cargo space, boasting a long bed and two doors. This model is purely for those interested in hauling loads. 
The Xtracab model has a slightly larger cabin than the regular model, with a bench behind the front seats that's a tight fit for adults and rather uncomfortable for kids. Moreover, the extra cabin space means a shorter bed than in the regular cab.
If you want the best of both worlds – carrying cargo and passengers – then the double cab is for you. This model has a short bed and four doors for the back-seat passengers. Sadly, the rear seats have little knee room, making this row uncomfortable for tall passengers. 
Trim Levels
The 2002 Toyota Tacoma came in three trim levels: Base, PreRunner, and S-Runner. Each trim level came in either the regular cab, Xtracab, or double cab variations, except for the regular Base models which didn't have a double cab variant. I say, 'regular' Base because there was also a Base V6 model that had a double cab option. 
The entry-level Base models were (and still are) regarded as the workhorse, targeted at those who simply want to haul cargo. A step up is the PreRunner models, which have a couple extra luxury features. The sportiest member of the family is the S-Runner, that came with a V6 engine as standard (more on the engines later).
MSRP Value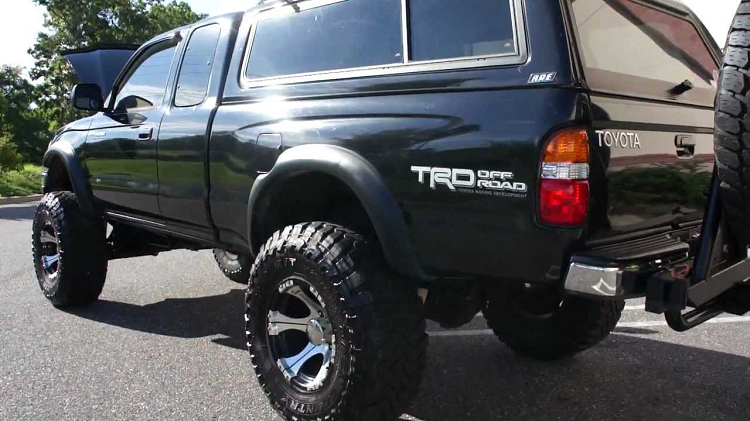 Here's a table breaking down the MSRP value of each 2002 Toyota Tacoma variant.
| | |
| --- | --- |
| 2002 Toyota Tacoma Model | MSRP Value |
| Base 4×2 Regular Cab | $11,900 |
| Base 4×2 Xtracab | $14,540 |
| Base 4×4 Regular Cab | $16,310 |
| Base 4×4 Xtracab | $18,430 |
| Base V6 4×4 Xtracab | $19,520 |
| Base V6 4×4 Double Cab | $22,120 |
| PreRunner 4×2 Regular Cab | $13,890 |
| PreRunner 4×2 Xtracab | $16,490 |
| PreRunner 4×2 Double Cab | $18,110 |
| PreRunner V6 4×2 Xtracab | $18,340 |
| PreRunner V6 4×2 Double Cab | $18,970 |
| S-Runner 4×2 Xtracab | $18,060 |
Current Value
The 2002 Toyota Tacoma has held its value quite well, mainly because of the vehicle's reputation for reliability. Currently, according to Kelley Blue Book, you can get a used 2002 Tacoma from a dealer for between $5000 to $15,000, depending on the vehicle's mileage, drivetrain, engine, and trim level.
Its relatively high price is attributed to the Tacoma's popularity in the used market. However, you might get a better deal from a private seller. 
2002 Toyota Tacoma Features and Specs
Engine Options
Just like in the previous year, the 2002 Tacoma offered three engine options: the 2RZ 2.4L four-cylinder engine found in its 2WD models; the 3RZ 2.7L four-cylinder engine in the 4WD models; the 5VZ 3.4L V6 found in the S-Runner as well as the Base V6 and PreRunner V6. 
These engines has a power output as listed below;
2RZ 2.4L 4cyl – 142 hp, 160ft/lbs torque
3RZ 2.7L 4cyl – 150 hp, 177ft/lbs torque
5VZ 3.4L V6 – 190 hp, 220 ft/lbs torque
Find out more about these engines in our 2001 Toyota Tacoma guide.
The 2.4L model has an estimated fuel consumption of 22mpg in the city and 27mpg on the highway. This is the most economical of the lot, but the 2.7L engine isn't too far behind – it has a city/highway consumption of 18/21mpg.
If you opt for the thirsty V6, you'll have to contend with a fuel consumption of 17mpg in the city and 19mpg on the highway.
Transmission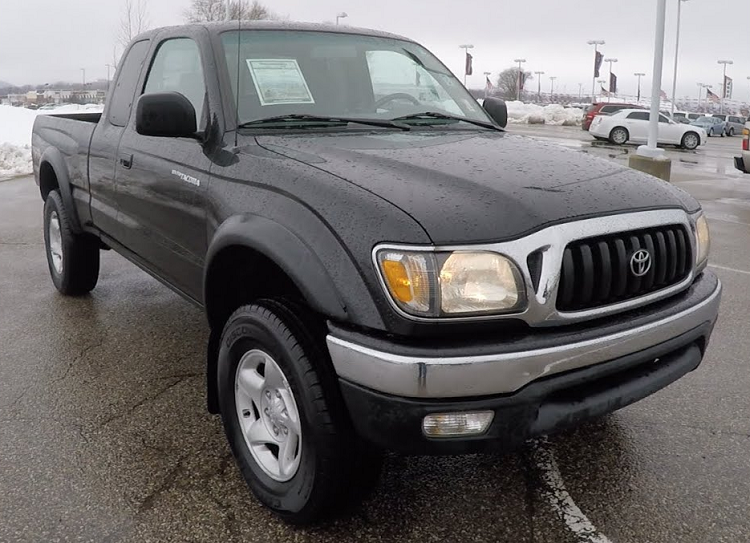 Toyota offered either a five-speed manual transmission or a four-speed automatic transmission in the 2002 Tacoma. Enthusiasts praise the Tacoma's five-speed manual transmission's smooth shifting that gives it fast acceleration.
However, as was the case in the 2001 model, the manual transmission struggles to haul heavy loads as the clutch tends to overheat. For heavy work, go for the automatic transmission.
Drivetrain
There are both rear-wheel two-wheel-drive and four-wheel-drive options with the 2002 Tacoma. The 4×4 models are only available in the Base trim level, and if you want a 4×4 double cab, you'll only get it with a V6 engine. Still, this is the one to get if you're looking for the best off-road performance. 
Safety Features
As standard, the 2002 Toyota Tacoma has driver and passenger airbags as well as height-adjustable seat belts with pre-tensioners. Optional features were daytime running lights, a panic alarm, and a theft-deterrent alarm system.
Ignition disable was also available for an extra cost, and the double-cab models also had child safety door locks.
Cargo and Towing Capacity
Nothing much changed in terms of cargo and towing capacity in the 2002 Toyota Tacoma, from the 2001 model. Take a look at our 2001 Toyota Tacoma guide to find out about this vehicle's cargo capacity. 
2002 Toyota Tacoma Common Problems
Poor Auto Transmission Shifting
This problem appears in Toyota Tacoma models from 1995 to 2015, which have clocked about 125,000 to 150,000 miles. Some users reported that their vehicles would drive at high RPMs when at highway speeds, and then abruptly shift to lower RPMs. Mainly, the vehicle would refuse to shift to a higher gear or fail to downshift as expected. 
The solution to this is replacing the shift solenoid or readjusting the throttle position sensor – thankfully, most often, there's no need to replace the entire transmission system. 
Bad Air Flow Sensor
Noticed in Toyota Tacoma models with close to 200,000 miles, the first sign of a bad airflow sensor is the check engine light turning on followed by altered engine performance. This is because the faulty sensor isn't relaying the correct data to the engine's computer to determine the right amount of fuel for the engine to use. 
If your 2002 Toyota Tacoma has this issue, you may notice the vehicle consuming more fuel than usual, or it might stall because the engine isn't receiving enough fuel. 
The solution to this is either cleaning the airflow sensor or replacing it. 
Throttle Position Sensor Out of Adjustment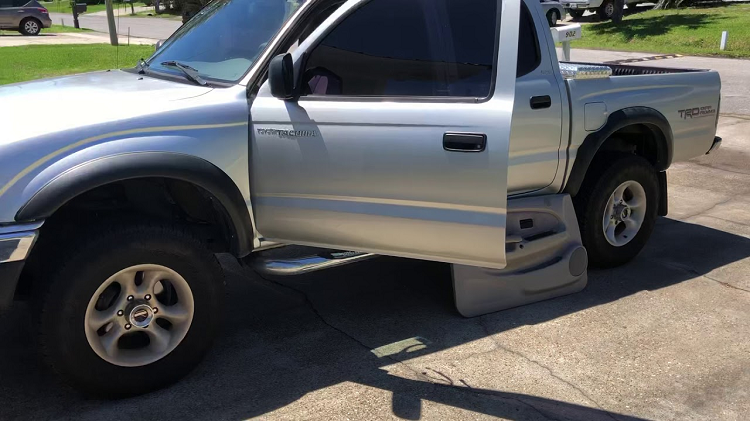 The 2002 Toyota Tacoma is likely to develop this problem, which is also common in models from 1995 to 2000. The throttle position sensor is usually expected to last for about 80,000 miles, so if your vehicle has higher mileage than this then this part might need to be replaced.
Vehicles with a faulty throttle position sensor will stall when idle or jerk when you step on the gas. Most owners reported that the Tacoma doesn't accelerate when you quickly step on the gas; it only picks up speed when the accelerator is gradually pressed. Drivers also noticed poor fuel mileage.
To fix this, you'll need to replace the throttle position sensor. 
Rough Idling and Backfiring Engine
Toyota Tacoma models from 1995 to 2004 were noted to have soft engine valve seats, leading to these seats getting eroded after continuous contact this the valves over a long period of time. As a result, the valves don't form a tight seal over the cylinders.
This problem is common in Toyota Tacomas with a mileage of about 160,000 miles and the main symptom is rough idling and backfiring. The check engine light will also turn on and you'll notice the engine operating at lower power than normal.
Owners of the affected years are advised to have their vehicles inspected every 40,000 miles to avoid damage to the valves. If you're looking for a 2002 Toyota Tacoma, look out for vehicles with P0300, P0301, P0302, P0303, and P0304 codes. 
2002 Toyota Tacoma Model Recalls
Suspension and Steering Recall
The 2002 Toyota Tacoma was among a number of Tacoma models that had an issue in the lower ball joint of the front suspension that was caused in the factory.
It was discovered that the ball joint's surface had scratches that would result in excessive wear and looseness. Toyota warned that the lower ball joint in vehicles with this defect may eventually separate from the knuckle, cutting off the driver's steering control.
In 2005, there was a recall of over 750,000 units and the lower ball joints were replaced by dealers. 
Body and Interior Recall
In 2013, it was reported that Toyota Tacoma models from 2001 to 2004 that were originally sold in some US cold climate states had spare tire lift plates that were prone to corroding. Because of this, the spare tire would detach and fall off.
Toyota conceded that this was because the said models' spare tire lift plates weren't well coated with anti-rust materials and were highly likely to rust in the cold states. Find out which states these were here.
Keenly inspect the spare tire plate underneath the car if you're buying a 2002 Toyota Tacoma that was originally registered in one of these states.
2002 Toyota Tacoma Replacement Parts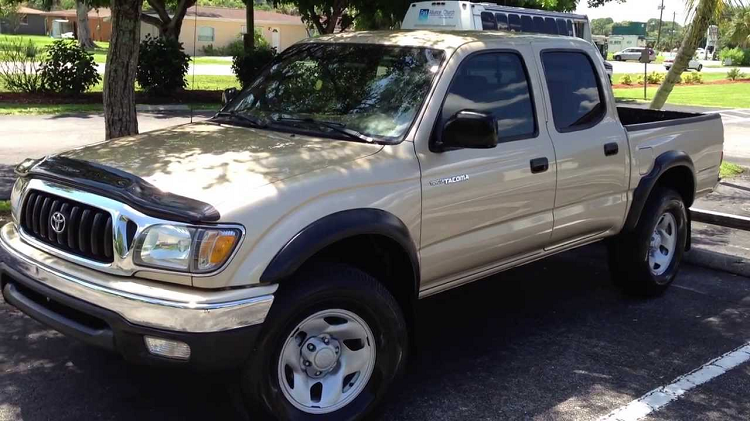 Toyota's official website lists OEM parts for all their vehicles, including the 2002 Toyota Tacoma. I did a breakdown of some common replacement parts and the prices in the 2001 Toyota Tacoma model guide. Check it out here.
You can also buy OEM and third-party replacement parts on Carid.com.
2002 Toyota Tacoma Accessories
Below is a list of four handy accessories that you can buy for your 2002 Toyota Tacoma. For a deeper look at the best Toyota Tacoma accessories, check out this article.
Floor Mats & Liners
Costing from about $40 to over $200, floor mats and liners are a worthy investment to protect your Tacoma's carpet. Depending on the area you live in, you can choose mats that offer protection against mud, snow, or regular everyday dirt. 
Some of the best brands are SMARTLINER, WeatherTech, Rugged Ridge, and Kraco, among many others. Whichever brand you opt for, make sure that it fits perfectly, to prevent dirt from finding its way past the mat.
You also have the option of getting custom-made mats for a perfect fit, but prepare to pay more for these. Universal mats are great if you're on a budget – there are mats for all (or almost all) car models.
Seat Covers
Toyota Tacoma's are workhorses that take a beating over the course of their life. The car's seats are likely to bear a portion of the brunt of this abuse but you can keep them looking as good as new with seat covers. 
Seat covers for the 2002 Toyota Tacoma cost about $150, but this depends on the material and brand you choose. The main thing to consider, other than your budget, is the right fit for your Tacoma, and whether you'll opt for a custom cover or a universal one. 
From my research, I found that the best-rated covers were those made by Luckyman Club, Oasis Auto, and FH Group, but there are many more brands that make excellent covers, so don't limit yourself to these ones.
Truck Bed Tents
If you're planning to take your 2002 Toyota Tacoma on off-road adventures, then a truck bed tent will come in handy. Coupled with a truck bed mattress, a bed tent gives you a warm place to spend the night when out in the wilderness. 
Consider the tent's height to make sure you're not too cramped. Also, look for brands that offer ample interior storage and adequate ventilation. However, most importantly, consider a tent that can survive all weather conditions; it also needs to be waterproof. 
You can get a good truck bed tent for as little as $120. 
Trailer Hitches
When looking for a trailer hitch, the main consideration is its towing capacity. This, of course, depends on how much of a load you'll be towing. If you're interested in getting a trailer hitch for your Tacoma, this in-depth article has all you need to know about the hitch classes, and it should help you find the right one for your truck.
Trailer hitches for the 2002 Toyota Tacoma cost from $100 for a basic one to over $1000.
2002 Toyota Tacoma Competitors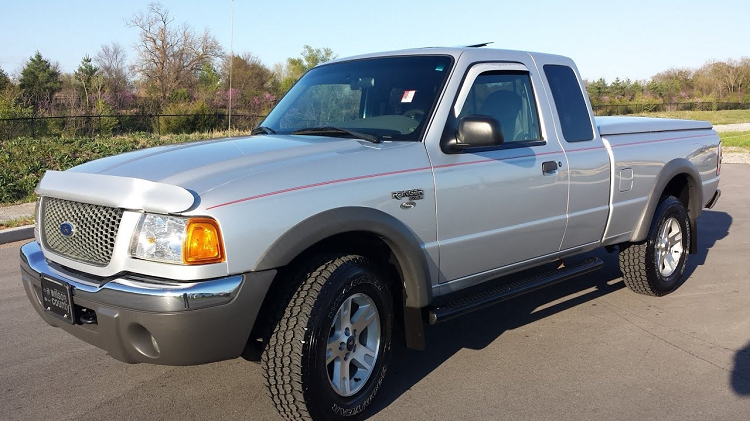 2002 Ford Ranger
The Ford Ranger has always been a worthy competitor in the pickup truck segment, but not nearly as popular as the F150. However, if you're looking for an alternative to the 2002 Toyota Tacoma, the 2002 Ford Ranger is one you'd want to consider.
Sadly, this year wasn't a very good one for the Ranger, with a barrage of complaints ranging from transmission issues to broken frames that led to about seven recalls.
Although these problems are a putoff to any car buyer (as they should) you can still find a good 2002 Ford Ranger that has had the problematic parts replaced in the recalls or by the owner.
And since this wasn't a popular year for the Ford Ranger, prices in the used car market are likely to be significantly lower than for a 2002 Toyota Tacoma. In fact, you can get a Ford Range with less than 200,000 miles for as little as $4000.
The Ranger came with three engine options back in 2002: a 2.3-liter, four-cylinder engine, a 3.0-liter V6, and a 4.0-liter V6. From these engines, you'll get 135, 154, and 207 horsepower respectively. Coupled with the engines, you can get either a five-speed auto or a five-speed manual transmission. 
You can only get the Regular Cab and Super Cab body types in the 2002 Ford Ranger, but there's no double-cab variant. Thankfully, you can get either a two-wheel-drive or a four-wheel-drive model.
First Gen GMC Canyon
The first generation of the GMC Canyon ran from 2004 to 2012, and as is the case with most first-gen vehicles, this one had some teething problems that included a crude and noisy engine, according to Consumer Reports.
However, the GMC Canyon gained a decent following in the midsized pickup truck market when it was released, and it still is an alternative for the Toyota Tacoma. 
You can get three engine options in the first-gen GMC Canyon: a 2.9-liter four-cylinder engine, a 3.7-liter five-cylinder engine, and a 5.3-liter V8, and a choice of either a four-speed auto or a five-speed manual transmission. There are also two-wheel-drive and four-wheel-drive iterations. 
Just like the 2002 Ford Ranger, the first-gen GMC Canyon has lost a lot of its value over the years, with a current value of between $4500 and $6500, according to Kelley Blue Book. 
Also, consider these alternatives to the 2001 Toyota Tacoma.
Frequently Asked Questions
Question: What is a 2002 Toyota Tacoma Worth?
Answer: According to Edmunds.com, the value of an outstanding 2002 Toyota Tacoma is between $5000 and $8000, a clean one is between $4500 and $7000, an average one is between $3500 and $5500, and a rough one is between $2500 and $4000.
Question: Is 2002 a Good Year for Toyota Tacoma?
Answer: Yes, 2002 is a good year for the Toyota Tacoma, with few recalls and improvements on the issues that were noted in the 2001 model. 
Question: How Wide is a 2002 Tacoma Bed?
Answer: The 2002 Toyota Tacoma has a maximum bed width of 57.9 inches and 40.9 inches between the wheel wells.
Should You Buy a 2002 Toyota Tacoma?
The 2002 Toyota Tacoma is a reliable workhorse that is popular in the used car market. It is a pickup truck worth considering if you're looking for a mid-sized vehicle that can handle light to average work.
However, its popularity equates to high prices, with some selling for over $10,000. Take your time to find one that costs between $5000 and $7000 as this is the pricing sweet spot. 
Before you leave, find out about the 2003 Toyota Tacoma in this article.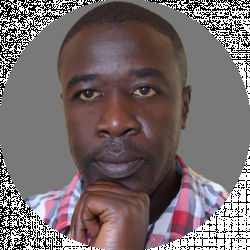 Latest posts by Barry Juma
(see all)