When it comes to compact pickup trucks, Toyota is well aware of what the buyers want, and their Tacoma model does the job. Toyota Tacoma carries a long-lasting heritage and a great reputation as a capable, rugged workhorse.
Heavy-duty pickup trucks will always have the upper hand as far as payload, towing, and utilitarian capabilities go. But not all 4×4 lovers are looking for all that potential. Why buy a full-sizer and waste fuel and maneuverability?
Whether it is a pursuit after a recreational adventure or just a simple task related to work, Tacoma was made to fit them all. Our 2003 Toyota Tacoma guide will see how this 4×4 Vehicle is a go-anywhere compact pickup truck that combines efficiency and durability under one roof.
What's New for 2003?
The 2003-year model received few changes and rolled out the assembly line with a bundle of safety features. Child Restraint System (CRS) anchors have been added to the seats on all models to protect your children.
The Tacoma also receives an anti-brake lock (ABS). The latter will prevent the wheels from locking up under extreme braking and regulate the brake pressure. As a result, the tire will keep rotating, preventing any slips and slides, and allow you to turn and avoid a possible collision.
On top of that are additional daytime running lights, a center-high mounted stoplight, a panic alarm, and a security system. In addition, the Tacoma gets side impact beams, front-mounted airbags for the driver and passenger (passenger airbag can be deactivated), and pre-tensioners that automatically tighten the seatbelts during a crash to keep the occupants in optimal seating position.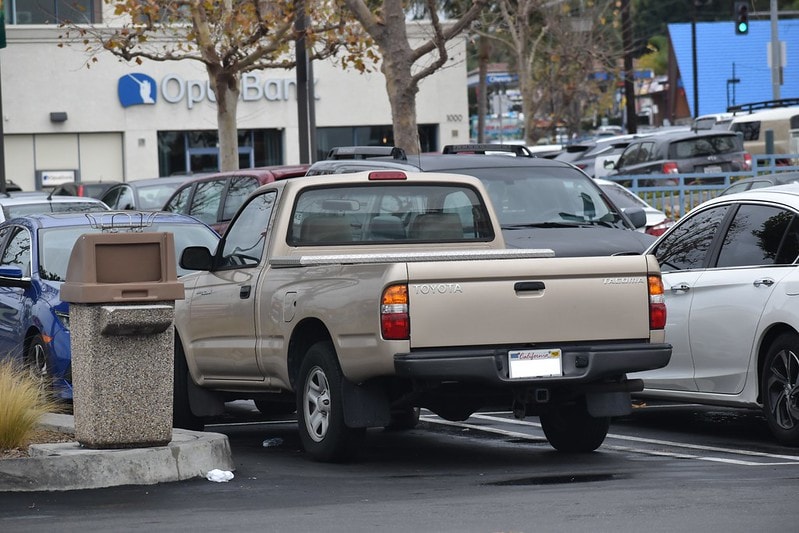 The Lineup
Toyota offers the Tacoma a ridiculously wide array of configurations and body styles. The lineup starts with the entry-level two-wheel-drive workhorse stuffed with reliability, quality, and durability. At the top sits a luxurious four-wheel-drive model that offers a sedan-like interior and ride quality.
The entry-level model is the Base, and it is the workhorse in the lineup. Next up is the PreRunner that comes loaded with additional luxury features. The last trim is S-Runner, which emphasizes more on the sporty side.
Body Configurations
Tacoma models are available in three different cab styles the standard (Regular cab), Xtracab (Extended cab), and Double cab. The regular cab has two passenger doors, and it provides an average shoulder space of 50″ inches, thus allowing three people to fit in the front with ease.
The Xtracab comes with more space behind the back seats. However, it is a bit of a tight squeeze to fit adults. The Double cab takes the win when it comes to passenger capacity and interior space. It can carry up to six people, and it has four doors for easy access to the cabin.
The Xtracab and Double cab are available with a 122″ inch long wheelbase and a 104″ inch short wheelbase. The regular cab is only available in the short-wheelbase version. In addition to the cab variations, you can opt for a long bed for more cargo space or a short bed. Whichever suits your needs best.
Prices and Possible Combinations
As I already mentioned, the Base model Tacoma is the entry-level trim, and it is the workhorse of the bunch. It starts at a retail price just a tad over $ 12,000, and it is frugal when it comes to convenience features.
This beast work is fitted with death resistant 2.4-liter inline four-cylinder engine that produces 140 horsepower and 160 foot-pounds of torque. The power plant is mated to a five-speed manual transmission with overdrive.
An Upgraded Version of the Base model includes a four-wheel-drive system, Xtracab, a long wheelbase, and a 2.7-liter four-banger that makes 150 horsepower and 177 ft-lb of torque. It comes with the same five-speed manual transmission and loads of niceties. The price tag for this spec starts from just under $ 17,000.
And It Doesn't End There!
The Base model is also available in a Double cab version with four-wheel drive and a bigger engine. A 3.4-liter V-6 with 190 horsepower and 220 ft-lb to be exact, mated to a four-speed automatic transmission with overdrive. It comes fully loaded for $ 20,000.
The PreRunner model is more off-road focused. It was designed in a pattern with the off-road racing pickups that were prepared for desert rallies. It is available as a regular cab, Xtracab, or Double cab. It is offered in both a long wheelbase and a short wheelbase.
It comes with two engine options: a 2.7-liter inline four-cylinder engine with 150 horsepower and 177 ft-lb of torque, or a 3.4-liter V-6 that makes 190 horsepower and 220 ft-lb of torque. Power goes to the rear wheels only via a four-speed automatic gearbox with an overdrive.
The price ranges from $ 16,000 to $ 22,000, depending on the body style, engine, and features you add.
Next in the lineup is the S-Runner. This model is the athlete among the rest thanks to its lowered and tuned suspension for better handling on the pavement. it features a 3.4-liter V-6 with 190 horsepower and 220 ft-lb of torque.
It drives the rear wheels only via a five-speed manual transmission with an overdrive. Interestingly the S-Runner is available in a long-wheelbase Xtracab only with enough space for four passengers.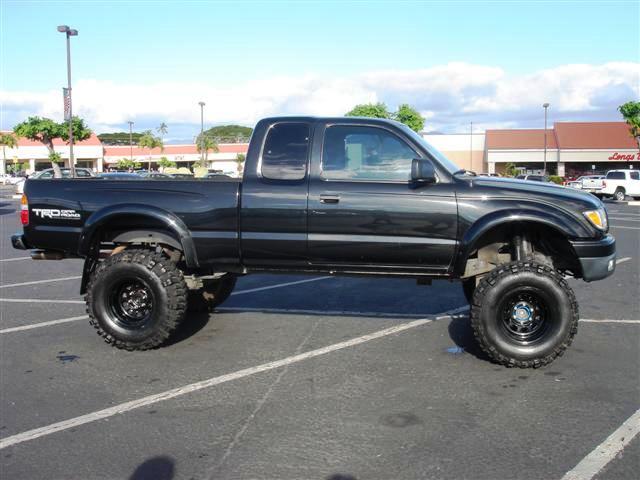 Interior
When you climb into a Toyota Tacoma's interior you will find it welcoming, comfortable, and functional. The regular cab might be a tight squeeze for drivers over six feet tall, but you can always opt-out for the Xtracab or the double cab. You get more space, recline your seat, and carry passengers as well.
As standard, the Tacoma gets a 60/40 split-bench seat at the front spacious enough to fit three passengers comfortably. The interior is nicely furnished with good quality cloth trim.
The extended cab area gets a folding table that serves as cupholders or provides additional support for the child restraint seat. The back seat of the double is large and roomy, providing you with enough room for your head and shoulders. Plus, lots of knee room to stretch out a bit during long hauls.
I would not recommend making long trips in the back seat of the Tacoma, though. It's because the back seat is a bit too upright, and it can get very uncomfortable, even painful, during long trips. Getting into the backseat is a bit of a faff as well since you have to swing your legs around the B-pillar.
The instruments on the dash are large and illuminated with bright orange, which makes them easier to notice and read. Some of the models in the lineup get the gauges in white. Nonetheless, the controls are placed well within the driver's reach, and they are functional.
One of the features that annoy me about Tacoma is the parking brake. It is a pull-out hand brake, which is awkward and makes the interior look older than it is. Fortunately, there are a couple of features to compensate for that. For instance, the interior comes with two auxiliary power outlets under the cigarette lighter and decent size door pockets to store stuff like a water bottle.
You also get a footrest on the driver's side alongside an assist strap on the windshield pillar, and the steering wheel is a four-spoke with a cozy and pleasant grip. More convenience features include cup holders, adjustable front seatbelt anchors, and auto-off headlights.
You can upgrade the seats to sporty bucket seats with driver lumbar support. They are a tad bit big for the interior, but they are very comfy.  The middle of the front bench seat can be folded and serves as an armrest with a storage area for your keys, phone, or cash.
The interior is available in cloth with leather trim, carpet floor mats, a full vinyl headliner, and wooden inserts on the dash.
Toyota offers the Tacoma with an optional moonroof to bright up the cabin and a roof rack in case the bed is full. It has two auxiliary visors, dual bins on all doors, and manual air conditioning.
Tacoma features AM/FM stereo, an in-dash CD player with six speakers, and cruise control with the control buttons on the steering wheel. Those features will surely make a long trip worth it.
The fuel filler cap is released from inside of the cabin. The dash contains an analog instrument display with a built-in clock, tachometer, engine temperature gauge, trip odometer, and a first aid kit for safety.
Power features include a one-touch power driver window, door locks with child safety locks, three outlets, and remote keyless entry.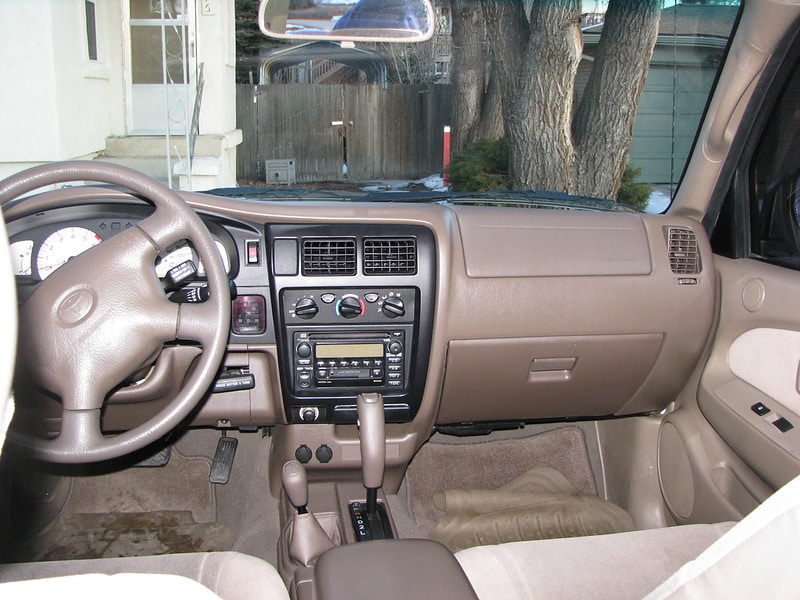 Exterior
Just like the interior, the exterior gets a bundle of features. It includes front and rear mud flaps, illuminated running boards for easy access to the cabin. The 4X4 versions come with skid plates just in case you decide to take a little detour off-road.
The bed is fitted with a regular bed liner with a soft tonneau cover, cargo net, and cargo bed extender. Bumpers are available in black, body-colored, or you can go the extra mile and make your Tacoma shine with chrome bumpers and grille.
A nice addition to the exterior look is the power side mirrors and fender flares in black or body colored. The rear end of the truck gets a sleek Stepside bed and Class II/ Class III towing group.
Warranties and on Duty Performance
Toyota protects its Tacoma models with a set of warranties that include five years/60,000 miles for corrosion perforation, powertrain, and any major component. Other warranties feature the basic three years/ 36,000 miles and a year for the accessories.
Although it is a compact pickup truck, it gets the job done when it comes to heavy-duty work. The payload and towing capacities vary between each model and depend on what engine you go for, body style, and rear-wheel or four-wheel drive.
The payload ranges between 1,500 lbs. and 2,000 lbs. max. As for the towing capabilities, it varies between 3,500 lbs. and 5,000 lbs.
For instance, a PreRunner Xtracab model with a V-6, rear-wheel drive, and four-speed automatic transmission can tow a max of 5,000 lbs. and carry up to 1,700 lbs. whereas a 4X4 Base Xtracab model with a five-speed manual can tow 3,500 lbs. and carry 1,600 lbs.
Fuel Economy and Ride Quality
Your experience with a truck like the Tacoma mainly depends on what model you choose and what equipment you put in it. All models drive differently. However, they all get the job well done.
The rear-wheel-drive models handle reasonably well on the road and provide a somewhat smooth ride. For true street riders, the S-Runner is the perfect fit. It comes with a lowered suspension, low-profile tires, and a punchy V-6 that will make you smile every time you step on it. It features Tokico gas shock absorbers and front and rear stabilizer bars.
It may be made as a sporty pickup, but it does provide decent towing and hauling capabilities like the rest of the rear-wheel-drive models.
Considering the power and torque outputs, the V-6 is fairly economical. It averages 18 miles per gallon in the city and 22 miles per gallon on the highway. The two available four-bangers are more fuel-efficient making them great competitors to the likes of Ford and Nissan.
The 2.4-liter achieves a mind-blowing 22 miles per gallon in the city and 25 miles per gallon on the highway. As for the bigger 2.7 four-banger, the numbers are crunched down but still impressive for a truck. It rates 18 mpg in the city limits and 21 on the highway.
The manual five-speed transmission is smooth during gearshifts. Accelerating into traffic in a Tacoma has never been this much fun.
The option four-speed automatic is not as fun as the five-speed, but it is the perfect match for the V-6. This combination offers power and torque delivery when need, such as moving a heavy load or trying to overtake other road users.
If you are addicted to off-roading, Toyota offers a TRD package for Tacoma. The TRD treatment includes a 4X4 system, Bilstein shocks, a locking rear differential, and a larger stabilizer bar. In addition to thick P265/70R16 B.F. Goodrich off-road tires, over fenders, and special TRD graphics.
On top of that, TRD graced the V-6 with a fully warranted supercharger, installed at the dealership, the boosts the power output by 40%. That means you have 260 horsepower instead of 190. The package costs about 1,400 dollars, but it is worth it.
The TRD suspension softens the rough terrains and gives a feeling of a smooth and creamy ride. It gets up, goes, and encourages you to go anywhere. The great handling on dirt roads continues on the paved roads regardless of the high center of gravity. The ride is on the stiffer side at low speed, but it pays well at higher speeds.
The 4WD-High button and Auto-locking hubs allow you to shift on the fly at speeds up to 50 miles per hour. That is convenient when the road turns from good to bad. The differential is controlled with a push-button, and it helps the Tacoma put the power to the ground and get out of ankle-deep mud and sand.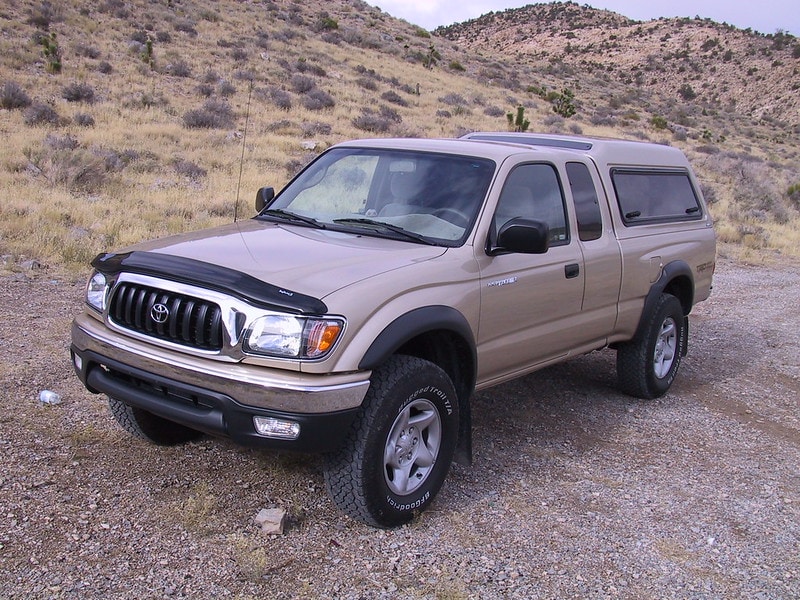 Packages and Accessories
Limited package ($3,855) include:
Air conditioning
Power windows, door locks, and mirrors
Intermittent wipers
Cruise control
Sport seats
Tachometer
Leather-trimmed tilt steering wheel and shift knob
Carpet floor mats ($76)
Bed liner ($299)
Receiver hitch ($359).
Other SR5 packages are available. They offer most of the features mentioned above alongside body-colored and chrome trims with unique badging. The price and content of each SR5 package differ according to the trim, engine, and body style of your Tacoma.
Stepside bed is an available option for $ 310. It adds rear bulging fender flares and a small step behind the passenger doors. It is available on the regular cab and Xtracab only.
Competitors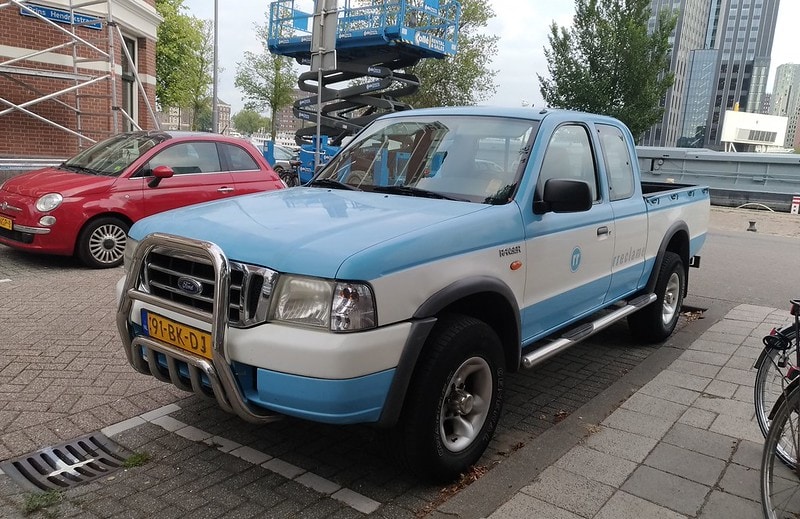 Toyota knows how to make great pickups, but Tacoma has tough rivals to compete with. The closest competitors to Tacoma come from the two of the biggest can manufacturers in the US, the Ford Ranger, and the Chevy S10.
Not to mention, Nissan is in the field with its model the Frontier, and GMC with its model the Canyon.
FAQs
Question: What generation is a 2003 Toyota Tacoma?
Answer: The 2003 Tacoma belongs to the 1995-2004 first generation that was classified as a compact pickup truck.
Question: Which generation of the Tacoma is the best?
Answer: According to consumer reports, the second-gen (2005-2015) is the best and most reliable generation.
Question: How long can a Tacoma last?
Answer: Depending on the way you drive, a perfectly maintained Tacoma can last up to 400,000 miles before requiring major repairs.
Conclusion – What Do We Think?
Quality, durability, and reliability. If that is on top of your priorities list, look no further. You cannot go wrong with a Toyota. It is true, there are other pickups on the market with more power, but very few you can offer the comfort, style, and performance combo that the Tacoma offers.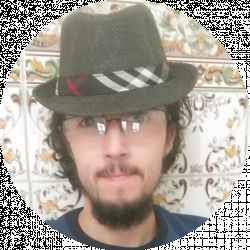 Latest posts by Tommy Verrcity
(see all)