Are you looking for a reliable second-hand truck and wondering if a 2002 F-150 would be a good pick? For years, Ford has proven itself by manufacturing robust and functional trucks, and this 10th generation model is no exception. And because they sold them in large numbers, there is always a wide range of used models to choose from.
With several cab sizes and drivetrain options, everybody can find the one that will match their needs. Still, choosing between all these variants may not be as straightforward as some might imagine. In addition, after being in use for almost two decades, not all of them are in the best shape. So, if you want to avoid buying a neglected truck or one that's not right for you, keep reading our 2002 Ford F150 Guide.
2002 Ford F-150 Specifications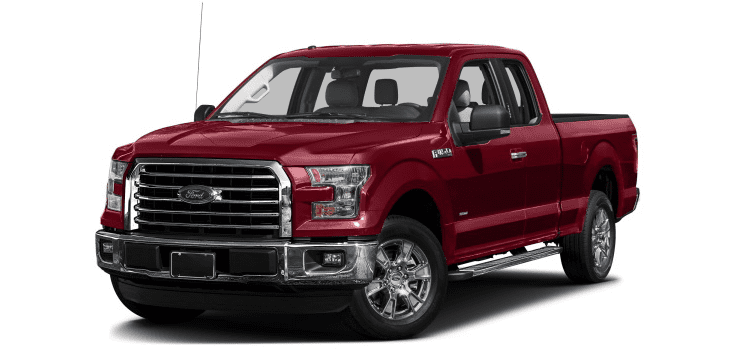 As with its predecessors, F-150 had several trim levels as an option, with each of them having a different driver in mind. Whether the buyer wanted a functional work truck, capable off-road machine, or comfortable cruiser, Ford had it all covered.
For the 2002 model year, buyers could choose between several variants, with each of them offering different drivetrains and options. Still, some features were consistent across the range, such as the option between rear-wheel-drive and all-wheel-drive system.
Base and XL
These entry-level F-150s were aimed at buyers who would primarily use their trucks as workhorses, focusing on functionality and utility. In its standard form, this truck came with a V6 engine which was coupled to a 5-speed manual transmission. There were also two V8 engines as an option, each of them available with a 4-speed automatic transmission.
A single bench Regular Cab came as standard, while SuperCab offered a second-row bench. When it comes to cargo space, both versions were available with either a 6.5-ft or a longer 8-ft bed.
In terms of equipment and creature comforts, both of these F-150 versions offered only the basics. Windows and side mirrors were manually operated, while a simple stereo was practically the only piece of equipment in it. Besides that, the XL versions featured chrome bumpers and cloth upholstery, which gave it a bit more stylish appearance.
XLT
As its name may suggest, this was a step up in the trim department from the XL. There were no significant differences between these versions from a mechanical standpoint. Under the skin, both of them used the same engines and had similar drivetrain options. On the outside, the XLT offered an additional SuperCrew cab version, which featured four doors and a spacious interior.
The level of equipment and features that came as standard was where the XLT differed from more basic versions. This included anything from power-operated windows and mirrors to alloy wheels and air conditioning. As a result, an F-150 with this level of trim was as comfortable as it was practical.
Lariat
When speaking about F-150 trim levels, Lariat is the one that takes the idea behind the XLT to the next level. The features that set it apart included leather seats, carpeted upholstery, and a stereo system with a CD player. As a result, the F-150 was a capable ranch or work truck with an interior similar to those of upscale passenger cars.
Posing as a more prestigious trim level, Lariat also introduced some changes under the hood. The V6 engine was not an option here, and the buyers could only choose between two V8 units. While the smaller engine was available with a manual transmission, the bigger one only came in a pair with an automatic.
King Ranch
Following an excellent reception of a Larian trim level, Ford decided to introduce an even more luxurious version. Named after the biggest ranch in the US, the King Ranch trim a top-shelf model that still retained its versatility.
As with Lariat, there were only two V8 engines to choose from, both of which came with an automatic transmission. Unlike all the other trims, this one only came with SuperCab and SuperCrew options. Fine-leather upholstery and heated bucket seats are just some of the features King Ranch trucks offered.
SVT Lightning
Among all F-150 versions and trim levels, the SVT Lightning was the one that caused the most excitement. The idea behind this unique vehicle was to show that trucks can be much more than utilitarian vehicles. To do that, engineers from Ford's Special Vehicle Team (SVT), fitted a supercharger to F-150's bigger V8 engine.
Other modifications, including lowered suspension and an upgraded drivetrain with lockable differentials, ensured the truck could handle the extra power. The result was an outstanding vehicle that was more of a muscle car than a truck. The SVT Lightning is powerful and fast even by modern standards, which explains its popularity among automotive enthusiasts.
Harley Davidson
To further promote their already popular truck, Ford has launched several special versions over the years. One of them was the Harley Davidson edition, which highlighted their relationship with this famous motorcycle manufacturer.
It was available in black color only and had a unique graphic package. Like King Ranch, it only had SuperCab or SuperCrew as an option, with bucket seats all around. The F-150 Harley Davidson shared a V8 engine with SVT lighting, although slightly detuned for this application.
2002 Ford F-150 MPG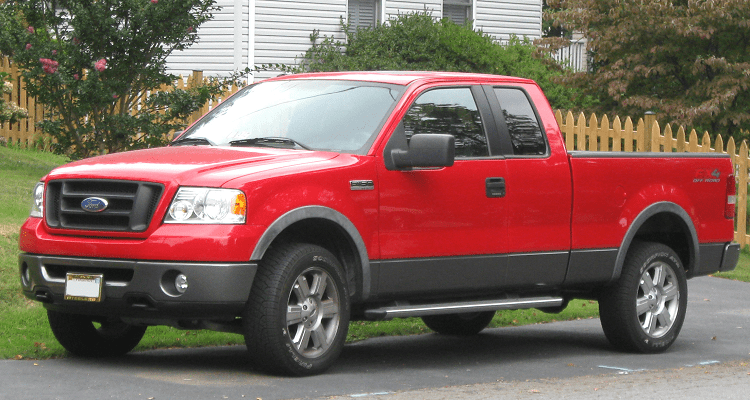 Average fuel consumption depends on several factors, with the engine under the trucks' hood being the most important one. The 2002 F-150 came with four engine options, each delivering different power outputs and corresponding MPG ratings.
2002 Ford F-150 Prices
When it was new, the retail prices for 2002 F-150s started out at $18.500 on average. For this, buyers would have gotten the basic model with a Regular cab and V6 engine. Still, these prices would go up sharply when selecting more luxurious trim levels and drivetrain options.
As a result, the top-of-the-range Lariat with a SuperCrew cab had a sticker price of $31,000. Special models, such as SVT Lightning or Harley Davidson, were even a bit more expensive.
2002 Ford F-150 Towing Capacity
The towing capacity of any given vehicle usually varies a lot, depending on several factors. Among them, the engine and transmission with its gearing ratio are the most contributing ones. As a result, an F-150 with a V6 engine and manual transmission has a towing capacity of just 2,000. This, however, can go up to 8,800 pounds for ones with a bigger V8 engine and automatic transmission.
Best 2002 Ford F-150 Accessories
Ford F-150 has always been a popular truck, meaning there is a wide range of practical accessories for it. As a result, owners can choose between seemingly endless product options, although finding the right one may be difficult. To make this easier, I will go through a selection of the most popular accessories among F-150 owners.
Floor Mats
Your F-150 is a versatile and capable truck that probably sees a lot of action on all sorts of terrains. If so, its carpets have to cope with challenges that range from mud and snow to dirt and small rocks. To prevent this from taking its toll on the upholstery, you should consider getting a set of robust floor mats.
There are many products suitable for this application, although I would highlight the FloorLiner from WeatherTech. These floor mats are custom made to fit the 2002 F-150 to an inch, providing superior coverage and protection. With a rigid rubber construction and purpose-designed surfaces, they are durable and will contain fluids and spillages with ease.
Seat Covers
There are several reasons why owners may consider fitting seat covers, with damaged or worn upholstery being one of them. Or they just want to keep the seats in pristine condition, which would increase trucks' resale value in the future. Lastly, stock seats in entry-level trucks usually look cheap and plain, which a set of seat covers would hide.
Whatever may be the reason, you will have a wide selection of 2002 F-150 seat covers to choose from. Still, I would suggest staying away from those that offer universal applications, as most of them will not fit just right.
Instead, buying a set of custom-tailored seat covers is a much better option, as they will fit snuggly. One of such products comes from Coverking, which offers precision-made seat covers for front and rear benches.
Roof Racks
Storage space is something that an F-150 has plenty to offer, especially when it comes with a longer, 8-ft bed. Still, there are cases when even this may not be enough, such as when going on vacation or camping. This is where roof racks come into play, as they offer additional space for all the luggage and sporting gear.
Among all the products on the market, I would point out the Aero Bars from Rhino-Rack as the most practical ones. With sturdy construction and sleek shape, they offer excellent load-carrying capabilities while ensuring less drag than most of its competitors. Additionally, they are universal, allowing the owner to use them on different vehicles they may have.
2002 Ford F-150 Replacement Parts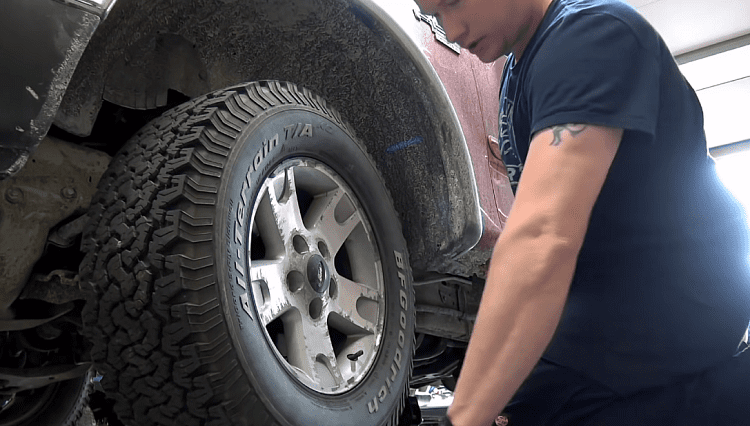 Regular maintenance and care is not something to skip on if you want your truck to last longer. For some tasks, such as oil changes or tune-ups, there are predetermined intervals during which they should be done.
As opposed to that, there are various parts that owners should replace depending on their condition. These are the components that either become too worn or otherwise damaged to do their job.
Tires
Among all components a vehicle has, tires are the only ones that keep it in contact with the surface beneath. Their job is to offer enough grip while also ensuring low rolling resistance and sufficient ride comfort. Still, even the best tires will eventually wear out, at which point the owner needs to replace them.
When choosing between different tire types, you should consider the way you use your truck. If you drive mostly on highways, touring tires may be the right pick. They offer low rolling resistance and keep the road noise down, improving ride comfort and reducing fuel consumption. However, if harsh trails or worksites are your second home, mud or all-terrain tires are the way to go.
Air Filters
The air that goes towards the engine carries particles of different shapes and sizes, including dust and soot. Because of that, all vehicles have air filters in their intakes, which prevent particles from causing damage.
It will trap them within itself and ensure that the engine is only getting clean air. As the times and miles go by, the filter gets filled up with dirt and dust, obstructing airflow. This will rob some of the engine performance and result in increased fuel consumption.
When buying a new filter for your F-150, you can choose between two main types. The OEM style paper filters, such as this one from FRAM, are the most common and offer an affordable price. Another option is the K&N performance filters, which you can wash and reuse several times.
Headlights
Just like most modern vehicles, a 2002 F-150 has headlights that use transparent plastic instead of glass. Such headlights are less likely to break under the impact, although they do have one major downside. Most of them will fade with time, which affects the visibility and makes the vehicle look neglected.
Annoying as it may be, having faded headlights on your truck is also an opportunity to update its appearance. There is a wide range of aftermarket lights that are brighter than stock ones and offer modern styling. If I were choosing for myself, these ones from ACANII would be my pick. They look much better than factory headlights while not being too pretentious, which is their biggest upside.
Brake Pads
An F-150 truck has a caliper at each of its wheels with a pair of brake pads inside it. When the driver presses the brake pedal, calipers push the pads against moving rotors, which stops the vehicle. Braking also creates friction and heat, which takes away a thin layer of brake pad material and wears them out eventually. How often this will happen depends on things like driving habits and vehicle loads.
Many aftermarket brake pads are available to choose from, although you should stay away from cheap alternatives. Most of them will not last long and may even cause rotors to overheat or wrap. Instead, go for some of the premium brands, such as this heavy-duty kit from Power Stop.
2002 Ford F-150 Mods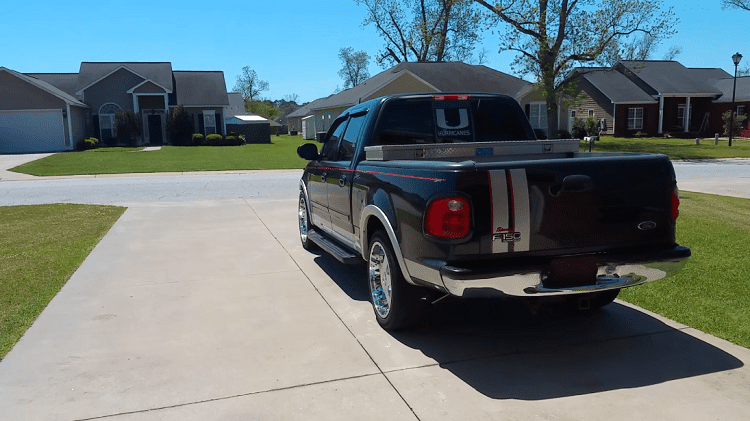 As with other popular vehicles, 2002 F-150 owners can choose from a wide range of aftermarket parts and upgrades. This allows any of them to modify their truck in a way that suits them best. Among all F-150 mods, those that will improve its off-road capabilities and performance are by far the most popular. If that is what you are looking for, there are several go-to items to consider.
Lift Kits
A factory ride height on any vehicle is a balance between road comfort and handling capabilities. However, most truck owners will focus on ground clearance and look for a way to increase it. One of the simplest and most affordable ways is installing a lift or leveling kit. It raises the truck higher from the ground, which improves its off-road capabilities and makes it look more aggressive.
There are many excellent lift kits on the market, with this one from Rough Country being among the most popular choices. It comes with new shock absorbers and all the hardware necessary to lift your truck by 2.5 inches.
Bull-Bars
If spending a lot of time on harsh terrains, you should consider adding some front-end protection to your F-150. Among possible alternatives, fitting a bull-bar such as this Armordillo unit is probably the simplest and most practical one.
With robust construction and an integrated skid plate, it will give your truck dependable protection against road and trail hazards. As another upside, the bull-bar can serve as a mounting point for extra fog and floodlights.
Fender Flares
Branches and flying rocks are something that may take their toll on your truck's bodywork and its paint. Many truck owners will prevent this from happening by installing a set of fender flares on their vehicles. These plastic moldings will wrap around the fender edges and protect them from mechanical damage.
There are also wider variants, such as these from Bushwacker, which ensure some extra tire coverage. Such fender flares are a must-have upgrade if you have a set of oversized wheels on your F-150.
2002 Ford F-150 Maintenance Schedule
Most car manufacturers have maintenance schedules for their vehicles, and the Ford F-150 is no different. These time or mileage intervals act as frames, during which owners should replace certain parts and perform corresponding tasks.
Still, you should know that these are the maximum values and only apply for optimal running conditions. So, if your driving routine includes frequent short trips or towing, you should consider shortening them.
Every 5,000 miles or 6 months, whichever comes first
Renew engine oil and filter
Check the serpentine belt condition
Every 30,000 Miles
Renew fuel filter
Renew engine air filter
Every 60,000 Miles
Renew spark plugs and ignition coils
Renew transmission fluid (manual only)
Every 120,000 Miles
Renew PCV valve
Renew transmission fluid (automatic only)
Renew rear differential fluid
Renew front differential fluid (4×4 vehicles only)
2002 Ford F-150 Recalls
As with many other vehicles that are almost two decades old, there are no recent 2002 Ford F-150 recalls. In the past, these vehicles had several issues with misaligned headlights that could affect visibility and result in a crash.
There was another significant recall, during which authorized dealers replaced corroded fuel tank straps that could have broken apart. When buying a truck, it would be a good idea to check it was a part of this recall.
2002 Ford F-150 Model Common Problems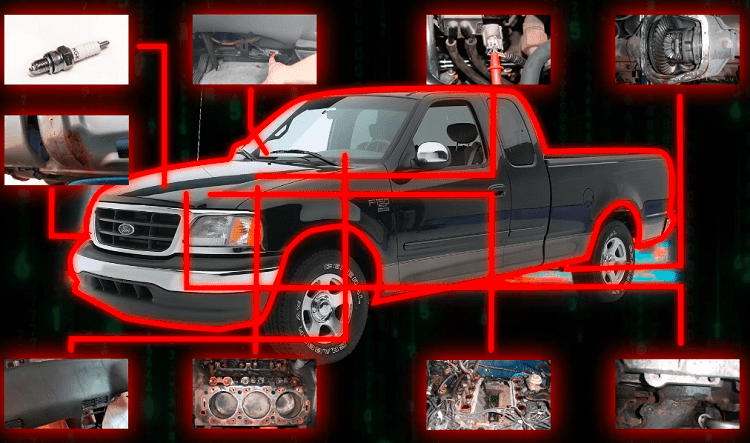 Being one of the late 10 generation models, the 2002 F-150 has no major issues. This is because engineers at Ford solved all the problems that flawed the early models by that time. Still, there are several components to keep an eye on, as they are known to fail more often.
All engines in these trucks have an EGR valve, which is short for Exhaust Gas Recirculation. This device helps reduce emissions by allowing a certain amount of exhaust gases back into the engine. It is quite common for this valve to seize, preventing it from controlling the flow of exhaust gases. Not only will this impact engine performance, but it may also cause running issues.
Inside a gas tank, there is a pump that transfers the fuel towards the engine. Most 2002 F-150s suffer from a high rate of fuel pump failures. This usually happens with no prior warning signs and leaves the vehicle stranded on the side of the road.
Many 2002 F-150 owners complain about brake performance, which may be insufficient or unbalanced. Among possible causes for this, corroded and seized brake calipers are the most common ones. This happens when the rubber boots that should protect the brake caliper internals from dirt and moisture fall apart.
There are many complaints about body panels whose alignment is less than precise, with front doors being the biggest issue. In addition to excessive wind noises at motorway speeds, this may also cause water leaks during heavy downpours.
2002 Ford F-150 Resale Value
Not everybody does know that owning an F-150 has a financial upside, as these trucks hold their value quite well. As a result, you may use your truck for years and still not lose much money when selling it.
At this time, you can pick a 2002 F-150 for less than $3,000, which may seem like a bargain. Still, you should be careful, as many of them are high-mileage vehicles and may have hidden flaws. Instead, I would recommend choosing a truck with low mileage and clear service history. You can get something like that with approximately $5,000 in your pocket, although upper trim levels may cost more.
Frequently Asked Questions
Question: What Year is Bad for Ford F150?
Answer: When a new model enters production, it is usually the first few years that are troublesome. This is because it takes some time for unexpected issues to show up and engineers to find suitable solutions. As a result, vehicles from the latter portion of the production run are usually better. When it comes to 10th generation F-150s, it may be better to avoid trucks made between 1997 and 1999.
Question: How Many Miles Can a 2002 Ford F150 Last?
Answer: There is no definitive answer to this question, as this depends on several factors. Things like poor maintenance and unfavorable driving habits can considerably shorten the lifespan of the engine and drivetrain components. Still, if you take care of your 2002 F-150, it may last anywhere between 150,000 and 300,000 miles.
Question: What Should I Add to My F150?
Answer: Ford F-150 is a popular truck, so there is a wide range of aftermarket parts and upgrades to choose from. All of them will serve a particular purpose, although some may be more useful than others.
On the outside, a lift kit improves its offroad capabilities, while a bull-bar and fender flares add protection. Inside, custom-fit seat covers and floor mats will keep the upholstery clean and give the truck a more luxurious feel.
Last words
As we have explained in this article, a 2002 Ford F-150 can be a worthy purchase. For a start, its design successfully stood up to the test of time and aged quite well. And depending on the trim levels, it offers more than enough in terms of equipment and creature comforts.
Lastly, it uses engines and drivetrain components that are robust and relatively simple, making maintenance easier. Take good care of it, and this will be a reliable and comfortable truck for many years to come.
====
References:
Continue reading related Ford F150 guides: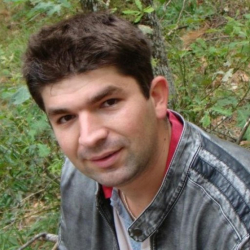 Latest posts by Bojan Popic
(see all)