There is always a continuous fight in the pickup truck segment between automakers, and each manufacturer claims superiority over the rest. Domestic motor companies like Ford dominate sales with high-performing and luxurious models.
However, their Japanese counterparts are in the game for the long run. Toyota is one of the upcoming rivals and is swinging at full power. The Tacoma is one of the best mid-size pickups in the market and provides mind-blowing capabilities and off-road performance.
However, this leaves many new buyers confused. The landscape of the pickup truck segment changed dramatically in recent years. And while there are more compact/mid-size pickups than before, the full-sizer still dominates the playground in almost every aspect.
So, should you spend your money on a compact pickup like the Toyota Tacoma, or go all in and blow your cash on a loaded full-sizer Ford F-150?
Let's find out!
Both vehicles can be used as daily drivers or a workhorse, and both belong to the pickup truck category. However, aside from a couple of similarities, these machines are different in many ways.
Tacoma is Japanese made by Toyota, and the F-150 is American made by Ford. With the obvious ones already stated, here are more differences between the two rivals:
Main Differences Between the Toyota Tacoma vs Ford F-150
The main differences between Toyota Tacoma vs Ford F-150- are:
The Ford F-150 is a full-size pickup truck, whereas the Toyota Tacoma is a mid-size/compact pickup truck.
The Ford F-150 has six different engine options, whereas the Tacoma has only two.
The Ford F-150 is offered in eight trims, whereas the Tacoma is available in six.
Powertrain and Fuel Economy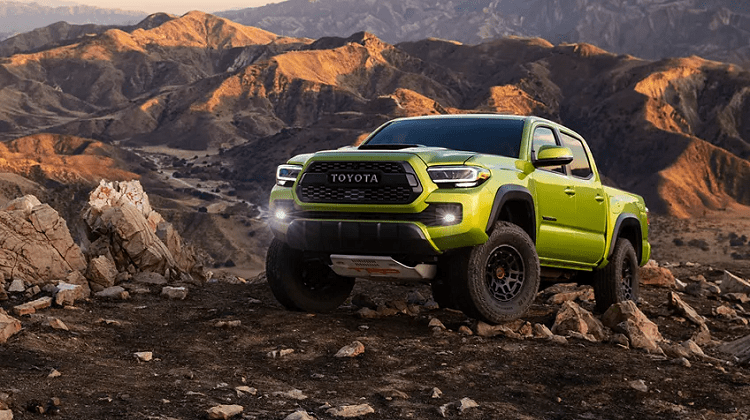 F-150
Ford offers the F-150 model with six engines. The lineup starts with a 2.7-liter twin-turbo V-6. It's the smallest in the group, but it makes 325 horsepower and 400-pound feet of torque. It averages 20 miles per gallon on city streets, 26 on the highway, and 22 combined when mated to rear-wheel drive.
Next, is the 3.3-liter naturally aspirated V-6. It produces 290 horsepower and 265-pound feet of torque. It runs on E85 and gets 21/19/24 mpg combined/city/highway. In addition, there are three 3.5-liter Turbocharged V-6s.
The first one makes 400 horsepower and 500-pound feet of torque, averaging 18 miles per gallon inside the city, 24 on the highways, and 20 combined. The second V-6 is part of Ford's PowerBoost Hybrid System. It puts out 430 horsepower and 570-pounds feet of torque with the help of an electric motor and a battery pack. It is rated at 24+ mpg.
The last V-6 on the list is exclusive to the Raptor. It is a thirsty engine with 450 horsepower and 510-pounds feet of torque. This V-6 achieves 16 mpg combined and 15/18 City/Highway.
But where is the V-8? You may ask.
The F-150 is still fitted with a good old massive 5.0-liter V-8. It generates 400 horsepower and 410-pound feet of torque. Despite being a brawny V-8, it still gets 16/22 mpg City/Highway and 19/20 combined.
All engines are coupled with a ten-speed automatic transmission with standard rear-wheel drive on some models. Other models like the Raptor come with a standard four-wheel drive. The basic 4×4 system has an open rear differential, while the upgrade one comes with an electronic locking rear differential.
Tacoma
Toyota fits the Tacoma with two engines, including a four-banger and a V-6. The four-cylinder is a 2.7-liter that provides 195 horsepower and 180 lb. ft of torque. It averages 21/23/20 combined/highway/city mpg.
The 3.5-liter V-6 makes 278 horsepower and 265 lb. ft of torque. It does 19 mpg in the city, 24 on the highways, and 21 combined. The power goes to the rear wheels or all four through a six-speed automatic gearbox. Although, some models may come with a six-speed manual transmission.
Verdict: The F-150 is way ahead with its engine lineup. It offers more options for the buyers, more power, and better fuel economy.
Towing and Payload Capacity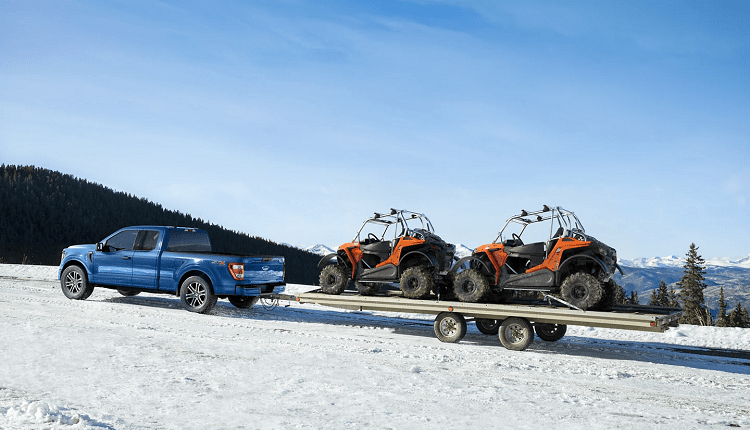 F-150
In its class, the F-150 is the leader in towing and hauling heavyweights. It can tow at least 10,000 pounds with ease. A properly equipped F-150 can move about 14,000 pounds. The payload stops at 3,300 pounds mark, which is a thousand more than the nearest competitor.
Unfortunately, you can't get maximum payload and towing capacities from a single model. To get 14,000 pounds of towing power, you need a twin-turbo V-6, 8 ft long bed, rear-wheel drive, and towing package.
The max payload figures come from a regular cab F-150, 8 ft long bed, rear-wheel drive, a massive V-8, and heavy-duty payload package.
Tacoma
At its peak, Tacoma can tow up to 6,800 pounds with the V-6 and four-wheel-drive system. It falls to 6,500 if you opt for the rear-wheel-drive model. As for the payload, the max weight a Tacoma can carry is 1685 pounds with rear-wheel drive and a four-cylinder engine.
Verdict: in this aspect, there is no comparison between the two. The F-150 easily destroys the Tacoma with mind-blowing figures and heavy-duty performance.
Comfort and Quality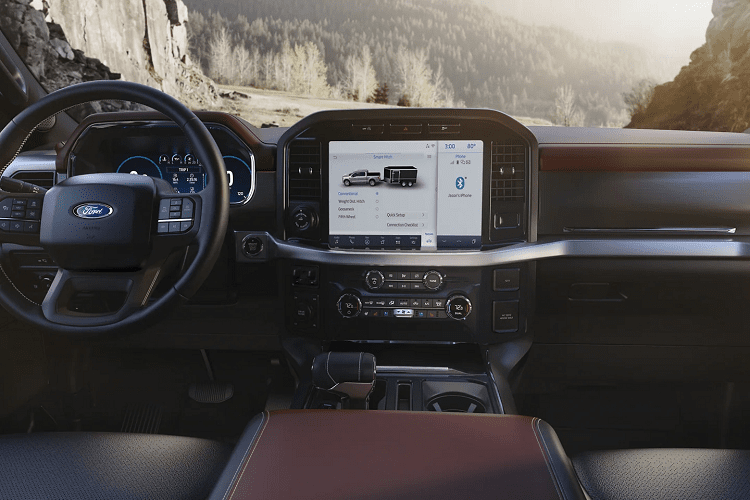 F-150
You can have your Ford pickup truck in countless versions with different configurations, which primarily affects the levels of comfort. Not to mention, the engine choice and power output are other factors to take into consideration. Regardless, all models share one surprising feature, they are slick, polished, and responsive in their driving.
The adaptive steering makes the F-150 drive like a small, nimble SUV on the road and helps around tight city streets and parking lots. Plus, it is quick and compliments the velvety ride.
In other words, it feels like you are driving on whipped cream. The lower trims are not as polished as the top trims, but they are more than accommodating. It offers optimal levels of comfort for a trip across the country.
The transmission flows through the gears and works well with the available powertrains. The turbocharged EcoBoost V-6 engines are alive and instantaneous with the power delivery. Honestly, they make the big V-8 look like an antique fossil.
I recommend the hybrid powertrain because of its superior power delivery and great fuel economy. It helps the F-150 get from 0 to 60 in less than 6 seconds.
The interior space and comfort depend on the cab style and the options you ticked off the specs sheet. The seats are generally comfortable and fit drivers of all shapes and sizes. You can also opt for the premium or bucket seats with additional power features and adjustability. They recline back or fold flat to form some sort of bed for your afternoon nap.
The regular cab comes with a split-bench seat with a folding center console. The extended cab offers more space in the back. But, like every other pickup truck, the back seat is a bit cramped and not good for trips across the country.
Plus, the rear-hinged rear doors are not ideal. The crew cab comes with full-size rear seats, doors, and plenty of room for the whole family.
The brakes are firm and powerful enough to stop the vehicle and regenerate power with the hybrid powertrain. You may experience a nose dive to a certain extent, but only under sudden and heavy braking.
Tacoma
Toyota offers the Tacoma lineup in two either access or double cab variants. However, it is not as spacious as it may seem. The cabin fits up to six people, but it is somewhat cramped compared to other trucks. Regardless, it features a composite bed, which is lighter and more durable.
If you are over six feet tall and decided to buy a Tacoma with a sunroof, consider getting a new haircut because it eats away a lot of headroom. Storage inside the cabin is restricted to a few cubby spots.
Beyond the tight corners, the interior is pleasant and welcoming. Furthermore, it is minimalistic with a different layout and design not seen in any of the rivals.
What I am not so keen on is the excessive use of hard plastic even on the top trims. Still, Tacoma has a couple of features to make up for that. The noise from the outside is reduced to a bare minimum.
The engine choice is not the greatest nor the most powerful, but it does a good job of getting the truck up to speed. The ride is smoother compared to the previous years but it falls a bit behind the competition.
Tacoma shines brighter when it's off-roading. It is the best off-roader in its class (excluding the Jeep Gladiator). It has a magnificent ground clearance to surpass any rough terrain.
The only issue that needs upgrading is the poor brakes. The latter feels grabby, the pedal gives a spongy sensation, and it generates a nosedive under heavy braking.
Verdict: The F-150 is the clear winner simply because it is more luxurious and comfortable.
Trim Levels and Pricing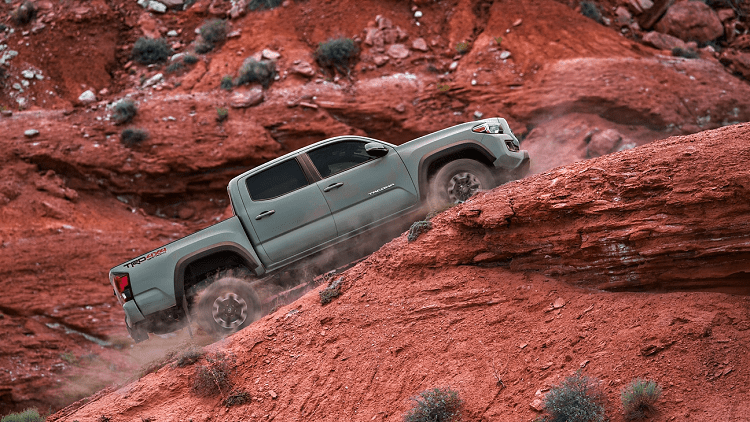 F-150
the F-150 rolls out of the factory in eight different trims. Each trim gets a particular set of features. Some options apply to all trims, whether as standard or as an option, others are specific to some trims.
The lineup starts with the base XL and a price tag starting from 30,000$. You can have the XL in 12 different configurations depending on the body style, bed, powertrain, and features you add to it. As a result, the price can go up to 45,000$.
It is fitted with basic features like lane departure warning, a forward collision mitigation system, and trailer sway control. The exterior has 17-inch steel wheels and manual side mirrors. The inside gets a vinyl floor, single-zone climate control, and an 8-inch display with Apple CarPlay and Android Auto.
The XLT is an XL with extra features. It starts from 38,000$ and gets 17-inch aluminum wheels instead of standard steel. It also has foglights, carpet floor, power windows, mirrors, door locks, and a power locking tailgate.
In addition, this trim comes in 12 configurations fitted with cruise control, adjustable seats with lumbar support, blind spot monitor, and lane keeping assist.
The Lariat model takes the luxury up a notch. For 48,000$ (starting price), you get 8 different configurations and premium materials. The interior gets leather upholstery, heated and ventilated power-adjusted seats, dual-zone climate control, and a 12-inch touchscreen display.
In addition, it is fitted with 18-inch aluminum wheels, LED bed lighting, remote start and tailgate release, and a Class IV trailer hitch. More premium picks and packages may bump up the price to 56,000$.
King Ranch takes the deluxe to another level with LED lights all around, a heated steering wheel, heated and ventilated seats, a wireless charging pad, and a B&O stereo system. It is equipped with evasive steering to help avoid accidents and adaptive cruise control. not to mention, rear parking sensors. You need them!
The price for this bad boy is about 62,000$. The Platinum trim matches the King Ranch in its features. Except, the Platinum costs 64,000$, and gets 20-inch wheels with some cosmetic add-ons.
The Limited sits on top of the lineup with all bells and whistles. On the outside, it gets 22-inch polished aluminum wheels, power running boards, and an in-bed Pro Power Board.
On the inside, you get a leather interior, front seats with massage function, moonroof, 18-speakers B&O sound system, and surround view camera. To be noted, the price is 77,000$.
The Tremor model is an XLT but more off-road oriented and more expensive (55,000$). It has 33-inch all-terrain tires, a locking differential, tuned suspension, and driving modes. The Raptor is the most extreme of the bunch.
It includes more power, low-range gears, 35-inch all-terrain tires, adaptive FOX shock absorbers, bolder fender flares and grille, and a 36-gallon gas tank. All this for 70,000$.
Tacoma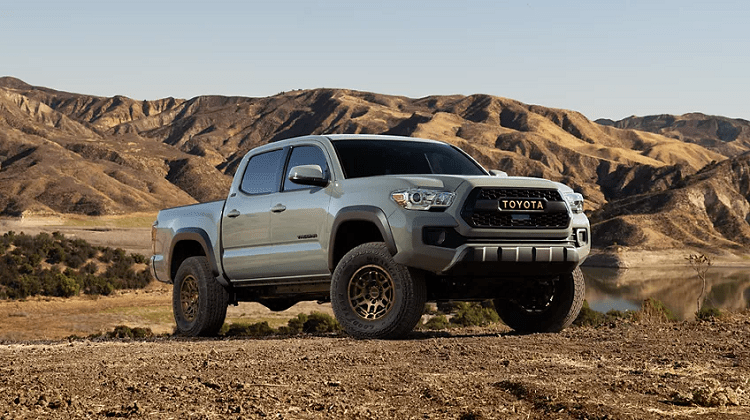 Toyota makes the Tacoma in six trim levels that share almost all the same features. The trick is some features are standard on some trims while others are optional. The entry-level is the SR trim, and for a base model, it is loaded. The price for this model goes anywhere between 27,000$ and 33,000$.
The standard features include:
Power and heated side mirrors, a sliding rear window, remote locks, 16-inch steel wheels, and a composite bed (lighter and stronger than stander aluminum).
On the inside, you get dual-zone climate control, a 7-inch display with Apple CarPlay and Android Auto, a Wi-Fi hotspot, 3 USB ports, and six speakers.
The SR5 is an upgrade compared to the SR. It is fitted with alloy wheels, chrome exterior, 8-inch touchscreen, and leather steering wheel. Additional features like power sliding rear window, auto-dimming rearview mirror, and power driver seat are exclusive to the V-6 versions.
You can fit this trim with several packages like the Technology package, Trail Edition, and Dynamic Navigation package. A loaded SR5 comes with a 36,000$ sticker.
The TRD Sport falls close to the middle of the pack. It gets all the SR5 optional features as standard and more. It sits on 17-inch wheels with a sport-tuned suspension. It also has cosmetic add-ons like a hood scoop and body-colored fender flares and rear bumper. The SR5 is available with keyless entry and ignition and has a wireless charging pad.
You can install a sat-nav, surround-view camera, parking sensors, sunroof, and more by selecting the available packages. However, it can push the price up to 40,000$.
Tacoma TRD Off-road is based on the TRD Sport (gets all its features as well) but leans more toward off-roading. The suspension is raised for better ground clearance and incorporates Bilstein Shocks with 16-inch wheels and off-road tires. The 4×4 models get an advanced traction control system to help with rock climbing.
The packages are the same as the TRD Sport, except the TRD Off-road gets more cameras to provide a better view of rough terrains. Price can pass 41,000$ with options.
The Limited tops on luxury with Premium JBL sound system, 18-inch wheel, silver grille, sat-nav, parking sensors, and all the extras available. It also tops the price at 50,000$.
The TRD Pro is the most extreme in the lineup. It is equipped with all the premium bells and whistles of the Limited with a serious off-road performance upgrade.
It is fortified with 16-inch black TRD wheels, all-terrain tires, raised off-road suspension with FOX shocks, skid plates, upgraded exhaust, and an off-road camera system. It is up for grabs for 52,000$.
P.S: prices vary depending on the model and the options you select. They also differ according to the dealership and location.
Verdict: Tacoma has more standard features and every model can be fitted with almost all the available options. However, the F-150 offers a lot more with better quality.
Competitors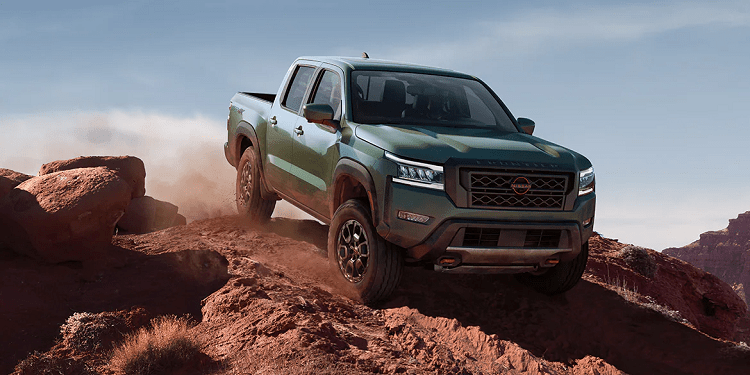 F-150
When it comes to full-size pickups, the F-150 is on top of the list. However, it falls behind the Ram 1500 when it comes to the ride quality. Other contenders like Chevy are in the playfield with their new Silverado 1500 and its sister, the Sierra 1500 from GMC. In addition, the Japanese counterpart Toyota is in full swing with a brand-new Tundra.
Tacoma
In the compact section, Tacoma is one of the best performers in the class. But it is facing fierce competition from the Ford Ranger and Nissan Frontier. Not to mention, Chevy Colorado and GMC Canyon want a piece of the pie.
FAQs
Question: Is Ford More Reliable than its Japanese Competitor Toyota?
Answer: According to consumer reports, online forums, and J.D Power Vehicle reliability survey, Toyota embarrasses Ford in terms of reliability. Toyota scores 5/5 for overall dependability, while Ford scores as low as 2/5.
Question: How Long does a Toyota Last?
Answer: The average lifespan for a vehicle range between 150,000 and 200,000 miles, which translates to 10-15 years. A Toyota, with regular maintenance and sensible driving, is expected to last up to 500,000 miles.
Question: How Much does it Cost to Live with a Ford F-150?
Answer: The cost of owning an F-150 for five years is about 40,000$. That includes insurance, maintenance, and fuel fill-ups.
Final Words
In their own class, both Tacoma and F-150 are magnificent vehicles. The Tacoma is the best off-roader in the compact pickup segment (excluding the gladiator), and the F-150 leads the way in the full-sizer section with the best payload and towing capabilities.
Putting them side by side is an unfair comparison, but the F-150 is far superior to the Tacoma. With loads of options, models, and ridiculous configurations, it is the right one to go for.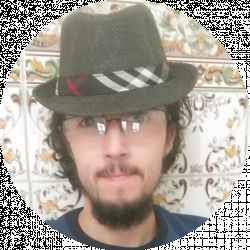 Latest posts by Tommy Verrcity
(see all)