Ford F-Series pickup trucks are a shred of evidence that barnyard workhorse trucks will never be the same ever again. Sleek aerodynamic exterior, comfortable and luxurious interior with outstanding overhead-cam performance engine under the hood. Plus, with various safety and convenience features that were not even available on cars, let alone pickup trucks, the Ford F-Series lineup is as modern as a pickup truck can get. Welcome to our 1999 Ford F150 Guide.
What's New?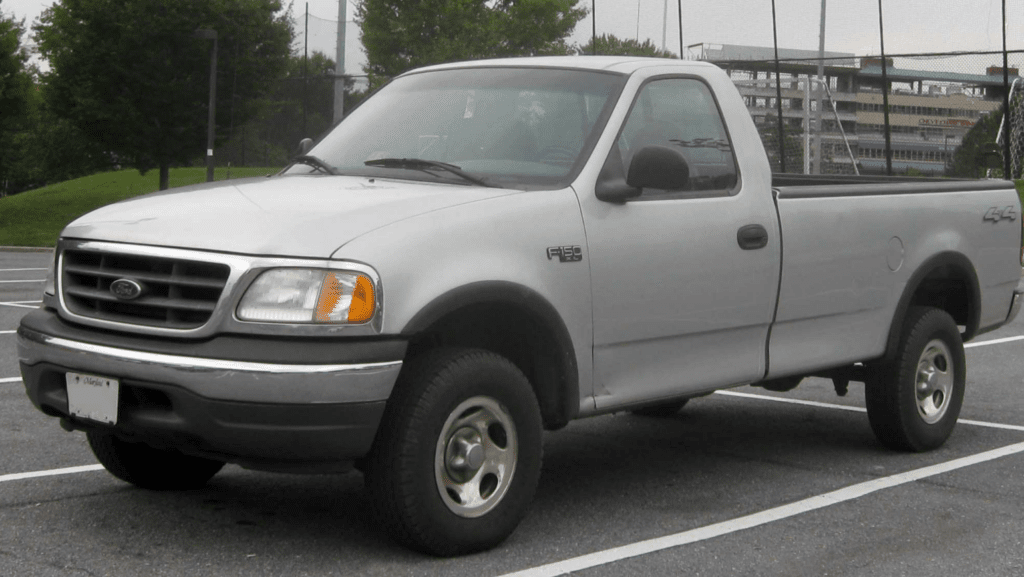 For the new 1999-year model, the F-Series trucks lineup got a revised look. The front-end appeared with larger and wider grilles, chrome valance panels, and chrome bumpers. In addition, all extended-cab models get four doors as standard.
Ford's lineup of light-duty F-Series pickup trucks includes the F-150 and F-250. Both models shared the same platform, body styles and were offered in the regular and extended cab. However, for the 1999 lineup, that changed.
The new Super Duty or heavy-duty trucks include the F-250 Super Duty, F-350, F-450, and F-550, which are built on an entirely different and bigger platform, which means that the F-150 will have its platform.
Body configurations
The F-150 is offered in different body styles. Both regular cab and extended cab, also known as the SuperCab, body styles are available. You also get to choose between the smooth Styleside and the old-school nostalgic Flareside bodies.
The Styleside has a flush finish to give the truck a more balance and swoopy look, whereas the Flareside has much wider wheel wells and fender flares for a more aggressive look.
You can get with three different wheelbase lengths with whichever body style you go for. The short wheelbase is 120," and the long-wheelbase is 157″. If you do not like neither of them, there is a third option, literally a middle ground, a 139″ wheelbase version.
The F-150 is available with two/ rear-wheel-drive or four-wheel drive.
Ps: 4X4 models are 0.3 inches longer than the two-wheel drive.
Drivetrain and fuel economy
The new 1999 F-150 lineup comes with three engine options. The standard engine is a small 4.2-liter V-6 that makes 205 horsepower and 250 foot-pounds of torque, and it can be found in most entry-level trims.
The second option is a 4.6-liter V-8 that produces 220 horsepower and 290 foot-pounds of torque. It is available mainly on the long wheelbase and four-wheel-drive versions that are aimed at heavy-duty work.
The third option on the list is a massive 5.4-liter V-8. However, unlike the previous year, Ford pumped up the power significantly to 260 horsepower and 345 foot-pounds of torque. It is worth noting that the two V-8s are Ford's Triton overhead-cam engines.
All these power plants come mated to a five-speed manual transmission or a four-speed automatic transmission.
The Fuel economy is not good enough. The average mpg on a 1999 F-150 is 16 miles per gallon.
Payload and towing capacity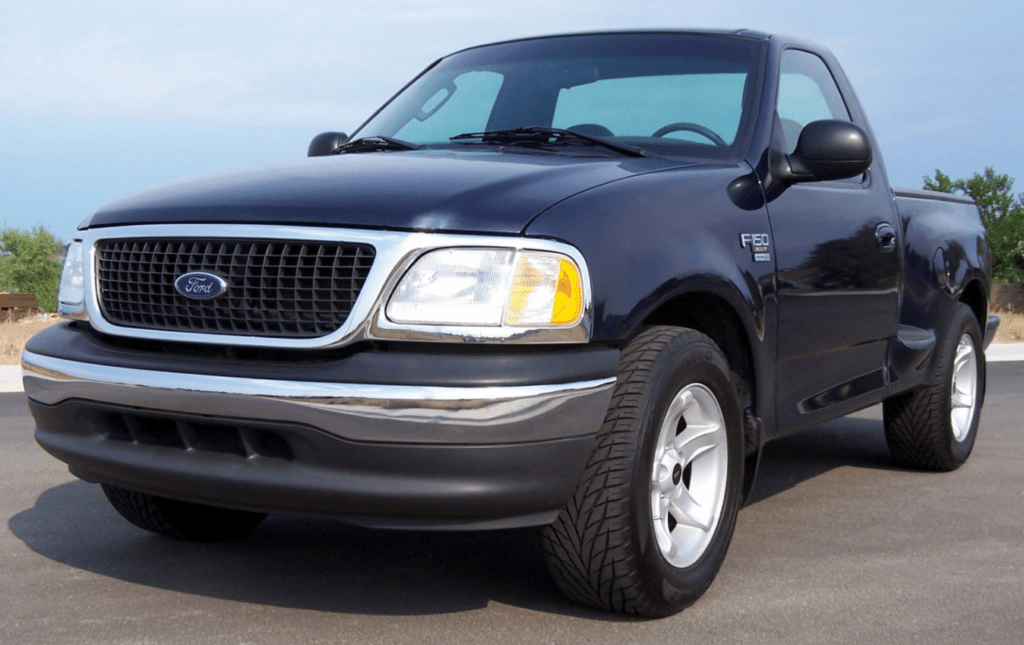 The engine and transmission combination alongside two-wheel or four-wheel drive affects the total towing and hauling capacity. For example, a regular cab Lariat model with rear-wheel drive and long bed can carry a max load of 2,375 lbs. and tow up to 8,300 pounds.
On the other side, a Supercab XLT with four-wheel drive and long bed can carry a max load of 1,550 lbs. and up to 7,700 lbs.
Trim levels
Just like last year's lineup, there are four trim levels but with a little twist. The Standard trim was replaced and is now referred to as the Work Series. It is the base model, somewhat bare bone, and you can get it in the aforementioned body styles.
Climbing up the ladder, you will find the XL, XLT, and Lariat in ascending order.
If we consider the trim levels, Styleside or Flareside, regular cab or the Supercab, wheelbase choices, and two-wheel drive or four-wheel drive, we will end up with dozens of choices. And that is before we add any extra options that Ford offers.
Interestingly, not all possible combinations that you can think of are available. For instance, you cannot get a base trim with four-wheel drive and a Flareside body style. Even the F-250 is not available in the Flareside body style. All F-250s come in the 139″ wheelbase, which means you can get them in a Supercab or regular cab with long cargo beds.
Nevertheless, mostly, there ought to be a unique configuration to fit just about anybody.
Just for reference, here is my perfect combination for the F-150. I picked the XLT trim level with the big 5.4-liter V-8 and four-wheel drive. The body is a SuperCab with Flareside style with a price tag of about $ 26,500.
But, that price tag will go up to a total of $ 31,500 once you start checking off boxes on the list of the available options. And the XLT trim comes with a chunky one. The 1999 F-150's manufacturer's suggested retail price starts at $ 15,700 for a regular cab base model with two-wheel drive, Styleside body, and a 4.2-liter V-6.
Comfort and convenience
Some of the offered amenities come as standard on the top XLT and Lariat trims but are optional on the lower XL and Work Series trim. Such as cruise control with steering wheel controls, air conditioning, and a CD player. Plus, you get the option to shift from rear-wheel drive to four-wheel drive electronically or manually.
Other options include floor mats, a trailer towing package, power mirrors, an off-road package, a power driver's seat, and remote keyless entry. The Supercab has the option of a front bench seat that splits 60/40 or captain chairs.
You can spec your truck with carpet floor mats, power-adjusted front seats, center armrests with storage, and a leather interior. On top of that, there are cupholders in the front and back, cubby spaces, door bins, AM/FM stereo with four speakers, power door locks, and two power outlets.
Moreover, the rear windshield slides to open. The front power windows come with deep tint and an optional leather steering wheel. Only the driver-side window is one-push to open.
All this adds to the cost and can reach 31,000 dollars with ease. This may seem like a lot, but keep in mind that you have more options to choose from and build your typical truck, with a nice level of niceties and equipment, in the $ 15,000- $ 20,000 range.
The Triton engine is probably one of the best features you can get with the F-Series, the big 5.4-liter V-8 in particular. It is smoother than expected, the throttle is crispy responsive, and the power delivery is almost instantaneous.
The engine has a good power band to deliver maximum torque at low RPMs. In addition, it has excellent mid-range and high-speed power for quick acceleration. That is a plus that comes in handy when merging on the freeway or trying to overtake other road users.
Suspension and drive quality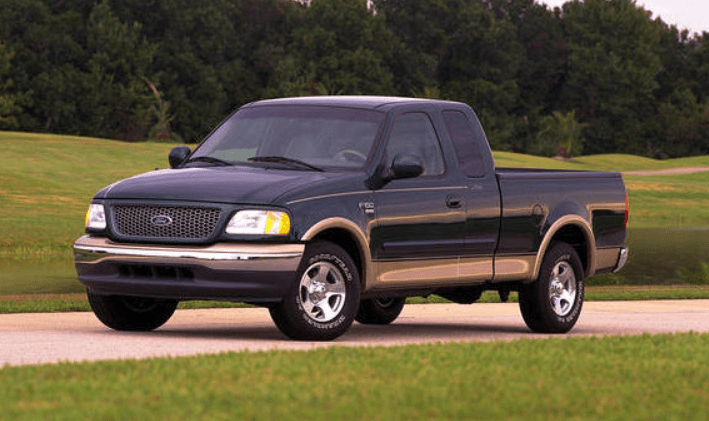 The F-150 Series base model uses heavy-duty coil-overs with anti-roll bars and leaf springs in the back. The higher models and 4×4 versions get the torsion front suspension with upper and lower control arms.
Ford used it to replace the previous Twin I-Beam, and it was a great decision if you ask me. With this suspension, the ride quality became far better than it was, the handling is superior-end of the spectrum, and the steering was drastically improved.
All that added more stability on the road, especially when traveling at highway speeds in windy weather. This improvement put the F-150 ahead of its competitors and result in better wear and tear on the tires. It was indeed a weak point that needed to be addressed.
Interior
driver and passenger have separate backrests that recline further back. The center backrest turns into an armrest when folded forward, and serves as a big cup holder and a storage cabin as well. The storage bin has enough space to put anything small and easily lost like coins and so on.
Since we live in a time where technology controls almost everything, you can remove the divider and install an 8.5″ x 11″ inch touchscreen display. You can store tissue boxes, notebooks, and anything of similar size. You can even fit a drill.
The captain's chair gives the interior a more stylish look, but the bench seat is more versatile and allows more space for more passengers.
The dashboard is well organized and easy to understand and use. The controls are close and are slightly faced towards the driver. The rear-view mirror is too narrow, otherwise, the visibility is outstanding considering the large windows all around.
Climbing into the cabin is fairly easy, but it becomes a tad more challenging with the four-wheel-drive versions. The Supercab now comes with doors in the back that open from the inside and out, which enables you to fit comfortably three adults.
The interior is available in two colors medium Prairie Tan and Medium Graphite.
The back seat folds down flat providing you with an extra sturdy space to carry toolboxes.
Exterior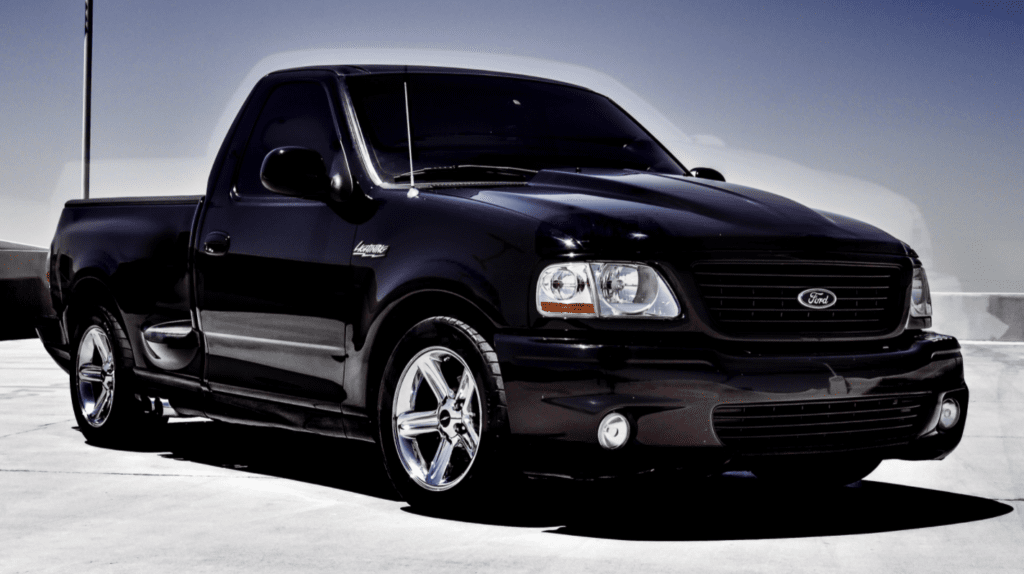 The exterior gets some nice features for extra good looks like mud flaps, skid plates, chrome bumpers, two-tone paint, and power mirrors. Note that some of these options are available on the Lariat and XLT only.
There are ten colors to choose from for the exterior of your F-150:
Metallic Dark Toreador Red
Metallic Harvest Gold
Metallic Silver
Oxford White
Metallic Island Blue
Black
Metallic Amazon Green
Metallic Deep Wedgewood Blue
Metallic Toreador Red
Bright Red
Safety
On the safety side, the F-150 gets daytime running lights, center high mounted stop light, engine immobilizer, four-wheel ABS, and Front mounted airbags. The passenger airbag can be deactivated using a key.
Warranties
Ford covers the F-150 with a bundle of warranties that includes 60 months/ unlimited miles for corrosion perforation, 3 years/ 36 miles bumper-to-bumper warranty, roadside assistance, and for the major components as well.
Ford F-150 SVT Lightning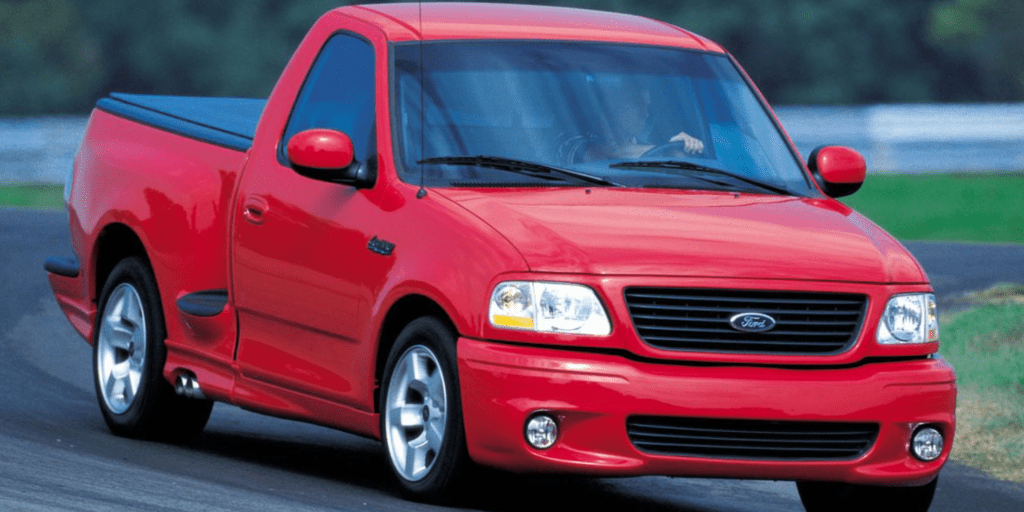 Yes, it's back. The Lightning made its comeback in March 1999 and it caused great excitement among the blue oval brand fans.
It featured a fresh new styling and unmatched performance, it allowed Ford enthusiasts to own the fastest production pickup truck (at the time) for just under $ 30,000. It was available as a regular cab only with step side bed.
It was assembled in Ford's factory in Ontario, Canada, where it was fitted with a 5.4-liter V-8 with Eaton Gen IV supercharger and water-to-air intercooler. This beast of an engine produced 380 horsepower and 440 foot-pounds of torque, which was amped up to 380 horsepower and 450 foot-pounds of torque in the later year.
All that power went to the rear wheels via a 4R100 four-speed automatic transmission borrowed from the Super Duty platform. The engine was designed by Roush and built with forged internals (rods, pistons, and crankshaft) for maximum durability.
The SVT Lightning includes a limited-slip differential and 18″ inch spoke aluminum alloy wheels with Goodyear tires to maximize the grip. The front suspension includes upper and lower control arms with SVT coil springs, stabilizer bar, Bilstein shocks, and was lowered by 1.5″ inch.
The rear suspension also gets a stabilizer bar, five-leaf spring setup, staggered Bilstein gas-charged shock and lowered by 2″ inches.
The Lightning has a cloth interior with leather accents and a layout similar to the stock production F-150. In the front, you will find a bench seat that splits 60/40, the SVT logo on the backrest of the seat, and white gauges.
Bright Red, Black, and Oxford White were the only colors available for the Lightning but turned up to seven colors for the upcoming years. The same goes for the payload capacity. Although it is more of a sporty beast than a workhorse, the Lightning had 800 lbs. carrying capacity and 5,000 lbs. max tow. The loading capacity was pumped up to 1,350 lbs. later on.
In addition to the amenities you get from the top-spec Lariat, the SVT Lightning gets three additional potions, including a six-CD disc changer, a Class III towing group, and a tonneau cover.
FAQs
How fast is the Ford SVT Lightning?
The SVT is expected to hit 147 mph, hence why it was called the fastest production pickup.
Question: What is the best year for the Ford Lightning?
Answer: The best year for a Ford F-150 Lightning is 2003. This year's model got more options, more power and was certified by Guinness world records as the fastest production pickup truck in the world.
Question: Did Ford discontinue Lightning's production?
Answer: The last of the 2nd Gen SVT rolled out the factory in 2003. Ford announced a new Lightning model for 2022 but it will be fully electric.
Question: I am struggling to get a part for my Ford, what can I do?
Answer: You should contact an Approved Ford Dealer or Parts Supplier who has access to millions of parts for current and past Ford vehicles. They will have access to the latest information via the Dealer Systems and, in the unfortunate event of a delay, have processes to escalate the issue on your behalf
To Conclude …
Drivers who are familiar with trucks and F-150, in particular, will praise the new model for its great improvements ad capabilities. On-road, off-road, straightforward, or twisty corners, the F-150 will not disappoint you. But, it still carries the same problem that pickup trucks always had, and probably will still have, is the bouncy ride on bumpy roads.
The engine is smooth and has a good punch on the highway and the interior is a step up from the rest of the competition. It is a sleek pickup truck that is worth investing in, and if money is no problem, the SVT Lightning is the way to go.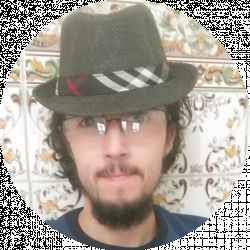 Latest posts by Tommy Verrcity
(see all)