Have you finally taken delivery of your brand new JT Jeep Gladiator and already started thinking about potential upgrades? If so, aftermarket fender flares must be some of those items at the top of your list. And because this truck is basically a Jeep Wrangler with a bed added to its back, it shares a lot of upgrades with it. This means there is a range of products to choose from, and finding the right one may seem like an easy job. 
Still, dig a little deeper, and you will find out that fender flares come in all sorts of shapes, with each configuration aiming at a different application. Disregard this little detail, and you may end up with ones that are not right for the job.
To help you avoid this, I will do my best to explain the differences between various fender flair types and point out what to look for when choosing among them. To further ease the selection process, I will also pick several best Jeep Gladiator fenders for each category to demonstrate their upsides and shortcomings.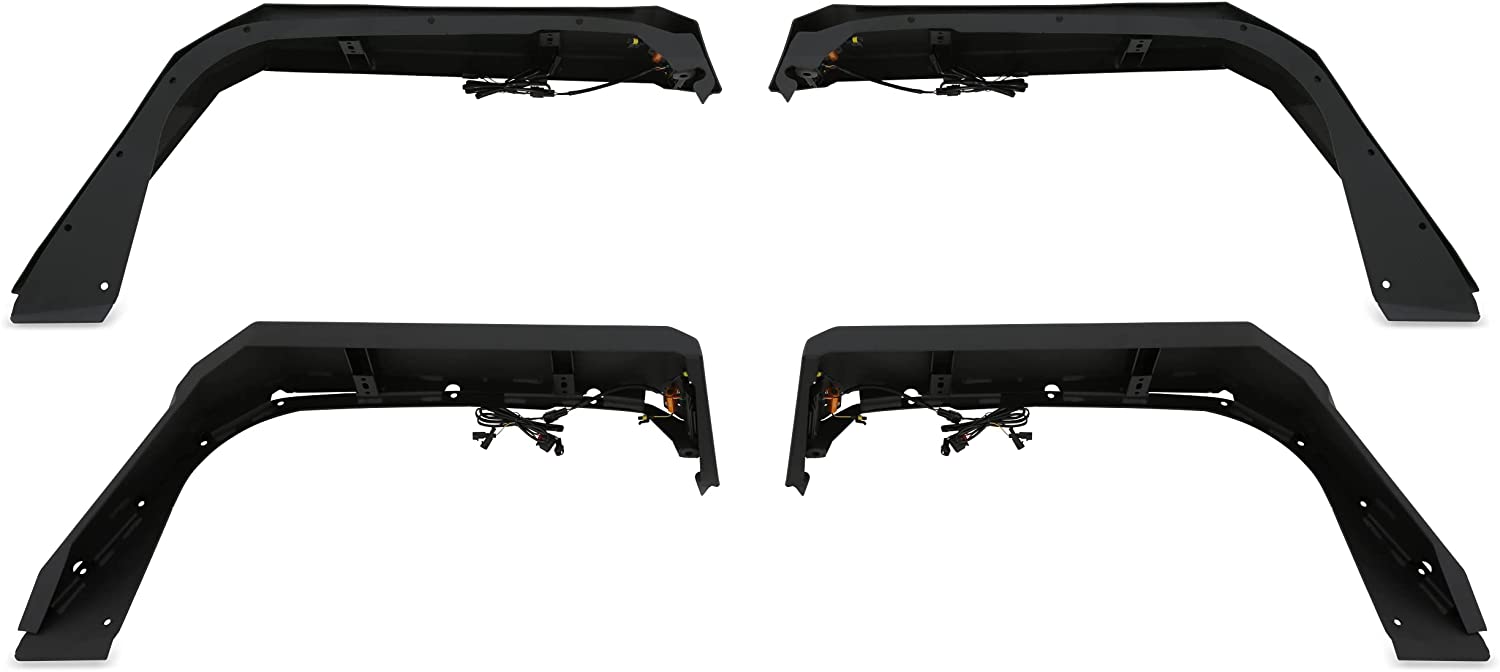 Many successful companies started out because of pure necessity and devoted passion. Whit Body Armor 4×4 is definitely one of them. In this particular case, the story begins some 20 years ago, when an automotive enthusiast started building heavy-duty bumpers for his own Jeep. His clever designs were quickly noticed by other members of the local off-road community, who wanted similar for their vehicles.
Unsurprisingly, this gave birth to Body Armor 4×4, which quickly grew from a garage-based operation to one of the biggest off-road equipment manufacturers. Today, they offer all sorts of aftermarket products for Jeeps and trucks. Their product lineup ranges from heavy-duty bumpers and fender flares to roof racks and offroad accessories.
Related: Comprehensive Guide on Finding the Best Gladiator Rear Bumpers.
Obviously, such a manufacturer will have a competitive product on the growing Jeep Gladiator market. With a design typical for this application, these fender flares clearly demonstrate what they are all about. Their robust steel construction allows them to cope with even the harshest terrains and obstacles that may be there.
This is also where a slim design helps, as it offers more clearance for increased wheel travel. Lastly, a set of additional lights is a practical detail, as it improves visibility and appearance. On the downside, these fender flares are not very wide, which limits their application on vehicles with oversized wheels.
Pros
Robust steel construction
Durable textured black finish
Straightforward installation
Cons
Limited tire coverage for wider wheels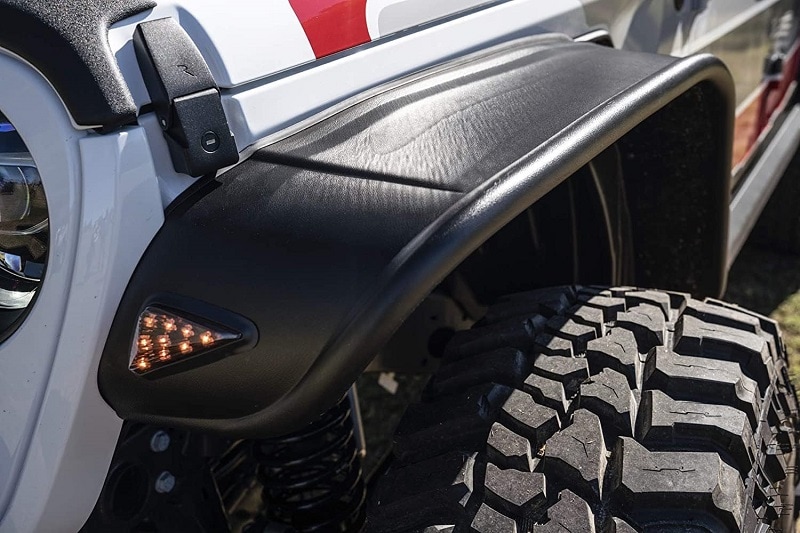 When it comes to Jeeps and fender flares, Bushwacker is undoubtedly one of the biggest names in the business. The roots of this company span back to the 60s, when its founder Jerry Logar decided to deal with an issue offroad drivers of the time were facing.
To make their vehicle more capable, these enthusiasts would, among other upgrades, install oversized wheels. However, this solution had a downside, as such wheels stick out of fender flares, which is not legal for road use in many places.
Bushwacker's founder solved this problem by designing wider fender flares, which provide sufficient tire coverage. This quickly became a popular upgrade among Jeep and other off-road owners. Today, this Oregon-based company offers products ranging from body armor and fender flares to bedrails and tailgate caps.
As one might expect, such a reputable manufacturer will have all sorts of products for a JT Jeep Gladiator, with fender flares being one of them. And despite their familiar shape, these are not standard tubular fender flares that have been around for a while.
Instead of steel, they use Buschwackers proprietary Dura-Flex, a material known for its exceptional mechanical properties.
This plastic can withstand a lot of abuse before it eventually bends, just like steel does. But unlike its metal counterpart, it is also very elastic, which allows it to return to its original shape even if it does deform.
Another notable benefit this fender flare offers is the width that ensures enough tire coverage for any wheel setup. However, the fitment may require some minor modifications to the Jeep, which may be a drawback for some. 
Pros
Dura-Flex construction makes it flexible
Wide enough for even the most extreme wheel setups
Set of all four fender flares
Cons
Some may not prefer plastic as the construction material
Paramount Automotive Hydro Series Fender Flares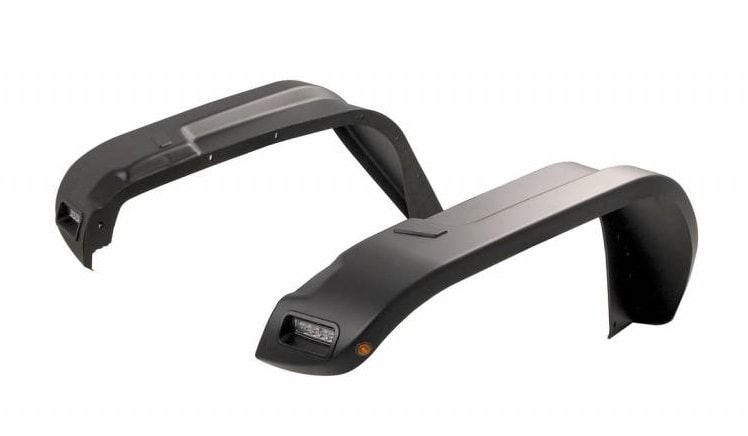 The last company on this list has a significantly different background than the previous two. While Body Armor 4×4 and Bushwacker started out from their own garages, Paramount Automotive has more of a corporative beginning.
Since its establishment in 2008, this Ontario-based company has focused on creating high-end solutions for problems their customers may face. To achieve this goal, Paramount Automotive uses technologies such as CNC milling and robotic welding. Their product range has all sorts of heavy-duty equipment for Jeeps and SUVs.
The Hydro Series fender flares they have recently designed for Jeep Gladiator are the perfect example of their design philosophy. While most aftermarket products are made by welding steel plates and tubes together, these flares are different. Their fabrication process involves hydro-forming, during which steel plates get bent into the desired shape using extreme hydraulic pressure.
A fender flare that is made this way is both robust and elegant. But despite their strong construction, they will not take as much punishment as a traditional tubular fender flare. Apart from that, it is hard to point one anything else as a downside.
Pros 
Sturdy steel construction and elegant design 

A sleek shape, thanks to the innovative hydro-forming manufacturing procedure

Simple installation 
Cons
Not as robust as traditional tubular fender flares
Why would I need an aftermarket fender flare?
There is no doubt that Jim Gladiator is a remarkable and unstoppable machine even in its stock shape. Still, many owners will try to improve their offroad capabilities by installing bigger tires and modifying their suspensions.
With such configurations, stock fender flares will quickly become an obstacle as they get in the way of the wheel traveling upwards when going over obstacles. This is where tubular and flat fender flares come into play.
Their opened shape ensures sufficient amounts of wheel clearance. Another option is to remove fender flares whatsoever, although this leaves the sides of the vehicle exposed to flying debris. And driving on the road with exposed wheels is illegal in most states, which is an additional downside.
A wide-wheel setup is a popular upgrade among old truck owners, as it gives a more formidable road presence. This combo, however, also pushes the wheels far outwards, allowing them to kick up the stones and other debris while driving. T
here are several possible solutions to this problem, with wide fender flares being the most practical and easiest to install. They are significantly bigger than stock ones, ensuring sufficient tire coverage for even the most extreme wheel setups.
Lastly, some owners may just want to improve the visual appearance of their Jeeps and make them a bit more unique. For them, replacement fender flares may be the best choice. In most cases, their shape will be similar to stock ones, which means they have the same function. Replacement fender flares, however, will feature a modern and sleek design.
Which is the best material for an aftermarket fender flare?
There is a long-lasting and vigorous debate among Jeep owners on which material is the best butter for Fender flare construction. All material options will actually fall into one of two categories, and each one has its upsides.
Those who prefer steel or aluminum will always point out the strength of the metal construction is the key benefit. This makes the fender flare more sturdy and robust, allowing it to cope with all sorts of trail hazards. And even if they do get bent out of shape, it is easy to repair them using basic metalwork techniques.
Others will advocate plastic as a better option, saying that sturdy steel construction can be a downside in certain situations. This is because of the lack of flexibility with these flares, meaning they may transfer forces towards the more expensive body parts around them and damage them.
As opposed to them, plastic fender flares will bend under load and absorb strong hits while doing so. As with many other similar situations, choosing between different fender flare materials will, in most cases, come down to personal preferences.
Frequently Asked Questions
Question: Why would I need custom fender flares for my Jeep Gladiator?
Answer: Like most other components, stock fender flares on your Gladiator are built to work with factory wheels and suspension. So, if modifying any of that, you might need a matching set of fender flares. Flat ones will ensure more space above the wheel, making them an ideal addition on Jeeps with upgraded suspensions. On the other hand, vehicles with a wide-wheel setup will need a matching set of fender flares.
Question: What is Jeep Gladiator Fender Chop?
Answer: A quick search on the internet would reveal fender chop as an alternative to expensive aftermarket fender flares. This improvised technique includes cutting the stock flares into the desired shape. And because Jeeps are so popular, there are many step-by-step tutorials and design ideas to choose from. Although this may seem like a tempting option, I would not recommend it to you. Firstly, if you have never done something like that before, chances are that you will mess something up. And even if done right, you will still end up with chopped fender flares, which will impact your Jeeps' resale value in the future.
Question: Can I drive my Jeep with no fender flares?
Answer: You may have noticed that some owners simply remove the fender flares from their Jeeps and drive them like that. While this is possible from a mechanical point of view, there are several downsides to this setup. For a start, it is not legal to drive on public roads without fender flares, so you may end up with a hefty fine. And even if there are no legal limitations, exposed tires could easily kick up rocks and other debris. While flying around, these may damage your Jeeps' bodywork or injure nearby pedestrians.
Last words
As you may have seen, fender flares on a Jeep Gladiator are sheets of metal or plastic at the side of the vehicle. Their job is to stop the wheels from kicking up rocks and debris while driving. Still, stock fender flares may not be enough if you upgrade the suspension or fit bigger tires.
If that is the case, you should consider installing an aftermarket alternative to your Jeep Gladiator. This can be either a flat fender flare that increases wheel clearance or a wider one, which provides better tire coverage.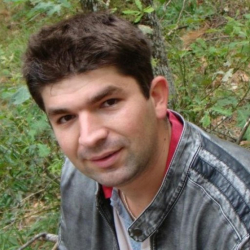 Latest posts by Bojan Popic
(see all)