In the last decades, purchasing a pickup truck was a simple choice. Gas prices were low, the good days were on a roll, and getting a massive ride seemed reasonable.
However, today people are constantly fighting between what they want and what they actually need. You may want a truck that provides all the lux and capabilities, but do you really need it?
As result, compact pickups became the perfect solution. In that case, a 2011 Toyota Tacoma might be the answer.
The mid-size pickup trucks are on the edge of extinction because full-sizers dominate the market. Toyota is one of the few remaining car makers that still offers a compact pickup for the dirty work and family vacations.
It serves the middle class who do not need the hardcore capability of a half-ton pickup truck. This begs the question: is a 2011 Tacoma a good investment in the current times? Or is it a waste of money? Continue reading our 2011 Toyota Tacoma guide to find out.
What is New in the 2011 Model?
The Toyota Tacoma received its last makeover in 2005, and the changes to the 2011-year model are subtle. The whole lineup gets a redesigned front grille and numerous packages that add some features to the exterior, interior, and mechanics. In addition, Air conditioning is now standard on the regular cabs.
A couple of off-road packages made their debut alongside a four-speed automatic transmission. Plus, the four-wheel-drive models get bucket seats.
Is it Safe to Drive?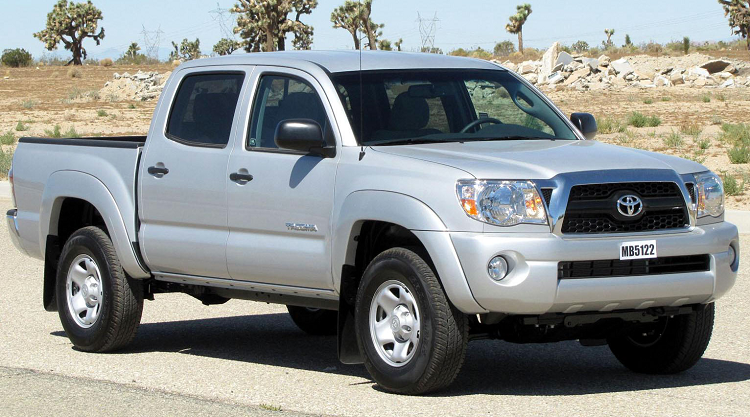 Tacoma got decent ratings from the Insurance Institute of Highway Safety (IIHS), and it is a safe vehicle overall. But, during the roof-strength crash test, Tacoma did not deliver satisfying results. It raises some concerns for road users because pickups tend to roll over during accidents.
In other words, you may lose your head, or part of it, if you flip the vehicle upside down.
Otherwise, Tacoma is equipped with all the safety features of Toyota. It is fitted with a Star Safety System that includes Electronic Brake-Force Distribution (EBD) to ensure each wheel gets the right amount of force to stop the vehicle. In addition, it has Traction control (TC), stability control, and anti-lock brakes (ABS).
All models are fitted with an automatic limited-slip differential (LSD) to prevent wheel spin. Tacoma models with TRD Off-road packages will be fitted with downhill assist control and a separate locking differential instead of an LSD.
TRD brakes system is available and can be installed at the dealership. It was developed by Toyota's engineers in the technical center to improve braking efficiency under consistent heavy use. It eliminates the spongy feeling you get from the pedal and moderates brake fade.
Other safety equipment includes airbags at the front, mounted on the side of the seats, and curtain airbags.
How is the Exterior Styling?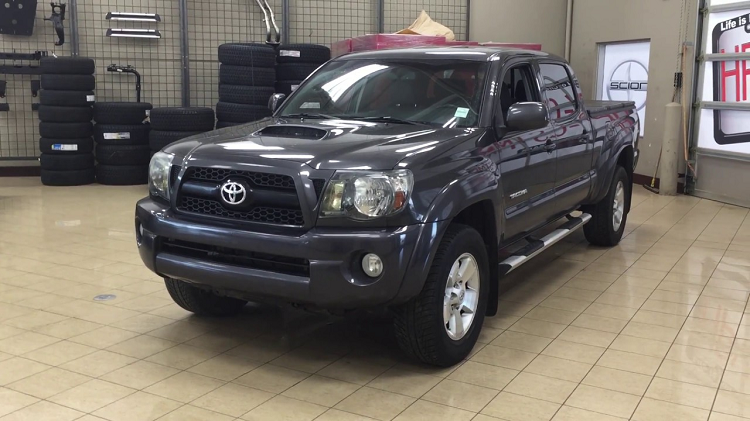 As mentioned before, Toyota did not change much about Tacoma in terms of exterior looks except for the new grille design. It is the highlight of the vehicle alongside big and bold headlights. Tacoma is most definitely more attractive than the Nissan Frontier and Dodge Dakota.
From the side, the truck appears to be tall and long, with swooping body curves starting from the front to the back. The PreRunner and 4×4 models have a much wider track and intrusive fender flares for a much more aggressive look, while the X-Runner is lower and leans towards the sporty side.
Tacoma size changes depending on the cab style and bed length. The shortest models are the regular/ single cab sitting on a 109.4-inch wheelbase and measuring an overall 190-inch front to back. The access and double cab have a longer 127.4-inch wheelbase and a total length of 208.1-inches.
The double cabs with the long bed are the biggest models in the lineup which makes them the hardest to maneuver. They come to a whole of 221.3-inch from bumper to bumper based on a 140.6-inch wheelbase.
The double cab is offered with a short 5.5ft bed for better maneuverability, but a longer 6.5ft bed is available as an option. All the models get the same bed options.
It's almost as big as its sister, the Tundra!
To pick the model and configuration that suits you the most, consider the following. The regular cab models are the smallest in the lineup but have ample cargo space.
Plus, they are easy to maneuver in tight city streets. The PreRunner and the 4×4 models are higher than the rest with the best approach and breakover angles. The latter allows you to hit the rough terrains and have some fun off-road.
The access cab comes with small rear-hinged doors to get to the back seat. However, it is too cramped even for kids. It works better for storing valuables like tools instead of leaving them out on the bed to get stolen.
Double cabs are the largest in the lineup and feature full-size rear doors for easy access. You can carry three adults in the back seat with a massive bed for your cargo. To remind you, they are the hardest to get around the streets due to their size.
In addition, the Tacoma has a composite inner bed. It is lighter than the traditional steel and stronger. It is fitted with adjustable tie-down hooks, two-tier loading, and an integrated bed rail. The latter is compatible with many Toyota accessories like a bike rack or cross bars.
What's on the Inside?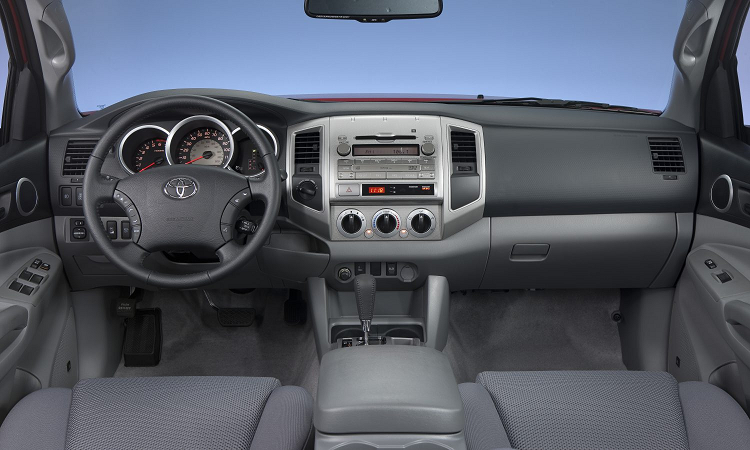 Many claims that the Tacoma is disappointing when it comes to the overall interior because they compare it to the full-size pickups. It may not have groundbreaking internals, but it is built with quality materials and offers an abundance of practicality compared to its mid-size opponents. Better than the Nissan Frontier if you ask me!
The inside trim includes a two-tone dash with a dark shade on top and a lighter shade on the bottom to brighten the cabin. In addition, the gauge cluster has clear analog dials with silver surrounds. The seats are cloth and can be upgraded to sports seats. They are manually adjusted and have lumbar support.
Unfortunately, you cannot alter the seat height or the angle of the seat's bottom. So, some drivers may not like the position. In general, it suits most buyers, and the big mirrors give a perfect view to the rear. Plus, there are grab handles on the A-pillars for easy access. You may need them considering the tall ride of the truck.
The dashboard panels come in black leather with a metallic-tone instrument panel, while the door has grey leather trim for a classier look. There is also an overhead console with a temperature gauge and a compass.
If you have the TRD package with upgraded sports seats, you will get a center console with armrests, cupholders, and center storage space. For the models that come with a bench seat, it splits and folds down to form a solid floor for anything you like.
The switches are big, within reach, and reasonably placed. In addition, the knobs are big and electronic to rotate them effortlessly even with gloves on. There is a CD in the top center of the dash connected to JBL speakers.
Tacomas with automatic transmission are fitted with a foot-operated parking brake, while the manuals have a pull-out handbrake (it is terrible). At least it makes up for it with magnificent air conditioning.
For a compact pickup truck, the double cab Tacoma has comfortable and roomy rear seats. It provides enough legroom and shoulder room for adults. In addition, the seats are reclined further back to make longer journeys tolerable. The windows are massive, and they go all the way down.
The back seats split 60/40 and form a sturdy flat floor for your dog, longer items, or any additional cargo for that matter. As for the access cab, the back seat is pretty much useless for passengers and is better used to store expensive tools and gear.
How does it Drive?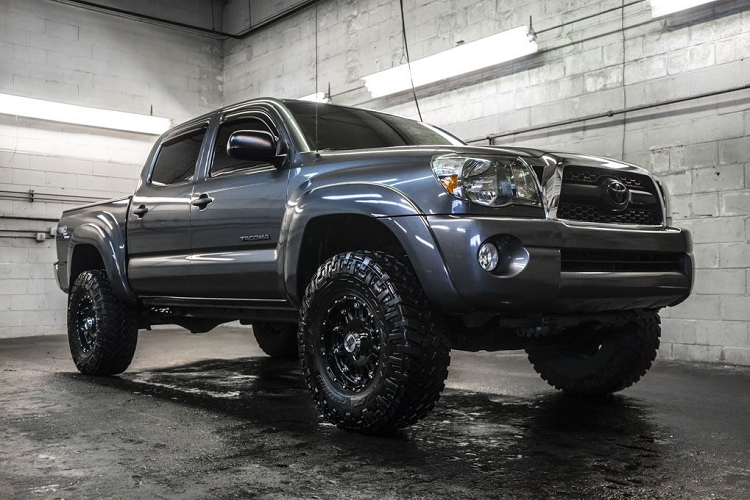 In terms of engine choices, you don't really have many options. Toyota offers the Tacoma with two engines, a four-banger, and a V-6. Both engines come with Variable Valve Technology with Intelligence. It helps adjust the engine to keep it within its power band across the RPM range. It is also good for saving fuel.
the base engine is the 2.7-liter four-cylinder making 159 horsepower and 180 lb.-ft of torque. It is mated to a five-speed manual or a four-speed automatic transmission depending on what you prefer. It is usually fitted to the regular and access cabs, but it is a bit underpowered for the double cabs.
It runs on regular fuel and averages about 20 miles per gallon in the city, 25-26 on the highway, and 21 combined on the rear-wheel-drive model with the automatic.
The numbers drop by a couple of miles with the four-wheel drive. We used a regular cab Tacoma as a delivery truck, and it managed to get 26-27 MPG on the long stretch of roads.
There is also a 4.0-liter V-6 making 236 horsepower and 266 lb.-ft of torque, which is enough to get you from 0-60 in about 8 seconds. It comes as standard on the double cabs, but you can have it with an access cab or a regular cab as well. The V-6 is teamed up with a six-speed manual transmission with an optional five-speed automatic.
A rear-wheel-drive Tacoma with a five-speed auto can get you 17 mpg in the city, 21 on the highway, and 18 combined. Shave a mile or two off if you have the 4×4.
The V-6 and the four-banger work well with the automatic transmission. They are smooth, responsive, shifts down in a blink of an eye, and have different ratios to keep the engine on an optimal rpm.
The excellent torque, with proper equipment, Tacoma can tow up to 6000 pounds and haul about 1,200 pounds. The six-speed manual is relaxed and shifts with no problems. However, there is a big gap between the first and second gear.
Still, it makes up for it in good fuel economy because automatics consume less than the manuals. For a truck this size, Tacoma handles well on the twisty roads, especially with the TRD Sport package. The latter firms up the suspension with Bilstein shocks and adds 17-inch alloy wheels with wide tires.
It may not make it handle as well as the X-Runner, but it improves the cornering. The package does not add any power to the engine, but there is a TRD supercharger available. It can be installed at the dealership.
The PreRunner, 4×4, and TRD Off-road models will give you the confidence to hit the rough terrains and push the Tacoma to the limits. The TRD suspension is flexible and sublime on tough rails. It can climb up and down hills without any scrapping or bottoming out thanks to the high ground clearance, approach, and departure angles.
Tacoma also improves on stability and does not toss you around the cabin as much as the earlier generation. Furthermore, you can switch to 4WD Lo with a twist of a knob.
In general, Tacoma provides a creamy quality ride. What we don't like is the spongy brake pedal feeling. In addition, the PreRunner and 4×4 models experience nose-dive under heavy braking.
The X-Runner is the best for on-pavement driving. It features low and firm suspension and handles like a sporty sedan. The throttle is responsive, and the cornering is the best in class. There is a bit of wind noise, but you will soon forget about it thanks to the magnificent exhaust sound.
What is the Best Model in the Lineup?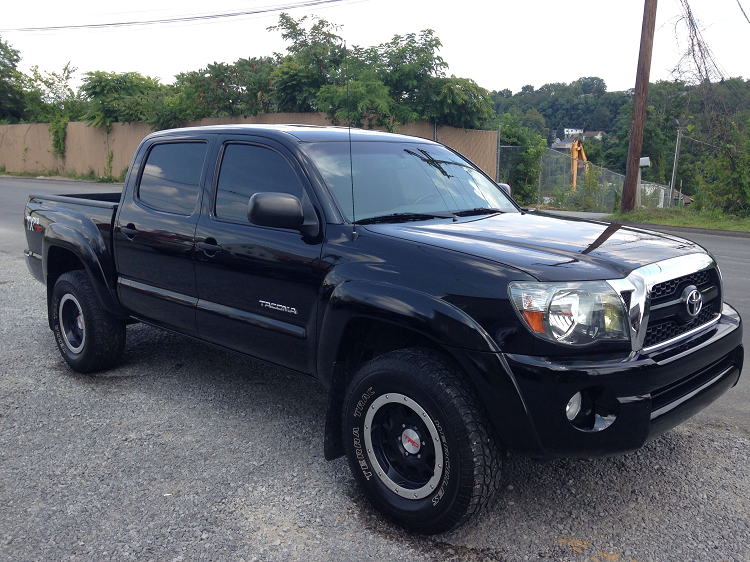 Almost everything is available on all the Tacoma models, either as standard or as an option. As a result, there are twenty different configurations for Tacoma. Here are some possible outcomes.
A base model would be a regular cab with a four-cylinder engine. You can fit it with a manual or an automatic. Rear-wheel-drive is standard and four-wheel drive is available as an option alongside a six-foot or five-foot bed.
Other standard amenities include cloth upholstery, a four-speaker sound system, AC, tachometer, digital clock, and 15-inch steel wheels. This model can cost up to 16,000$. If you pick the access or double cab, the price will rise to 19,000$ and 21,000$, respectively.
Since they are larger, they come with more standard features like overhead and floor center console, power windows, mirrors, and door locks in addition to a six-speaker sound system and upgraded seat fabric.
The PreRunner cost varies from 23,000-24,000$ thanks to its off-road capabilities. The X-Runner is the most expensive with a 25,000+ $ price tag since it offers more performance. It has tuned lower suspension, X-brace for better cornering, a V-6, six-speed manual, and rear-wheel-drive.
There is a bundle of niceties (SR5 package) that contains chrome bumpers and grille surrounds, bucket seats, fog lamps, a JBL sound system, and a rearview camera. A TRD Off-road package can be installed to Tacoma and it adds a skid plate, Bilstein shock absorbers, locking rear differential, BFGoodrich off-road tires, and TRD graphics.
You can add a TRD sport package to enjoy your daily driving or a tow package in case you use the truck for dirty work.
To Sum Up…
Tacoma has its pros and cons. It offers impressive safety features, good build quality, a wide range of configurations, and a good balance between power output and fuel consumption.
And, of course, the other side of the coin says that the low seating position is uncomfortable, the V-6 can be noisy, and the spongy brakes are terrible.
Can I Make it Better?
If you want a Tacoma for off-roading, you can spend some cash on a lift kit, bigger tires, and better brakes. You can also tune the engine to produce more power. Furthermore, the market is loaded with performance parts that you can add to the truck.
You can wrap it with a new color, install new badges, and LED lights, or add a tonneau cover, and side steps. Moreover, you can upgrade the interior with a digital gauge cluster, fit a touchscreen to the dashboard, and get comfier seats.
Are there any Competitors to Consider?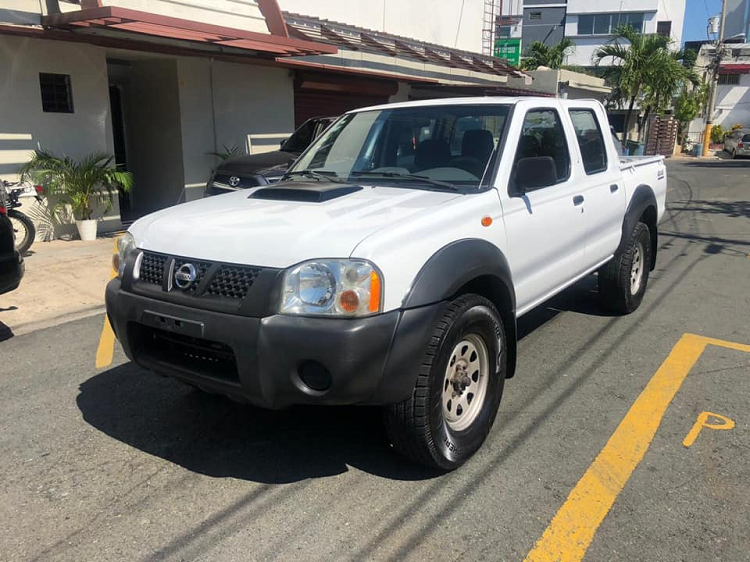 Some of the closest rivals to Tacoma are the Nissan Frontier. It has a strong V-6, cozy and practical interior, plus splendid handling. The Chevy Colorado is another tough competitor with superb V-8 performance and various configurations. The list continues with the GMC Canyon, Dodge Dakota, and Ford Ranger.
FAQs
Question: What is Tacoma's Worst Year?
Answer: All Tacomas from 2004 to 2013 suffered from mechanical issues but were not too major for recalls. The 2016-year model is the one to look out for due to a lot of engines, transmission, and drivetrain issues.
Question: How Long can a Transmission on a Tacoma Last?
Answer: With careful driving and regular maintenance, the transmission of a Toyota Tacoma can last anywhere between 100,000 and 125,000 miles.
Question: Should I Buy a Tacoma with 200,000 Miles?
Answer: Toyota focuses a lot on improving the build quality and manufacturing process, which means they can last for a long time. Buying a 200,000 miles Tacoma is not necessarily a bad choice, but you may face major breakdowns. So, it is recommended to find a model within the 90,000-140,000 range.
Any Final Words?
Toyota Tacoma is one of the best pickup trucks the market can offer. It gives the best of every world making it suitable for every driver. From a workhorse to an all-terrain beast, Tacoma has it all.
Not to mention, the X-Runner is mind-blowing on the pavement. Last but not least, it's reliable and may live longer than you. After all, it is a Toyota.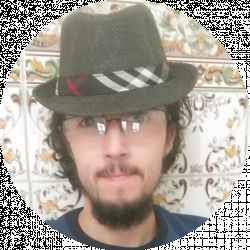 Latest posts by Tommy Verrcity
(see all)